The Benefits of Joining Affiliate Programs Through the Travelpayouts Platform
Firstly, let's examine the overall advantages of joining an affiliate program through the Travelpayouts platform.
One payment. Once a month. For all affiliate programs: Say goodbye to the hassle of keeping track of minimum payment thresholds and managing payments across different platforms. Travelpayouts combines the rewards across all your affiliate programs into a single monthly payment and pays it directly into your bank account or PayPal. The key thing to understand is that Travelpayouts carries out these transactions using its own resources, meaning your payouts won't be affected by any event or change within a direct affiliate program. Payments always arrive on time, a fact well-supported by positive feedback of the many satisfied affiliates on Trustpilot.

100+ travel brands in one place: Partner with popular brands such as Booking.com, Tripadvisor, GetYourGuide, and more. With all your stats and affiliate tools available in one personal account, there's no need to log into multiple platforms to create affiliate links or track bookings.
Convenient interface and comprehensive statistics: Travelpayouts personal accounts have been designed to provide a seamless experience. The Reports section offers extensive data presented in a convenient format, which can either be viewed within your account or exported as a CSV file for in-depth analysis.

Abundance of partner resources: Access our comprehensive Help Center, blog, or Travelpayouts Academy, and sign up for our partner newsletter. Gain valuable insights into affiliate marketing, benefit from expert advice, and keep updated with the latest news from Travelpayouts partner programs.
Dedicated support team: The Travelpayouts support team is committed to providing exceptional assistance that goes above and beyond the typical template email. We'll thoroughly investigate and address any issues or concerns you may have, and we strive to make every interaction a pleasant and helpful experience.
Joining Booking.com Directly vs Joining via Travelpayouts
Let's delve deeper into how the Booking.com affiliate program operates, as well as how it works when joining via Travelpayouts.
Rewards
Via Booking.com
When you join the Booking.com affiliate program directly, your starting commission is 25% of the commission Booking.com earns from each booking.
This percentage can fluctuate based on the number of "stayed bookings" you secure in a month, however it will never drop below 25%. "Stayed bookings" refer to reservations that have been completed and confirmed by the partner.

Your earnings depend not only on the number of stayed bookings, but also on the commission that the specific accommodation pays to Booking.com. The accommodation's commission usually ranges between 10-20%, depending on factors such as the country where the accommodation is located.
Via Travelpayouts
With Travelpayouts, it's straightforward – you consistently earn 4% of the total price of each booking, irrespective of the number of bookings you secure per month. This roughly equates to a 25% revenue share.
When you join through Travelpayouts, your reward rate is set to the minimum revenue share percentage offered by the direct affiliate program. However, do keep in mind that in order to qualify for a higher reward rate, you have to achieve a minimum of 50 bookings per month.
If you're bringing in up to 150 bookings per month, you can confidently opt to join through Travelpayouts. The difference in earnings will be practically indiscernible, meanwhile you'll enjoy all the benefits of working with a platform that puts its partners first.
Payment Threshold and Methods
Via Booking.com
When joining directly, Booking.com's affiliate program will issue you credit slips during the first week of each month. The list of completed reservations for any given month can be found in the Reports section of the menu, under Transactions. Here, you'll also see which credit slips are linked to which reservations. A final payment is only made if your current balance is €100 or more.
Via Travelpayouts
Travelpayouts automatically processes payments between the 11th and 20th day of the subsequent month, provided the minimum earnings threshold has been met and payment details have been entered before the 9th of the current month. Payments are processed promptly, without any delays. All payment information is prepared by the 10th day of each month, and all that's left is to distribute the rewards to our partners.
To find out when your payment will be made, check the header of your Travelpayouts account, where you'll find information on your balance and payout amount. Keep in mind that the minimum payout amount varies based on your selected withdrawal method.
Another important detail to note – We combine the rewards you earn across all affiliate programs you joined through Travelpayouts into one single payment, meaning that whether you're using Booking.com, Expedia, or GetYourGuide, if the combined reward for all programs amounts to $50 for the month, you're eligible to receive the payment by PayPal.
Affiliate Support
Via Booking.com
Joining Booking.com directly allows you to contact their support from your personal account.
Additional resources for affiliates include:
Affiliate Partner Center Support, where you can find detailed answers to frequently asked questions.
Live Chat: You'll find the Booking.com affiliate program live chat feature on any article page in the Support Center, available on Tuesdays from 10:00-11:00 CET.
Via Travelpayouts
The Travelpayouts support team frequently receives positive feedback on platforms like Trustpilot. The team doesn't just provide quick responses – they strive to resolve problems as thoroughly as possible.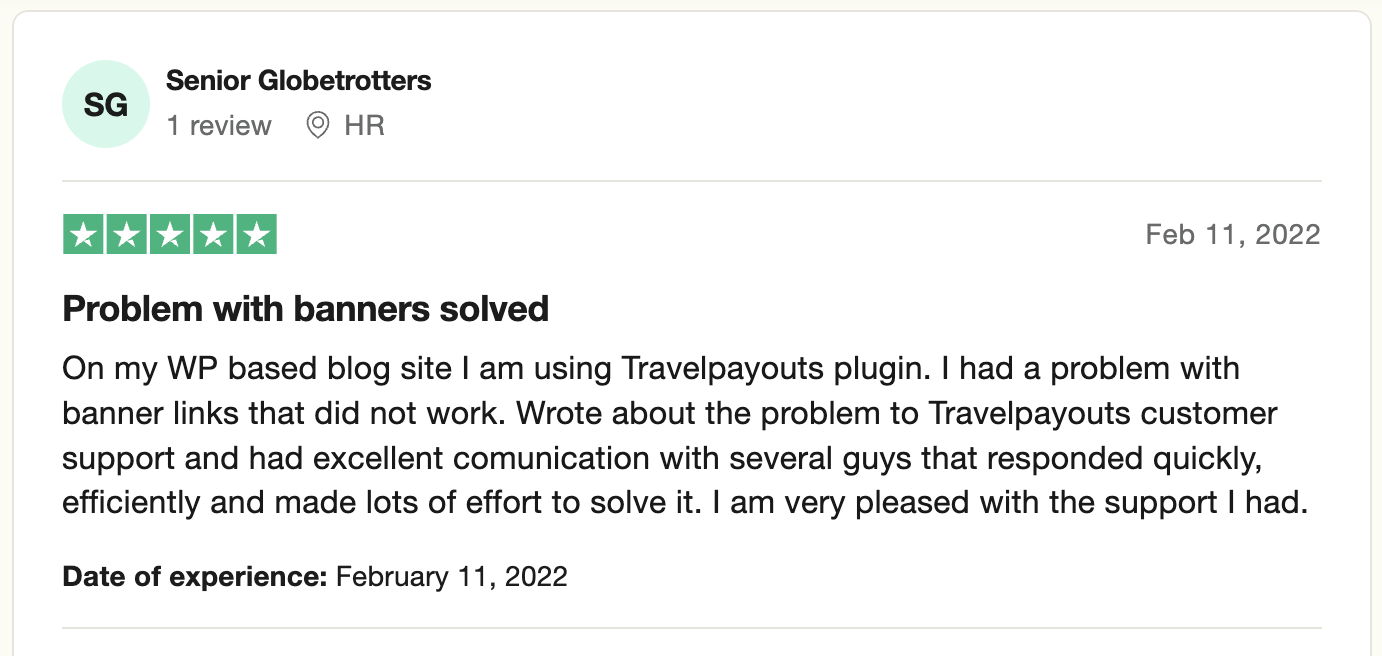 It's not uncommon for support teams to take several weeks to get back to you, and in some cases they might not even reply at all. Sometimes, they'll even throw in clarifying questions to buy more time before responding. But here's the deal: the Travelpayouts support team doesn't play that game. We're all about tackling issues head-on and making sure partners never have to deal with lingering problems on their own. Your peace of mind is our priority.
You can reach out to the Travelpayouts support team through various channels aside from your personal account, such as Facebook and Instagram.
Additional learning resources affiliates can refer to include:
Help Center – a repository of documents that provides a complete guide on how to work with Travelpayouts.
The Travelpayouts blog, where you'll find reviews of different affiliate programs, success stories from Travelpayouts partners, and valuable tips on SEO and affiliate marketing.
The Travelpayouts Academy, featuring fantastic video courses that can help beginners get started or improve the skill set of the more experienced affiliate.
Affiliate Promo Tools
The range of affiliate tools available in both the Booking.com direct affiliate program and Travelpayouts is quite similar, including links, widgets, and banners. However, Travelpayouts provides partners with one widget instead of the five offered by Booking.com when you join them directly. This decision is based on our continuous analysis of tool effectiveness and our commitment to only offering partners tools that demonstrate high conversion rates and seamless integration into their websites. If the Travelpayouts team recognizes the need for additional widgets, they'll take it upon themselves to develop and include them.
Comparison Table: Joining Booking.com Directly vs Joining via Travelpayouts
| | | |
| --- | --- | --- |
| | Joining Booking.com Directly | Joining Booking.com via Travelpayouts |
| Reward | 25-40% revenue share | 4% of the total booking price |
| Cookie Lifetime | One browser session | One browser session |
| Reward Confirmation Time | Two months post check-out | 60-90 days |
| Minimum Payout Amount | €100 | $50-400 (depending on the withdrawal method) |
| Reward Payout Options | PayPal transfer or direct bank transfer | PayPal transfer or direct bank transfer |
| Payment Frequency | Once a month | Once a month |
| Affiliate Tools | LinksWidgets: Deals Finder, Inspiring Search Box, Map Widget, Search Box, Review Score WidgetBanners | LinksWidget: Search BoxBanners |
How to Easily and Quickly Switch From the Booking.com Direct Affiliate Program to Travelpayouts
Transitioning from a direct affiliate program to Travelpayouts is straightforward. Simply register on the Travelpayouts platform for free and install the LinkSwitcher tool.
What Is LinkSwitcher and What Are the Benefits of Using It?
LinkSwitcher is essentially a piece of JavaScript code that you need to add to your site. This tool converts links from Booking.com's direct affiliate program into Travelpayouts links that include your ID. This enables you to receive rewards via our platform.
Advantages of Using LinkSwitcher:
Time-Saving Convenience: LinkSwitcher frees you from the tedious process of replacing links one by one. As a result, you can spend more time on what matters most: traveling, creating content, and growing your blog.
User-Friendly Setup: No technical hurdles or programming expertise is required. LinkSwitcher is designed for simplicity and ensures that all partners can effortlessly navigate the migration process.
Safe and Reversible: LinkSwitcher maintains the safety and integrity of your setup. It can be switched off at any time, reverting all changes back. Additionally, you can retain control with the ability to exclude individual articles from the migration process.
Detailed instructions on how to install LinkSwitcher can be found in our Help Center.
If you have any questions, please don't hesitate to reach out to the Travelpayouts team at support@travelpayouts.com.
Feedback From Travel Bloggers About Working With Booking.com via Travelpayouts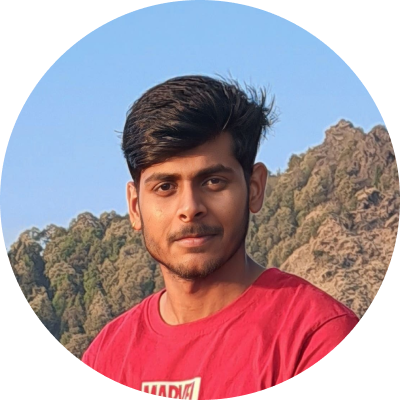 When I started Classynomad.com, my goal was to promote different accommodations through affiliate blog posts. Initially, I joined the Booking.com affiliate program because I thought it was the best for this purpose. Everything was going well until I noticed that I could not access my affiliate dashboard. When I contacted the support team, their response time was slower than expected.
Another problem I've encountered is the need to use multiple personal accounts when working with different direct affiliate programs. Google recommends offering a choice of booking platforms. However, managing separate accounts for each, such as Booking.com and Tripadvisor, adds complexity and increases blog publishing time.
I started looking for alternatives.
The solution came via a podcast with Nina Clapperton, who introduced me to Travelpayouts. Joining this partnership platform was a game changer. Their easy to use account allowed me to join multiple affiliate programs such as Booking.com, Tripadvisor, Viator, GetYourGuide, Agoda, Hostelworld, Klook, Trip.com with just a few clicks. Now I can easily see how well my affiliate links are performing from a single dashboard. I also have the ability to use sub-IDs in my affiliate links if I want to track specific links.
Switching from Booking.com's direct affiliate program to Travelpayouts was the best decision I ever made. Now it is super easy for me to manage my affiliate dashboard. I would like to thank the entire team at Travelpayouts and Nina Clapperton for introducing me to this amazing platform.
The main reason I switched from the Booking direct affiliate program to Travelpayouts is the Travelpayouts Chrome extension that allows me to quickly get the link for the booking.com.
So far I have not experienced any delays or problems with Travelpayouts.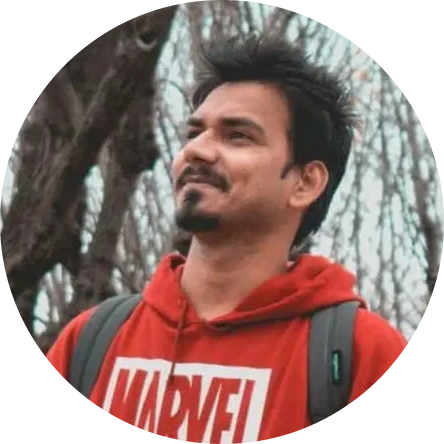 The main reason that pulled me to switch from the Booking direct affiliate program to Travelpayouts is the Travelpayouts Chrome extension that allows me to quickly get the link for the Booking.com.  
At the moment I have not experienced any delays or issues from Travelpayouts at all.