There are lots of ways to earn money while full-time RVing, so you don't need to have a trust fund or to finance your travels. While you're busy exploring the world and embracing the RV life, you can also earn money that will allow you to keep your RV on the road for longer. In this blog post, we'll look at some of the best and most lucrative ways for RVers to earn money while they are traveling.
Is It Possible to Make Money While RVing?
There's no need to be tied to the 9-to-5 or a single location anymore. You could earn money while traveling in your RV, with the freedom to work from anywhere in the world and on your own work schedule. Here are 10 top ways to make money while traveling in an RV.
Starting a Blog and Monetizing It With Affiliate Marketing
If you love writing, then documenting your travels in a blog could be the ideal way for you to make money while traveling in an RV. There are lots of ways to monetize a blog, including selling advertising through Google Adsense, selling your photographs to tourist boards or hotels, and writing e-books that you sell through your blog. But one of the best and most lucrative methods is affiliate marketing.
Affiliate marketing involves promoting products and businesses by adding affiliate links to your content. When your readers click through the links and go on to make a purchase or booking, you will receive a small fee from the company you are promoting. The amount you will earn depends on the individual affiliate programs you choose and how many clicks your affiliate links receive, but the most successful affiliate marketers can earn six-figure salaries through their blogs.
Picking the right affiliate programs is an important part of affiliate marketing, and your experience as a full time RVer will help you to gain the trust of your readers when you promote travel brands. Signing up for Travelpayouts allows you to choose from over 100 top travel affiliate programs including trusted brands like Expedia, Tripadvisor, and Vrbo. You'll find all of the programs on one convenient dashboard that makes it easy to create affiliate links and keep track of your earnings.
Join the Travelpayouts Partnership Platform
Access exclusive tools and the best travel affiliate programs, including flights, hotels, car rental, insurance, tours and activities, all in one place.
Join Today
395,000 partners already trust us
120 travel brands
$53M+ total paid since 2011
Established bloggers can start to earn passive income very quickly in this way, and if you haven't got a blog yet, it's easy to start one up. If you're new to affiliate marketing, the online Travelpayouts Academy provides information, support, and training courses to help you maximize your affiliate earnings.
Freelancing
Freelancing is a very flexible way to earn money as a full time RVer because you can do it from anywhere in the world. The services you provide will depend on your particular skills, but you can choose which projects to work on and set your own working hours as well.
Lots of types of work are suitable for freelancing, from writing, editing, and translating text to web design, graphic design, or social media management. Some full time RVers provide virtual assistant services on a freelance basis, helping businesses and individuals with services like data entry, diary management, and travel booking.
You may have to charge low fees at first to make your freelance services competitive, but freelancing could allow you to earn enough money to finance your RV adventures. Alternatively, you could combine freelancing with one or more of the other income streams in this blog post. You'll find jobs listed on freelancing sites like Fiverr and Outsourcely, or on job boards like Monster and Indeed. You can also approach people and businesses directly to pitch your freelance services.
Tutoring or teaching
If you have a Bachelor's degree, you could earn money while you're RVing by offering online teaching or tutoring services in a subject that you're passionate about. You don't usually have to have a degree in the subject that you're tutoring, and some services will accept applicants without any degree. The great thing about teaching online is that you can teach students from any location as long as you have a reliable Internet qualification and a headset. And living in an RV means that you have a perfect place to deliver your lessons!
The most popular subjects for online tutor services tend to be Math, sciences, and foreign languages. If you're a native English speaker, you can also work online as an English tutor for students in countries like China, as students there are often keen to practice their English conversation skills with native speakers. You can find online teaching opportunities on websites like Tutor and TutorMe, and the tutor companies are often able to help you organize a teaching qualification if one is required.
Amazon CamperForce
The Amazon CamperForce program is a way for full-time RVers to find seasonal work at Amazon's warehouses across the United States. Camperforce Associates can work as full time or part time staff, picking, packing, and shipping orders at the warehouse. They receive hourly pay towards the cost of their campground site as well as completion and referral bonuses.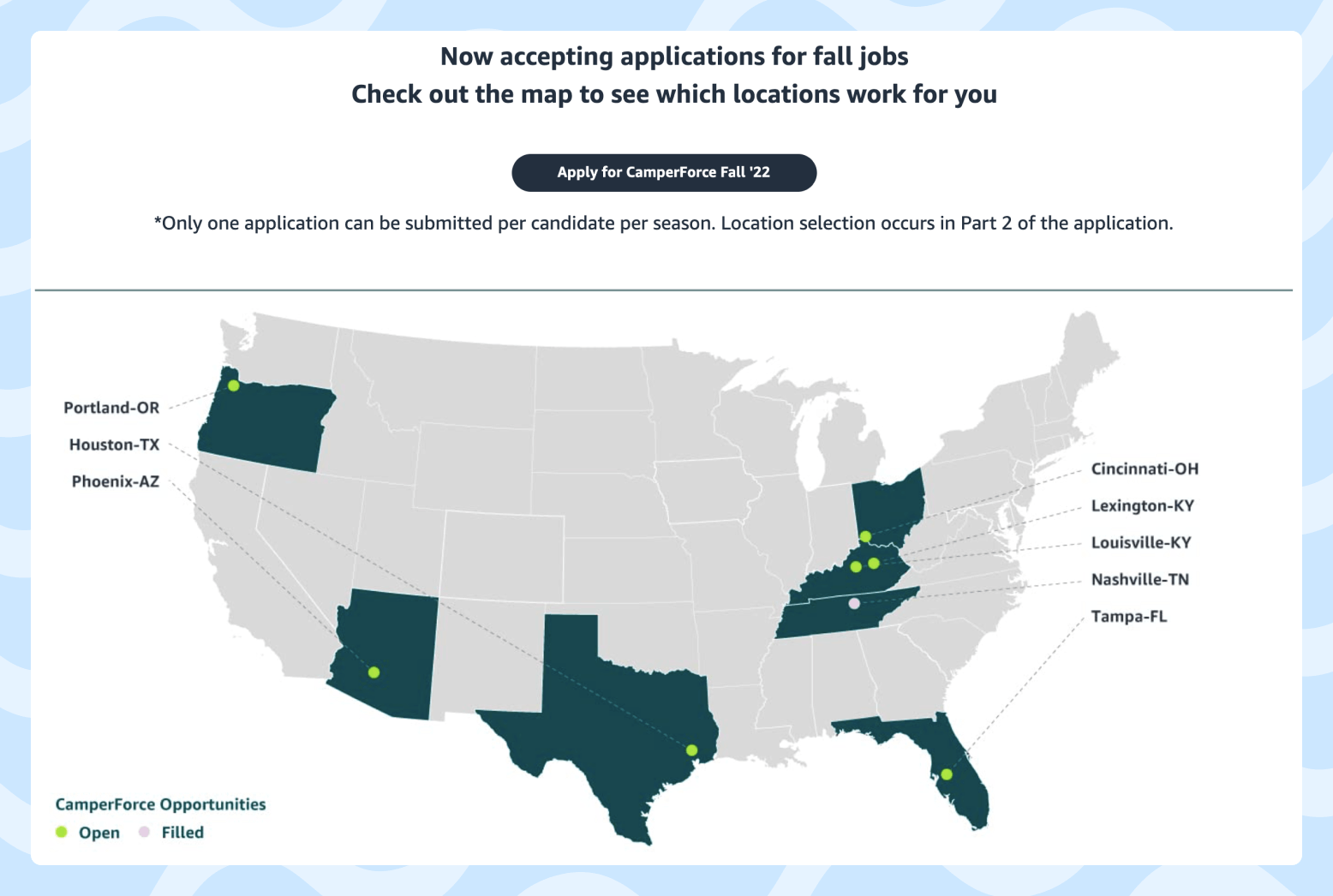 It's important to be aware that the company generally prefers to hire full-time workers and the work is time-demanding. You should bear in mind the amount of time it will take out of your vacation so that you don't feel disappointed by how much time you have spent working. However, the upside is that you could make enough money to keep your RV adventure going for a little longer.
Offering Your Services as a Virtual Assistant
If you have administrative experience and good communication skills, you could offer services as a Virtual Assistant. This involves providing a range of services, such as social media management, diary management, data entry or booking travel. There is a lot of demand for virtual assistants from people and businesses who would prefer to outsource the work rather than employ someone in-house.
As a virtual assistant, you can work from pretty much any location with an Internet connection, as long as you can deal with any time difference. You can approach businesses and bloggers directly, sell your services through websites like Fiverr and Upwork, or find jobs for virtual assistants on websites like FlexJobs and ZipRecruiter. You may have to set your fees low at first, but as your experience and client list grow, you will be able to increase your rates.
Working at a Campground
Working at a campground or RV park is also known as work camping or workamping. Seasonal jobs are available at many campgrounds, including some in attractive locations like beaches, forests, and national parks. You can find details of work camping jobs on websites like camphost.org and WorkKamping Jobs.
You might be asked to help out with office work, cleaning the bathrooms or the general site, preparing food, or guiding RVers to their camping location. Workampers usually get paid an hourly rate or a fixed rate for the duration of their stay at the site. The pay may not be great, but workampers usually manage to cover their stay at the RV park or campground.
Selling Your Own Digital Products
Selling digital products online can be a great way to make passive income. You can work on digital products from any location, which makes it a perfect way for digital nomads to make money while traveling by RV. The type of digital products you sell will depend on your own areas of expertise, but some popular options include e-books, printable checklists, and online courses.
You will need to do some work upfront to prepare and promote your digital products. You could sell ebooks through Amazon, set up a digital storefront for your printables through websites like Koji, or offer online courses through training platforms like Udemy or Teachable.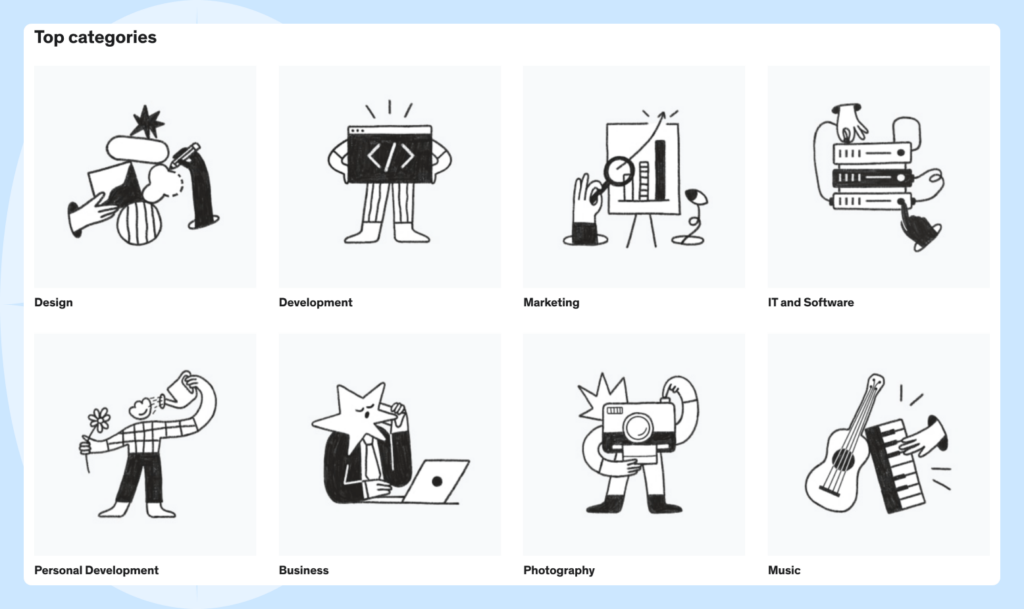 Selling Handmade Goods
If you're a skilled crafter, selling your handmade goods is another way that you can make money while traveling in an RV. You can either sell them at craft fairs and markets, or you could sell them on auction websites or your own online store. Some of the most popular websites are Etsy, eBay, and Craigslist, but there are other smaller options that you could check out.
If you decide to sell online, remember to check out the fees that you will have to pay to the website and also the cost of shipping your handmade goods. The price you charge needs to cover these costs and also leave some profit for yourself.
Working Remotely
Remote working is becoming more popular and this is a great option for making money while you're traveling in your RV. Many jobs can be done from any location, so there's no reason why this couldn't be the back of an RV or even the passenger seat. As long as the RV is equipped with the essential equipment, digital nomads can reply to emails and deliver work just as easily as staff in the office.
If you're right at the start of your RV adventure, you may be able to ask your employer to make your current job a remote working position. If that's not possible, you can find jobs for remote workers on websites like LinkedIn, Monster, or Indeed. There are also specialist job boards that list remote jobs, like Remote.co and Working Nomads.
Taking Surveys
Have you ever considered making money by completing surveys? Survey sites won't make you rich, but it's an easy way to make money while you're on the road and doesn't take much effort at all. If you want to maximize your earnings from taking surveys, it's best to sign up for as many survey sites as you can. That will give you the most opportunities to get picked for surveys each day.
Some popular survey sites include:
What's the Best Way to Make Money While Traveling in an RV?
As you can see, there are masses of ways to earn money while RVing. In fact, there are even more options than this, so don't feel that you're restricted to just these ten opportunities. While you're traveling in your RV, you'll have the time and freedom to create other opportunities to earn money.
The best way to make money on the road will be the one that fits your skills and the time you have available. You could even combine some of these income streams so that you're not totally reliant on one money-making method. Whichever you choose, the money you earn is sure to help you enjoy the RV life for longer.