Social networks are a great source of traffic for making money with the Travelpayouts partnership platform. If your project about travel, you can help your audience save money on travel and, as a result, travel more. In addition, you can turn your hobby into income. It's very simple. Sign up for Travelpayouts, join the travel affiliate programs, copy affiliate links, and post them on your page. For example, in stories, in bio, or in Taplink. For each sale made via your link, you'll receive a reward.
Join the Travelpayouts Partnership Platform
Access exclusive tools and the best travel affiliate programs, including flights, hotels, car rental, insurance, tours and activities, all in one place.
Join Today
395,000 partners already trust us
120 travel brands
$53M+ total paid since 2011
How to Steal Your Competitor's Audience
When you use Ads Manager on Facebook or Instagram, you see different filters that help you make sure the targeted ad is shown to the right people. This tool brings advertising to the next level, and everyone seems to be happy about it. Users might feel that an ad is following them, and that's exactly what target advertising is meant to do.
Ads Manager is a free tool provided by both Facebook and Instagram. What is interesting is that it helps Facebook ads target competitors' fans!
Before you start, research your niche and know your competitors. At one point, you should put yourself in your customers' shoes — this is where everything great starts.
Find Your Competitors' Fans' Interests and Set Targeting
If you know your audience very well, you can adjust all the filters you see on Ads Manager right away. But we would like to focus our attention on the "Interests" section. It allows you to set the interests of your targeted audience. For example, if you sell non-fiction books, you can type in "biography," "memoir," "non-fiction literature," author names, and so on.
Facebook's and Instagram's Ads Manager will show you how many people are interested in any interest you input. All those people can be your new audience. Not all things can be registered in the "Interests" filter, but it is what it is. It is still worth your attention, anyway.
Beat Your Competition to the Punch With Lookalike Audiences
A Lookalike Audience is an audience that has similar interests to the audience you would like to attract. Just search for the brand or services from your niche and see what their audience is interested in.
The "Lookalike Audience" tool allows you to set the best-targeted advertising ever. You just have to use the information you and other companies have about your target audience. How? Target fans of another Facebook page. This is standard practice these days, so you don't have to worry about it. All the interests and favorite things of your potential customers can be found on your competitors' pages. Besides, you can set the location, which will allow you to create a new audience. This is how you get loyal customers from scratch.
If your lead sees both your and your competitor's ad, you just have to be sure that your ad is way better. You can do so in many ways, but that's a whole other story.
On Facebook, you can create either a custom audience or a Lookalike Audience. You can read more about this in the official knowledgebase. If you are launching a targeted ad for the first time, we advise you pick the custom audience. It will help you create a Lookalike Audience later.
When you target an audience with specific interests, it benefits you way more than just targeting random people all over the social network. Of course, you can combine different filters. For example, you can set the advertisement campaign to target people by interest, region, and language at the same time. This will help you to reach the exact people you want to reach.
Be careful with region feature. Facebook will show your ads to people who, for example, are in the USA right now, and that includes tourists who don't live in the USA. It may be profitable to set the ad to locals only, but of course, find what works best for you.
How to Analyze Your Competitors' Audience
When you are analyzing your competitors' audience, every piece of information feels like gold. Facebook ads targeting fans of other pages are not something companies shy away from, so why should you? Analyzing your competitors' audience will definitely help you get new followers and show your competitors' fans that you have some good products or services as well.
Many developers offer products for analyzing your competitors' audience. Here is a couple of them, with the overview of their main characteristics.
Sprout Social
Sprout Social shows you everything regarding your competitor's behavior on social media. Thus, you can track and analyze their audience engagement data. You can see how often your competitor posts different content, the brand's social presence, and even how they respond to their audience. It's nice not only to look at but also to learn some tricks from the competitors and replicate the things that work.
With this tool, you don't have to be present on your competitors' Facebook pages all the time. The Facebook Competitors report allows you to compare your progress with the growth of your competitor. You can also do the same thing with your and your competitor's pages on Instagram.
You can use this tool for fun or to practice your new skills. It works best with big brands like Wendy's, Subway, Domino's, and others.
It doesn't do much, however. It won't help you with Facebook, just Instagram and other social media platforms such as Twitter or YouTube. It analyzes the number of posts, reposts, comments, and so on and gives you the grade of the picked brand. You can compare several brands and see who is best at social media marketing. Basically, you can see what works best and what is not so good for any business. Just try to find your niche and then get inspired by the big brands!
Testing a Custom Audience
You have analyzed your competitors' audience and started the advertising campaign. You've targeted Facebook ads to fans of a competitor's page, but no one has bought from you. How far was the outreach? Only huge numbers look good. They show your ad to many people, but those people may not interested in your product or service. You have to be very specific. A wide audience will bring you leads, but a specific audience will buy from you. That's what you want at the end of the day.
How can you achieve this? First of all, use the tools and methods that we've suggested earlier. It is almost impossible to do everything perfectly the first time, so if you are not satisfied with the results, experiment with filters and see what works best.
Target Your Competitor's Facebook Audience
This is the main idea that we want you to remember: Don't chase big numbers. Chase the niche audience that will bring you sales.
Using the Facebook and Instagram targeted ad tools is not hard. When you get good at it, try to use some extra tools for analysis. If you want to learn even more, look at a video tutorial. Here is a great one:
If you don't use Facebook Ads Manager yet, it's high time to do so. It not only allows you to set ads on Facebook but also on Instagram and some other platforms — Facebook owns many different services and brands. It's one of the best tools for promotion so far because you can reach almost anybody you want to!
Experiment and find the most profitable ad. You can copy the best strategy for your next campaign or to improve your other campaigns.
At TPAS'20, Jason Hunt, owner and co-founder at Merged Media, shared first-hand tips on how to set up a successful Facebook campaign. Alexa Meisler, travel blogger and photographer, explained how to use Facebook ads to drive traffic to optimized posts.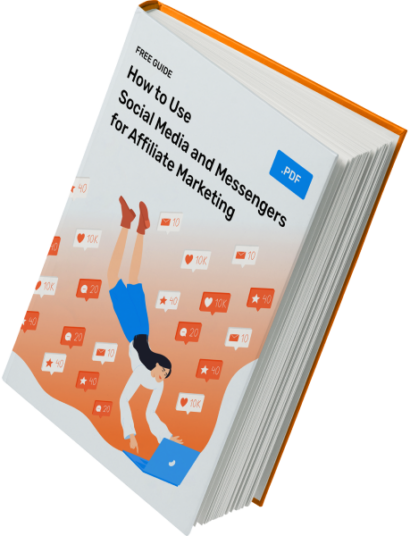 How to Use Social Media and Messengers for Affiliate Marketing
We'll guide you through all the steps of how to affiliate market through Facebook, Instagram, Pinterest, etc.
Download