What Is Social Media Optimization?
Social SEO is the practice of adding keywords, captions, alt text, closed captions, and other text-based features to your posts and profile to help people browsing the social platforms (Instagram, Facebook, YouTube, Twitter, etc.) find your content.
The best way to understand social media optimization is to have a firm understanding of search engine optimization — or "traditional" SEO. Just like you would optimize a blog post for specific keywords to show up in web results on Google, you can optimize your social posts and content with relevant keywords to help social media users discover your content.
People used to use social networks to view personalized feeds of content from family, friends, and brands they followed — but not anymore. With search bars and explore feeds, people are actively using social networks to collect information from other social media users today.
Do you have a better understanding of what social media optimization is now? That's great! Now, let's dive into some specific strategies you can use to implement social media SEO successfully.
Keyword Research for Social Media
Performing keyword research for your social media profiles might not be as complicated as you think. For example, if you're a content creator who focuses on creating hiking, backpacking, and outdoor content specific to the Southwest USA — you'll want to include keywords that are reflective of this niche (like "hikes in Arizona" and "Utah national park road trip") in your social media content on Instagram, Facebook, YouTube, TikTok, and other social platforms.
Here are some general tips for conducting keyword research for social media:
Stay up to date with trending topics on social media platforms
Determine the search query frequency — in other words, how often people are searching for a particular topic.
Identify demand for certain keywords within a relevant topic, and understand the user intent and points of engagement to create a user-generated content strategy.
Unlike search engine optimization for Google, which requires other tools, like Ahrefs and SemRush, the best place to perform social media keyword research is on the platform itself. These are some tips for performing keyword research on popular social media platforms:
| | |
| --- | --- |
| Facebook | Facebook offers granular audience targeting based on hundreds of parameters, including demographic data, life events, hobbies, and interests. This allows you to target a specific audience with your content. |
| Twitter | Twitter offers internal search functionality and an analytics platform that allows you to search for trending keywords, hashtags, topics, and phrases to incorporate into your content. |
| Instagram | Instagram still relies heavily on hashtags, so identifying trending hashtags and incorporating them (or the keywords from these hashtags) into your captions, profile, alt text, and subtitles is critical for Instagram SEO. |
| YouTube | YouTube is owned by Google, so you can search for keyword suggestions by typing in a relevant word (such as "Arizona travel") into the search bar with an underscore. The platform will auto-populate relevant keywords that people are searching for. |
You can find what people are searching for on Instagram, YouTube, and other platforms by typing a keyword or hashtag into the search bar.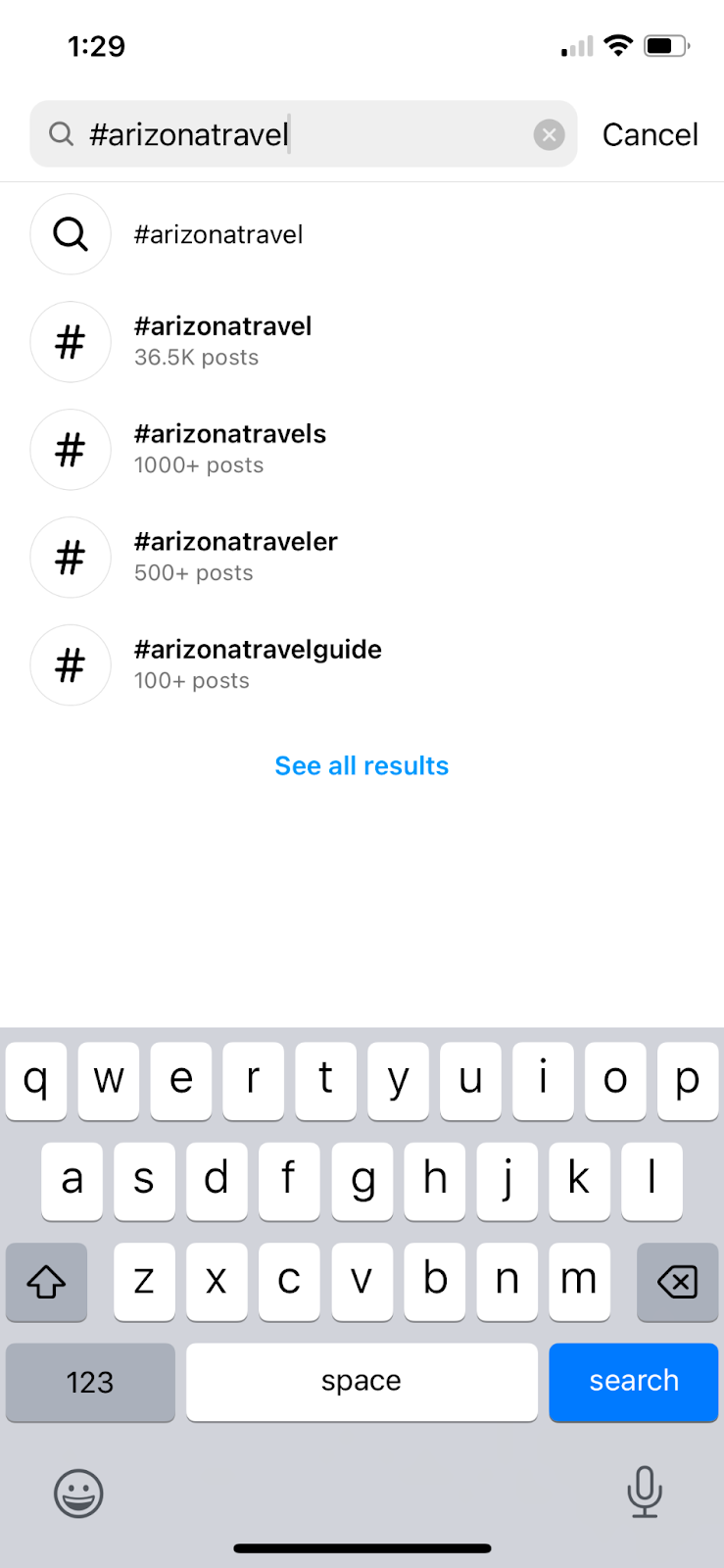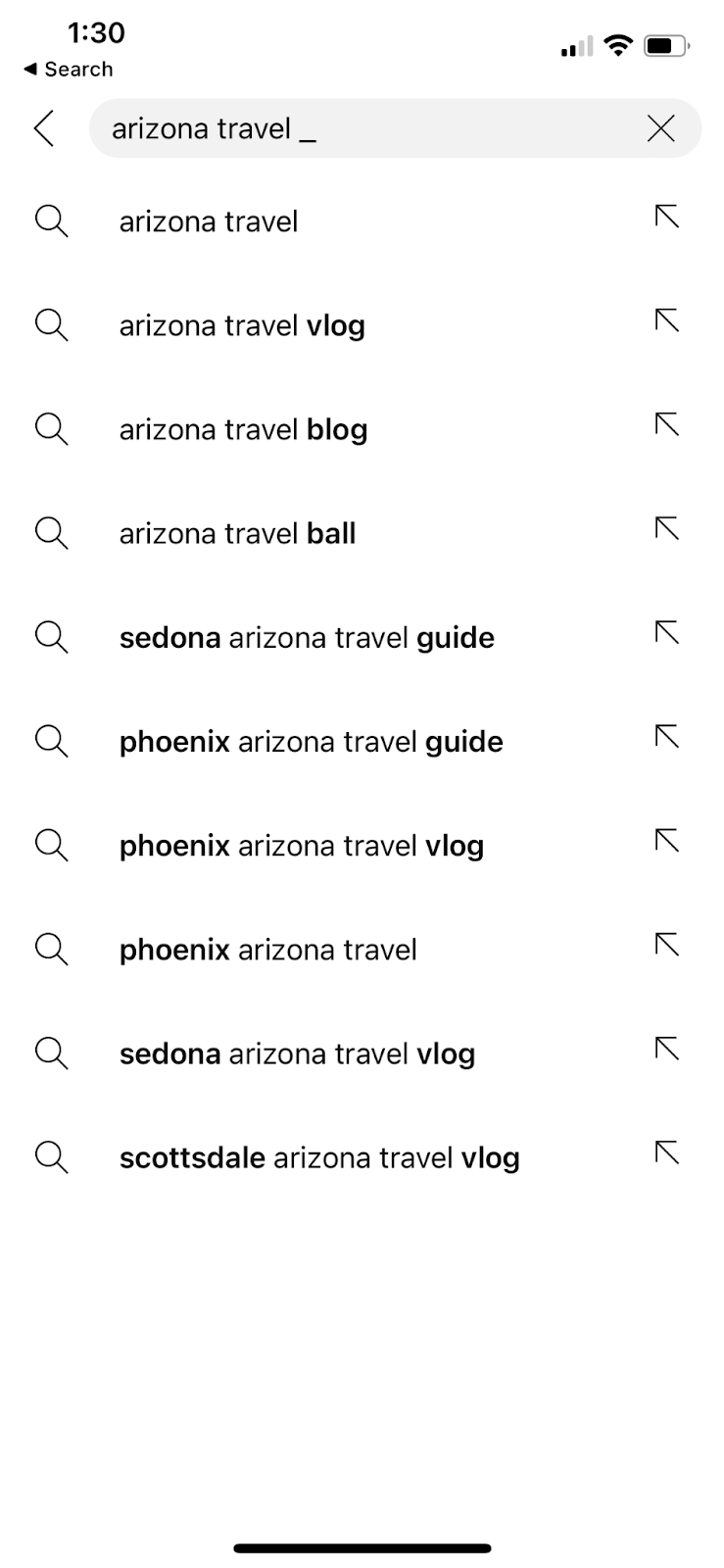 Optimizing Social Media Profiles
Now that you've performed keyword research, it's time to optimize your social media profiles — and if you already have a blog, it's a similar process to optimizing your website!
To build a cohesive brand, your social media platforms should be an extension of your website. This means that the same keywords that you used to optimize your website — in the domain name, headings, subheadings, links, image names, and alt text — should also be used in your social media profiles.
So, following the example above, if you're an outdoor travel blogger focused on exploring the Southwest USA, you'll want to incorporate keywords reflective of this into your social media profile (like "southwest USA," "outdoor travel," and "US content creator").
Here are some things to think about when optimizing your social media profiles:
Username
All your social media profile usernames (or "handles") should match so that people can easily find your content across different platforms. Your usernames should also match your domain if you have a website. Ideally, usernames should include keyword(s) that generally describe what your content is about (i.e. travel, nomad lifestyle, etc.).
Description / Bio
Creating a description or "bio" for your social media profiles might look a bit different, depending on the platform. Regardless, it's important to include keywords that describe your content in the names and descriptions on your profiles. If relevant, you should also include a location.
Feeling stuck? We recommend trying out this Instagram Bio Generator by Hootsuite that uses your niche, tone, and keywords to create an optimized bio for Instagram. Then, you can edit this bio to be compatible with other social media platforms, like Facebook, Twitter, and TikTok.
Profile Photos
Remember how important it is to ensure your usernames or "handles" match to make it easier for people to find you across multiple platforms? The same goes for profile photos.
Choose one clear profile photo that is reflective of your brand — so for a hiking or outdoor content creator, perhaps a photo of you at the top of a mountain — and use the same photo as your profile photo across every social media platform. Then, people will start to associate your brand across all platforms with this photo.
Links
If you're a blogger, you already know a solid internal and external linking strategy is critical for search engine optimization success. However, linking is just as important for social media optimization — just for a different reason and purpose.
Chances are, if someone is following you on one channel (say, Instagram), they might be interested in following you on another (like YouTube). Make it easy for them to find you on multiple platforms by cross-linking your website and other social platforms in your description. Many travel bloggers use a tool, like Linktree, to include links to multiple platforms and websites through one link in their bio.
Several travel influencers, like The Blonde Abroad and Helene In Between, use the "link in bio" to direct their followers to a page that includes links to several other websites, social media platforms, and valuable resources.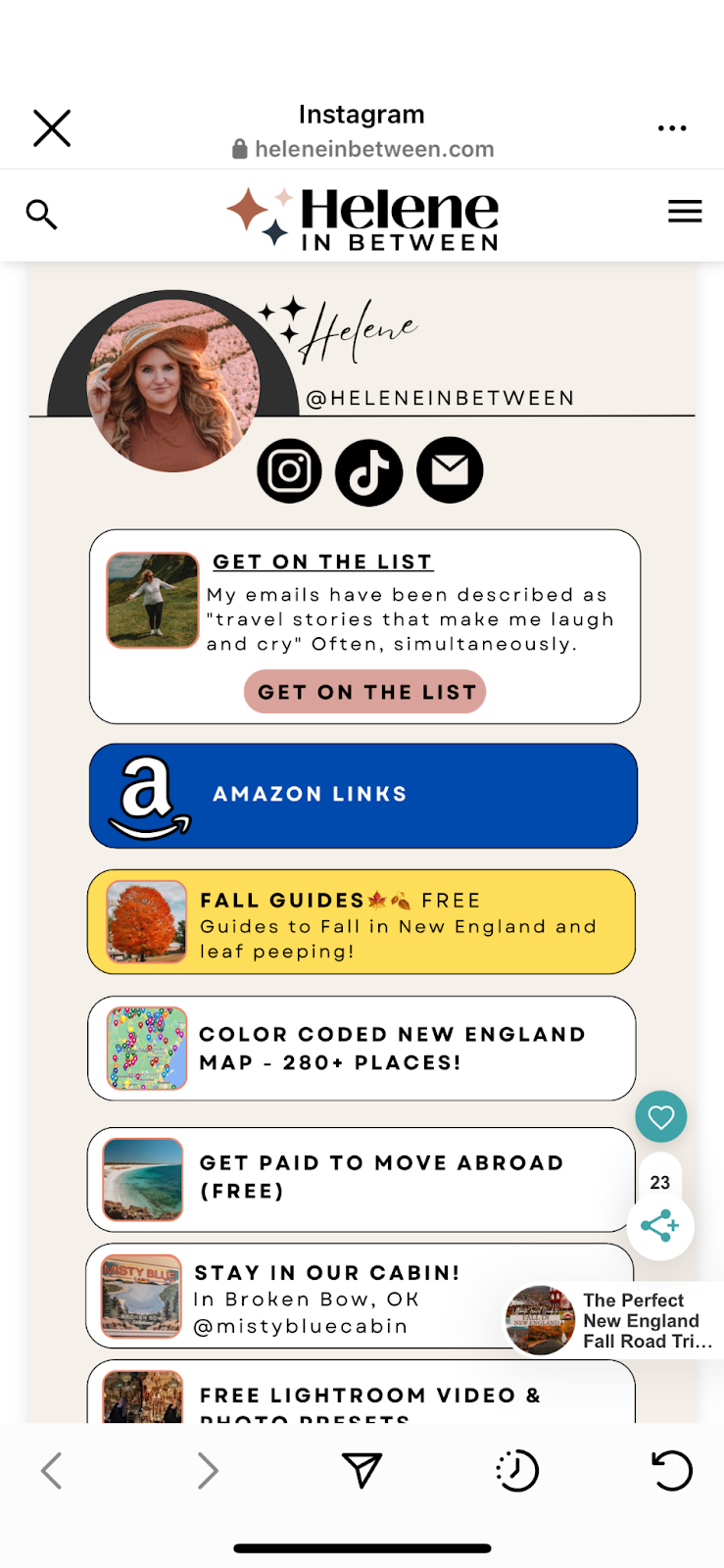 Creating SEO-Friendly Content on Social Media
Perhaps the most important aspect of your social media optimization strategy is creating high-quality, engaging, shareable content that is optimized for relevant keywords.
Since most content on social media has a short lifecycle, it's important to post regularly. This shows your followers that you are committed to creating helpful content for them, and it also satisfies the algorithm, which can boost your profile in search results.
However, the frequency — and how to incorporate keywords into your content — will vary depending on the social media platform. Here are some tips to optimize social media posts based on the platform:
Instagram SEO
Include relevant keywords and hashtags in the caption (adding hashtags or keywords in an additional comment is not as effective)
Include detailed alt text on your images and include relevant keywords.
Use auto-generated captions and subtitles on videos, reels, and stories — this not only makes your videos accessible but ensures keywords appear onscreen.
Tag your location to make it easier for people to find location-based content. This is especially important for travel creators like you!
Post 3–5 times per week in feed, when possible, and 2–3 times per day on stories.
TikTok SEO
Incorporate your keyword in the in-text overlay on the screen.
Include your keyword in the audio when filming the video to ensure it's also included in the closed captions.
Add other relevant keywords to the caption (or video description). TikTok prefers keywords rather than hashtags, but you can use both.
Post between 3–5 times per week, when possible.
YouTube SEO
Use your main keyword as the video file name (packing-cubes.mov).
Incorporate a long-tail version of your keyword into the video title (it should be something someone would type into the search bar — so instead of "packing cubes" consider making the title of your video "how to use packing cubes for a suitcase."
Add relevant keywords — at least one main keyword and one secondary keyword — to the first two lines of the video description (what you can see before clicking "more").
Verbally say your keywords in the audio when filming the video.
Use subtitles in your videos to allow the keywords to appear onscreen.
Post a new video at least once per week.
Facebook SEO
Regularly publish keyword-rich posts and captions that include natural-sounding, conversational language.
Add alt text to your images, and when possible, incorporate relevant keywords.
Focus on optimizing your page and profile with target keywords — although we already talked about this, it's especially important for Facebook SEO.
Post between 1–2 times per day.
Twitter SEO
Naturally incorporate main keywords into your posts — and try to post about trending topics when relevant.
Include 1–2 hashtags in each post, and use them strategically within the text (instead of at the end) to keep your message "short and sweet" — Twitter posts can only be 280 characters long, but 100 characters should be the target for maximum engagement.
Add alt text to images, and incorporate keywords when relevant.
Post between 2–3 times per day.
Building Links Through Social Media
Social media can be a great tool for building backlinks to your website. However, to generate and amplify backlinks, it's important to be strategic about how you use social media for link building. Here is our recommended strategy for building links through any social media platform:
Create shareable content. It's important to create content that your audience will find valuable, interesting, and engaging. Content that is relevant to popular trends or current events is more likely to be noticed, shared, and linked back to by other websites.
Promote your content. Make sure you're choosing the right social media platforms for your audience. For example, if your audience is women between the ages of 18–24, TikTok or Instagram might be the best platform, whereas Facebook might be a better platform for women between the age of 40–50. Remember to use the social SEO best practices when creating and sharing your content on social platforms.
Engage with your audience. Encourage your audience to interact with your content with a like, share, comment, save, etc., by including a clear call to action. Then, interact with your audience by responding to their comments, creating polls, or thanking them for their support with a giveaway to generate "buzz" around your content. This is one of the best-kept secrets to social media success!
Build relationships. Find other creators, influencers, and communities in your niche that have high authority and reach, and build a relationship with them by liking, sharing, or supporting their content. You can even reach out to them in a DM asking if they'd be interested in a collaboration or guest post in exchange for a link to your website.
Stay consistent. Continue to do all the steps listed above — content creation, promotion, engagement, and relationship building — on a regular basis. Your patience, perseverance, and commitment to the "long game" will be what results in link-building success using social media.
Analyzing and Monitoring Your Social Media SEO
Most social media platforms offer an analytics platform where you can see what content is performing well — and what content can be improved. You can also use Google Analytics to see how successful each social media platform is at directing traffic to your website.
These are some of the social media engagement metrics you will want to pay attention to when tracking your analytics, depending on the platform you're using and your goals:
Reach — the number of people who have viewed your content.
Impressions — the number of times your post was seen (usually higher than reach since one person can view the same post multiple times).
Engagement rate — a percentage of your audience who engaged with your post (comments, likes, shares, etc.).
Audience growth rate — how many followers you're getting within a given time frame.
Video views — how many times a video was watched (at least for a few seconds).
Video completion rate — how many times a video was watched from start to finish.
Amplification rate — the ratio of shares per post to the number of followers.
Virality rate — the ratio of shares per post to the number of impressions.
The analytics you pay the most attention to might change depending on your goals and social media marketing strategy. For example, if you're hoping to grow your following on Instagram, you might care about your audience growth rate, but if you're trying to create viral video content on TikTok, you'll likely care about your amplification rate and virality rate.
If you realize you need to make adjustments to your social media optimization strategy after reviewing your analytics, it's best to complete new keyword research, so you can re-optimize your social media profiles and content. You can also perform a competitive analysis to see what you can learn from the success of your competitors.
Leverage Social Media Optimization to Reach Your Income Goals with Travelpayouts
Social media optimization is a useful tool that can help your valuable, engaging content reach more people. It can also help you to attract more followers and readers to your website — which can, in turn, boost your ad and affiliate revenue!
If you'd like incorporate affiliate links into your social media content — we invite you to join us at Travelpayouts! As a Travelpayouts Partner, you can promote 100+ popular travel brands across your social media and earn money when your followers make a purchase through your affiliate links. Travelpayouts is free to join, and it's easy to get started!