Why Use Pinterest to Promote Your Affiliate Links?
If you want to make money as an affiliate marketer, you should consider growing your online presence on Pinterest, which is an image-oriented social network as well as a search engine for images. Users can discover, save, and share images known as "pins" and also create pin boards to gather images on the same topic. It is also possible to share and save GIFs and videos. Based on what users save, the platform provides content recommendations.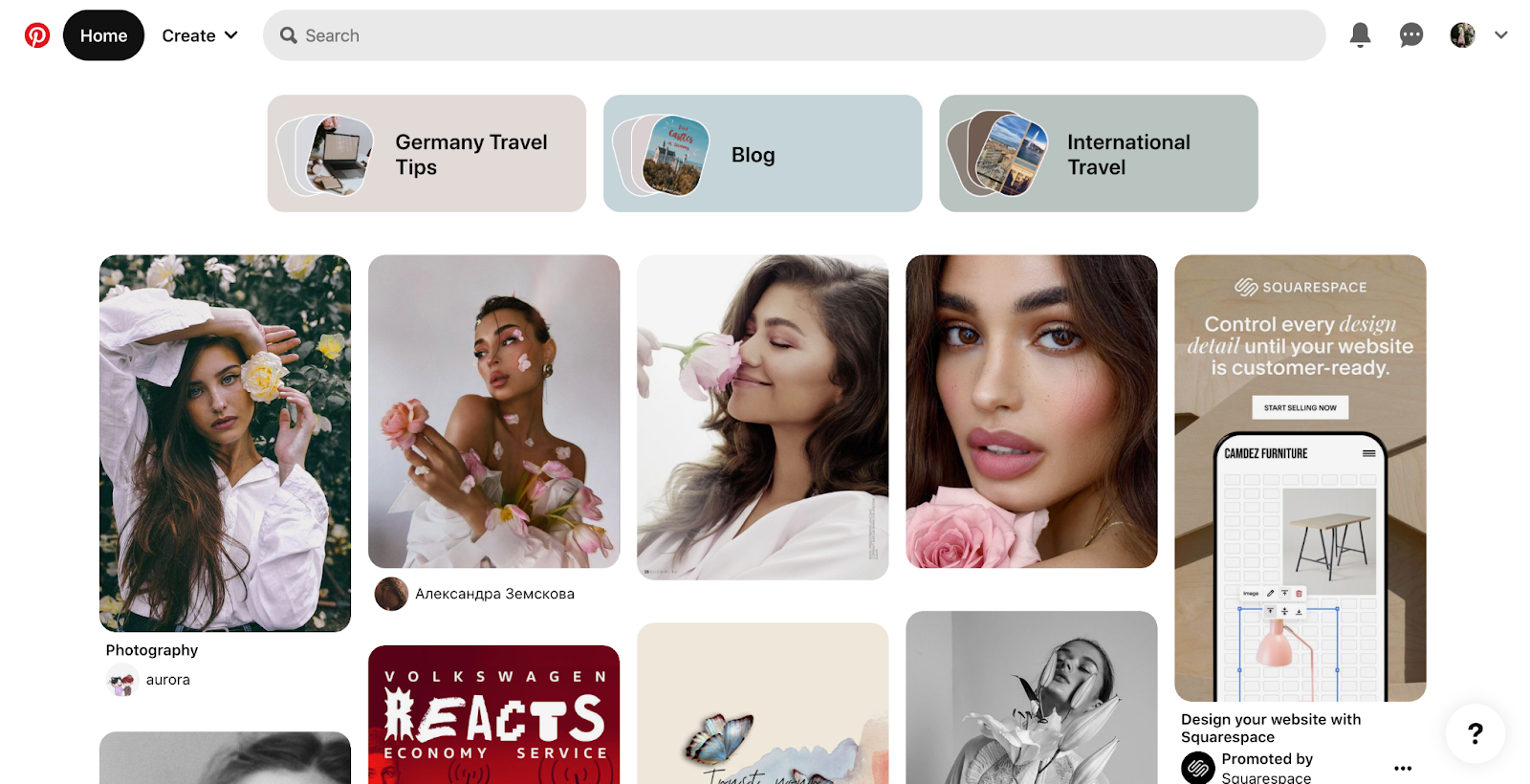 Here are some advantages that make Pinterest an attractive platform for affiliate marketers:
Pinterest has 445 million monthly active users and this number is constantly growing.
Pinterest's global annual revenue has been growing over the last years and reached $877 million USD in 2022.
Pinterest's largest audiences are located in the US, Brazil, Mexico, and Germany.
The platform is most popular among women between the ages of 25 and 34 years.
Pinterest generates a lot of traffic. For example, in 2021, the site accounted for 1.1 billion visits.
Most social referral traffic comes to Pinterest from YouTube and Facebook.
Most users prefer to use the platform monthly, while only 19% use it on a daily basis.
Pinterest allows you to link your pins to external platforms, so you can drive traffic to your blog posts, landing pages, videos, and so on.
The most popular niches on Pinterest are lifestyle, travel, DIY, fashion, recipes, etc.
So, if you run affiliate campaigns for products and brands, for whom the visual aspect is important, growing your presence on Pinterest can be an amazing way to boost your sales.
Using Affiliate Marketing on Pinterest to Make Money: A Step-By-Step Guide
Starting an affiliate campaign on Pinterest can be overwhelming. If you have decided to promote your affiliate links on the platform or use pins to drive traffic to your blog or website, here are step-by-step instructions on how to earn money on Pinterest through affiliate marketing.
Step 1: Choose a Niche or Product to Promote
To create affiliate campaigns that will drive traffic and conversions for months or even years, it is very important to start by making smart choices about the niche and product you will promote. Ideally, your niche should be interesting to you, relevant to your audience, and beneficial in terms of the available affiliate programs.
If you have some knowledge and experience about a topic and are passionate about it, creating useful content will not be a problem. On the other hand, working in a vertical that has no personal interest or appeal to you will likely be a burden.
It is also important to understand your audience as well as their pain points and needs. Promoting irrelevant products may only encourage people to unfollow your page. However, if you consider their interests, explore the market, and share useful solutions, it will be easy not only to drive sales, but also to grow your following and build a strong, engaged community.
Finally, make sure to check available affiliate programs in your niche. In order to grow a successful affiliate business, you need to join programs that have a good reputation, top-quality products or services, high commission and conversion rates, and provide affiliate support.
The travel niche offers a wide range of products to choose from, regardless of your audience's age, gender, and location. Everybody likes to travel, so you can find a suitable offer for any type of reader. For example, if you mostly write about traveling on a budget, you can research and recommend hostels in some of the most popular destinations. Or, if your audience mostly consists of families, you could recommend family-friendly hotels, activities, and so on.
To learn more about how to choose the right travel affiliate program, watch this video.
Step 2: Create a Pinterest Account
Once you understand what niche and product could interest your audience, it's time to start building your Pinterest page. If you don't have a Pinterest account yet, you can create one in a few simple steps.
To begin, you can create either a personal or professional account. It is possible to switch the account type later on. To unlock marketing and analytics tools on Pinterest, you can create a free professional account. If you already have an account on Pinterest, you can connect it with your new business account as well. First, type in your business or brand name, website address, country, and language.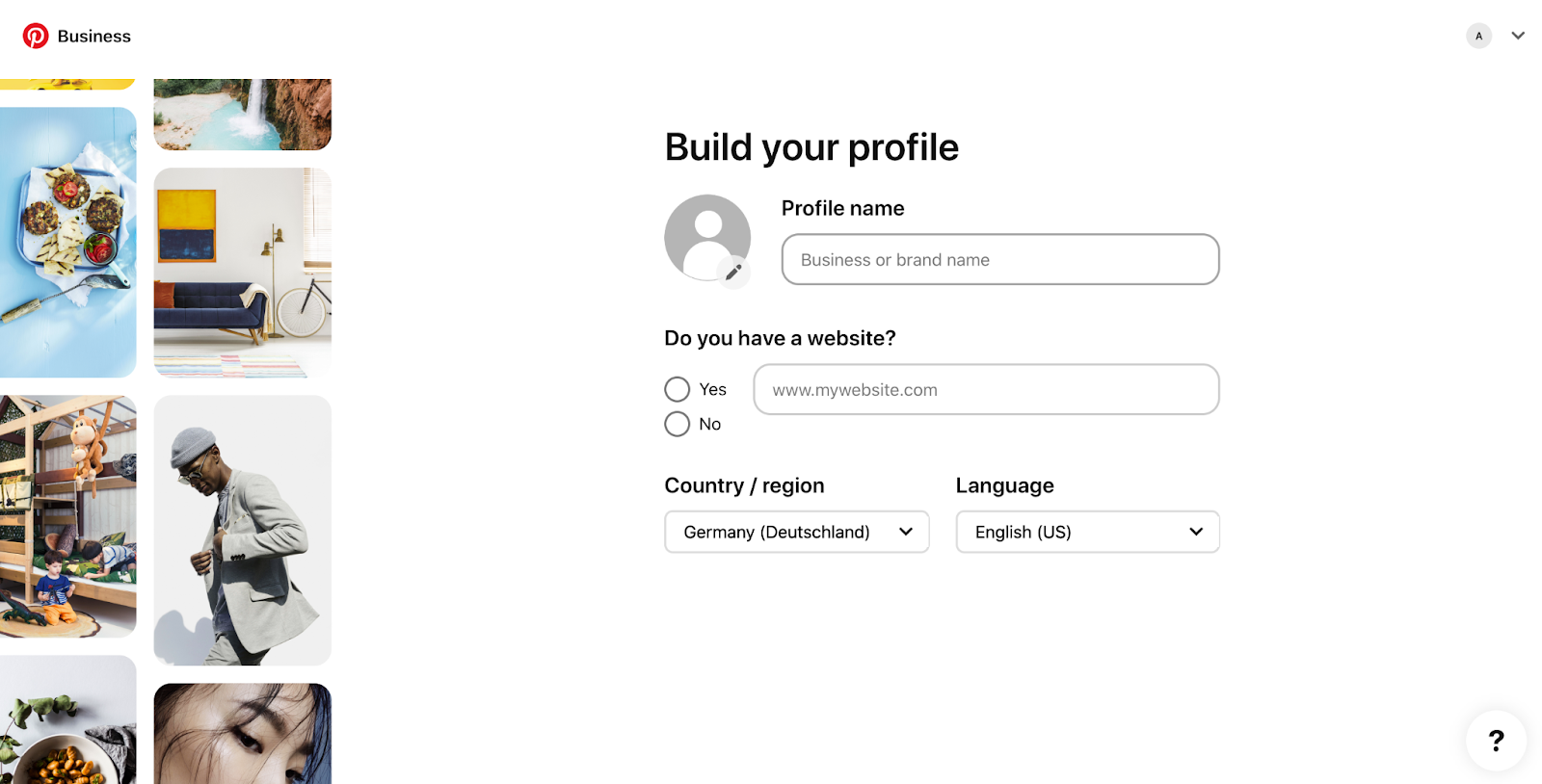 You will then have to provide a bit more information about your brand, such as:
● Focus and goals of your brand
● Suggestions for customized recommendations
● Interest in advertising
● Your full name, email address, and phone number
It is very important to fill out your profile correctly and provide all the information your audience might want to know about you. Here are a few tips on how to create an appealing Pinterest profile:
Add a profile picture that is relevant to your niche. Your profile picture will appear next to your pin when users click on it in the search results. With an appealing and bright image, you can motivate visitors to check your profile and subscribe.
2. Add a background picture. While most bloggers prefer to share personal photos in their profile, a background photo can be anything from a destination photo to graphics and so on. It will also help your audience understand what kind of activities you offer.
3. Add a link to your website in your profile description. If visitors find your pins interesting, they might want to check your profile and, consequently, your blog as well. Why miss an opportunity to send some good traffic to your page?
4. Add a profile description. Make sure to briefly describe what you do and what kind of content users can find on your Pinterest profile.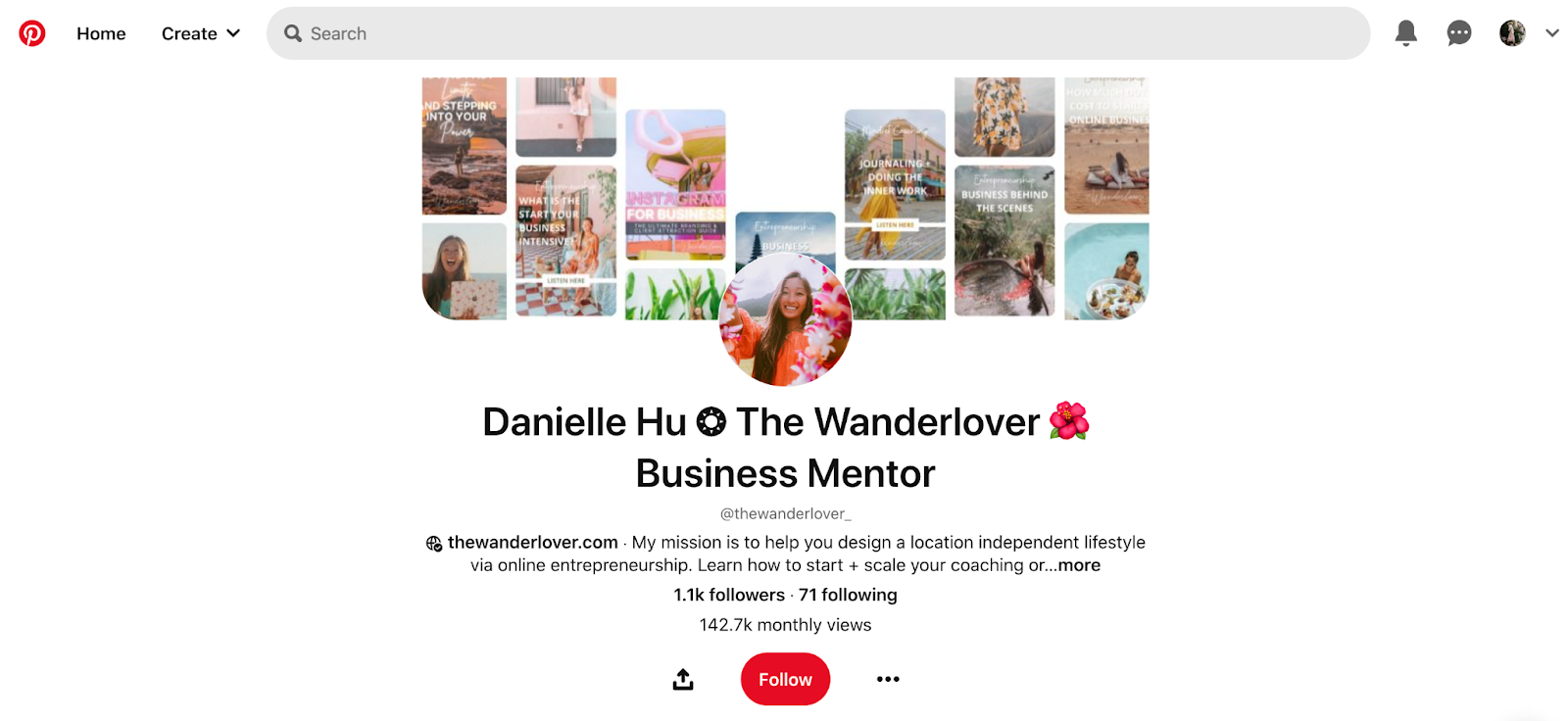 Step 3: Sign Up for Affiliate Programs
Once you have chosen brands to promote and created an account on Pinterest, you should sign up for affiliate programs. Essentially, there are two approaches:
● Partner with brands directly by joining their own affiliate programs
● Join an affiliate network or platform and gain access to a variety of affiliate offers on a single interface
What is more beneficial? As an affiliate partner, you want to find programs that feature the highest affiliate commissions and provide support to their publishers. If you already have a brand in mind, you may connect to it directly, as commissions are often higher in this case. However, if you want to promote several brands, it is always more beneficial to join affiliate networks or platforms that also provide affiliate support and creatives to help drive conversions.
In the travel niche, one of the top affiliate marketing platforms is Travelpayouts, which offers access to over 100 brands in various verticals, such as airlines, accommodations, tours and activities, insurance, travel compensation, and so on. As of now, the platform accounts for over 350,000 partners and does not stop to grow its reach. There are also numerous affiliate creatives to help you drive conversions, such as banners, widgets, deep link generators, as well as more advanced solutions, such as API or White Label. Travelpayouts is free to join and signing up will only take a couple of minutes.
Join the Travelpayouts Partnership Platform
Access exclusive tools and the best travel affiliate programs, including flights, hotels, car rental, insurance, tours and activities, all in one place.
Join Today
395,000 partners already trust us
120 travel brands
$53M+ total paid since 2011
Step 4: Create Boards and Pins
To grow your presence on Pinterest, you need to create and share high-quality pins. You can organize your pins by creating pin boards where you gather all pins on a similar topic together. This will help both you and the user to better navigate your content.
For example, travel bloggers and affiliate marketers can create pin boards for different destinations. Thus, the user could glance at all available posts and offers for the destination they are interested in instead of looking through your pins one by one.

Step 5: Grow Your Following
The bigger your audience is on Pinterest, the more leads you can generate for your affiliate offers, resulting in higher earnings. To grow your following, make sure to focus on both the quantity and quality of your followers. Here are a few tips to help increase your Pinterest audience:
Share fresh content regularly. The more content you create, the more likely your page is to be discovered either through the search results or suggestions. Try to create new pins on a weekly basis to engage the existing followers and boost your outreach. Many bloggers share pins on a daily basis to grow their online presence faster.
With built-in Trends Pinterest analytics tool, you can discover the most popular topics and take advantage of them to send more traffic to your page. You can filter trends by type, time interval, age, gender, interests, keywords, and more.
3. Include text overlay. To make your content more engaging, you can add some text, such as your post title, to pins. Text overlays will help users understand what your post is about and improve your ranking in the search results.
4. Add a description to your pins. A short description is a great chance to use more keywords to boost your outreach and explain to the audience what your post is all about.
5. Engage with popular content. To increase your exposure, make sure to write comments to some other relevant pins that you can find in the search. You could also pin them to your relevant boards. Some pin creators may also check out and repin your content in return.
6. Join group boards. Search for the most popular Pinterest boards in your niche and ask to join them. This can be a great chance to share your pins with a wider audience and network with other bloggers and marketers.
Step 6: Add Affiliate Links
The next step is to add your affiliate links to your pins and send traffic to the offers and brands you promote. You can add a link to each pin in the "Destination Link" field. When users open your pin, the link will appear in the top right corner. Make sure to provide enough context in the pin description to encourage users to click the link.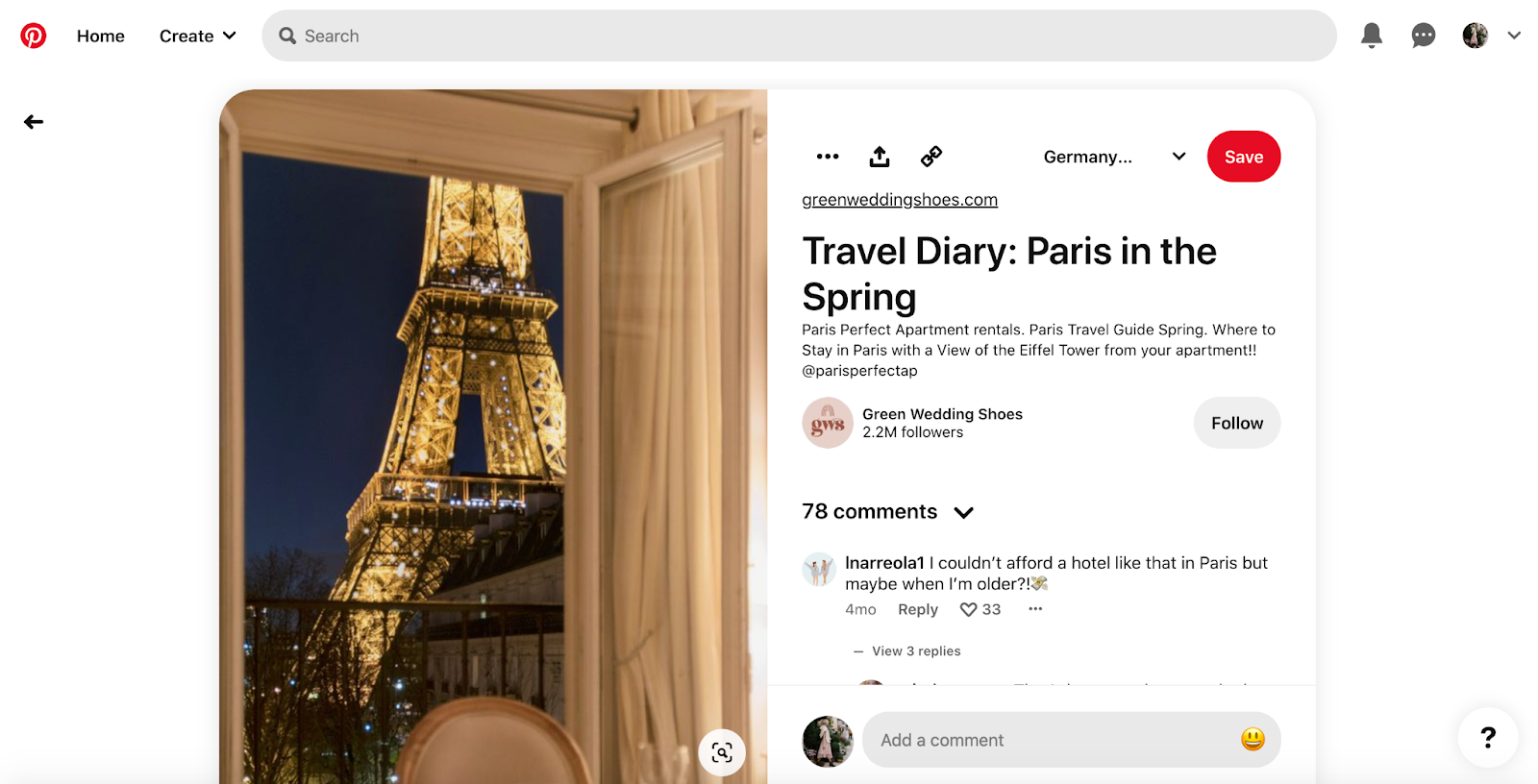 It is paramount to disclose your affiliate links if you want to create a long-lasting and successful relationship with Pinterest. You can find out more in the Community Guidelines on Pinterest.
Step 7: Track Your Performance
Once you have started sharing pins, it is important to regularly monitor your campaigns. This will allow you to understand which content and products resonate with your audience the most, so you can focus on promoting the best-performing affiliate offers. Tracking can also help refine your content strategy and create more of the content that visitors save and repin most often.
You can find built-in analytics in your business account on Pinterest.
Pinterest for Affiliate Marketing: Potential Challenges to Keep in Mind
Before we delve into successful examples of Pinterest affiliate marketing, it's important to discuss potential drawbacks of running your affiliate campaign on the platform that you should keep in mind.
Firstly, as Pinterest is a visual platform, creating captivating visuals is crucial to driving traffic to your affiliate offers. This involves finding beautiful pictures, learning how to edit them, and adding text overlays. Additionally, promoting your pins to different boards requires effort and attention.
Secondly, Pinterest functions differently from Google, and therefore following the same strategy won't necessarily yield the same results. For instance, Pinterest isn't very effective in promoting long-tail keywords, so it might be better to use general keywords instead.
Overall, to run a successful affiliate campaign on Pinterest, you'll need to develop a different strategy than when promoting your posts on Google. However, with the right approach, you can take advantage of one of the best visual search engines on the internet and reach some of the richest audiences that Pinterest has to offer in comparison to other social networks.
Successful Affiliate Marketing on Pinterest Examples
With over 445 million monthly active users, Pinterest presents bright opportunities for marketers from around the world to reach their target audience. Many bloggers prefer to leverage Pinterest traffic to send it to their blog, where they share affiliate links in a blog post with more context. Other marketers share affiliate links on Pinterest and drive traffic directly to their affiliate offer pages. Here are a few examples.
Jessie on a Journey
Jessie Festa is a travel blogger and affiliate marketer based in New York City. On her blog, she shares tips and tricks for solo travel, while teaching her readers how to make money with travel blogging and affiliate marketing.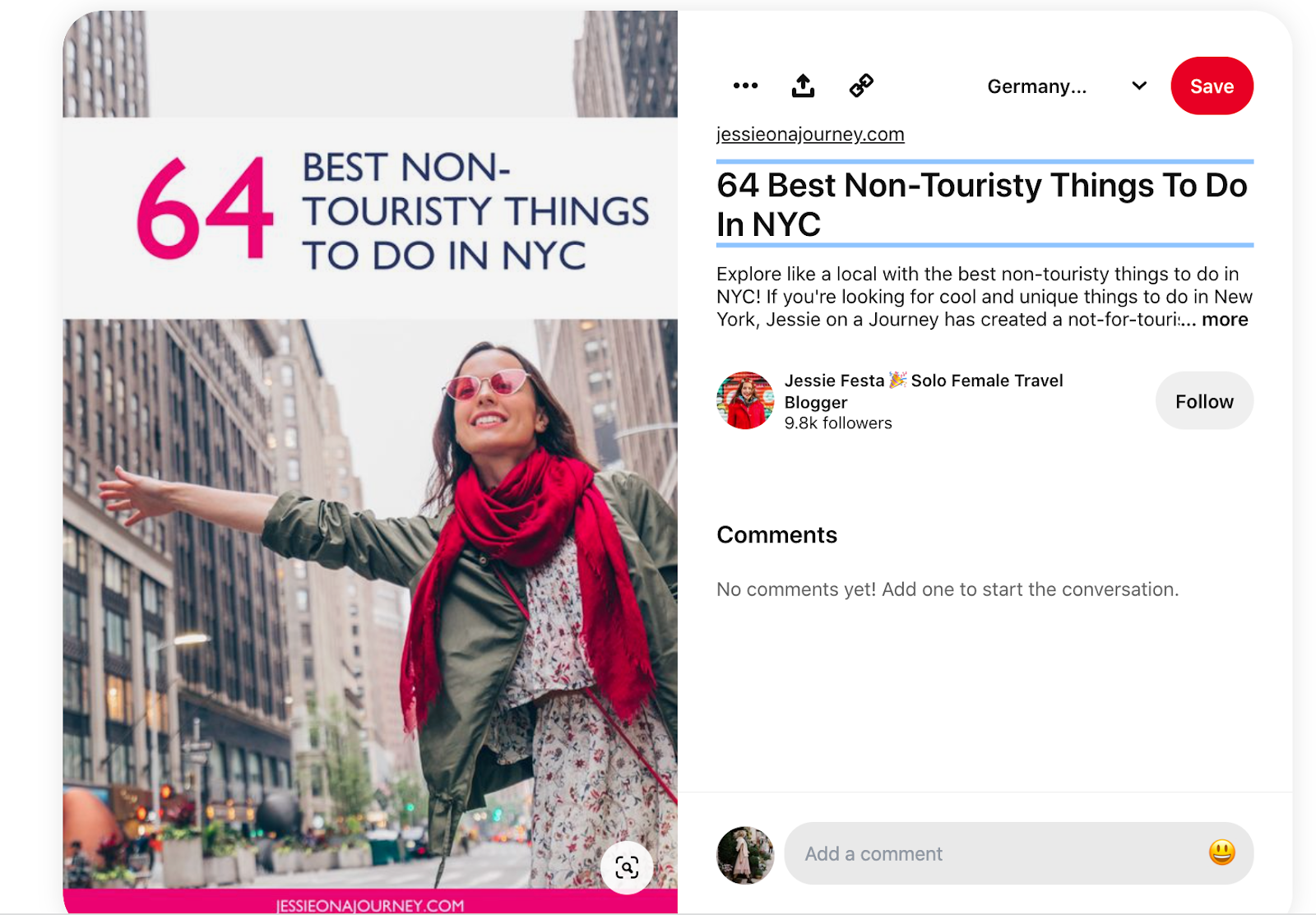 On Pinterest, Jessie mainly shares direct links to her blog posts. Her blog content includes affiliate links to different brands as well as ads. In contrast to other Pinterest marketers, Jessie shares short videos in addition to photos on the platform. This allows her to build a stronger connection with her audience and present the topic of each post.
Taverna Travels
Taylor Taverna is a travel blogger and content creator based in New York. On her blog, Taverna Travels, Taylor shares her adventures and travel tips for over 70 countries that she has visited. To drive more traffic to the blog, Taylor promotes content on Pinterest.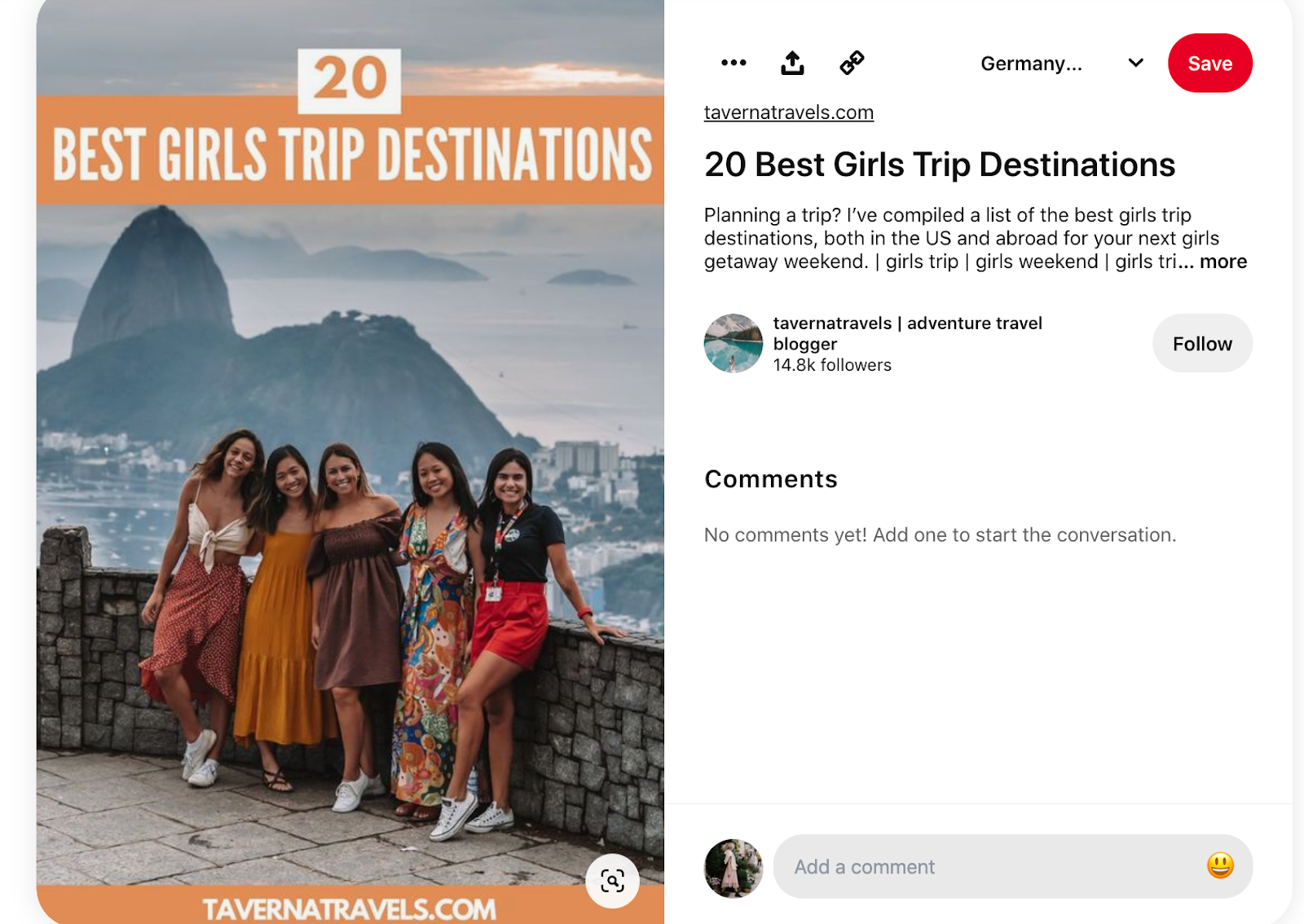 Taylor drives traffic from Pinterest to her blog posts, travel guides, and other types of content. From there, users can explore the materials enriched with affiliate links to different travel services, such as hotels. Taylor prefers not to share affiliate links directly on Pinterest. In contrast to other Pinterest marketers, Taylor sparingly shares keywords in the pin description section.
Ordinary Traveler
Christy Woodrow, the blogger behind Ordinary Traveler, has been on the road for the past 12 years. On her Pinterest account, she shares pins with links to blog posts, travel guides, photography guides, and other content types.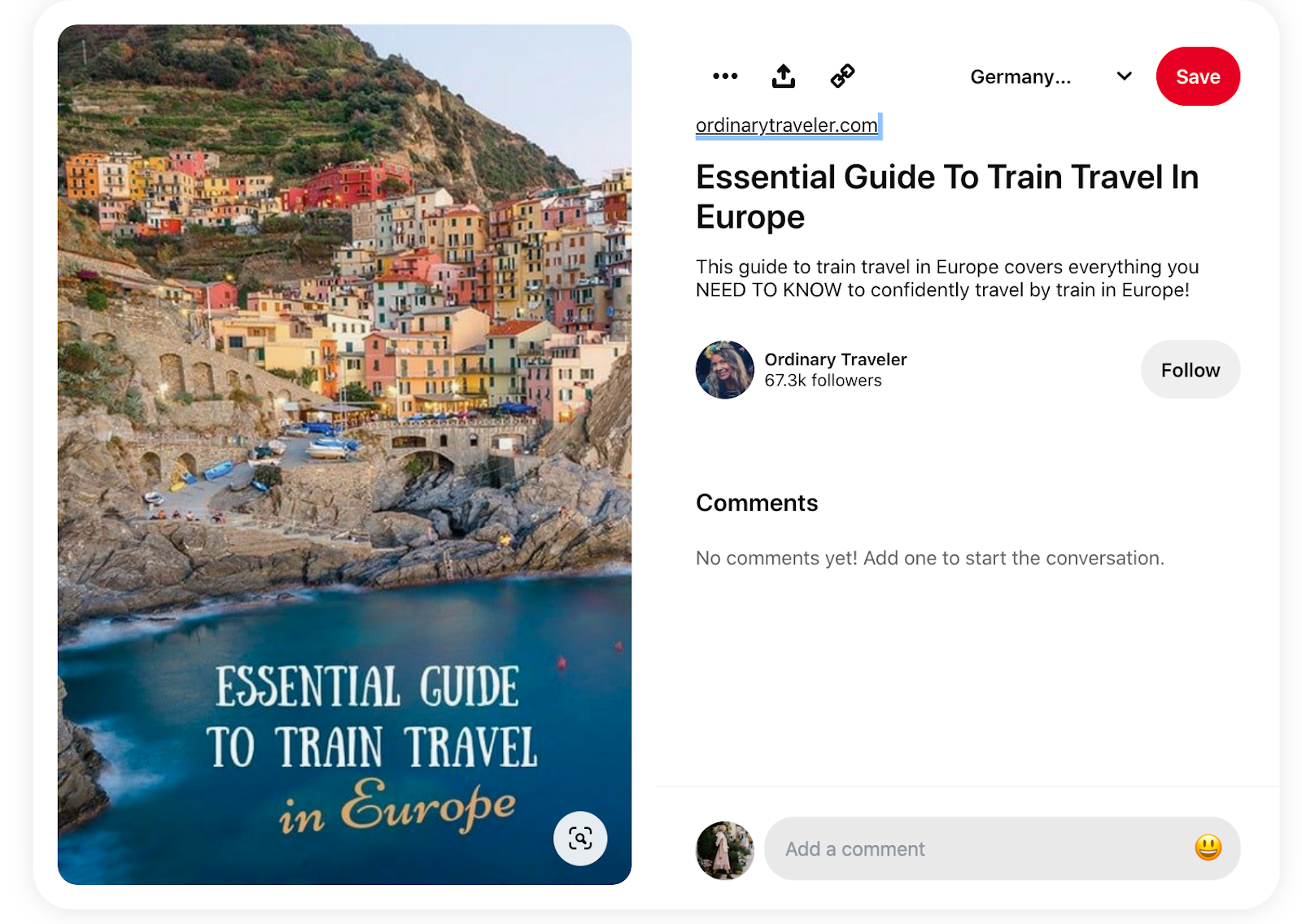 Every pin has a short description of the article content and contains a direct link to the blog. While scrolling through Christy's blog content, readers will stumble upon affiliate links, for example, to Amazon Associates. In addition to affiliate marketing, Christy monetizes her blog with advertisements.
Wander Her Way
Denise, a reformed corporate marketer, has traveled to over 30 countries and is now sharing her travel adventures as well as blogging and lifestyle tips on her travel blog Wander Her Way. On Pinterest, Denise shares pins to drive traffic to her posts with affiliate links to different travel services.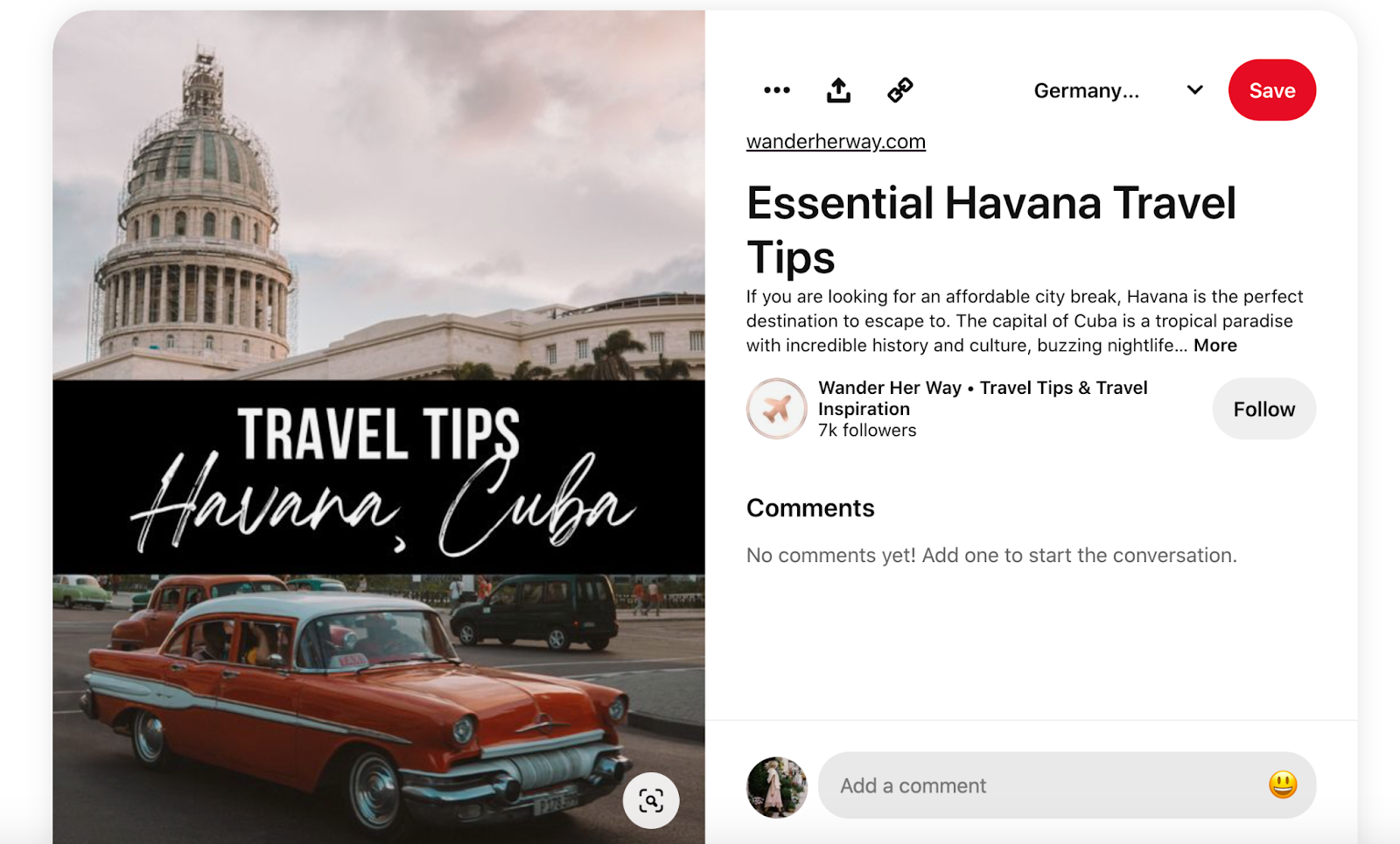 Denise's strategy involves creating and sharing a captivating pin with a brief description and a link to her blog post for every post she publishes. By doing so, users who click on the pin will be directed to a detailed travel guide, as well as recommendations for travel services, some of which are affiliate partnerships. By sharing affiliate links in the blog post instead of directly on Pinterest, Denise can send traffic to her blog and provide users with more value before promoting affiliate products.
World of Lina
Another affiliate example is from World of Lina. Alina, an Austrian travel blogger, has visited over 30 countries across four continents and has been earning her living with affiliate marketing among other things. Alina sends traffic from Pinterest to her travel blog posts containing affiliate links. In the pin description, she shares a brief description about the linked post.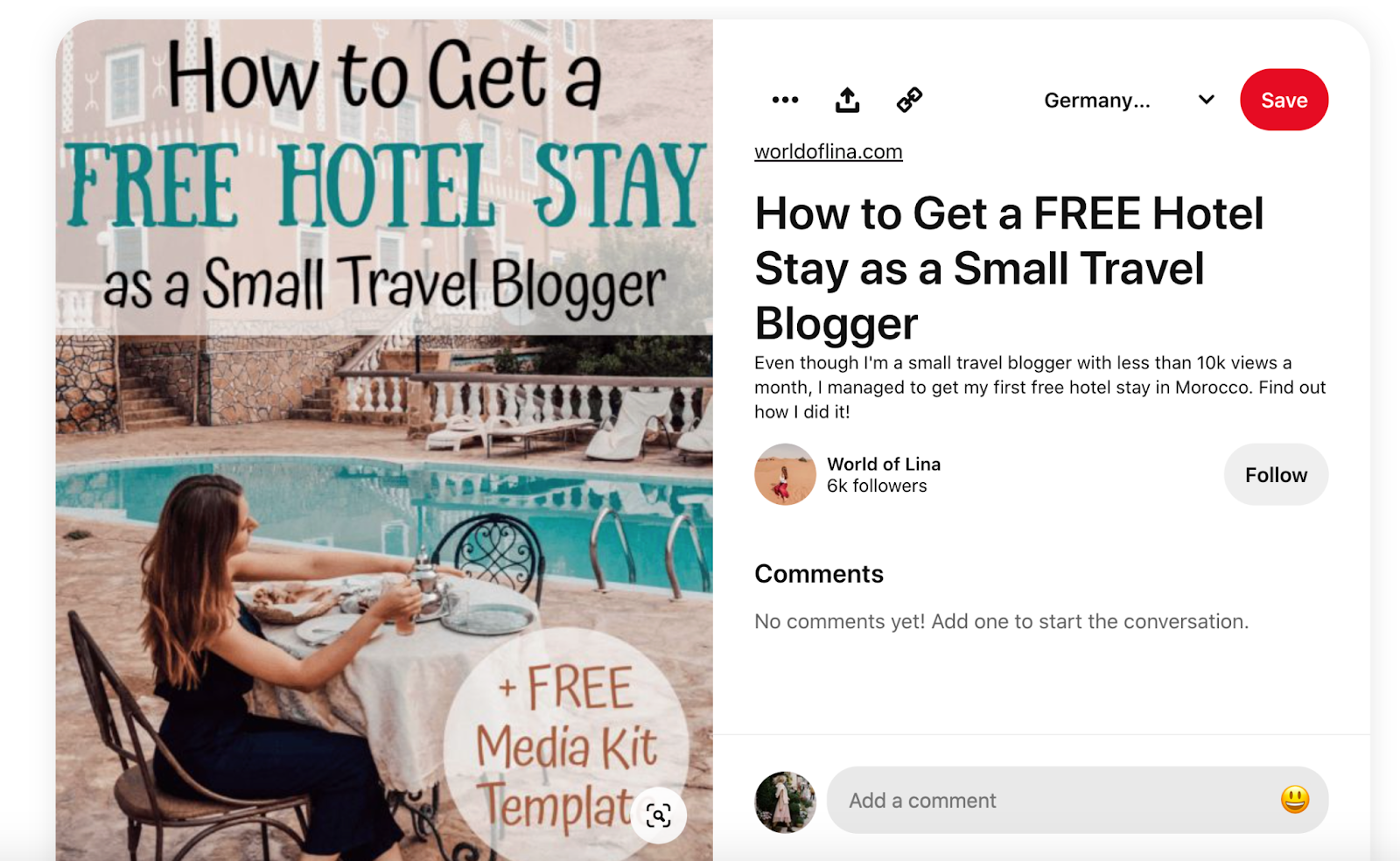 To increase traffic to her blog, Alina shares beautiful pins for each new blog post on Pinterest, accompanied by a short description of the content and a link to the post. Since promoting multiple brands in a single post can make it difficult to share affiliate links directly on Pinterest, Alina drives traffic to her blog instead.
At the end of each post, there is a separate section with recommendations for travel services, including hotels, flight tickets, activities, and more. This approach is helpful for promoting multiple brands without sounding too sales-oriented in the post.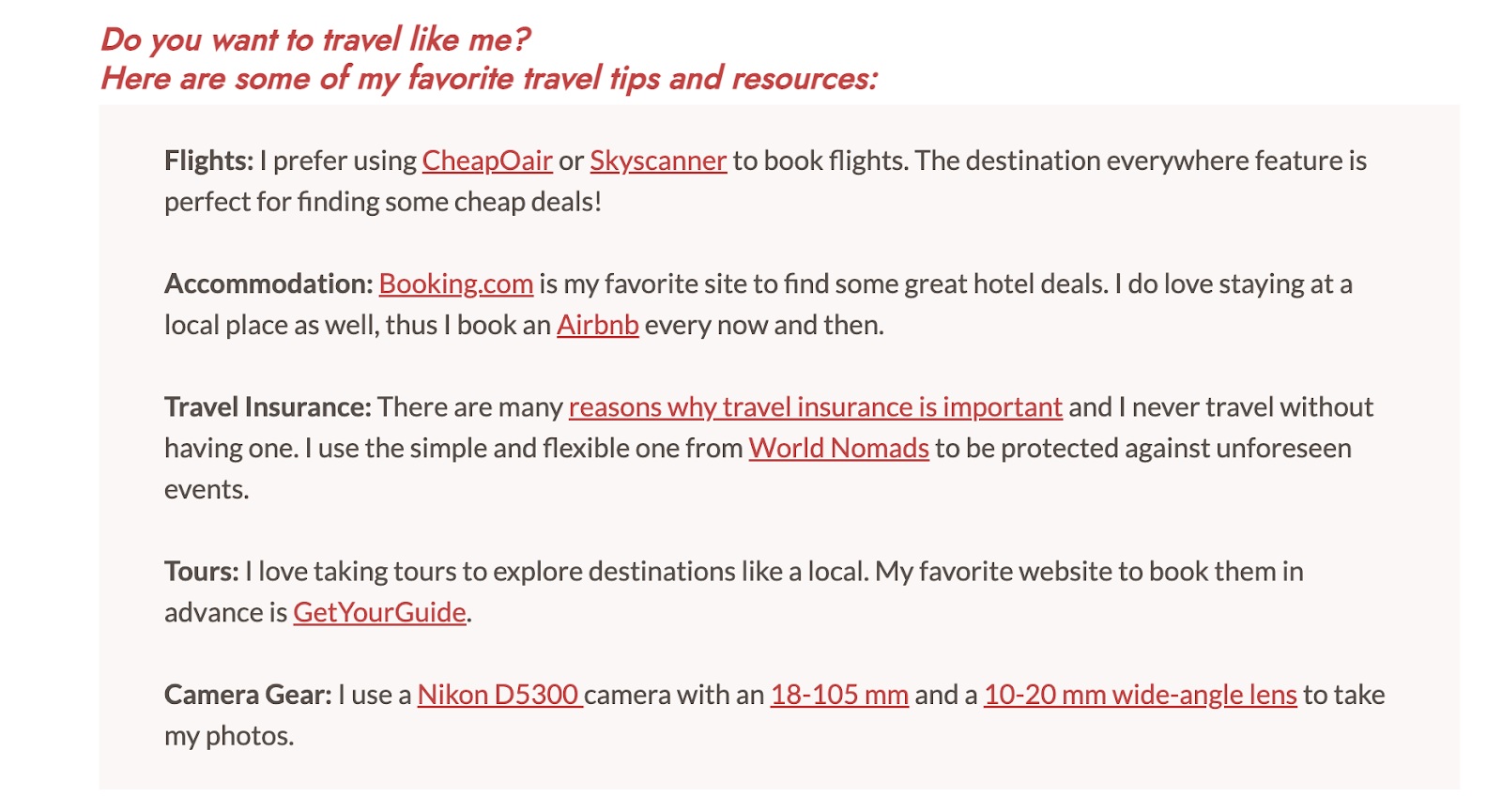 Samanthability
Samantha from Samanthability shares tips on how to start working freelance, grow your blog, work online, and much more. In addition to sending traffic to her blog, Samantha also promotes educational products, such as online courses.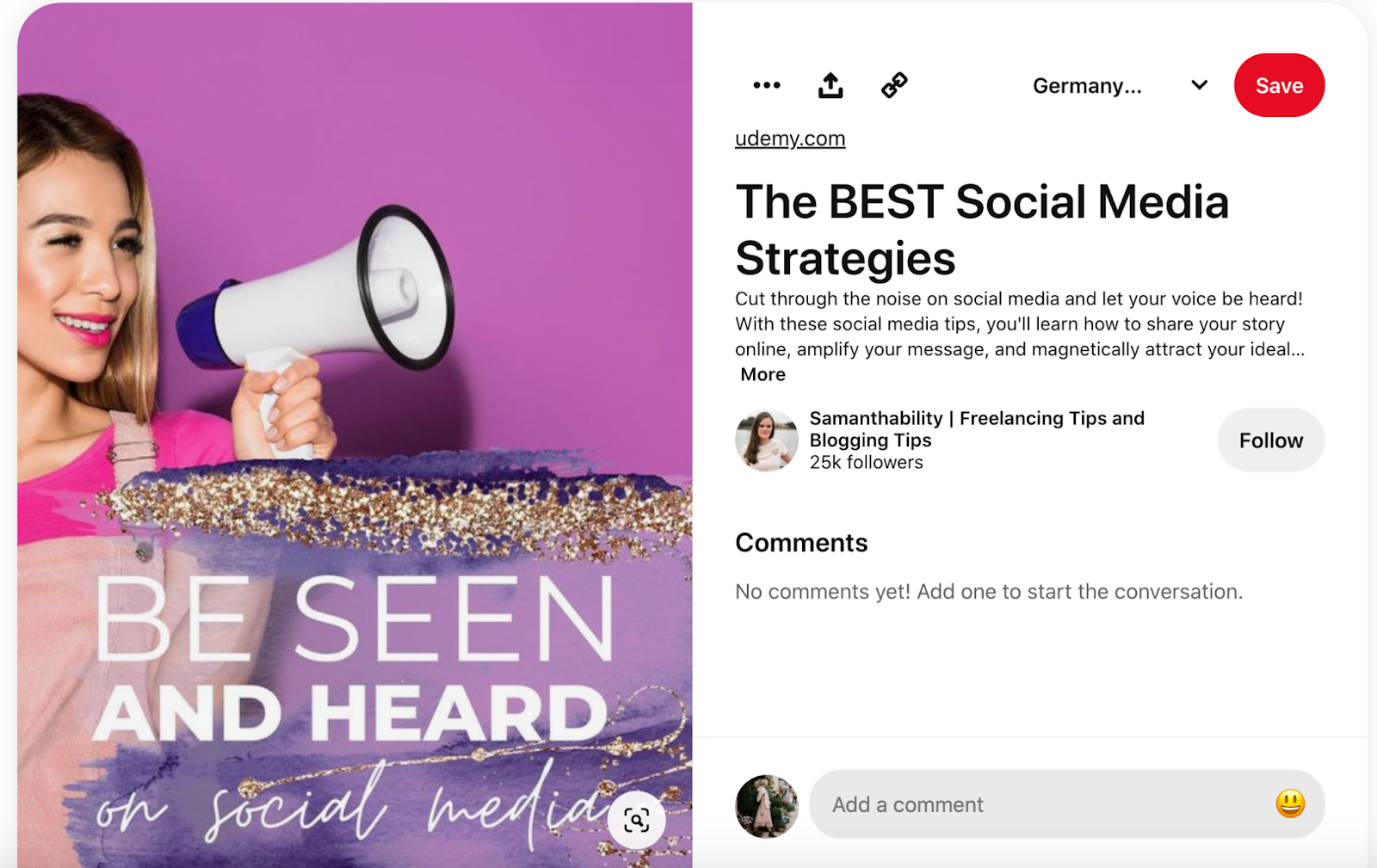 The Pinterest strategy used by the Samanthability travel blog differs from others. Rather than driving traffic to her blog, the blogger directs it straight to the platform she is promoting. In the screenshot above, you can see a link to the Udemy platform with educational courses. Sharing a link directly to the advertiser can be an effective way to market a single brand in your post or pin.
Gathering Dreams
A great way to attract leads is to share how-to guides and listicles. One such example is from the Gathering Dreams blog. In the example below, users can click out to the blog and check the list of travel tips with affiliate links included in the content. However, as you can see, it is easy to update the number of tips in the pin header, but not in the image itself.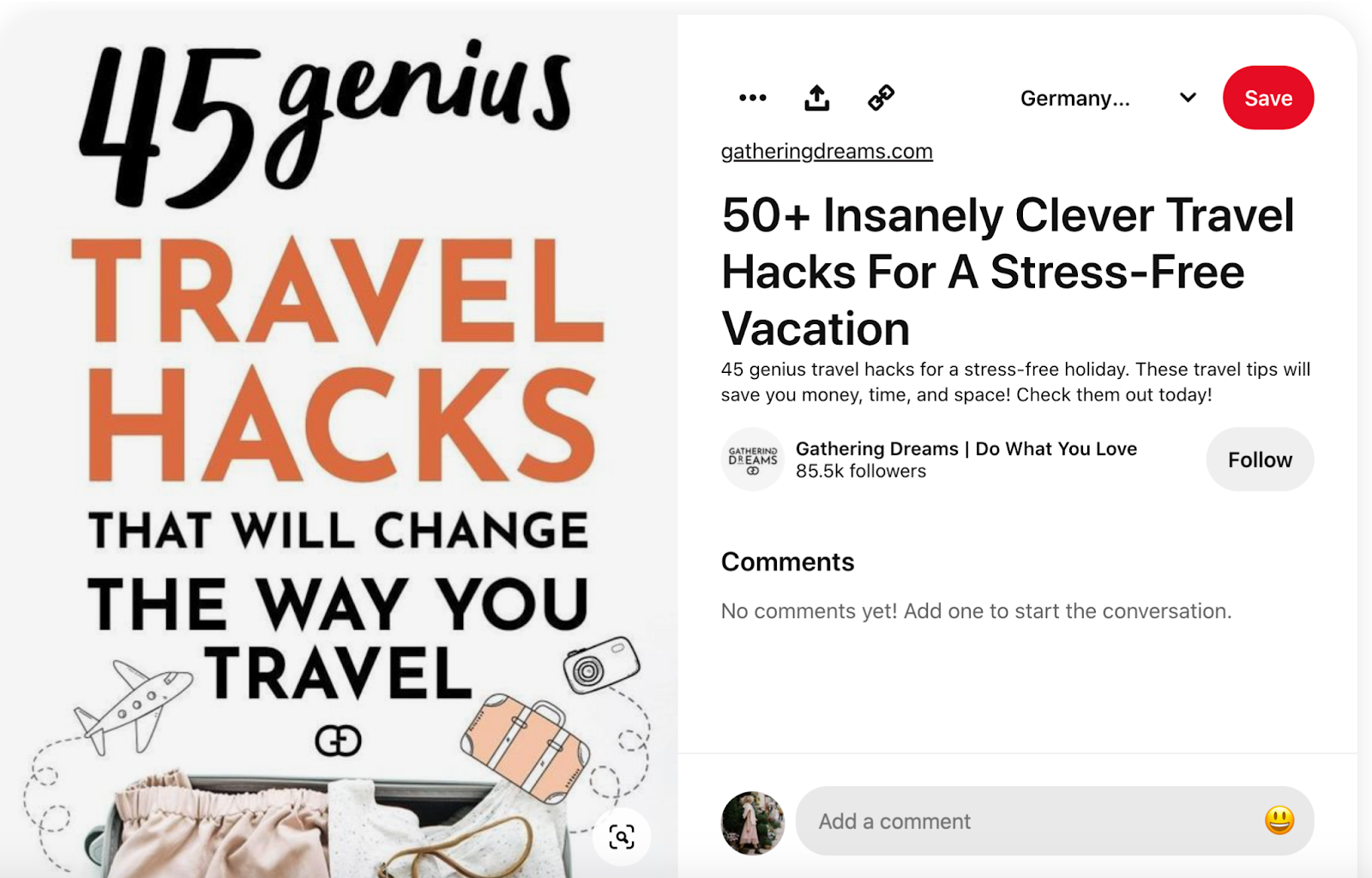 GatheringDreams uses pins to drive traffic to her blog posts, with each pin featuring a title and a brief description of the post's topic. By clicking on the pin, users can read more about the post. The example post contains multiple affiliate links to various brands, so driving traffic from Pinterest can help boost conversions for several campaigns at once.
Danielle Hu
Danielle leverages Pinterest to send traffic to a landing page with her eBook. This is another great idea on how to promote several brands at once, while making money by selling an online product.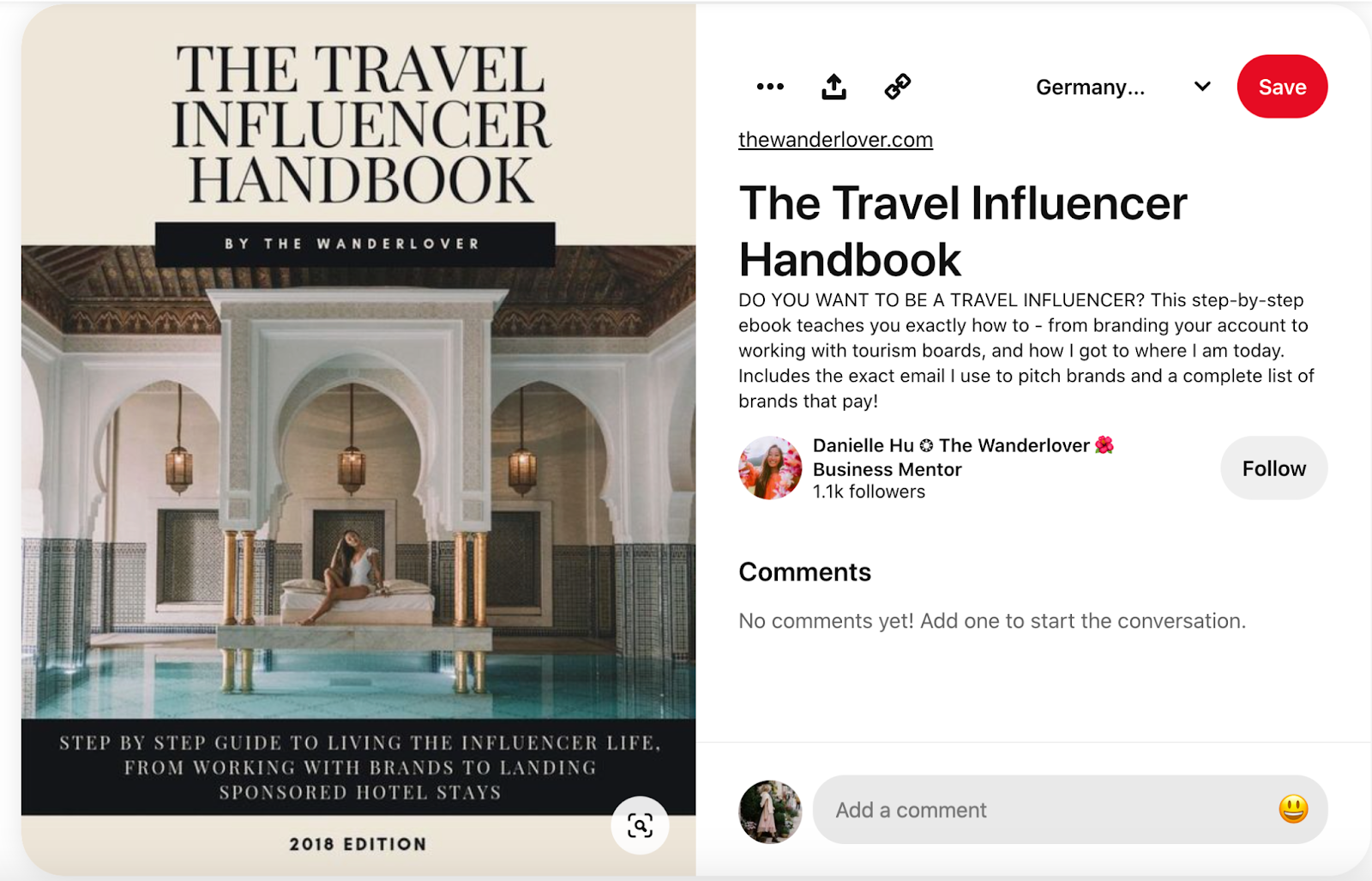 Danielle uses Pinterest to drive traffic to a variety of content types, including her blog, ebooks, podcast episodes, and more. While some of her posts contain affiliate links, Pinterest affiliate marketing is not the only source of income for Danielle. The blogger diversifies her monetization strategies by selling ebooks, offering online coaching, running masterminds, and operating a travel academy. Therefore, driving traffic from Pinterest to various content types is a logical approach if you want to sell digital products in addition to focusing on affiliate marketing.
Conclusion
Affiliate marketing can be a beneficial way to earn passive income and build a like-minded community. By leveraging social media, such as Pinterest, you can grow your online presence and drive traffic much faster, as you will widen your reach. Pinterest features a well-off audience with high purchasing power, which can be an amazing addition to your current or planned affiliate campaigns.