Using Affiliate Marketing on Instagram to Make Money: A Step-By-Step Guide
Affiliate marketing is a billion-dollar industry, with affiliate spending reaching over $8.2 billion USD in 2022 in the US alone. Even though the main principles of affiliate marketing remain the same whether you promote affiliate links on your blog, social media page, newsletter, and so on, it is important to tweak your strategy depending on the platform.
Instagram is not as link-friendly as other networks, such as Facebook or Twitter, yet the platform offers access to a wide audience and can be greatly beneficial for your affiliate campaign. Below, you will learn how to do affiliate marketing on Instagram and understand the most important steps towards making your first affiliate earnings on Instagram.
Step 1: Choose a Niche or Product to Promote
If you are just starting out with affiliate marketing, the choice of available products and brands can be overwhelming. The most important step is to understand which niches and types of products are most interesting to your audience and can bring you commissions. Then you can narrow those down to pick a particular brand and affiliate program.
To choose the perfect niche, consider the following aspects:
● What are you most passionate about?
● What types of products do you personally use and can recommend?
● Which topics could you write about?
● Which topics are interesting to your audience?
● Are there any brands in your niche that offer good affiliate commissions?
It is better to choose a niche that will be interesting for you and your audience and provide good affiliate support. Otherwise, it can be difficult to keep promoting for a long time without positive feedback or earnings.
In the travel niche, there are plenty of verticals that offer a great commission structure and relevant products that can be useful to travelers. For example, you may promote one or a few of the following:
● Flight tickets
● Hotel stays
● Activities
● Travel insurance
● Cruises
● Travel SIM cards
Many travel bloggers prefer to combine several affiliate programs and offer their audiences a bunch of relevant products to help them organize a nice trip end to end.
To learn more about the importance of niching down, watch this video from Travelpayouts Academy.
Step 2: Create an Instagram Account
To begin affiliate marketing on Instagram, create an account if you don't have one yet. It is better to use a business account to leverage the additional marketing features and gain access to detailed statistics. Having a "business account" will also help you build trust with audiences and establish your authority in the niche.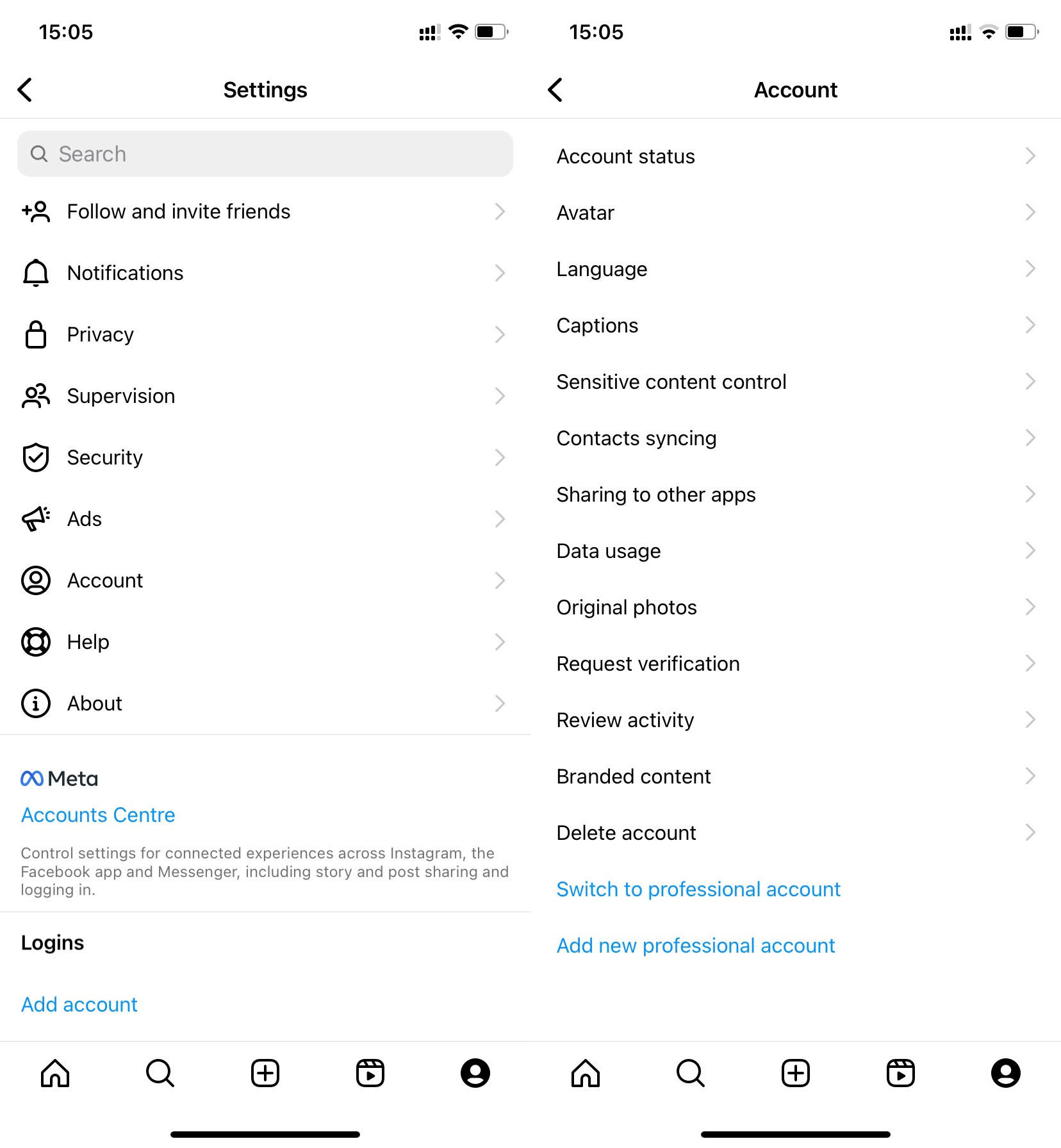 To create an appealing account, you can check examples of the best travel creators on Instagram and follow their lead. Here are a few steps to follow to make sure your account stands out and is ready for promotion:
Create a short and catchy username. Make sure it reflects your niche and is easy to find and memorize.
Choose a great profile picture that will help you be discoverable and stand out from your competition.
Write a short bio, mentioning what kind of content you create and what type of business you have. This will allow your target audience to immediately understand that they are in the right place.
Add a link to your blog or website. If you already have a blog, you can drive more traffic to it from Instagram and increase conversions.
Make your account open to the public. Otherwise, people will not be able to find you and check out your content.
Step 3: Sign Up for an Affiliate Program
To begin your affiliate journey on Instagram, you need to choose and join a relevant affiliate program. Doing some research will help you identify brands that might be interesting to your audience and can be used to recruit affiliates. It is always better to promote only reliable and high-quality products to build trust with your audience. Here are some of the aspects to consider when choosing the perfect affiliate program:
Relevancy and quality of the product
Brand reputation
Affiliate commission
Conversion rates
Allowed traffic types. In the travel affiliate industry, there are different rules and regulations regarding traffic types. Some travel affiliate programs allow traffic from social media platforms such as Instagram, Facebook, and Twitter, while others don't. For instance, such affiliate programs as WayAway or Viator allow social media traffic, and partners can share their referral links on social media platforms. On the other hand, the Tripadvisor affiliate program doesn't allow using social media to promote their links. Therefore, it's essential to read the terms and conditions of each travel affiliate program before promoting their products and services on social media.
In the travel niche, you should explore the best airline affiliate programs, hotel affiliate programs, tours and activities affiliate programs, and so on, depending on your niche. Also, check out the top 10 travel affiliate programs for Instagram and select the one that aligns with your goals.
To partner with top travel brands, join Travelpayouts, a digital partnership platform that features over 110 travel affiliate programs across various categories, such as flight tickets, accommodations, tours and activities, travel insurance, cruises, etc. There are tons of beautiful creatives, such as banners and widgets, as well as more advanced solutions, like API, to help you drive conversions. In addition, there are a lot of free educational materials available, including online affiliate marketing courses from Travelpayouts Academy.
Step 4: Build Your Audience
The bigger your following on Instagram, the more likely you are to generate clicks and send traffic to affiliate offers. However, not every follower will be a good fit. Make sure to focus on building an audience that will be particularly interested in your niche and the products you promote.
Here are a few tips on how to grow a following on Instagram:
Post content regularly. Followers will know that there are always some fresh posts for them to see. Otherwise, if there is no new content, users will simply forget about your page and unfollow you.
Use hashtags. Hashtags make your content much more discoverable, as users can easily find it by typing a hashtag in the search bar. Hashtags work for both posts and Instagram Stories, and can be used as keywords to attract your target audience. You could also create a branded hashtag to grow your brand recognition.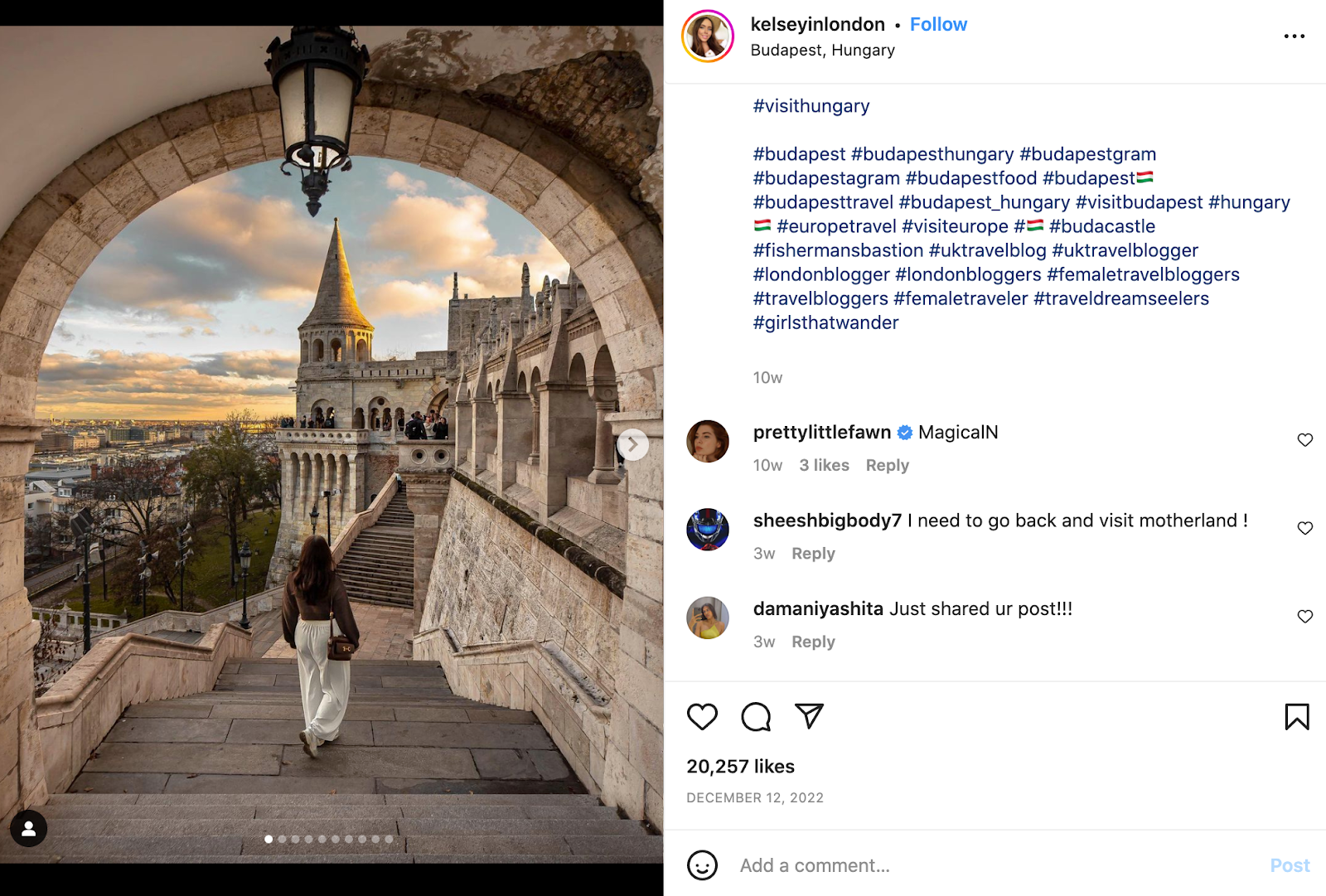 Check analytics. Instagram Insights is a built-in analytics tool that allows marketers to identify their audience's demographics and interests, understand popular types of content, and ultimately improve their marketing strategy. To access Instagram Insights, make sure to switch to a business account.
Write captions for your posts. Instagram allows for up to 2,200 characters in captions, which is enough space to share valuable information and retain your audience's attention for longer. Focus on creating an enticing first line that will encourage users to read the entire message. In addition, structure the text to be as readable as possible. You can also use emoji.
Diversify your content. Instagram allows you to share plenty of content types, such as posts, Stories, reels, long videos, lives, carousel posts, and more. The more diverse your content is, the more likely users are to find something that interests them.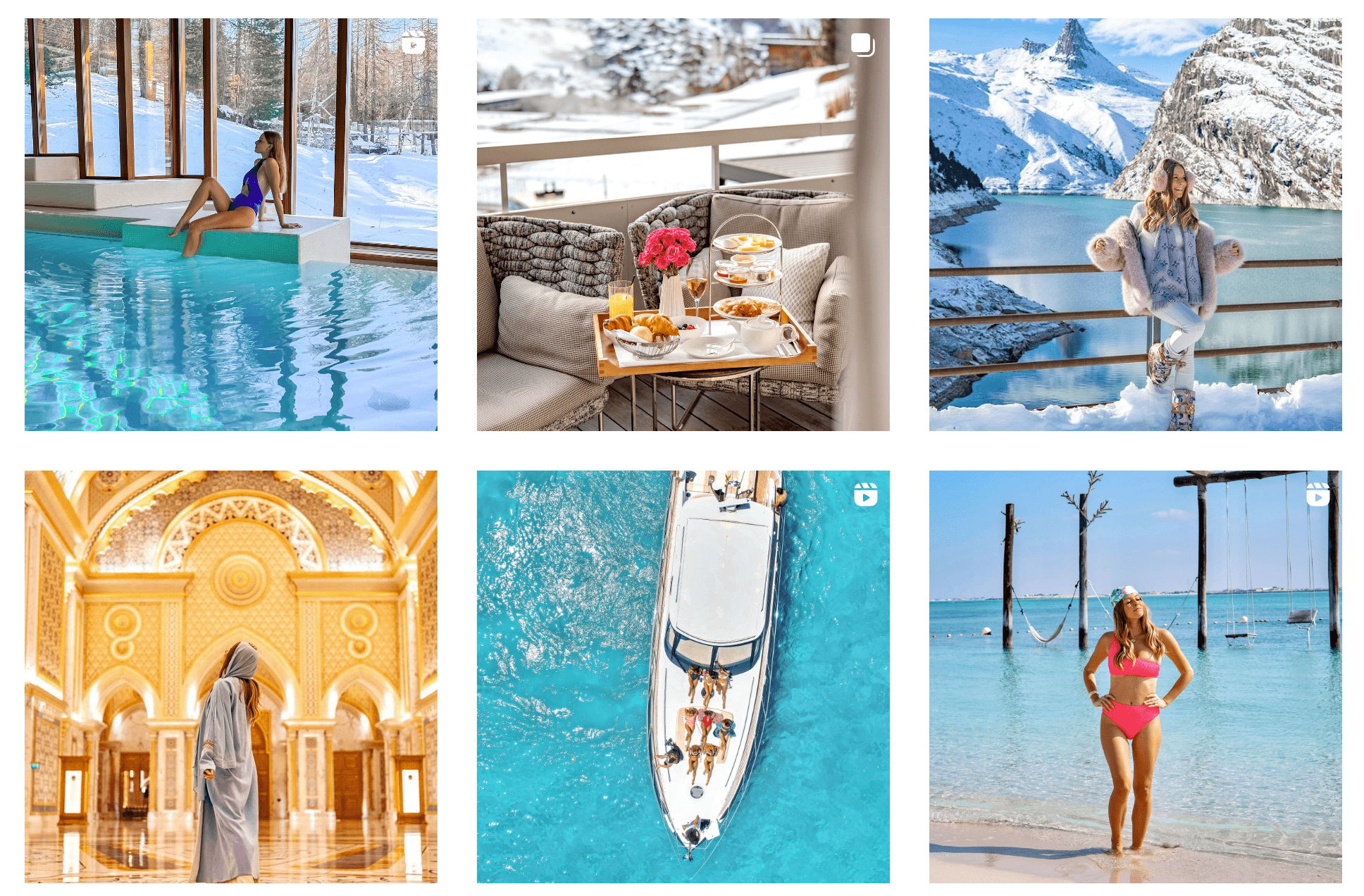 Add CTA. A call to action is a short phrase or word that encourages users to complete a desired action, such as clicking a link, signing up for a mailing list, making a purchase, etc. On Instagram, CTAs can be added to captions, Stories, and other content types.
Run a contest or giveaway. These activities can be a great way to increase your following in a short time. They also help generate leads, boost website traffic, acquire user-generated content, and more. To organize a successful contest or giveaway, you need to understand what kind of incentives interest your audience and what goals you want to achieve. Then, write your contest rules accordingly.
Step 5: Promote Affiliate Products
Once you create an account and start growing your following, it's time to promote affiliate products. The best way to inspire followers to check your affiliate link is to provide encouraging context, such as an appealing photo of a product or destination, video instructions, and so on. Make sure to explain to your audience why this product or brand can be beneficial for them. Sharing personal experiences is always helpful to generate genuine interest and trust from an audience.
When creating content, consider how you will insert affiliate links. Instagram does not allow users to share clickable links in the captions, but there are still plenty of ways to promote them. For example, you could place a link in your bio and encourage your audience to click by using a CTA in your post captions, Stories, etc. Also, Instagram allows marketers to create their own online shop with affiliate products. To learn more about how to promote affiliate links on Instagram and other social networks, check out this video from Travelpayouts Academy.
Another important step is to disclose your partnerships and remain transparent. Make sure to mention that you are earning affiliate commissions from all purchases. You can also note that, for readers, it does not make any difference how they complete a purchase (unless you offer a discount code), but by clicking your link, they will be supporting your page or blog.
Step 6: Track Your Performance
Last but not least, make sure to track your performance on Instagram. This allows you to see advantages and gaps in your marketing strategy and tweak it accordingly. For instance, Instagram Insights displays plenty of characteristics that will help you better understand your audience:
● Number of unique accounts that saw your post
● Number of links, shares, and saves
● Other account activity
● Audience demographics, such as age, gender, location, etc.
Tracking your performance will help you understand whether or not the products you promote resonate with your audience as well as how to improve your marketing strategy to achieve even better results.
Examples of Successful Affiliate Marketing on Instagram
To run efficient affiliate marketing campaigns on Instagram, you can learn from the best and adopt their strategies and industry best practices to your own account. Here are a few examples of travel bloggers who monetize their content on Instagram with affiliate marketing.
Jaden Verslius
Jaden Verslius is a travel blogger and video content creator. On Instagram, he shares photos and videos from his trips, and promotes travel brands through affiliate links. In the bio section, users can find links to Jaden's travel affiliate community.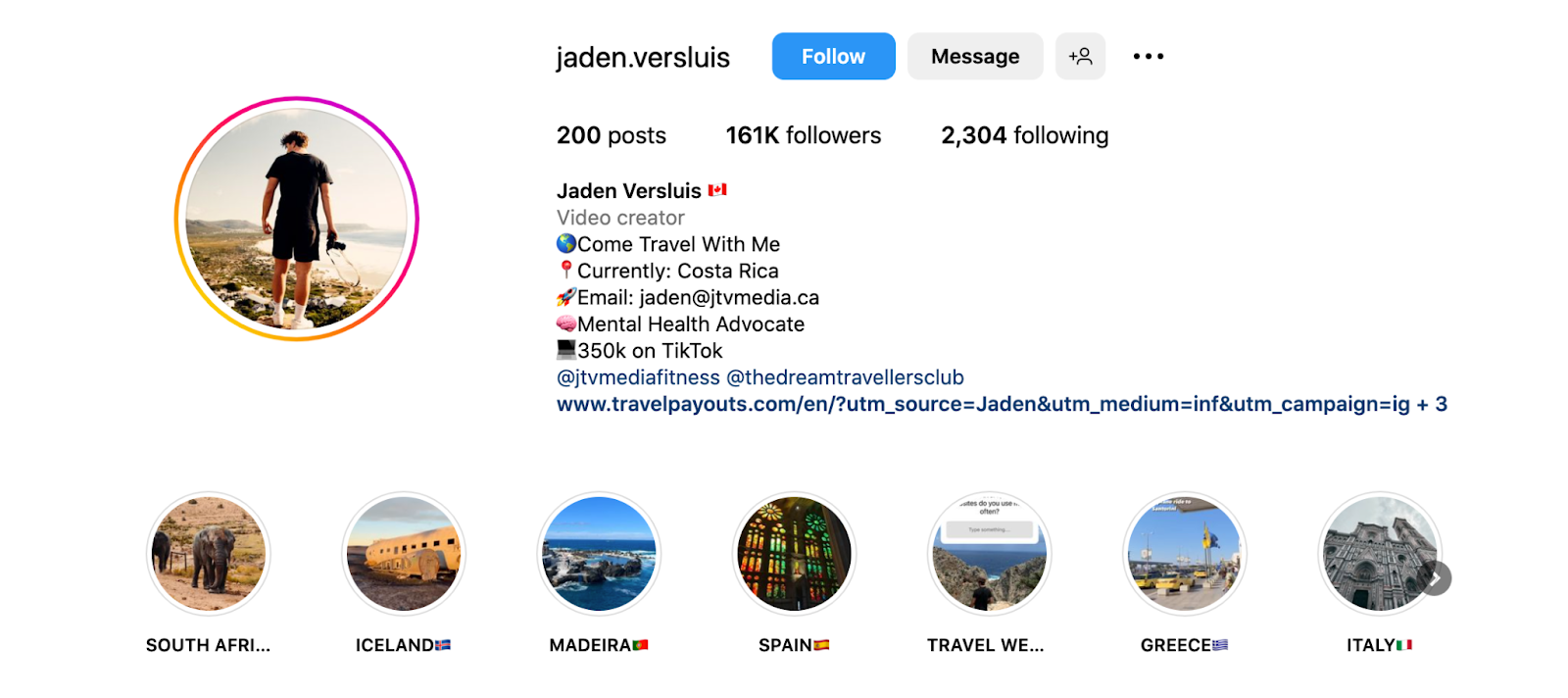 In addition, Jaden shares links to travel brands in the Highlights section. For example, by clicking on the Travel Websites section, users can check out recommendations from Jaden.
Reispackers
Sam and Thomas are travel bloggers and photographers sharing their adventures around the world. On Instagram, they promote their own products, such as photo filters and reel templates, as well as other travel brands. In the screenshot below, you can see an example of such a collaboration: a promo video is complemented with a detailed service description in the caption, where the brand is also tagged.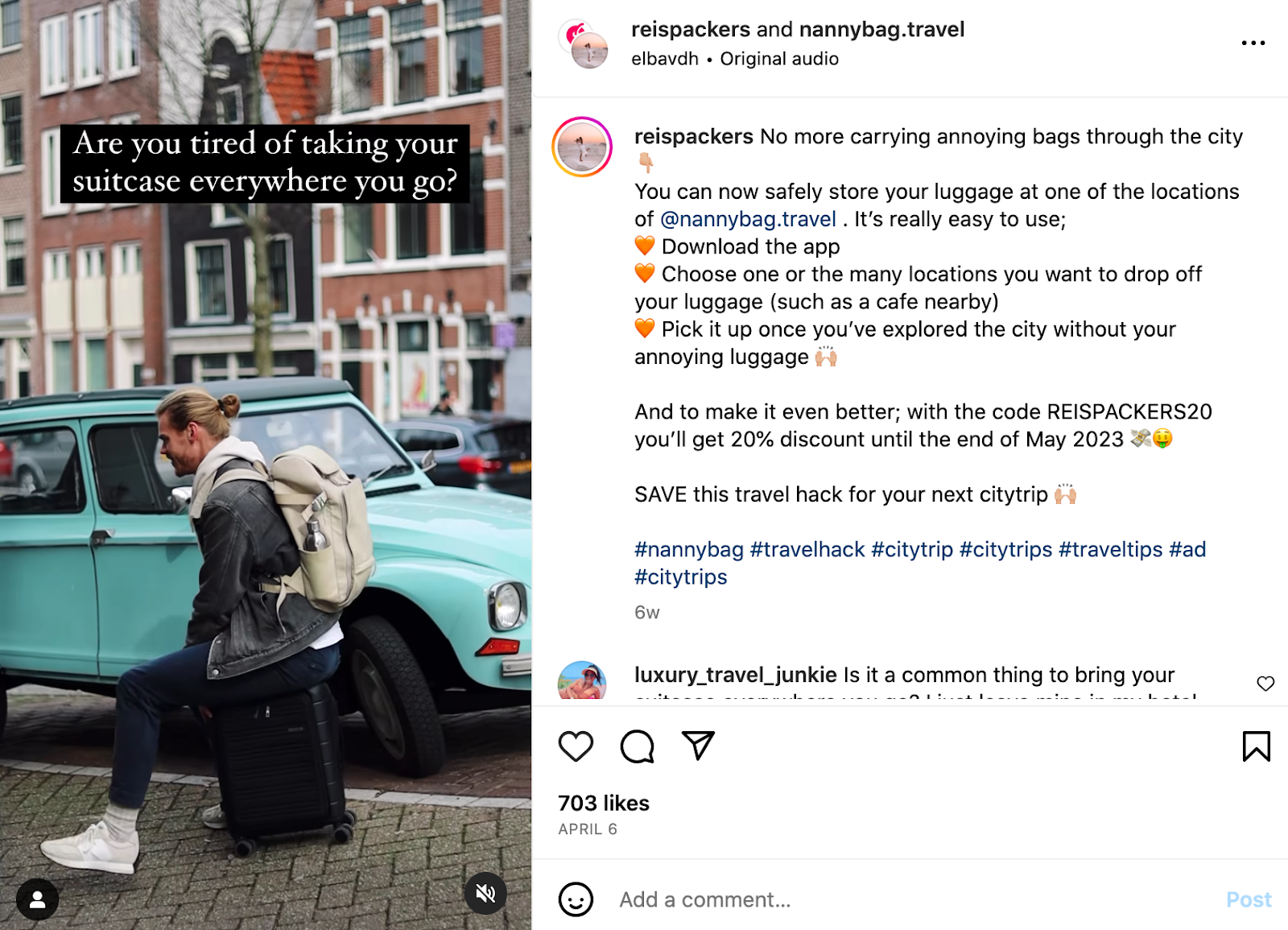 Users can find all the brands promoted on the account by clicking the link in the bio. For example, there are links to photography gear, travel guides, clothing, as well as affiliate partnerships. In addition, you can find affiliate links in the Highlights section.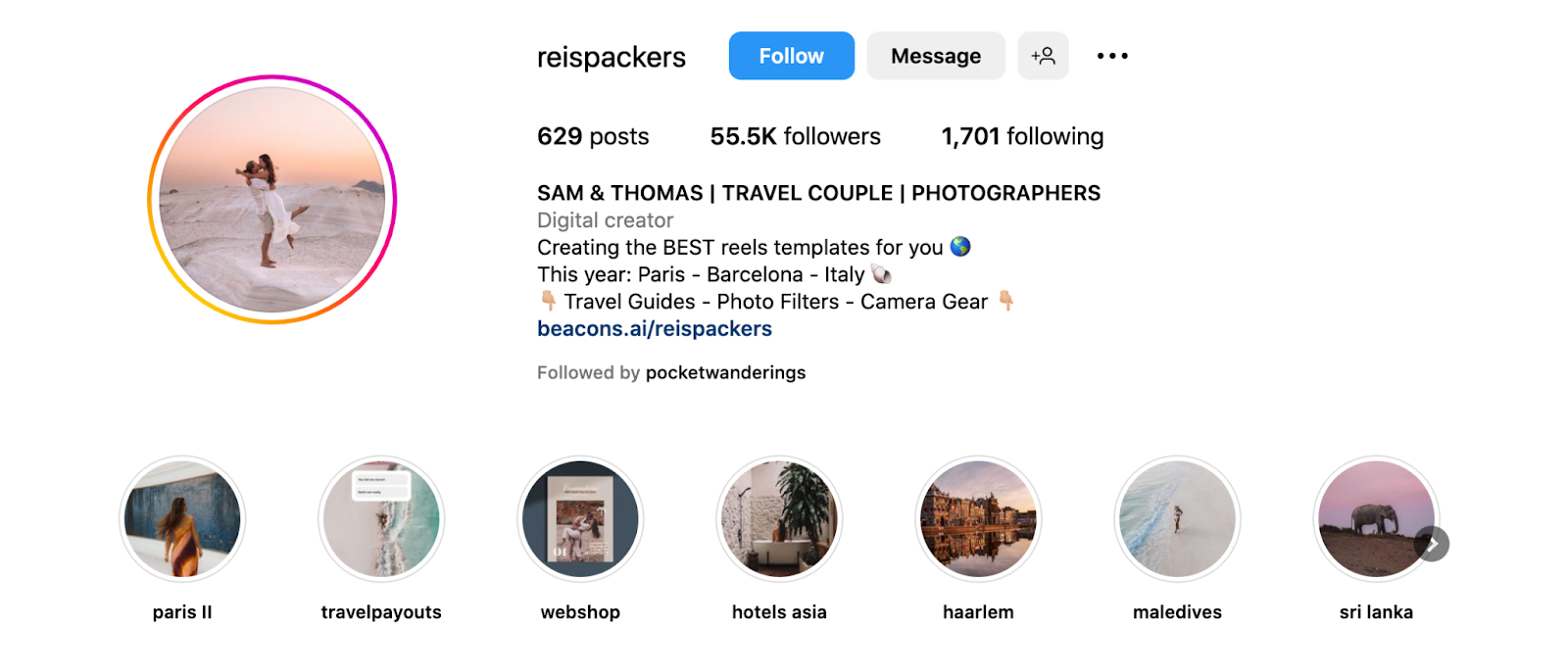 Nathan and Grace
Nathan and Grace are Instagram influencers that share their travel adventures around the world. They also share travel videos on TikTok and YouTube. On their Instagram account, Nathan and Grace promote brands in their highlights so you can see all their recommendations in one place.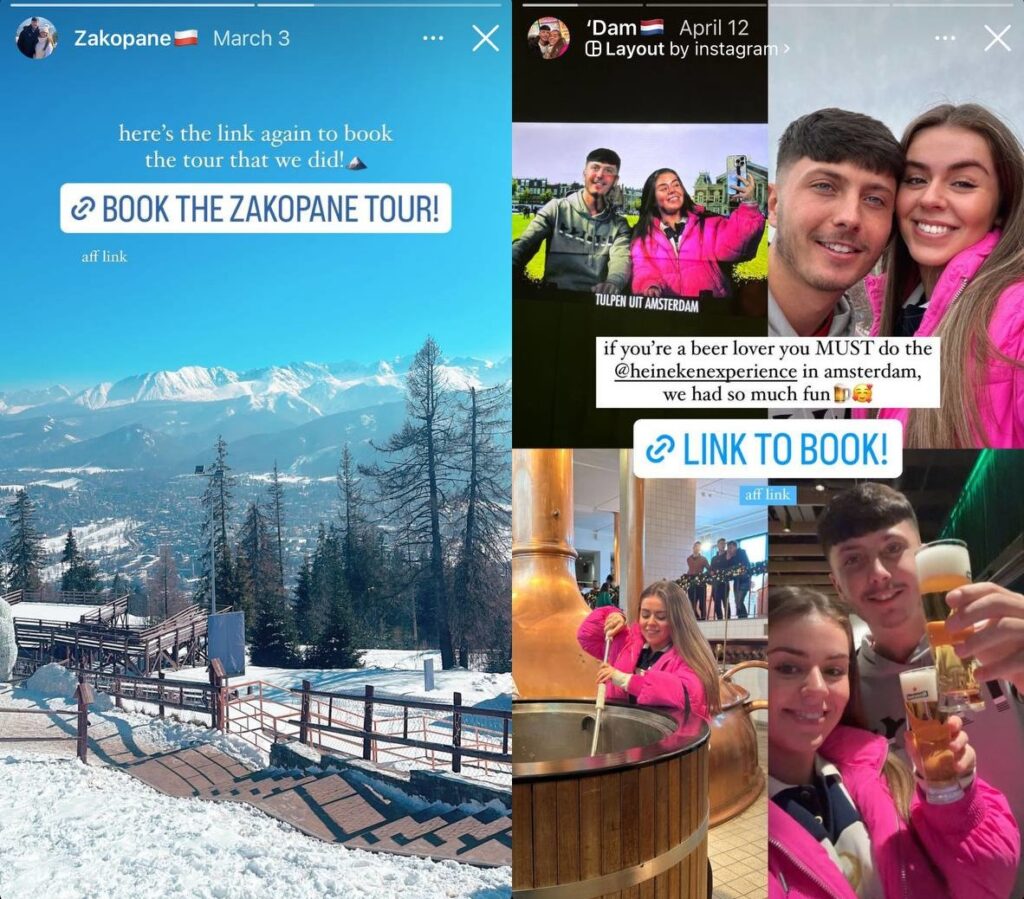 Nathan and Grace also use Linktr to share multiple links in their bio. This allows you to check out their personal Instagram accounts, as well as accounts on other social networks, to see all the brands they promote.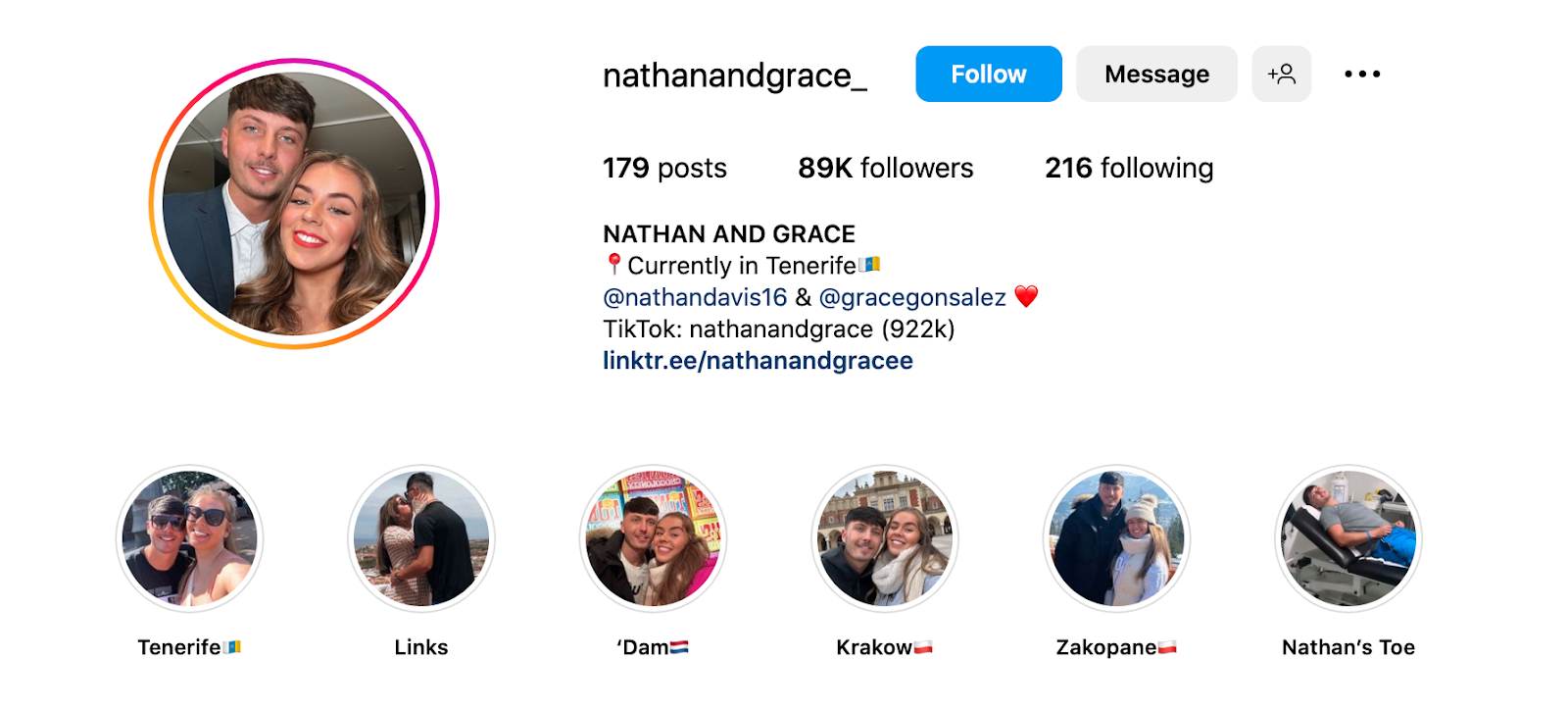 The Blonde Abroad
Kiki from The Blonde Abroad is a travel blogger with a massive Instagram following of over 500,000 subscribers, mostly comprised of solo and female travelers. Kiki monetizes her content in various ways (paid partnerships, press trips, and affiliate marketing, to name a few). For example, you can see that she shares links in her Stories, which she then saves in her Highlights.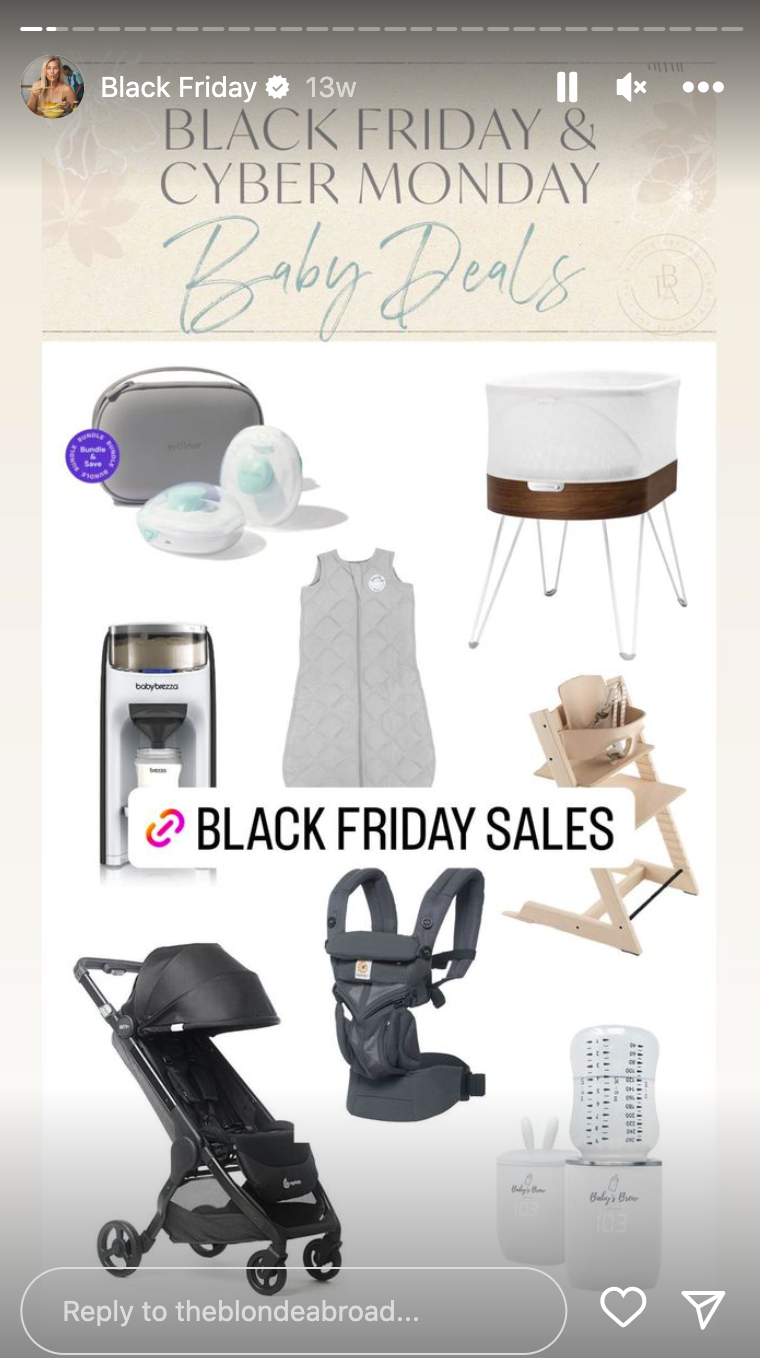 Pilot Madeleine
As a commercial pilot and a travel blogger with over a million followers, Madeleine is one of the most popular Instagram influencers in the travel and luxury niches. From time to time, Madeleine adds links to brands in her content. Below, you can see an example of a promotional post with a brand tagged in the captions.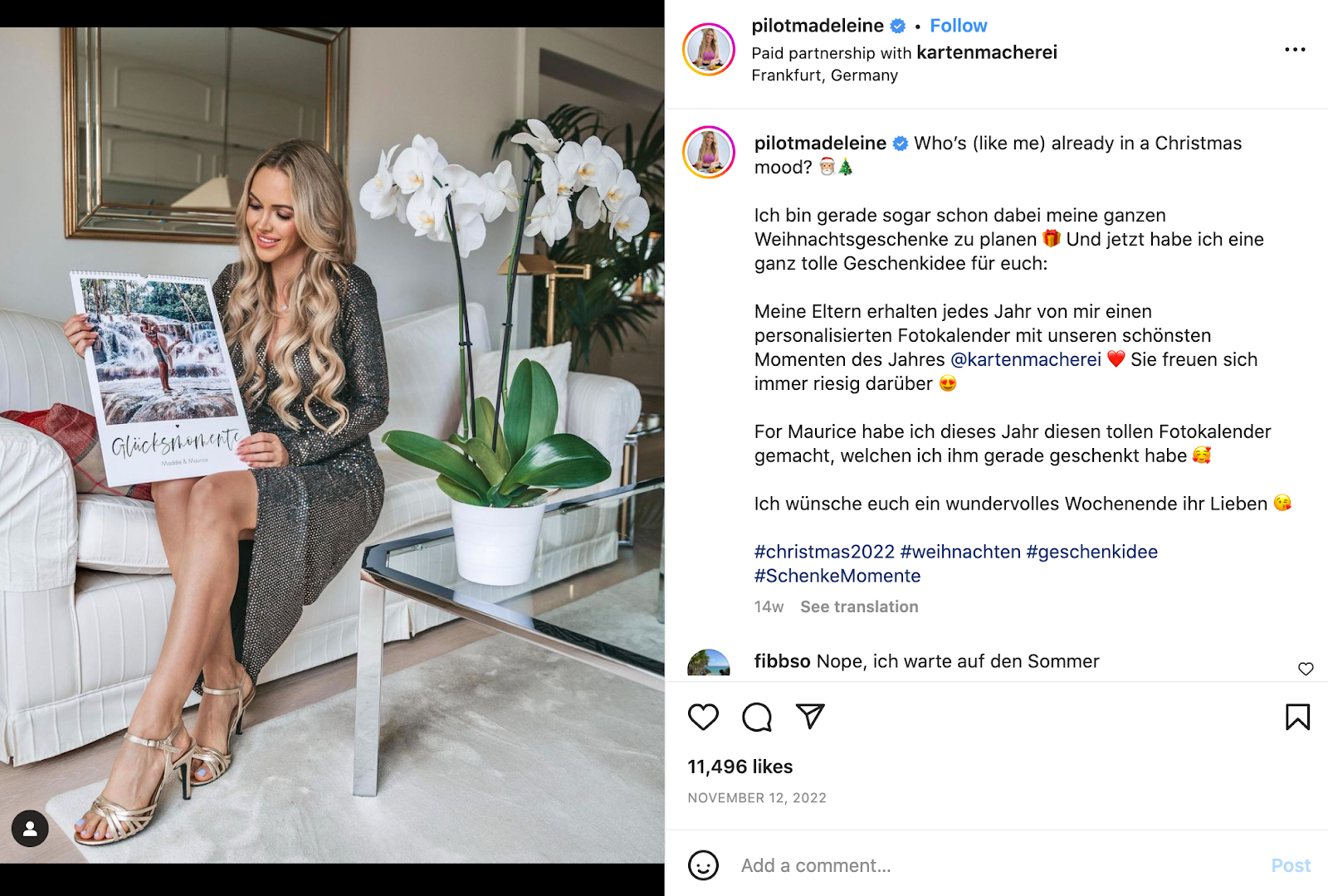 Vaga Brothers
Vaga Brothers is an Instagram account with over 140,000 followers and a YouTube vlog focused on sharing travel tips around the world. Even though the Vaga Brothers rarely share promotional content, they add links in the captions of their posts from time to time.
Below, you can see an example of a camera review that they posted with the brand tagged. In their review, the influencers describe the technical features and briefly share their opinion about the product, while encouraging their followers to participate in the discussion and share their own experiences.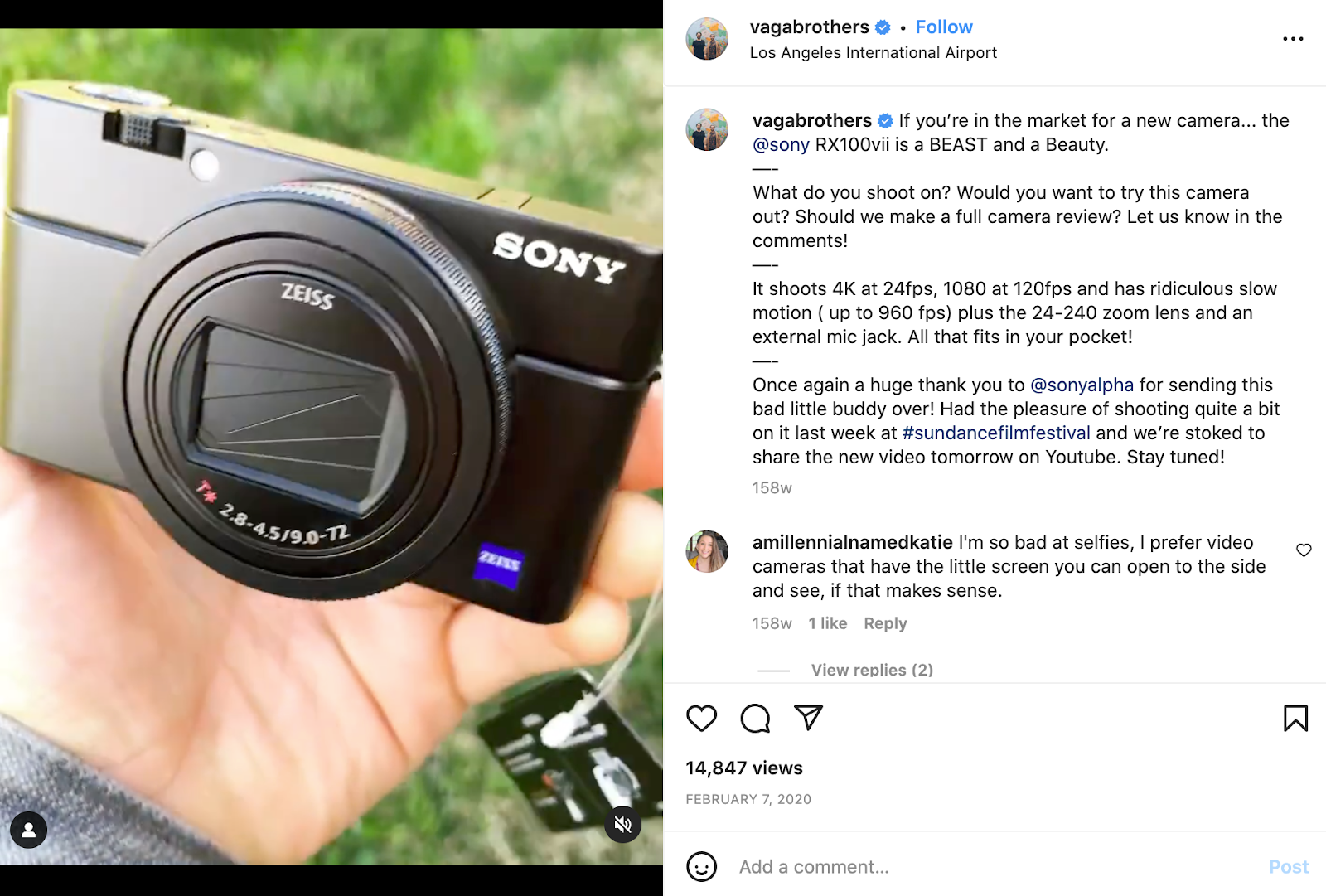 Mic Bergsma
Another Instagram influencer who runs affiliate campaigns is Micbergsma, a travel content and video creator. On his account, Mitch shares his adventures and video creation tips and invites the audience to check his video equipment recommendations by clicking the link in his Instagram bio.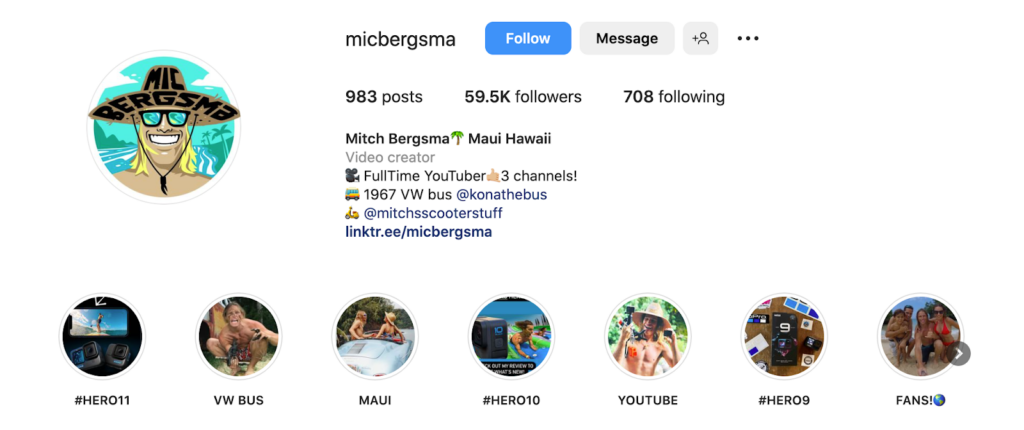 By using the Linktr service, Mitch can share multiple links on his profile. Thus, users can check out Mitch's video creation equipment by clicking the affiliate link to his Amazon store.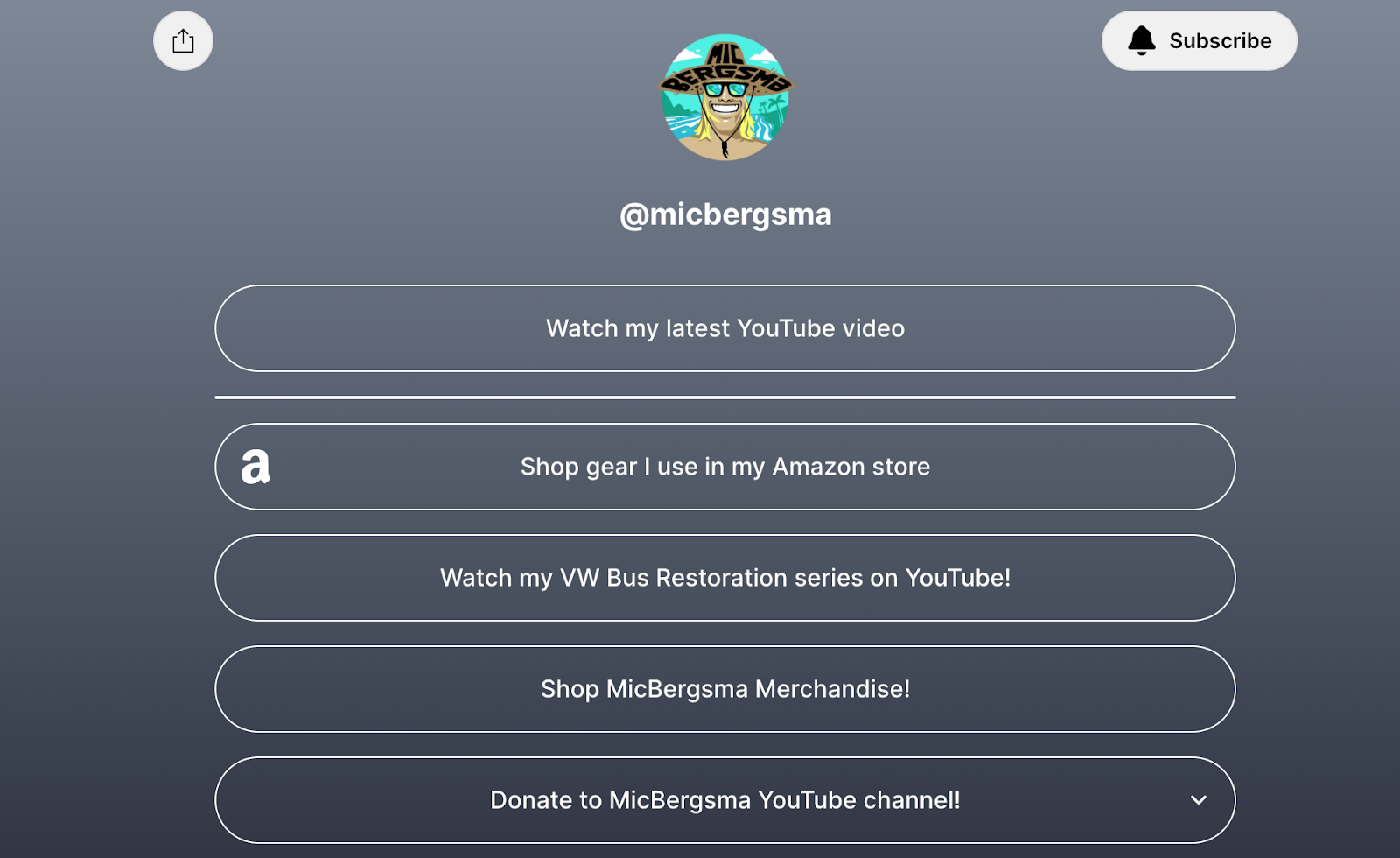 Young Adventuress
Liz Carlson is a travel blogger with travel expertise in many different regions around the world, particularly New Zealand and Antarctica. She is also passionate about houseplants, home design, and more. Among the many brands that Liz partners with is a local tour company in Australia, which she mentions in her post on Instagram. In this case, sharing her own personal experience with the brand looks very natural and not spammy at all, especially since Liz provided captivating pictures for her post.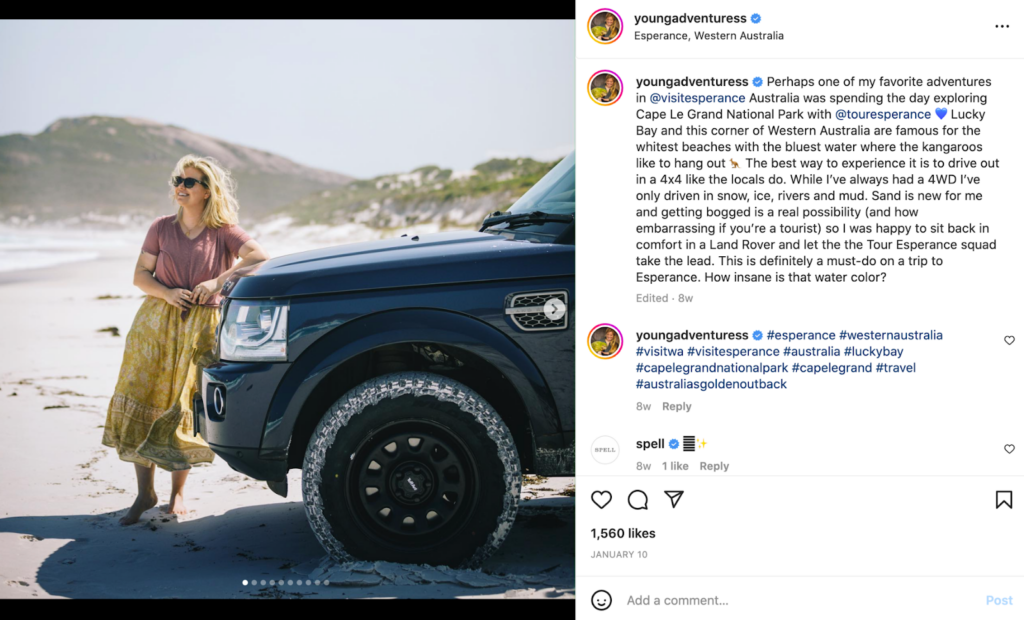 Conclusion
Affiliate marketing on Instagram can be profitable if you develop the right strategy. Make sure to choose a niche and products that your audience will find relevant and provide as much useful information for them as possible. Considering the visual nature of Instagram, it is very important to focus on imagery and videos while leveraging the full potential of the platform by using different types of content, such as reels, carousel posts, Stories, and so on. In addition, you can try various promotional strategies and track all your campaigns with the built-in analytics tools from Instagram Insights. This will allow you to develop a strong approach and start driving affiliate income in no time.