Do Travel Bloggers Use AI Content Tools?
Before we dive into the insights shared by various travel bloggers on AI content tools, let's obtain a better understanding of how popular these tools are within the travel blogging community. During our recent webinar, we asked 34 travel bloggers if they incorporated AI into their blogging process. The results were quite telling, with only 3 out of 34 bloggers stating that they didn't utilize AI content tools.
Why Do Travel Bloggers Use AI Tools?
When we asked travel bloggers why they use AI content tools, we received a variety of insightful answers. Some bloggers had similar responses, while others offered unique perspectives. In this section, we will explore some key reasons why travel bloggers turn to AI in their blogging process.
Speeding up the Writing Process
Writing can be a time-consuming process that many content creators struggle with. That's where AI content tools come in. By using tools like ChatGPT, Jasper AI, Copy.ai, and others, travel bloggers can speed up their writing process and produce more blog posts per month. As JJ Jordan, the founder of About Travel Across The Borderline, put it, "I use Jasper to speed up my writing process so that I can publish more blog posts every month, build content pillars faster and, therefore, improve my rankings on Google's search results."
Tabitha Bailar behind Travel Compositions agreed by saying, "I am a slow writer and AI has helped me write my posts faster, thus getting content out there sooner."
Some bloggers struggle with the actual writing process, preferring the research and design work that goes into creating content. AI tools can help with this struggle. As Alice, the founder of The Green Adventurers noted, "Actually writing content is the part I struggle with the most. I like the research and design work, but writing is tough. AI really helps me turn my weakness into a strength."
Boosting Productivity
Travel bloggers have found that using AI writing tools is an effective way to increase their productivity and streamline the writing process. With the help of AI, these bloggers can free up their time for more strategic work, such as developing new ideas and exploring new destinations. Jessica, the owner of CA Girl Travels, noted that using AI saves her a ton of time, saying, "I see AI as a writer on my staff that I don't have to pay."
For many bloggers, starting an article can be a daunting task that often leads to procrastination. However, with the use of AI writing tools, this process can become much easier. Maria, the creator behind Travelling Buzz, explained that she just started using an AI writing tool in her content-creation process and it has unblocked her writing productivity. "I am very impressed by the quality of the AI writing tool that I use. It helps me a lot to skip the hard process of starting from a blank page. I still do the necessary research and create the article outline, but the AI tool helps me fill in the blank space and saves me so much time. Before using AI, I was dreading the process of starting an article. That put me off from implementing many ideas. AI has definitely improved my workflow by helping out with the process of creating full paragraphs out of my notes."
Beth, who is a professional writer and the founder of The Train Diaries, noted that she uses multiple AI writing tools in her content-creation process. With a demanding job that requires her to write for 40 hours per week, she found it challenging to devote enough creative energy to her travel blog. However, by using AI writing tools to overcome the challenge of starting from a blank page, she has been able to post more than once per month and make real progress with her blog.
These examples demonstrate how AI can help bloggers, who have demanding jobs and limited time, to create content, thus allowing them to achieve their goals and build successful blogs.
Overcoming Writer's Block
Many travel bloggers have reported using AI writing tools to overcome writer's block and get their creative juices flowing. According to Melissa, the owner of A Solo Woman Traveling: "If I am stuck on how to describe something, Jasper AI generates ideas for me. For example, when I need help describing where a place is located, Jasper gives the basic response that I can then work with and add my creative edge to. It helps me with any writer's block."
Tess, the voice behind Traveling Tessie, has reported that using AI tools has helped her overcome the initial stages of writing a blog post. "I tend to get stuck staring at a blank page when I am at the beginning stages of writing a blog post, and using an AI tool has really helped overcome that obstacle. I can now spend a couple of hours batching blog post outlines and creating first drafts using AI tools. Then I can solely focus on editing that first draft another day, which has improved my workflow immensely."
Generating Content Ideas
Travel bloggers often use AI writing tools to help them generate content ideas and inspire them to write about topics they may not have otherwise thought of. As Tanya Tailor, the creator behind Travels & Treasures, explained, "There are topics and content that I may never think of otherwise, but using writing tools helps me expand on them in several ways (from pillar posts to 'best of' posts)."
Check out the free guide from Travelpayouts' experts to find 10 of the best practices for making the most of this cutting-edge technology in your travel blogging business. In addition, compare the top AI services and learn some general tips on how to use these tools as indispensable blogging assistants!
Boost Your Travel Affiliate Marketing Earnings with AI
Learn how to use AI writers to create money-making travel content in a variety of formats.
Get the Free Guide
Which Types of Content Do Travel Bloggers Create Using AI?
Travel bloggers have named a variety of ways to use AI content tools to enhance their writing processes and create engaging content for their audiences. They explained that they use AI content tools for writing different parts of their blog posts, creating social media content, setting up newsletters, and updating previously published content.
Blog Post Writing
Post Outlines
Many bloggers have found that AI technology can be incredibly helpful when it comes to creating post outlines. The founders of The Wandering Hartz say that they use AI to create outlines, first drafts, and even intro paragraphs when refreshing old content. "AI can help with outlines, intros, and to rephrase some of our existing posts. It can also aid in forming an outline and, to some extent, draft original content. From there, we can add our own voice, experiences, and factual information."
Titles
Bloggers are also utilizing AI technology to create catchy and engaging titles for their posts. Tanya Tailor, the founder of Travels & Treasures, noted: "I use AI writing tools when I need blog post title ideas for specific keywords or subjects. I find it helpful when I have a concept, but am struggling with an angle or a fresh way of presenting the content."
Sage Scott, the owner of Everyday Wanderer, also shared her personal experience with using AI for title creation, stating, "Because I feel like I am truly awful at creating clever titles, I use the AI writer built into Frase.io to help me identify the best title for my articles." AI technology can provide valuable assistance to bloggers who are struggling to come up with titles that accurately represent their content and attract readers.
Post Paragraphs, Intros, and Conclusions
Travel bloggers often rely on AI content tools to create engaging paragraphs, intros and conclusions. Paige behind Paige Minds The Gap explains that using AI "takes some of the stress out of writing these paragraphs that kind of seem like filler to a blog post; writing an good intro can be really tedious when I just want to get to writing about the actual exciting destination and activities. So it can help with writing new posts more quickly, too, so that I can get into writing the fun part of the blog sooner."
Lisa, the creator of Waves and Cobblestones agrees, saying that "AI is helpful with writing introductions, conclusions, and overviews/lists. AI writing tools can give you a framework to work from rather than starting from a blank page."
Meta Descriptions
Meta descriptions are vital for your blog's SEO, yet creating them can be a time-consuming and unexciting task. That is why many bloggers choose to delegate the task to AI content tools. For example, Damon and Melissa, the creators of Parenthood and Passports, explained that they have used AI to craft meta descriptions. "Crafting meta descriptions and Pinterest descriptions are two small aspects of blogging that can feel tedious and uninspiring. AI has helped me craft wonderfully worded descriptions with my targeted keywords without me having to spend too much time on these tasks."
Social Media Posts and Captions
Another way that travel bloggers use AI is for crafting social media posts and captions that resonate with their followers. As Paige of Paige Minds The Gap put it, "I use AI to help me write short-form content for social media, like Instagram captions and Pinterest descriptions. I find that AI usually does really well for these types of posts."
Rewording and Updating Existing Content
Some travel bloggers also said that they utilize AI for rewording and updating existing content. As the creators of The Wandering Hartz put it, "We find AI tools to be helpful for rewording some of our paragraphs that need a bit of sprucing up." This approach not only saves time, but also ensures that the content remains relevant and up-to-date.
Emails
One of the many benefits of using AI in content creation is the ability to personalize content for your target audience and generate content that resonates with readers. As a result, travel bloggers are turning to AI content tools to create more effective emails and newsletters.
Tanya Tailor, the mind behind Travels & Treasures, said that, while she primarily creates content for niche blog posts, she is now expanding her use of AI tools for emails and marketing as well as personalizing content for her target audience.
Answers to FAQs
By utilizing AI writing tools, travel bloggers can quickly and accurately answer common queries about a destination. This not only saves time, but also helps ensure that readers receive accurate and useful information. As Atiba & Ilse from Digital Travel Couple shared, "We use AI writing tools to answer FAQ questions, such as 'what is the weather in…', 'what is the best time to visit…', and 'what to prepare for…' We write the rest of the blog posts ourselves, as they are about hiking, and we can share our own experience with photos of the hike."
Challenges That Travel Bloggers Face When Generating Content With AI and How to Overcome Them
While travel bloggers name many benefits to using AI in their blogging processes, the technology also presents some unique challenges. Below, we will explore the challenges that travel bloggers face when generating travel content with AI and how they manage to overcome those roadblocks.
The Content Is Too General
One of the biggest challenges that travel bloggers face when using AI tools is that AI content can often be too general. As Beth, the founder of The Train Diaries, expressed: "When I first used AI tools, I was getting completely frustrated because I couldn't seem to make them spit out anything other than vague, generic, boring content. I took my time looking through the resources from each platform, attending webinars and watching YouTube videos to help me figure out where I was going wrong. Since then, I'm getting much better results and the tools are helping rather than hindering my workflow."
Inaccurate Information
Another challenge that travel bloggers have to deal with is inaccurate information. As Sarah behind Costa Rica Vibes put it, "I find that I definitely need to fact-check AI outputs. Sometimes, long-form content for blog posts isn't always completely accurate."
The limited knowledge of AI, particularly when it comes to writing about lesser-known destinations, can result in incorrect information being generated. As a result, bloggers need to be diligent about editing the content provided by AI and ensuring that all the information is factual. As Pam, the mind behind Our Adventure is Everywhere, pointed out, "I do have to conduct my own research to ensure that everything is accurate, but I would have done that anyway."
Inaccurate information can be particularly problematic when it comes to providing details such as prices or operating hours. According to Paige from Paige Minds The Gap, her biggest challenge is making sure the AI tool is giving her the correct information. "For instance, I could be writing about Blue Ridge, Georgia, and the AI is feeding me information about Blue Ridge, Virginia. That's why it's best to have first-hand knowledge of the place you're writing about, so that you can catch those errors. It's also why I don't use AI for writing the more informative parts of my posts and stick to just using the tools for writing intro paragraphs."
AI Content Doesn't Match the Personal Tone of the Blog
While AI writing tools can be incredibly helpful for publishing multiple posts quickly, they often lack the authenticity that many readers crave. As JJ Jordan, the mind behind Travel Across The Borderline, explained, "I found it hard to get the AI writer to match my personal tone, but by creating in-depth outlines and learning how to use the right commands, I no longer have that problem."
Requires Extra Time to Check, Edit, and Proofread
While AI tools can be a helpful way to speed up the writing process, they are not a one-click solution and require bloggers to spend extra time checking, editing, and proofreading the content. As the creators of Travel In Missouri explained, "Everything needs to be fact-checked. So, it does take time to check anything that is important to the credibility of the article."
Repetitive Content
Repetitive content is another downside of using AI writing tools. As Tabitha Bailare from Travel Compositions explained, "I find that when I let the AI run itself, it says a lot of the same things throughout the post. So, I need to go in and add my own flare or tell it to reword itself."
While this repetitiveness can be frustrating, it also provides an opportunity for the blogger to inject their own unique voice and style into their content.
Tips and Tricks for Using AI Content Tools From Travel Bloggers
As a travel blogger, using AI content tools can save you time and help you more efficiently create high-quality content. However, there are some tips and tricks to keep in mind when using these tools to ensure that you get the best results.
Use Proper Commands and Give Precise Instructions
When creating AI content, it's important to use proper commands and give precise instructions to the AI writing tool. Though learning the right commands and phrasing your questions with precision may take some time, it will ultimately help you get more adjusted and produce more relevant text. As the creator behind andiamoplaces.com recommended, "Try different ways to phrase your questions. Use more precise and unambiguous words."
Ask For Something Specific in Your Command
To get the most out of AI content creation, it's important to ask for something specific. As Christina Belloge, the founder of Melanin Travels Magic, advised, "Ask for something specific in your query, like the top 8 or top 10 of xxx, and amend whatever the AI tool generates with extra information to personalize the output."
Use the Best SEO Practices
When creating AI-generated content, it's important to keep in mind the best SEO practices. This means doing proper keyword research and including those keywords throughout your content in a natural and readable way.
This is how Jessica, the founder and owner of CA Girl Travels, described her workflow for optimizing AI generated content for SEO. "I use the best SEO practices first when writing for my online businesses. That is where I start. I find a keyword that I can rank for. I create an outline based on that keyword. I do cursory research and have a basic idea of the material I need to cover in order to rank in the top three search results on Google (the only place to be). Then I head to ChatGPT. I take notes on each section and then add my commands into the tool."
To learn more about how to use AI content tools to write SEO-optimized articles, watch this webinar with Nina Clapperton, a six-figure-earning travel blogger and the founder of She Knows SEO.
Conduct Good Research on Your Topic
Most bloggers agree that it's crucial to conduct research and fact-check all their content. As Beth behind The Train Diaries pointed out: "I think the thing to remember, first and foremost, is that these are writing tools, not research tools. The problem I faced a lot in the beginning was that I was expecting them to come up with something when I was essentially giving them nothing! So, definitely make sure to have done some good research on your topic before you sit down to write."
Start Small
Starting small with AI-generated content can help bloggers gain confidence in using these tools effectively. As Paige behind Paige Minds The Gap put it, "If you're unsure about using AI for your content, start small and play around with using it to find relevant keywords, article topic ideas, or headlines."
Understand the Capabilities and Limitations of the AI Tool
Understanding the capabilities and limitations of an AI tool is crucial for creating effective content. Beth from The Train Diaries recommends taking the time to read through the documentation and resources provided by the platform, as it can provide valuable insights into how the tool works and what it's capable of. As Beth puts it, "It may feel daunting to have to get through it, but there are some real gems of wisdom to help make content creation easier."
Knowing the strengths and weaknesses of the tool will allow you to create content that aligns with its capabilities and produces the best possible results.
Remember That AI Is Just a Tool
It's important to remember that AI is just another tool in the content-creation process. While AI can be a powerful addition to your workflow, it should not replace your own creativity and expertise. As Clive, the founder of Ronda Today and Wildside Holidays, advised: "Use AI to augment your workflow, not replace it. AI tools can be a powerful addition to your content-creation process, but they should not replace your own creativity and expertise. Use AI to augment your workflow and make the process more efficient, but remember that you are still the one creating the content."
Evaluate and Refine Your Process
Incorporating AI into your content-creation process can be a game-changer, but it's important to continuously evaluate and refine your process to ensure that you are achieving your desired results.
As the creators of The Wandering Hartz put it, it is important to "always follow your gut. If the AI generates something that doesn't sound like you, which it will, be sure to add your voice to it. We like to bounce any troublesome sentences or paragraphs between two different AI's to optimize that piece of writing."
Divide Your Article Into Small Pieces
Dividing your article into small pieces can be a helpful strategy when using AI tools to create content. By breaking down your article into smaller sections, you can give separate commands to the AI for each part, making the process more manageable and efficient. Maria behind Travelling Buzz shared her experience by saying: "What helps me is dividing my article into small pieces and giving AI separate commands for the different parts. I've noticed that doing this helps me a lot instead of outlining the full article and then giving the command."
AI Content Tools That Travel Bloggers Use
Based on the survey responses, it was found that the majority of bloggers, consisting of 14 individuals, use ChatGPT for their content creation needs. Following ChatGPT, Jasper was the second most popular ai content tool, with six individuals reporting that they had used its services. Additionally, two bloggers reported using Copy.ai, while tools such as Frase io, Writer Sonic, Ghost Writer, Word Hero, and Jounce AI were named by one person each. Furthermore, five bloggers mentioned that they mix different content-writing tools to achieve their desired results.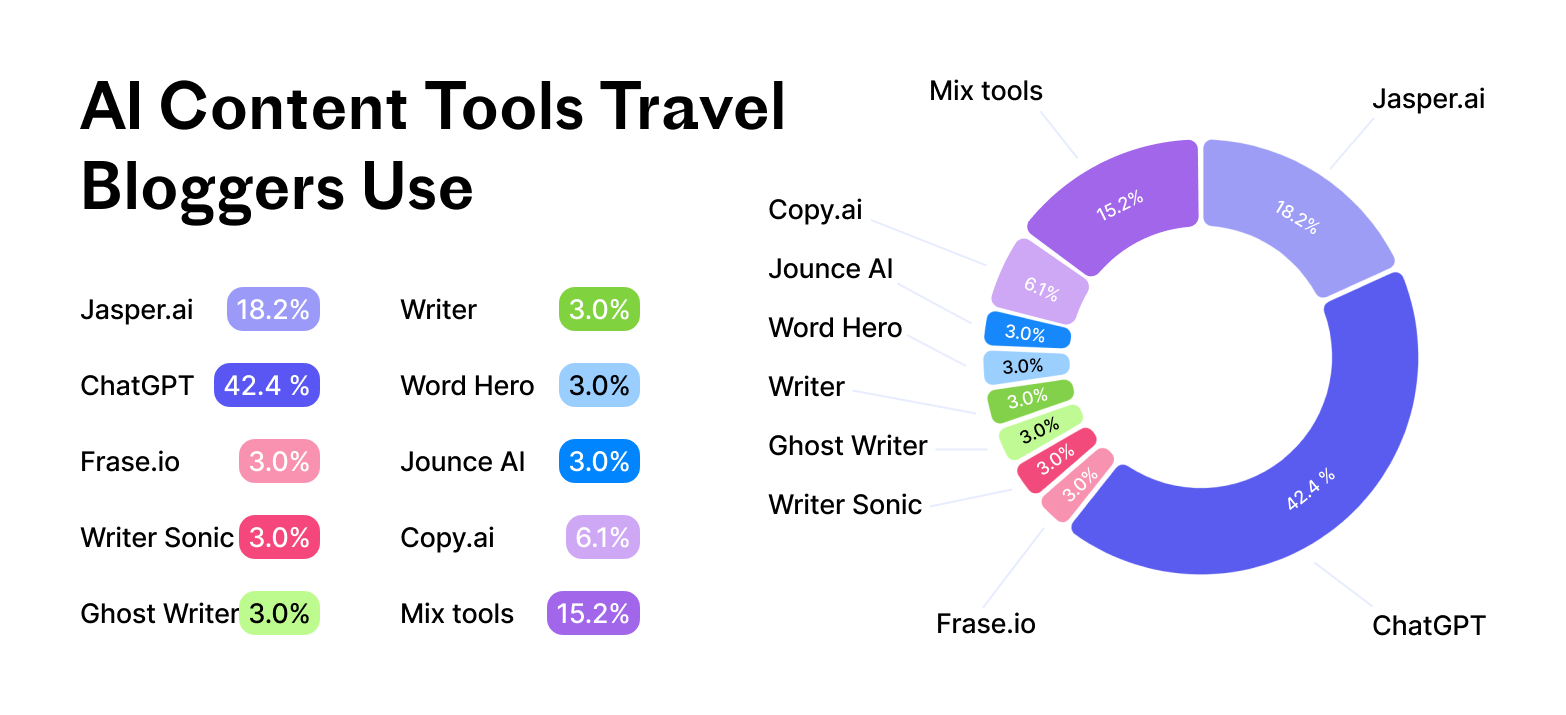 Examples of Content Created With AI Tools
The Train Diaries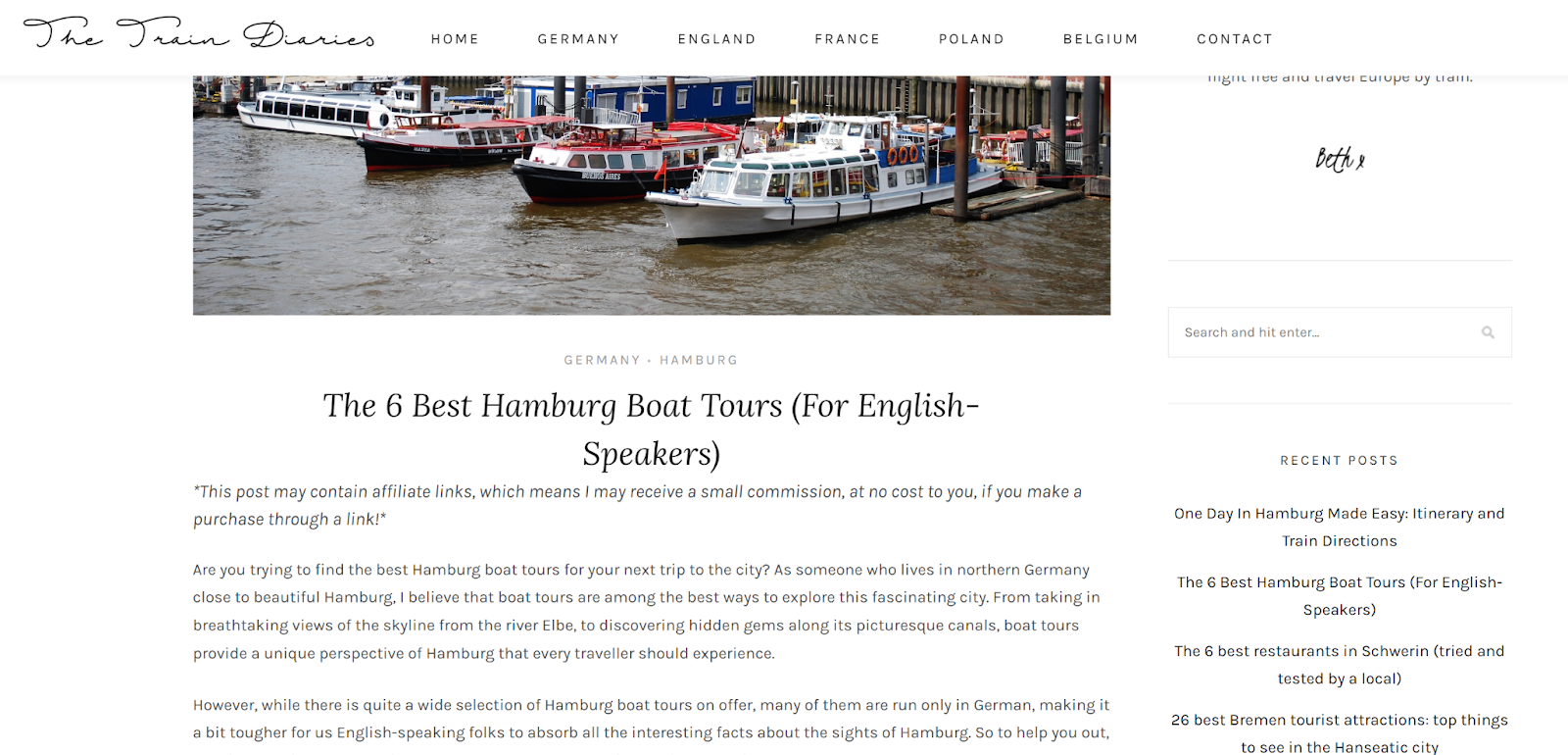 After attending the Travelpayouts webinar with Nina Clapperton, Beth, the creator of The Train Diaries used the techniques Nina showed to create this affiliate post: The 6 Best Hamburg Boat Tours (For English-Speakers). "I have tended to avoid these types of posts in the past, as they aren't the most fun to write (and it's also hard to avoid repeating yourself), but AI made the whole process much faster and easier".
Travel Compositions
The creator behind Travel Compositions said that she used AI to help her write the majority of her post about the Pearl Harbor tour from Kona.
Paige Minds The Gap
According to Paige, in the blog post about the five things you have to see in Milan, she added paragraphs two through four with the help of an AI tool, as well as the paragraph under the tours section.
Digital Travel Couple
The creators behind the Digital Travel Couple pointed out that they used AI content tools when creating one of their latest blog post about the 12 best MT cook walls.
Travelling Buzz
As Maria, the creator behind Travelling Buzz, shared, so far, she has only used AI for one article, which she published a week ago. "Before then, it has been a few months since I last published an article on my blog. I've used AI to create an article describing tours in a specific destination. I've done my research to choose which specific tours to include as well as to list their pros and cons. The AI helped me put my research and notes into sentences and fully develop an article."
Ronda Today
According to Clive, the mind behind Ronda Today, this article about finding a hotel in Ronda includes keyword suggestions and text layouts for SEO from ChatGPT. "Many of the articles across my websites have been aided by using AI to help structure the content."
Conclusion
Ultimately, our survey confirmed that AI tools are becoming increasingly popular among travel bloggers seeking to optimize their workflow and deliver high-quality content. The benefits of these tools range from generating fresh ideas to enhancing SEO, allowing bloggers to boost their revenue.
However, it's crucial to keep in mind that AI tools should be used to enhance, rather than replace, a blogger's creativity and individual style. So, make sure you use AI tools strategically and creatively, and keep producing compelling content that resonates with your audience.