Travelpayouts Promo Code: How to Use
The code option is available only for new members. To successfully use a promo code:
Click the "Enter a promo code" button in the registration form.
Type the code in the appeared "Promo code" field that appears on your screen.
Filling in the coupon code field is optional. You can also register without it also.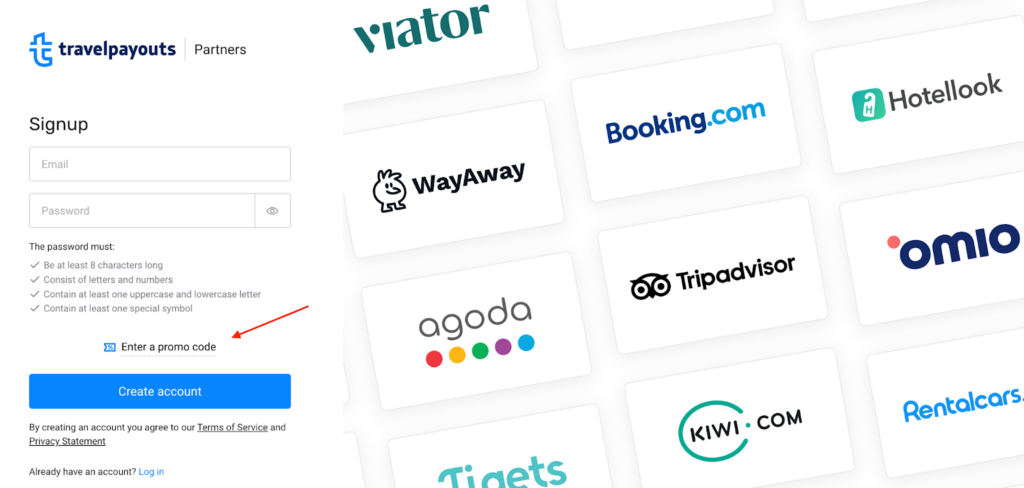 Please note: although we don't have a pre-moderation of accounts, creating multiple accounts for unreasonable benefits is not welcome. It's also forbidden to create accounts that are your own referrals.
How Much Profit Can You Get With a Promo Code?
Specifying the code during the registration process allows you to receive an increased reward rate for working with certain partner programs or a welcome bonus on your balance.
The detailed promo code conditions (final rate, validity period, etc.) are always presented in the source where you received the code. For example, an increase of 65% in the Hotellook Partner Program for three months means that, if you registered on June 1st, you would have an increased rate of 65% for three months (June, July, and August) until August 31st. However, starting September, October, November, December, and so on, you'll be back to the standard reward rate of 50% (according to the Hotellook program terms and conditions).
How to Get a Travelpayouts Promo Code
Promo codes for January, February, and March of 2023/2024, or other months are not provided by Travelpayouts as some other services practice. All our codes are connected to events and have limited validity. Usually, we distribute coupons and promotional codes:
at events that we attend or host (bloggers' podcasts, webinars, conferences, summits, etc.);
on some special holidays.
We announce all our upcoming events and deals on our blog, social networks (Facebook, Facebook group, Instagram, Twitter), and email newsletters. Stay tuned for more updates!