How It All Began
I live in Oahu and grew up here in Hawaii, but I've gone to school in the mainland, specifically in the states of Missouri and Colorado. So, I've been traveling since childhood.
My core business is digital marketing, which I've been doing since 2015. My agency focuses a lot on SEO and email marketing. In terms of SEO, I work on both technical on-page and off-page SEO in addition to content creation for various purposes, such as writing articles or product descriptions. We also do a lot of e-commerce.
During my spare time, I like to travel and, because of my unique geographic location, I was led to create a website focused on reviewing hotels called suitesandlobbies.com. I was in the right location to hit all the hotels in Hawaii, which are very popular. This niche is highly competitive, which makes finding the right keywords challenging. But as my core business is in that area, it helped me transition into more travel topics.
Suitesandlobbies.com started out as a side project in 2019, but now I split my time almost 50/50 between the agency and my own travel website. Because the agency is continuing to grow, I am getting traction and traffic. My affiliate links are starting to be clicked on, so I am seeing some revenue come through.
I also have a YouTube channel and am starting to produce more video content. While my channel is still in its infancy, it's growing and almost everything that I post there ranks very well in the YouTube search results, such as hotel reviews:
My agency is also continuing to grow on social media, specifically Instagram, which is why I am currently splitting my time 50/50. I'll see if it continues to grow and pivot accordingly.
How to Choose a Niche
Travel is incredibly competitive, so you've got to find your niche and really own it. My advice is to determine what kind of competitive advantage you have (you personally or those close to you). In my case, I live in Hawaii, so the majority of my reviews are of hotels in Hawaii because I don't have to fly to reach visit.
I can literally walk down to the hotel, take photos, learn about new events, or stay there at a reduced cost. That is a competitive advantage, as somebody from Turkey can't do the same. On the flip side, if you are in Istanbul, New York, Melbourne, Beijing, or Berlin, I can't compete with you in those markets.
You should work where you have strengths. For example, if you're more of an activities person, you can write about tours and activities and earn an income via the GetYourGuide and Viator affiliate programs.
Let's say I want to visit or review hotels in Europe. Well, unless I have the money to fly out there all the time, that goal is more of an aspiration. My strengths are here in Hawaii. So, I decided to work towards owning this space. Do not forget, you have to start somewhere where you have some strengths.
I would recommend niching down smaller and smaller to own a space that you can truly call your own. Larger topics, such as travel in the United States are too competitive unless you have significant capital, an existing domain that ranks in the search results, and staff ready to go or you're prepared to put out an exceptional amount of quality content. Even if you do have everything in order, working on these larger topics is going to take too long and will be frustrating and demoralizing.
Niche down in topic as well as size. If you're starting out and just writing about your own town, you're going to have a couple of advantages:
Google is going to look at your content and say: this is real-world content being created by a real person. Google will like that.
If you're writing about more specific locations, the keywords you're going to rank for are most likely going to be long-tail keywords. Instead of the #best hotels in the United States#, you might be writing about the #best hotels in Nantucket# or other areas that don't have a lot of competition. So, you're going to rank and you're going to get traffic quicker, which will motivate you to write more.
Later on down the line, you're going to have more experience and you'll know if you want to continue in that direction or not. Everyone wants to rank for an article that gets 10,000 views a month versus one that gets 100.
It's important to realize that, if you're on the fourth page of Google, no one's looking at your content, so you're not going to get any traffic from the 10,000-view keyword. You're better off going after the low competition, long-tail keywords and developing your traffic from there.
Travel Blogging Journey
Suitesandlobbies.com started out as a passion project. It's something that I enjoy doing. I honestly just really love hotels, including the architecture, what you experience in the lobby, and how some hotels can blend culture, history, modern amenities, and cool features.
I love visiting hotels, learning about how they're built, and discovering the experience that they try to deliver to their customers. I just love that. I think it's great. On Suitesandlobbies.com, I share my passion and help travelers by providing hotel reviews using my first-hand experience.
Now, we're getting to the point where we can start putting together more and more lists:
Top five luxury hotels
Top five family-friendly hotels
And so on
Instead of simply creating a list that's filled with information copied from other online sources, I could say that I had been to these luxury hotels and present the audience with my top five. This helped my credibility grow. Now, I mainly focus on hotels, but there is also information about experiences and activities available on the site.
Traffic
I don't do any marketing and don't promote in any way. I don't spend a single dollar in marketing at all. All my traffic is organic.
If you are new to the game, the best SEO tip that I can offer is to do keyword research. It's boring and has nothing to do with travel, but keyword research is essential.
For example, you may think that you're going to write an article about the hotels with the best hot tubs in New York. But if nobody's searching for content on that topic, you're wasting your time. So, do your keyword research. Find keywords with low competition that have traffic and start there to get yourself going. Keyword research helps you know what to write about so that your website will be found in the Google search results.
There are all kinds of tools out there. Some are free, and some are paid. I recommend Ahrefs (it's a paid option) or, if you want a good free tool, try UberSuggest by Neil Patel.

On Instagram, I only have about 1,200 followers, so this platform doesn't give me much additional traffic, but we're growing. In addition, I am mostly focused on YouTube.
Whenever I review or stay at a hotel, I shoot videos and put them up on my YouTube channel. I am getting a solid amount of traffic there, which is likely driving traffic back to my site. With that said, I do things a bit differently. When I place a link to an article, I usually post that article first and let it sit there for a few days so Google will crawl it and pick it up. The video will come out later. But, as I mentioned above, over 90% of our traffic from Google is organic.
I think YouTube and other video sources are the greatest potential traffic sources for the future. We're looking at a lot of videos, whether it's on YouTube, Instagram reels, or YouTube shorts. I missed the boat with Tik Tok, but it's a massive platform that is definitely worth looking into.
In addition, I believe we all should keep an eye on Web 3.0, NFT, and Blockchain technology. There is a lot of chatter about these topics out there and I think people are testing them out. Although I wouldn't put any amount of time and money into them now, I would keep an ear to the ground about what's going on in that space because if things pivot or something major comes out, it's going to happen fast and you'll need to move quickly.
Monetization
Right now, on the website itself, I strictly use affiliate links for monetization purposes. I have a Google AdSense ad, but it's only earning pennies and really use it as more of a testing grounds. My focus is almost 100% on affiliate links through Travelpayouts. I will be doing some Amazon affiliate links as well in the future. But, right now, it's all Travelpayouts.
Outside of Travelpayouts, there are a couple of travel guides that have their own affiliate programs. For example, I do refer to a luxury travel agency business. However, that's more of a partnership, as I work directly with the agency based on a commission share.
I only have one ad running at the bottom of my blog posts and it's a small one. I would encourage new users to think about user experience early on because throwing ads on a blog post that hardly gets any traffic is only going to earn $0.03 a month.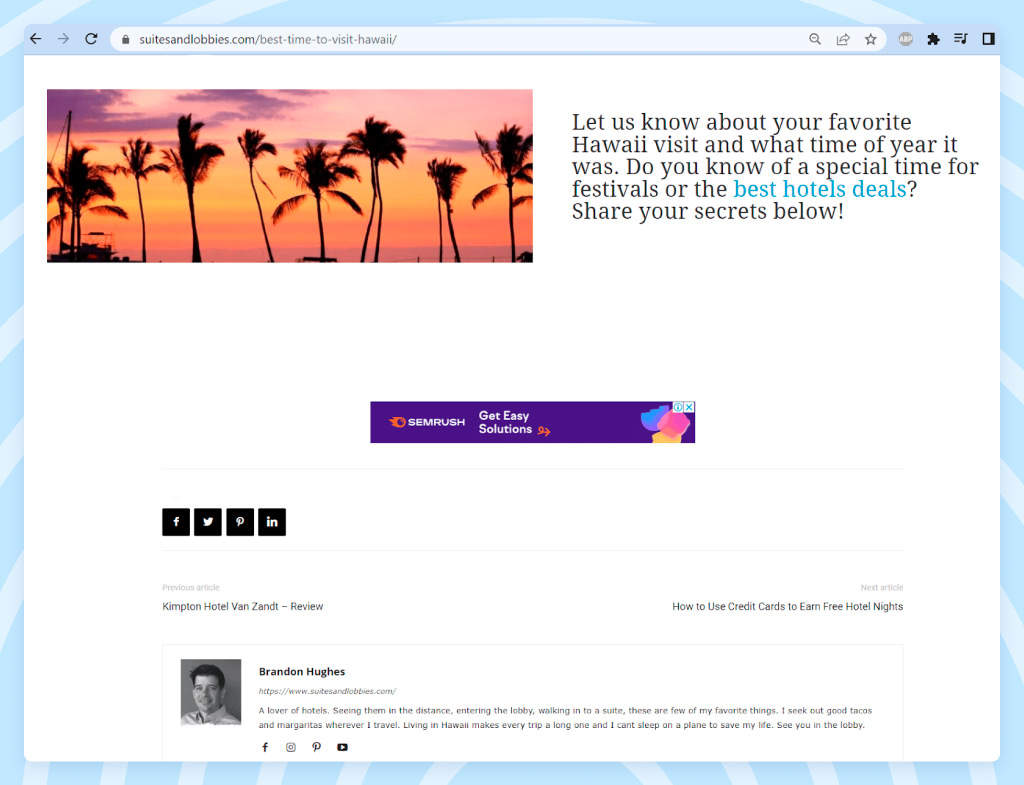 I actually suggest keeping the ads off in order to avoid creating a poor user experience in exchange for a couple of pennies. This approach will lead to you making real money later on. Plus, you can turn the ads on in the future when it makes more sense to do so.
Affiliate Marketing
I mostly use affiliate links since I can seamlessly integrate them into my content and they only minimally detract from the user experience.
For example, if I'm writing the sentence "Hey, guys, I recently visited the Halekulani Hotel", I can hyperlink the hotel name. If somebody clicks that affiliate link, they would either go to TripAdvisor or Booking.com and make me a couple hundred bucks per month.
However, pop-up ads and ads at the bottom or side of the page break up my content. Obviously, these ads do work and large website owners use them all the time. However, I don't think I'm big enough yet for the revenue from AdSense to justify that loss in user experience, as these types of banners definitely detract from the user experience.
When you're first starting out, the challenge is that you're putting the links in, but you don't get any money. As with everything, sometimes you just need to wait, then money slowly trickles in. You're getting a penny here and a penny there, but it slowly starts to build.
The biggest challenges when you start out with affiliate marketing are: staying focused on your long-term goals, sticking with it, developing that content, and putting the links in early. If you don't, you're going to have to go back and put them in later. One way or another, you're going to have to put them in. Stay focused!
Initially, I was hesitant about how to integrate affiliate links into my content. That was a hurdle. I have not used any script or placed any links manually. Instead, I use the Travelpayouts Chrome Extension. When I go to, for example, TripAdvisor or Viator's official website, at the very top, there's an affiliate link right there, so I just need to click copy and then drop it in.
Content Creation
I'm the majority creator of content on the site. I specialize in flying, traveling, visiting hotels, eating at restaurants, and general documentation, including taking pictures/videos, writing things down, and comparing locations.
I also try to get local experts in their specific markets to help me with content:
1 writer in Japan
1 writer in Portugal
2 writers in the continental United States
How to Create Content Ideas
When I'm traveling somewhere, I'm going to stay at a hotel and write about that experience. At the same time, I do some research to find what a lot of people are searching for (e.g., the best luxury hotels on Oahu).
Clusters
I also like to organize my content into clusters:
I do some research and find a lot of people are searching for the best luxury hotels on Oahu.
I know that I need to create an article on that topic because I want to rank for that term.
Then, I ask myself if I can visit the hotels included in that list? So, now I have individual articles on each hotel and within each article. I'm linking to the article about the five best hotels.
From there, I look at what people who stay at luxury hotels want to learn more about, what luxury activities are they interested in, and what are the best restaurants for them to check out?
This is how I come up with ideas for my content. For example, when I am making content about a luxury holiday, I might think about targeting people who are looking for helicopter tours. Then I take it one step further. Maybe those people want to go to Oahu or go snorkeling or scuba diving. So, we want to interlink all those articles to, in the end, provide a complete guide to visit that area.
As another example, I have a trip to San Diego coming up, so I want to do the same thing. I want to visit and stay at multiple hotels. But I also want to look into the activities going on in that area. Can I link to those activities? Can I do a "top five" or other list article to pull it all together?
When Google looks at all of that, it can see that my website is an authority on this subject. Hopefully, I'll receive a higher ranking as a result. But again, when creating content, you can't skip the keyword research if you want to be a successful travel blogger. Moreover, it is worth starting out by writing for low-competition keywords from day one.
Google Bots vs Readers
A lot of people skip keyword research because it can be difficult or even tedious. People who skip keyword research and just write about whatever they want can also get some positive results. However, if this is your approach, then you're looking at blogging as a hobby. You're just sharing your thoughts and feelings about things. And there's nothing wrong with that!
With that said, if you're looking at blogging as a means of growing an income or running a business, you need to take a step back and look at the process of how you're writing content. Those that skip keyword research are making a huge mistake. On the other hand, you have those that go too far and write articles purely for SEO purposes, but forget about their readers.
So, do your research, then go out, get that experience, and provide your insights to readers via your writing. Write for human readers and not just for Google bots. If you can combine that sort of written content with quality photos, good tips, and strong insight, your voice will eventually come out in your writing. Eventually, you'll develop your style and people will cling to that.
How to Earn on Activities and Hotels Online
To earn on hotels online, I work mostly with the TripAdvisor and Booking.com affiliate programs. I simply integrate links to those websites into my content.
I feel like people who are reading about hotels online are probably in one of two stages:
Researching
Getting ready to book
If they're researching, I drive them to TripAdvisor, as it has tons of real reviews. This is because everyone trusts TripAdvisor as a perfect place to drive traffic. In addition, if they click through my links and end up on TripAdvisor, it continues to give me credibility because I'm not linking to some weird, unknown site. Plus, TripAdvisor is a global platform.
Anyone in the world who clicks through and goes to TripAdvisor will continue to have that level of trust during the experience. This has worked for me. I'm starting to integrate more of the Booking.com links just to see how they work, but I haven't generated any revenue from Booking.com, so I'll have to keep working on that.
I think a simple link embedded in the text is the most effective tool. In addition to links, I also have put the Booking.com widget in a couple of places and I may do that again. To combine two affiliate programs, I use two buttons:
Read Reviews – directs to TripAdvisor
Check Current Pricing – directs to Booking.com
If you drive traffic to the brand's website and it's not converting, maybe there is something to improve. In this case, pay close attention to the page design and check what and where your call to action is:
Do I move it higher on the page?
Lower?
Do I change the color?
Do I make it bigger?
In addition, check what you click through and where do you link to? Are you linking through to the general information page or to the checkout page? Look into that entire flow and the whole user experience. I also look at alternative affiliate programs.
For example, if I am linking to an activity provider, I would look at their page and determine where the end user will land. For example, I will go to Travelpayouts and look at all the tours and activities affiliate programs at which the brand provides a better user experience. From there, I will try to find the cleanest interface that may convert better.
Key Takeaways
Narrow down your niche – it's easier for you to achieve results with traffic and income than with a broad topic website.
When choosing a topic for your blog, determine what kind of competitive advantages you or those close to you have.
Break your content into clusters and prepare comprehensive answers so that your reader will end up with an almost-complete travel guide.
Write content for real people as well as for Google bots.
Start writing for low-competition keywords from day one.
Don't degrade the user experience by overloading your site with ads.
When choosing an affiliate program, look at the page where you drive your audience. This page should give the best user experience to your audience
Video content has great potential for the future. Look into YouTube, Instagram, and other platforms.
Keep an eye on Web 3.0, NFT, and Blockchain technology.
Links are an effective affiliate tool. You can quickly form affiliate links with a Travelpayouts Chrome Extension.
---
Want to share your story? Travelpayouts welcomes all bloggers with any travel-related experience. Write to us at an@travelpayouts.com with the following subject: "Story for the Travelpayouts Blog".