What Is Travelpayouts?
Travelpayouts is a digital partnership platform that brings together trusted travel brands and 370,000+ dedicated influencers and content creators worldwide. Travelpayouts offers a "win-win-win" for creators, travelers, and travel brands:
Creators can recommend trusted travel brands they love to their audience in blog posts, social media posts, and emails and get rewarded for their efforts.
Travelers can book hotels, flights, tours, travel insurance, and rental cars at the best price to explore fascinating places near and far.
Brands can connect with experienced travel brands and content creators to expand their audience and increase sales.
Join the Travelpayouts Partnership Platform
Access exclusive tools and the best travel affiliate programs, including flights, hotels, car rental, insurance, tours and activities, all in one place.
Join Today
395,000 partners already trust us
120 travel brands
$53M+ total paid since 2011
How Can Travelpayouts Benefit Travel Bloggers?
Travel bloggers and content creators can experience dozens of unique benefits from Travelpayouts. However, we usually hear these common reasons why travel bloggers love working with Travelpayouts:
Passive Income
As a travel blogger or content creator, spending a lot of time "on the go" and exploring the world is the norm. However, the other (and less glamorous) side of travel blogging involves hours of writing blogs, conducting research, editing videos, and other administrative tasks behind a screen. After all, those travels don't fund themselves, right?
That's why many travel bloggers look for creative ways to develop passive income — income generated from investments or work completed in the past — so they can spend less time working on a computer and more time exploring the world in the future.
Affiliate marketing is one of the most effective passive income streams, and Travelpayouts is one of the most comprehensive affiliate marketing platforms on the market for travel bloggers. Creators can earn income (in their sleep) when readers or followers click on links from their websites, social media posts, or emails and make a purchase. You only have to add the link once, but it will continue to generate income for years and years to come!
User-Friendly Platform
Multiple travel brands, from GetYourGuide to Booking.com, offer their own affiliate programs. However, as an affiliate for numerous brands, it can be challenging to manage and learn how to use each affiliate platform (not to mention — keep track of each payout!). Creators must toggle between tabs to create links for one blog post, which can add hours to content creation.
As a Travelpayouts partner, bloggers and content creators can access 120+ affiliate programs in the travel niche through one platform. Payments and customer service come from one company, and you don't have to apply for each program separately (with a unique username and password to remember each time). When writing a new blog post, simply log into Travelpayouts to create affiliate links and access banners, widgets, and other income-generating tools.
To learn more about Travelpayouts and how it can help you monetize your travel content, take a free course from Travelpayouts Academy.
Excellent Partnership Opportunities
As we mentioned, after joining the Travelpayouts Partnership Platform, you'll have access to 120+ affiliate programs for brands and companies in the travel industry. However, the affiliate programs aren't for just any companies — they are some of the top travel brands that you (and your readers and followers) already know, use, and love.
These are some of the most notable travel brands you'll have access to inside the Travelpayouts Partnership Program:
What Is the Importance of SEO in Affiliate Marketing?
If you're a seasoned travel blogger, you likely already understand the importance of search engine optimization (SEO). SEO is a "set of practices designed to improve the appearance and positioning of web pages in search results," according to Moz.
SEO improves the quantity and quality of organic traffic to your website with methods like keyword research, link building, on-page optimization, off-page optimization, and more. To be successful as an affiliate marketer, your affiliate links, widgets, banners, and other tools must be seen (and clicked on) by travelers. A solid SEO strategy can help get your content seen by the right people at the right time, resulting in more affiliate sales and income.
There is only one problem with SEO — the research, implementation, and tracking can take time. Fortunately, AI-powered tools and technologies are making it much more straightforward for bloggers to conduct keyword research, optimize content, and build links, making it easier and quicker for content creators to generate affiliate income.
AI Tools to Enhance SEO
It's wise to utilize AI tools for search engine optimization. Time-consuming SEO tasks, like content optimization and link building, can be simplified using the following AI-powered tools.
ChatGPT
ChatGPT is an AI content writing tool created by Open AI that allows bloggers and content creators to generate blog posts, emails, social media posts, and other content with AI technology. ChatGPT is free to use, supports all languages, has an easy-to-navigate interface, and can support several types of content.
Jasper AI
Jasper AI is an all-in-one content creation tool that utilizes AI to generate all types of content — from blog posts and product descriptions to video scripts and Instagram captions. This tool comes with dozens of content templates and provides helpful keyword research and SEO features, allowing you to create high-ranking content quickly.
Surfer SEO
Surfer SEO is a comprehensive SEO tool that utilizes AI to perform keyword research, optimize content, create SEO-friendly outlines, and more. When drafting a blog post, Surfer SEO will offer relevant keywords and will edit and optimize the text as it's being written.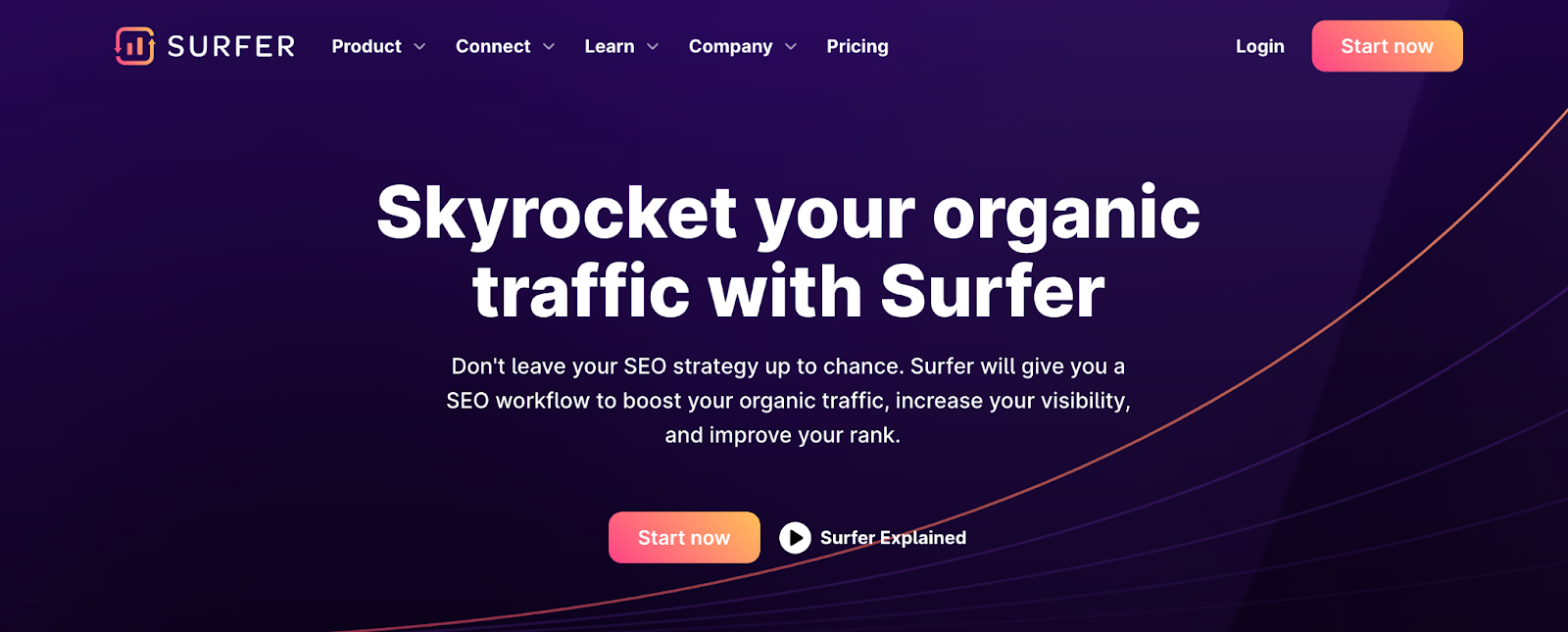 Link Whisper
Link Whisper is a revolutionary internal linking tool that speeds up the internal linking process for SEO using AI-powered technology. This tool will provide automatic relevant link suggestions when you write (or upload) your article into the WordPress editor. This makes it easy to build internal links — a key element to any successful SEO strategy!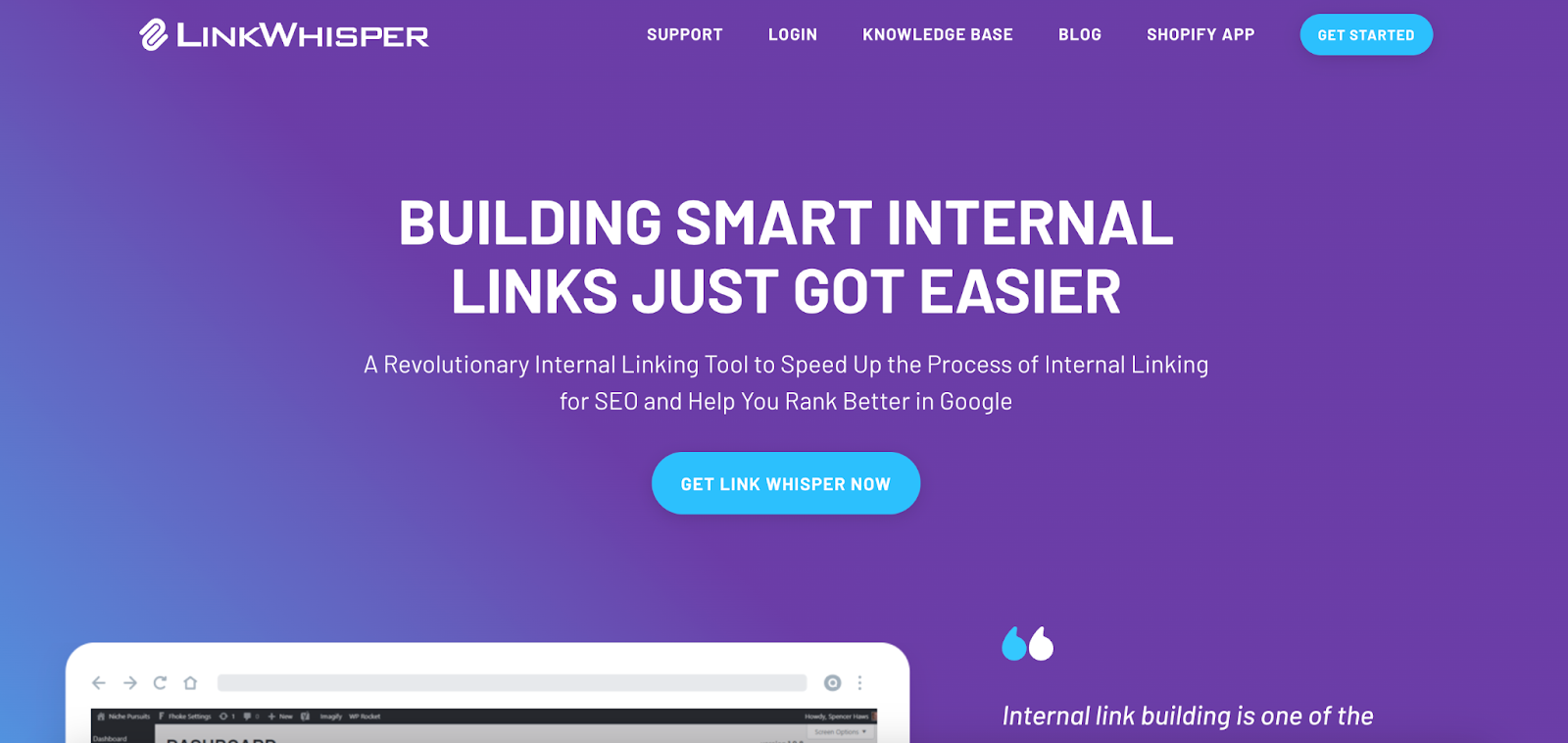 How Travelpayouts Partners Utilize AI for Affiliate Marketing
Our partners are having great success utilizing AI technologies to improve affiliate marketing strategies. Travel bloggers utilizing AI-powered tools have noticed the following benefits after integrating AI into their affiliate marketing strategy:
Maximizing Output
Crafting a well-written blog post is time-consuming work (we know — we're preaching to the choir!). It takes many bloggers several hours (and even days) to research, write, edit, optimize, upload, and publish high-quality content.
AI tools can speed up the writing process, allowing our partners to publish more blog posts each month, establish content pillars, and start ranking for high-volume keywords. This allows more blog posts (with affiliate links) to be discovered by more travelers.
Boosting Productivity
Travelpayouts partners who integrate AI technologies into their workflows have mentioned they are more productive and have more time to focus on other tasks.
Perhaps you're working full-time at another job while getting your travel business off the ground, or your brand has grown so rapidly that juggling a website, social media, and emails is getting to be too much to handle. AI tools can serve as another "team member" on staff to free up your time and ensure your capacity doesn't hinder your affiliate income.
Generating Ideas
As a content creator, you'd probably consider yourself a pretty creative person. However, even the most creative individuals can get writer's block and may need help generating fresh, innovative, engaging ideas.
AI writing tools can help affiliate partners discover new ideas. Even better, AI tools can perform keyword research, providing writers with opportunities to rank for affiliate-focused keywords, like the "Best Wine Tours in Tuscany" or the "Best Luxury Hotels in Lisbon."
Real Examples of Successful Affiliates
Don't just take our word for it. Discover how the following successful partners are tapping into the power of AI to generate more income through the Travelpayouts Partnership Platform.
Tess from Traveling Tessie
Tess from Traveling Tessie is a full-time fashion industry professional, part-time travel blogger, and Travelpayouts partner who has found success in leveraging AI tools to streamline content creation while juggling a full-time job and blog. Tess says, "AI is great for getting the creative juices flowing," but she still fact-checks and adds her experience to the final piece.
Tess uses Copy.ai to create outlines and content for her blog posts. In the past several months, she's noticed many articles written with the help of AI are already outperforming her older posts — and she attributes this to incorporating keywords into her content recommended by Copy.ai.
Tanya from Travels & Treasures
Tanya from Travels & Treasures is a stay-at-home mom and travel blogger who, after two failed attempts at travel blogging, finally found success through trial and error with her current blog, Travels & Treasures. Tanya uses AI-powered tools to generate blog post ideas, outlines, and content and to overcome writer's block.
Tanya uses ChatGPT's Chrome extension, AIPRM, to generate blog post ideas, titles, and prompts for content. She uses other tools, like Copy.ai, to help with keyword research, on-page optimization, link building, and content creation. Her AI posts now rank on the first page of Google — and are helping her generate affiliate income as a Travelpayouts partner.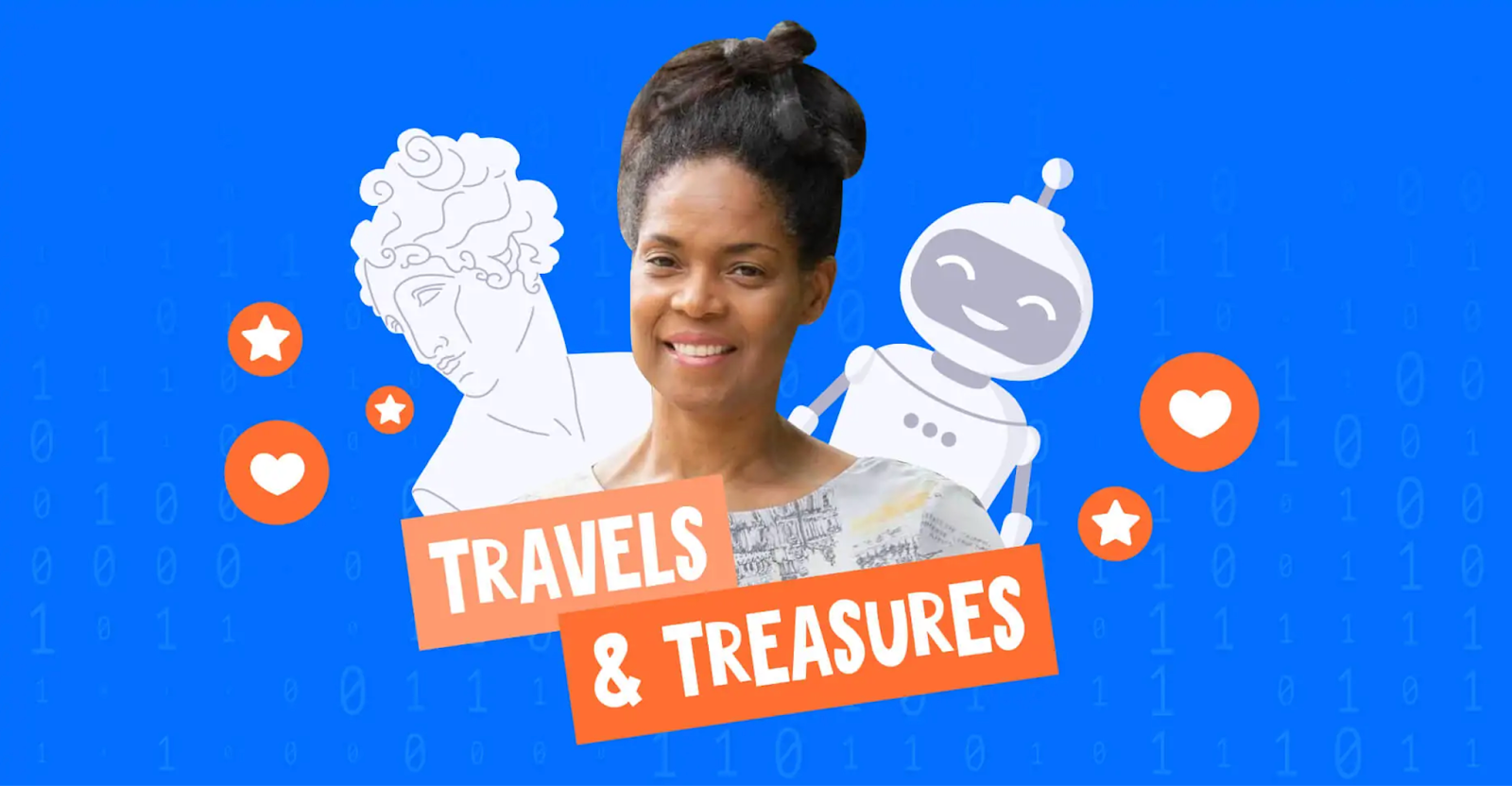 Practical Tips for Getting Started with AI
If you're brand new to the world of AI technology, it can feel a little (okay, a lot) overwhelming to get started with so many new tools and strategies to learn.
However, by utilizing AI-powered technology, you'll experience immeasurable benefits, including higher affiliate income from Travelpayouts. Consider taking the following steps to get started with AI — and you'll see the benefits of this technology in no time!
Start Small
Choose a free platform, like ChatGPT, to start creating AI content. Not only is there less commitment (if you don't like it, you're not locked into a monthly payment), but free tools like ChatGPT tend to have fewer capabilities, so they're less overwhelming to learn.
Do Research
There are dozens of online resources to help you learn the "ins and outs" of AI. For example, watch our webinar in partnership with Nina Clapperton from She Knows SEO for a comprehensive overview of using AI to write affiliate-focused blog posts, or read helpful posts on our Travelpayouts Blog to learn about utilizing AI technology to improve and inform your affiliate marketing strategy.
Choose One Focus
Instead of using AI to tackle outline creation, keyword research, and content writing for blog posts, emails, and social media posts simultaneously, choose just one thing (that would be the most helpful) to focus on first.
Do you dread writing Instagram captions? If so, outsource this task to an AI writer. Do you need help coming up with catchy, SEO-friendly headlines for your blog posts? If so, use an AI writer to complete this task. Once you master one skill, move on to the next. You'll feel more confident and see better results focusing on one skill at a time.
Step-by-Step Guide to Implementing AI in Affiliate Marketing
If you're ready to integrate AI into your affiliate marketing strategy — you've made a great choice. Follow this helpful step-by-step guide, and you'll begin seeing a boost in your affiliate earnings in no time.
Select AI Tools
There are dozens (if not hundreds) of AI-powered tools on the market, so it's important to do some research to choose the right AI tools for your unique needs.
For example, if you're looking for an AI content writer to help with content creation, Jasper AI might be the most helpful. Or, if you want to improve your internal linking strategy, a subscription to Link Whisper is ideal. If you plan to use AI to enhance your affiliate marketing strategy, choosing AI tools that integrate SEO best practices is essential.
Implement AI Tools
Take time to implement your chosen AI tools into your affiliate marketing strategy — and learn how to use them. Some tools, like Jasper AI, offer more functionality through the company's website, while others, like Surfer SEO and Grammarly, offer browser extensions to perform keyword research and optimize content across the web.
If you still want to learn more about AI and SEO before getting started, there are dozens of online resources that can help you learn how to effectively use AI tools to improve search results and boost affiliate income, like the "Boost Travel Affiliate Revenue Using SEO" Travelpayouts Course with Sharon Gourlay of Digital Nomad Wannabe and the "How to Use AI to Write Engaging SEO-Optimized Articles" with Nina Clapperton of She Knows SEO.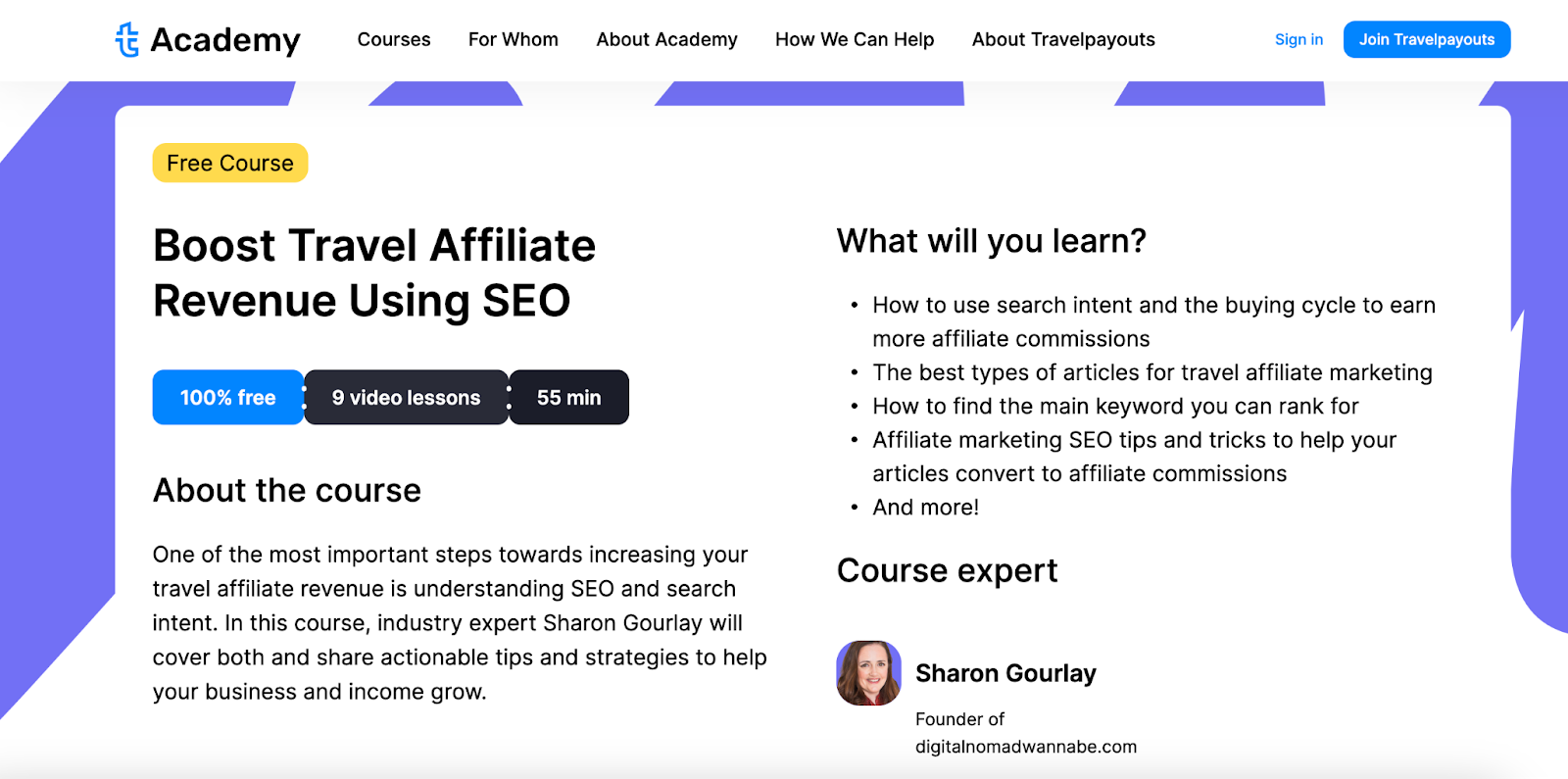 Track Results
As you implement AI tools and technologies, track your progress along the way to ensure the new strategies are working to boost your affiliate income.
Track important metrics like users, page views, and sessions in Google Analytics to see if your SEO strategies are effective. In theory, the AI blog posts should result in a spike in organic traffic, meaning new people are finding your website and blog posts through search engines and are reading through your helpful content!
Then, head over to the Travelpayouts Dashboard to track metrics like impressions, clicks, and pending affiliate income payouts. This information lets you determine your highest-converting programs and best-performing blog posts. If your affiliate incoming is slowly ticking up month after month, your strategy is working!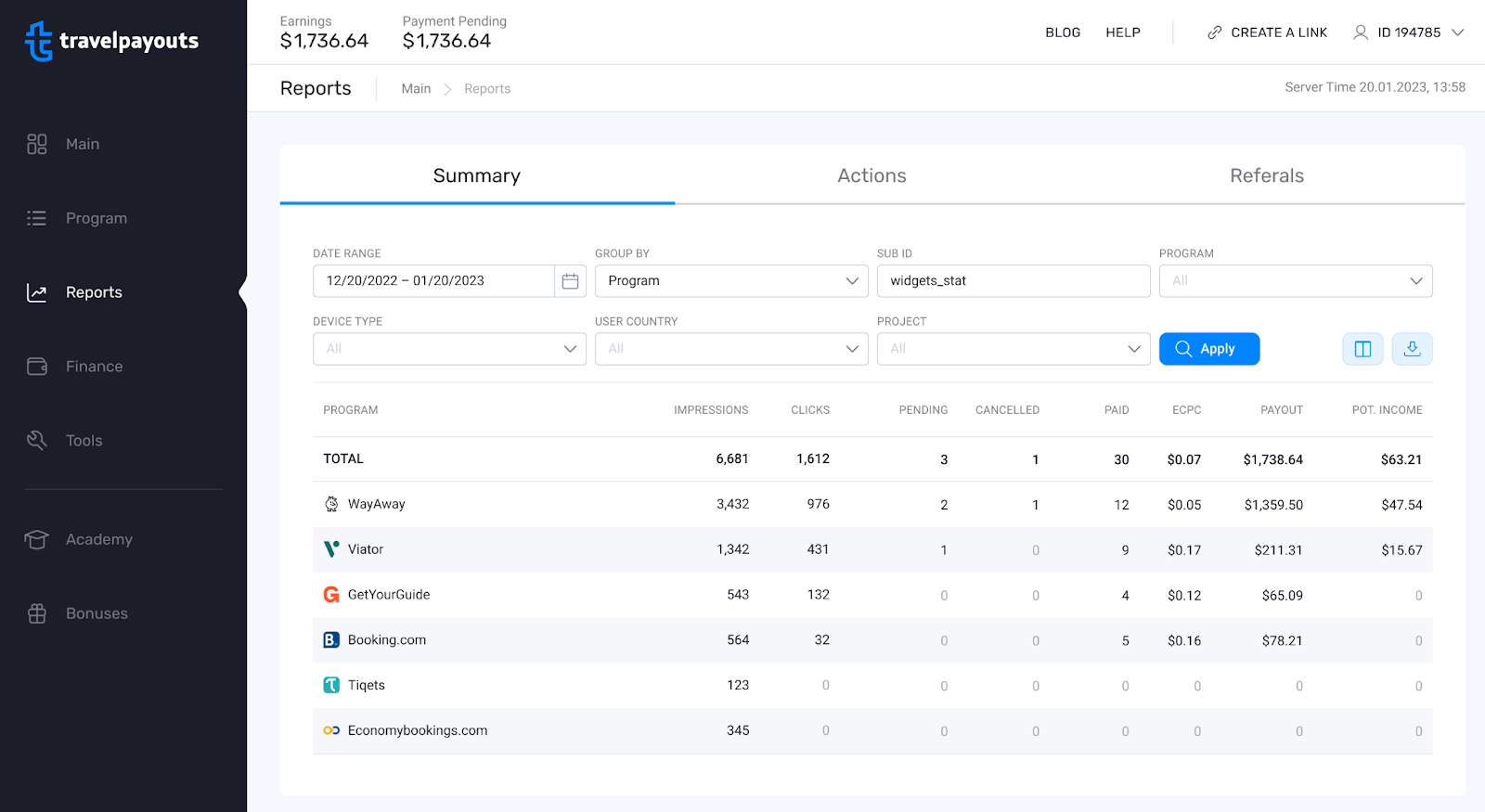 Conclusion
The truth is — AI in marketing is making it much easier for travel bloggers and content creators to generate more affiliate income from partnership platforms like Travelpayouts. AI tools help busy bloggers speed up the content creation process and optimize content for search engines, so content can get discovered faster by travelers looking to purchase through your affiliate links.
If you're not already part of the Travelpayouts Partnership Platform, we hope you'll join the thousands of other travel bloggers who are getting paid to recommend their favorite hotels, tours, and travel insurance programs to eager travelers across the globe!
Join the Travelpayouts Partnership Platform
Access exclusive tools and the best travel affiliate programs, including flights, hotels, car rental, insurance, tours and activities, all in one place.
Join Today
395,000 partners already trust us
120 travel brands
$53M+ total paid since 2011