About Super Travel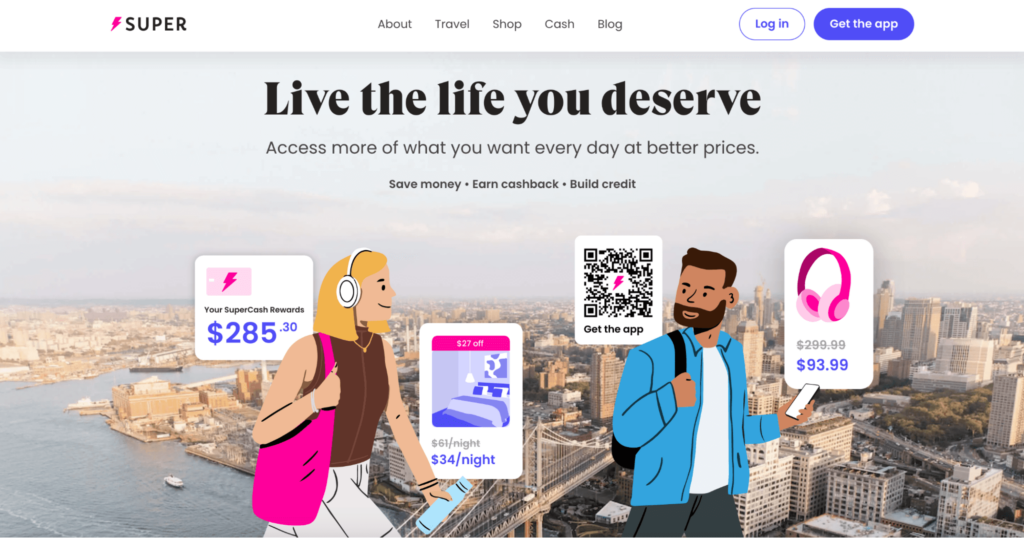 Super Travel (Ex Snaptravel) is a revolutionary product that offers the best travel deals via SMS, WhatsApp, and Messenger. The service accumulates thousands of hotel offers via an advanced machine-learning algorithm directly from its partners. All offers are filtered by price, destination, quality, and value.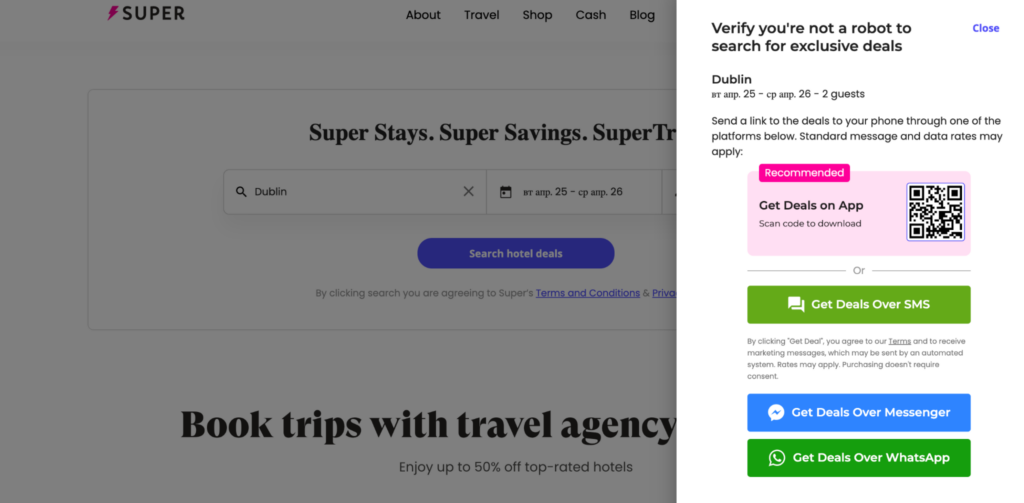 To get the deals, you need to register by typing your phone number into the website or mobile application. Then, you can access the search results for your destination and travel dates as well as receive personalized recommendations.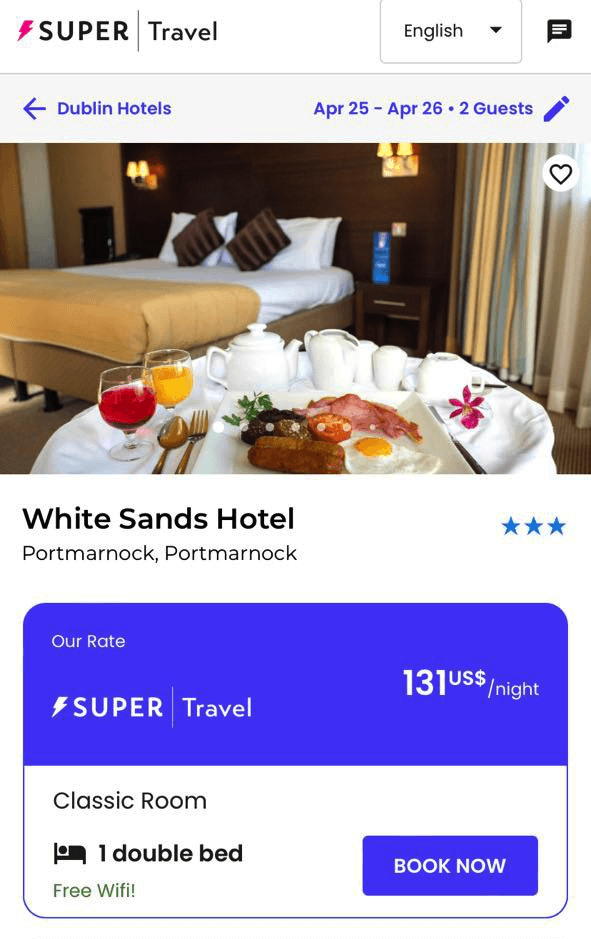 Users can also receive travel deals via SMS, Messenger, or WhatsApp. All they need to do is register with Super Travel and send their destination and desired travel dates. After doing so, they will receive a link to the search results on the Super Travel website and can proceed to the booking process. Users can talk to both bots and human agents to make reservations.
In addition to hotel reservations, Super Travel allows users to save up to 30% on great brands across various niches, such as technology, fashion, home goods, and more. It is possible to request free shipping and to return goods if you do not like them or if they do not meet your needs.
One more advantage of Super Travel is that it helps users grow their savings with Super Cash. Users can earn 2% cashback on their everyday spending and track their credit score in the app. 
Super Travel (Ex Snaptravel) was founded in 2016 by Snapcommerce, an international commerce platform focused on evolving mobile shopping experiences across various niches. Since its foundation, the service has been able to generate over $100 million in funding, $1 billion in total sales, and 30 million users in its database.
This growth is due to the company's revolutionary technology that allows users to discover the best travel items upon request by simply sending a message instead of spending hours on price comparisons and endless browsing. This especially aligns with the needs of Gen-Y and Gen-Z customers, who usually don't have a personal computer and use their mobile devices to shop and surf the internet.
Thanks to Super Travel's smart approach, the company was able to reach and even grow more profitable during the ongoing coronavirus pandemic and economic decline. Super's focus on delivering the best possible prices to travelers, with a mobile-first approach, has attracted a loyal customer base of price conscious travelers in a segment that is growing rapidly. 
Brands also benefit from partnering with Super Travel, as they can reduce marketing expenses and reach their target audience via personal messages. Direct communication also allows for trust to be built and for the customers to personalize their experiences.
Advantages for Super Travel's Customers
Clients can save up to 50% on stays in over 200,000 hotels with exclusive deals from Super Travel
Accommodations for every taste and budget
24/7 support via Facebook Messenger or SMS
VIP Packages include upgrades, expense integrations, and credits
Payments can be made by card, PayPal, or Apple Pay
Super Travel's team will send the top three picks that match the client's destination and dates
The Super Travel Partner Program
With Super Travel, partners can earn 5% of the completed hotel stay cost. With the average booking price being about $120, one sale can generate about $6. 
All purchases made on the desktop and mobile versions of the Super Travel website are commissionable, except for bookings made in the app.
Allowed traffic types include:
Content Projects

Websites
Newsletters
Social Networks 
Content Platforms
Mobile Apps
Messengers
Video Platforms

Travel Agencies
Cashback Projects
Coupon or Promo Code Websites
Media Buying

Ad Networks
Context Ads
SEO

Saving money when using Super Travel for your own travels or trips taken by your friends
Advantages of the Super Travel Partner Program
Accommodations at the best prices on the market
Strong conversion rates
Worldwide geotargeting
Sales attribution on desktop and mobile purchases
Learn more about the Super Travel partner program in your personal account at Travelpayouts.
30 days
the cookie lifetime
The SuperTravel Partner Program
Join
How to Earn on Hotel Bookings with Super Travel
Below, we've gathered some information on how to increase your conversions and earnings with Super Travel.
Brand's audience
Super Travel's travelers are extremely price sensitive. They are customers who don't just want to save on travel, but they need to save on travel. They are predominantly mobile-first, younger, and looking for travel in the very near future, often booking lodging for the same day, the next day, or for travel within the current month.
Best Marketing Practices
Create inspirational content that will encourage readers to travel and book their journey with Super Travel. Start by analyzing what your audience is looking for and then create content accordingly. For example, you can write about the best destinations for each season or create travel guides to particular locations and encourage users to book their trips with Super.
Sharing personal stories can always help yield results, so it would be perfect if you could write about booking with Super Travel from your own experience. Details might be very useful to readers and may help them organize better stays.
Discuss the advantages and features of Super Travel and how it differs from other platforms in the niche.
Create top lists, such as "Top City Breaks", "Best Summer Destinations This Year", "The best cheap hotels", and so on.
Provide the audience with solutions. Think about what might be hard for audiences when organizing a trip and share content that will provide useful solutions to their problems.
Use CTA's focused on price and discounting. 
Cross-promote. If you have several promotion channels, be sure to leverage them to reach out to the maximum number of users.