How It All Began
When I was a child, I traveled a lot with my parents, who were athletes. Although I am from Lithuania, we ended up living in Germany. As a result, I grew up speaking both Lithuanian and German, which is how I started to become interested in languages and traveling.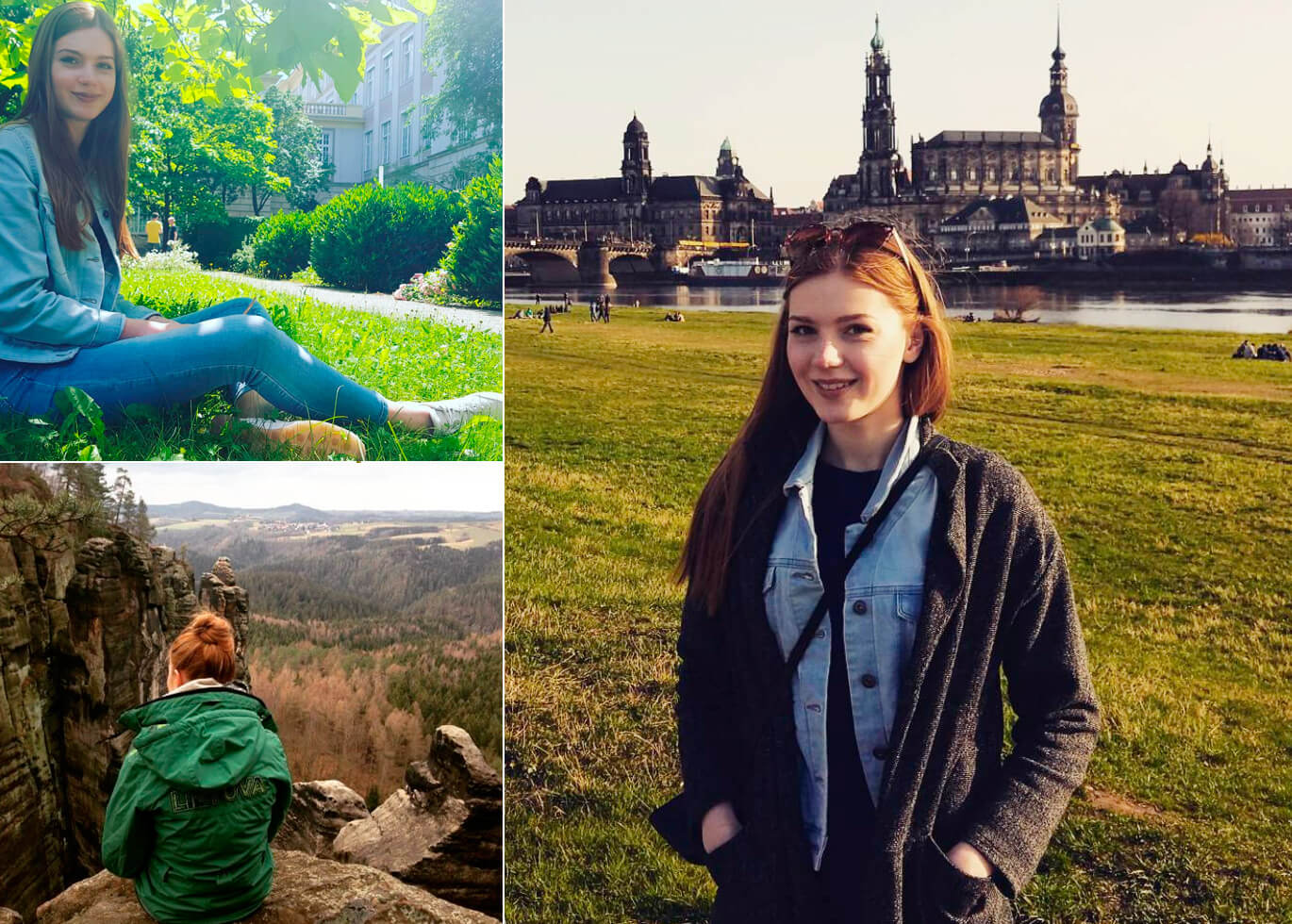 In Germany, I went to school and, later, started studying international business. This furthered my foreign language studies as many of my classes were in English. I also took Spanish lessons. Since I had chosen to study Spanish and had an opportunity to attend one semester abroad, I ended up in Spain, where I am living right now. I have enjoyed it so much that I keep extending my stay. Now, I call Spain my home!
During my studies, I was considering working in the travel industry, but that didn't happen. I created my blog a year and a half ago and this is how everything started.
The idea of having my own project is a major source of inspiration for me. When I started my blog, I had a job that did not really fulfill me. Meanwhile, spending my time writing about traveling and researching authentic experiences seemed like an absolute dream! It's crazy how much that thought inspired and motivated me.
Something that shaped me a lot is my background and growing up as an immigrant in Germany. I saw my mom work hard to make it in a new country. Even though I appreciate everything she did and will be forever grateful, I always knew that I wanted to have a better life in the future. So, I thought, if one day I could make a couple of euros from my own project, how awesome would that be?
About The Lithuanian Abroad
The Lithuanian Abroad is a source for people traveling in or moving to Spain. I usually only write about what I know personally and recommend things I have tried myself. For example, I started blogging with articles about Madrid, the city in which I live.
In the beginning, I covered many side topics on my blog, but after experimenting and learning, I determined that it is better to pump all my expertise into a single niche. Later, I will share with you why this is so important.
The thought that there are so many things about languages, cultures, traditions, and expressions out there that I don't yet know, motivates me to work on my blog. Since I talk a lot about languages and moving abroad, I started following creators on social media who post similar content. I am heavily inspired by my fellow travel bloggers. After all, there are so many talented and hard-working people out there!
Travel Blogging Journey
My actual blogging journey started when I went traveling around Mexico and Colombia right before the pandemic. When I returned home, I had SO MANY photos and videos from my trip. I wondered what to do with them. I started creating a photo book, but somehow never finished it. During the lockdown, I had a lot of time on my hands.
Back then, @mariefeandjakesnow & @explorerssaurus, the creators of Club Life Design, published a photography course for content creators. I spent all day at home doing nothing. So I thought, why not try it?
I completed the photography course, which taught me how to edit photos and improve the colors in an image. This course also included tips for making reels. That was the time I started to become more active on Instagram as well. Reels were still quite new, but I wanted to give them a try. And, to be honest, I wanted to challenge myself and become more self-confident. So, I jumped on that train as well.
I started following fellow travelers and saw that some had their own blogs! They looked so beautiful with stunning images. In addition, the blog posts were full of useful information. I realized that I wanted to do something similar. So, I literally googled "how to start a travel blog". And that's how everything started.
One day, I ended up on kotrynabass.com. The owner of this website sells WordPress themes and offers amazing information for building a website. This was my starting point for every little thing that was happening on my WordPress blog back then.
What inspired and kept me motivated were small wins, which I always tried to celebrate. I celebrated my first 1,000 monthly visitors, the first time my posts ranked on Google, and of course, my first affiliate sale. These small victories showed me that I was moving in the right direction. I was so happy!
Courses and Blogging Coach
The main difficulty in the beginning was that I had absolutely no idea what I was doing! I had never used WordPress before. I had no clue about SEO. To be honest, I was even struggling with the simplest templates. Believe me when I say that I had to educate myself about everything related to WordPress.
I am a big advocate for investing in educating yourself. I have spent A LOT of money on blogging courses, Pinterest courses, SEO courses, and more. And I am not ashamed of it! Nobody should be ashamed about investing in their education.
The truth is, I could have just used the trial-and-error approach. Maybe I would have figured out how Pinterest works, how to rank on Google, and why backlinking is important. If I had gone down this route, who knows if I would have put affiliate links on my blog yet? Most likely, I would have gotten frustrated at some point and stopped blogging.
I am a big fan of courses. The reason why I am where I currently am with my blog is that I invested in courses. Looking back, since I started my website, I invested in a photography course, a website-building course, a Pinterest course, and probably others as well!
Something that was life-changing for me was investing in a blogging coach. My blogging coach had weekly meetings with me while I was taking her course in my free time.
Somto is a successful travel blogger, who is currently offering masterclasses and coaching sessions to her clients. I actually reached out to her to talk about her Pinterest course, but she convinced me that Pinterest was only a small part of a blogger's journey. I really wanted to learn more, so I gave it a chance.
Somto's blogging course covered all the areas that are important for becoming a successful blogger. We covered content pillars, SEO, monetization, etc. But, above all else, Somto started with a focus on mindset. And thank god she did! Because it is a very humbling experience and not an easy topic to talk about.
Traffic
My traffic mostly comes organically and from Pinterest. I also mention my blog on my Instagram, but my goal is to make doing so unnecessary. Instead, I want to have sources of passive traffic that do not require me to mention my blog on social media. I want to have enough organic traffic to be sustainable and profitable.

When it comes to organic traffic and SEO, I believe, the most important thing is to write about topics people are actively looking for.
To check traffic, I use Google Analytics. I mainly check traffic from the last seven days and the last 30 days. Then, I compare that data with the data from previous periods and see if there is a trend. Since I work a lot with Pinterest, I check how much traffic Pinterest drives to my website.
I currently use Wincher as a tool to track my rankings in Google. I am not 100% convinced yet if I can recommend this service, but Wincher shows me my current ranking. If I notice that a particular blog post is not ranking well, I try to think about what I can change or tweak in that post so that it ranks better.
There is also the impact of seasonality. Before there was a noticeable increase in traffic and affiliate sales during the summer. Since I am new to blogging, it's hard to tell how it will further impact my blog, but my current idea is to create content about traveling in Spain during winter as well as my normal content (with the necessary keyword research that comes with it, of course).
Content
My content team is very tiny, being comprised of me, myself, and I. In other words, I am the only content creator on my blog.
At first, I did not understand how important content pillars were. Before I started working with my blogging coach, I had blog posts about Colombia, Lithuania, and Spain, and even a recipe for a Lithuanian soup! Right now, I am laughing while I am typing that. Here's some advice: don't do such a "mixed salad" form of content.
Content pillars are important because you want your readers (and Google!) to see you as an expert in a specific field. You cannot be an expert in everything. So, if you end up writing about many things without focusing on a specific topic, you will just confuse your readers. In addition, Google will have trouble recognizing your blog as a reliable source for a specific topic.
My blogging coach made me consider my "ideal reader". Decide who is the ideal reader of your blog:
Who are they?
Where do they live?
What hobbies and fears do they have?
What is their socioeconomic status?
What fears do they have when they travel?
Do they travel by themselves or with a friend group or family?
Once you know exactly who your ideal reader is, it's going to be much easier to write posts for that person.
As I mentioned before, you should write about topics people are actively looking for. This is why Keysearch.co is my holy grail for keyword research. This platform tells you how many people have looked up a specific keyword in a certain period of time as well as how hard it is to rank for a certain keyword. This is very helpful for a young blog such as mine, since my domain authority cannot compete with other more-established blogs.
What helped me a lot at the beginning was writing about the city I currently live in, which is Madrid. When writing about your own city, it's also easier to imagine what other people coming to that city may be struggling with. For example, maybe you have friends that visited you and were looking for the same information?
Once I figured out my content pillars and stopped writing about Lithuanian soup, my focus was on Madrid. That way, I knew that I could create great content, because I live here and can give my readers reliable tips about visiting the city. I also included great photographs of me in Madrid, which always gives blog posts a great personal touch.
One of the hardest lessons for me was to realize that successful bloggers write content that helps their readers. That's why keyword research is so important. As a blogger, I have to make sure that the content I write about is important for my readers.
Basically, you have to be humble and understand that your readers' needs come before your desire to write about a certain topic.
Monetization
This inspiration for blogging came long before monetization. I did not really know much about how to monetize a website, which is why it was not really a topic. Was I thinking about it? Yes! But I saw it more as a "nice plus" and not just a source of side income. And, to be honest, the cost of "maintaining" a blog already overwhelmed me. After paying so much for hosting, a theme, and a domain, I was actually struggling to believe I could make all the money back!
I started monetizing my blog with affiliate links from Travelpayouts. Once I reached 10,000 visitors per month, I signed up on Ezoic and placed ads on my blog. Currently, most of my income comes from affiliate links, followed by ads.
Currently, I use affiliate links from a local rental car provider in Spain and affiliate links for free walking tours. I love these kinds of tours and they work great on my blog.
I am currently very happy with Travelpayouts. What I enjoy about the platform is that it offers several travel affiliate programs in one place. This makes it super easy for me when I am creating blog posts.
Join the Travelpayouts Partnership Platform
Access exclusive tools and the best travel affiliate programs, including flights, hotels, car rental, insurance, tours and activities, all in one place.
Join Today
395,000 partners already trust us
120 travel brands
$53M+ total paid since 2011
The only time I was unhappy was when Travelpayouts cancelled a bunch of my Booking.com reservations and showed the wrong number in my payouts…
Editorial Note: The brands available on Travelpayouts, such as Booking.com, GetYourGuide, TripAdvisor, and others, track if a booking is canceled on their side. When a client cancels a booking, the brand provides this information to the Travelpayouts platform and the booking is marked as canceled in the partner's dashboard. The "Cancelled" status can be set if the booking/service was not used. Learn more at the Travelpayouts Help Center.
Affiliate Marketing
In the beginning, I was wondering why nobody was clicking the affiliate links on my blog. I soon figured out that it was because I had not placed tools in the right way:
Only mentioning an activity with a single affiliate link in one single sentence.
Putting widgets with activities in between paragraphs of a blog post, as if they were ads.
The truth is, I realized that placing widgets and links in that manner would not convince me to click on them if I found them on another travel blog.
Now, every time I talk about an activity, I try to provide as much useful information as possible. Especially, if I have done that activity myself and can tell my readers more about it. I also try to always add a photo of myself doing the activity I am writing about.
I learned that you cannot just throw links at your readers and expect them to buy things!
There are several reasons I joined the GetYourGuide affiliate program:
GetYourGuide is a reliable place to buy a ticket for an activity. In Europe, it is well known and stands for security.
I have used GetYourGuide so many times myself that I don't fear recommending it to my readers.
In most cases, my audience has flexibility with their bookings, as they can easily cancel a tour or activity up to 24 hours before it begins.
I have not tried another program, but I was approached by other companies trying to convince me to work with them as affiliate partners on my blog. However, I will not be convinced if it is not a well-known site with a good reputation.
My readers are travelers that want to have a great time visiting Spain. The last thing I want is for them to have problems with a booking while they are on vacation.
How to Place Affiliate Tools
According to my statistic, the most popular tours on my blog are the ones in Madrid and Barcelona. In those posts, I recommend entry tickets to museums, entry tickets to the Sagrada Familia, hop-on hop-off buses, Flamenco shows, and more.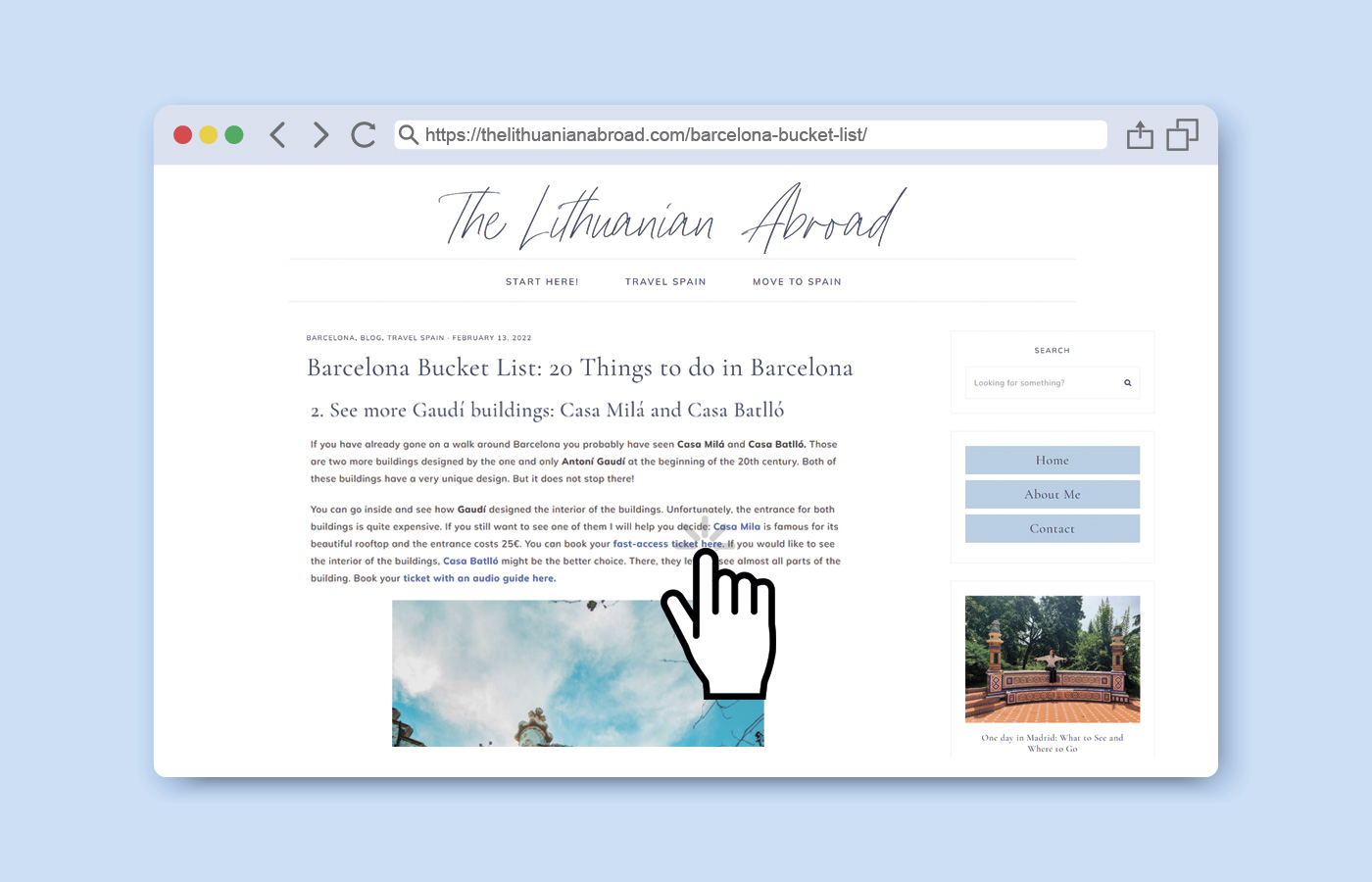 I really think it helps that I mostly write about tours that I have done myself. That way, I can give honest recommendations that don't seem to be pushing purchases.
For example, I always mention that my mom loves going on hop-on hop-off buses because she cannot walk for hours around a city without getting tired. As a result, I say that these buses make sense if you are in town with people that do not like to walk a lot in a city or if you are in town for a short time but want to see as much as possible.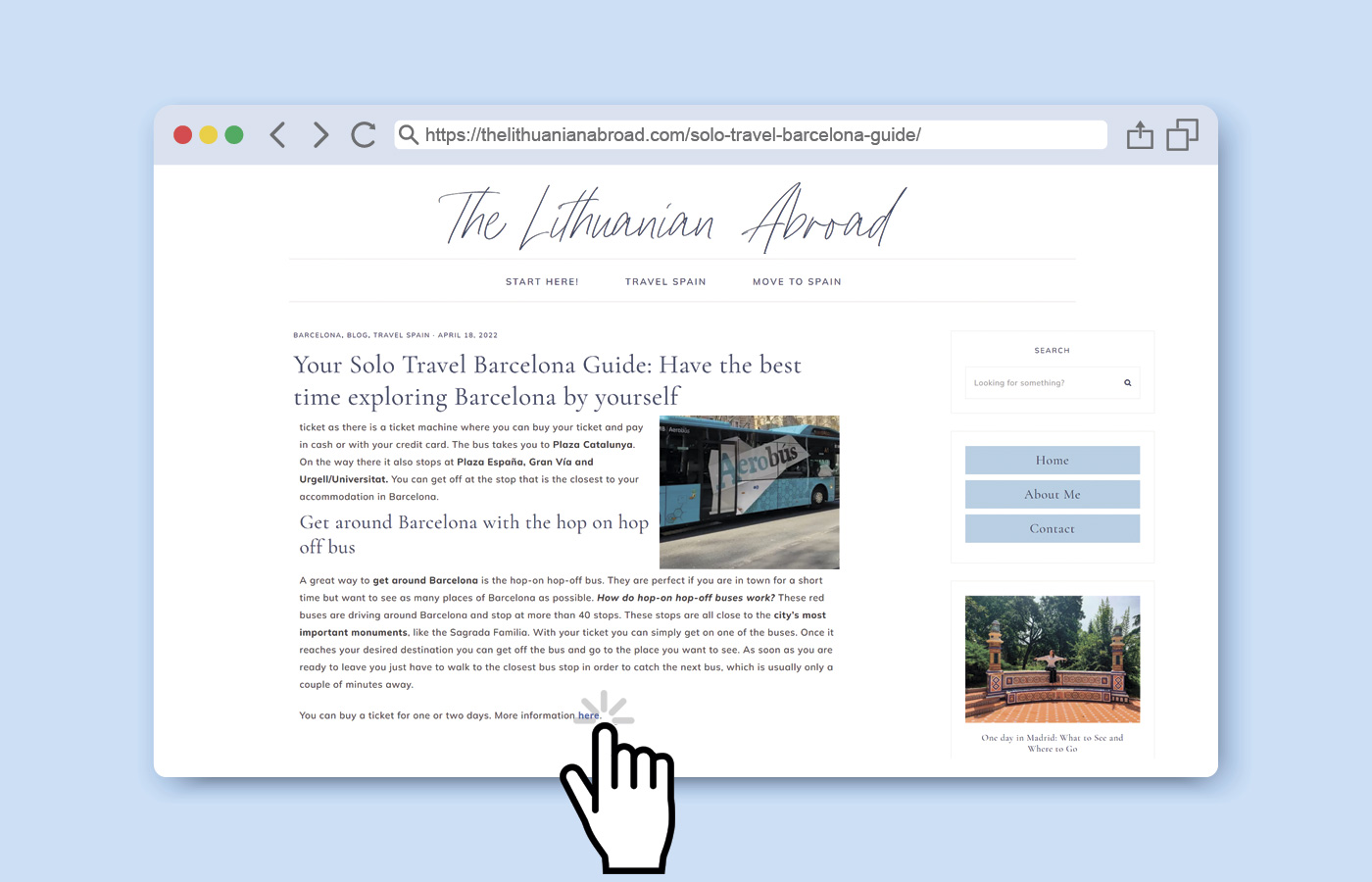 Usually, I try to include my own photos in my posts. While this is not always possible, it really gives an authentic touch to a post and it makes the copy appear much more trustworthy.
The best and the worst place to add affiliate links depends on the topic and how a blogger likes to structure their posts. For example, my posts usually start with a short introduction. Next, I try to show my readers similar posts that could be interesting for them as well. Only then do I start to write about the actual topic.
If I feel like I can give my readers value with an affiliate sale, I do so once I start writing about the topic. But it has to be obvious that this is a great opportunity that they need to know about.
For example, when writing about Tenerife, I always mention renting a car at the beginning of the post. Because renting a car in Tenerife is recommended and I am sure that my readers want to know that.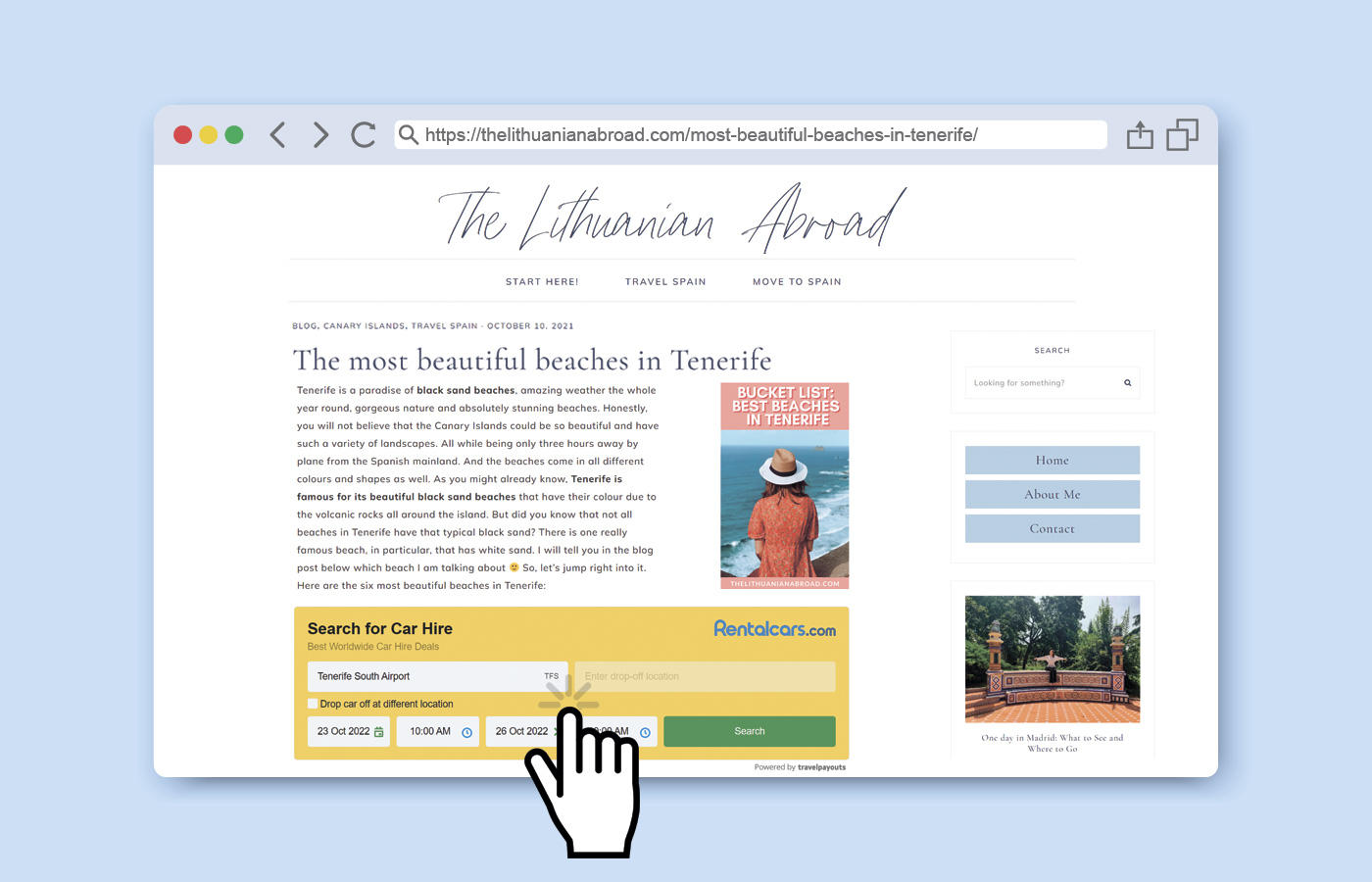 Future Plans
It is challenging to have a full-time job and a travel blog at the same time because running a blog is not just about "writing some blog posts". I use Pinterest to drive traffic to my blog, which means I have to be active on that platform as well. Pinterest is a long game and you can tell right away when you have not been consistent on the platform.
Keyword research is also very time-consuming. In my opinion, you can only be a successful blogger if you write blog posts that people actually want to read.
In the future, I would love to hire a person to help me with that. But, for now, what I really need is help with my time management! What helped me with Pinterest is Tailwind. In addition, I usually try to be active on Pinterest before I start my full-time job. I try to stay structured and organized during my day. I work on my website after I finish work. Sundays are reserved for my blog.
Another area I am currently working on is my domain authority. My blog is currently less than two years old, which means that it does not have the highest domain authority. Backlinking is a big topic for me right now. If your blog has other websites with higher authorities linking to it, Google will realize that it is a trustworthy source and increase your domain authority. This means your posts will rank higher in Google's search results. Of course, this does not happen overnight. In the end, blogging is a long game. Nothing happens overnight!
By the way, you can always reach out to fellow bloggers! I have had bloggers contact me asking for help with their blogs. They even asked if I would agree to backlink to their blogs. If their posts fit my topic and are nicely written, I always agree.
In addition, I am currently working on my first digital product and am already so excited.
Key Takeaways
Nobody should be ashamed about investing in education. Investing in your own education is one of the best things you can do to achieve better results.
In addition to courses, you can seek coaching from other bloggers, such as Somto. Coaching is not only about knowledge, but also about the right mindset.
Decide who is the "ideal reader" of your blog, who are they, where do they live, what's their socioeconomic status, etc. Once you exactly know who your ideal reader is, it will be much easier to write posts for them.
Content pillars are important because your readers and Google want to see you as an expert in a specific field. You cannot be an expert in everything.
Successful bloggers write content that helps their readers. That's why keyword research is so important. You should write about topics that people are actively looking for.
Keysearch.co is the holy grail for keyword research.
Try to include your own photos in your posts. While this is not always possible, it gives an authentic touch to a post and makes the writer appear far more trustworthy.
If you monetize your traffic with affiliate marketing, you cannot just throw links at your readers and expect them to buy things. Try to give as much useful information as possible and share links where they will be useful to your audience.
Among all affiliate programs, choose reliable brands that you ideally used or at least your audience knows and trusts. In Travelpayouts, you will get access to over 100 travel brands.
Work on your Domain Authority score (DA). Feel free to write to other bloggers as well, if you have quality content that is worth linking to, you can certainly get backlinks.
—
Want to share your story? Travelpayouts welcomes all bloggers with any travel-related experience. Write to us at an@travelpayouts.com with the following subject: "Story for the Travelpayouts Blog".