Whether you're new to Tours & Activities or have been around for a while, we encourage you to watch the video from the webinar or read this article to gain insights into this exciting part of the travel market. You'll walk away with the knowledge you need to make a decent income by promoting memorable experiences to your audience.
Meet the Experts
Megan Starr, Full-Time Travel Blogger
Megan and her partner, Aram Vardanyan, run five travel blogs and work in tourism development in Aramʻs home country of Armenia. Together with their team, Megan and Aram create monthly travel guides for over one million readers that aim to help travelers plan trips across the globe (and in their own backyards). Their websites include meganstarr.com, absolutearmenia.com, virginiatraveltips.com, nextishawaii.com, and others.
Clive Muir, Spanish Eco-Activity Writer
Clive is the owner of 15 websites in total. Five of which are dedicated to different places in Spain. For example, the blog Caminodelrey.es is focused on one location. Clive lives in the area of Camino del Rey and explained why it is a great idea to focus on local attractions.
Mihai Cojocaru, Affiliate Manager at GetYourGuide
Mihai runs the affiliate marketing team at GetYourGuide, a service that helps travelers find the best things to do wherever they're headed.

This includes skip-the-line tickets to the world's most iconic attractions, walking tours by top local experts, immersive food and beverage tours, and other offerings you won't find anywhere else. With commission rates as high as 10%, an extensive affiliate tool kit, and an average payout of $100, the GetYourGuide partner program is one of the most popular programs on Travelpayouts.
Reasons to Work in the Tours & Activities Category
According to GetYourGuide, 31% more travelers intend to spend more than usual on attraction tickets in 2022. It is projected that there will be a 40% growth in revenue per customer compared with 2019.
With the Tours & Activities category, you can promote a wide range of brands and products. On the Travelpayouts platform, you can join 15 brands that are dedicated to Tours & Activities.
Tours & Activities fit into many types of content, even those that are not about travel. For example, even someone with a personal finance blog could help their audience cut down on travel expenses by listing the benefits of using a city pass and sharing a link to a relevant offer. In addition, content creators in the food niche can earn money by recommending culinary classes.
Tours & Activities are in-demand during any season. So, you can earn with this category all year round.
The Tours & Activities category provides partners with a high earning potential of up to $9,000 a month. This is the actual amount of money earned by a Travelpayouts publisher via the GetYourGuide partner program.
Expert Advice on How to Earn by Selling Experiences
Mihai Cojocaru, Megan Starr, and Clive Muir shared their expertise in earning on Tours & Activities.
Know Your Audience
Getting to know as much as you can about the audience you are talking to is critical. It is the first and most important thing that you can do to drive sales. Based on this data alone, you can create content and make other decisions about marketing and affiliate strategy.
Identify Your Audience's Problems
The only way to boost your content performance and make readers click on partner links and widgets is helping them to deal with their problems.
Clive Muir, Blogger and Creator of Caminodelrey.es:
"I use search engines to identify users' problems. For example, I think about promoting tickets to Camino del Rey. I enter into the search engines something like: 'How do I get tickets to Camino del Rey', 'Tickets to Camino del Rey 2022', and so on.
On the official Camino del Rey website, there are always sold-out tickets for the nearest dates. So, I understand that users are dealing with a problem of how to get tickets when there are none."
Get Experience
It is critically important for travel bloggers to get personal experience in the things they are talking about. This is because the most useful tips and content come from bloggers who live in the area or have actually done the things they are writing about.
Clive Muir, Blogger and Creator of Caminodelrey.es:
"I live in the Camino del Rey area, and I did my own research about the availability of tickets. There are 1,100 tickets available every day to enter Camino del Rey, and only 600 of these tickets may be sold online on the official website. So, what about the other 500 tickets? I went to the hotel close to Camino del Rey and asked: 'If I stay here, can I get a ticket to Camino del Rey?' And they said, 'Yes!'
So, I wrote the article with the best performance on my website, entitled 'No tickets for the Caminito left online? No problem.' I included several options for getting tickets, including staying in hotels near Caminito, buying a tour on GetYourGuide. Hotels offer affiliate programs too, so I can earn by recommending those.
All I've done is offer solutions for people, make them happier, and give them what they need".
Choose Brands that Suit Your Audience
Make sure that the brand's geography, coverage, and products are relevant to your audience.
Megan Starr, Owner of Several Blogs:
"I'm dealing with two different audiences. The majority of them are American, especially on my niche websites, where the audience is around 95% American. Since Americans are familiar with Viator, I work with Viator on those sites. When I'm dealing with Europe, even if I'm dealing with Americans, they tend to go with what I recommend more than they would in the US. Here, I have a great relationship with GetYourGuide. I am extremely comfortable recommending GetYourGuide, especially since, when I travel myself, I only use GetYourGuide."
Try to Use Affiliate Widgets
A majority of travel bloggers use affiliate links. This is largely due to the opinion that links provide the best conversion rate from users to click-outs. However, this is not always true. In addition, widgets offer some non-obvious advantages.
Clive Muir, Blogger and Creator of Caminodelrey.es:
"I exclusively use widgets, especially the GetYourGuide widgets. I use the Activity widget from GetYourGuide and it works really well. It's what makes all the money.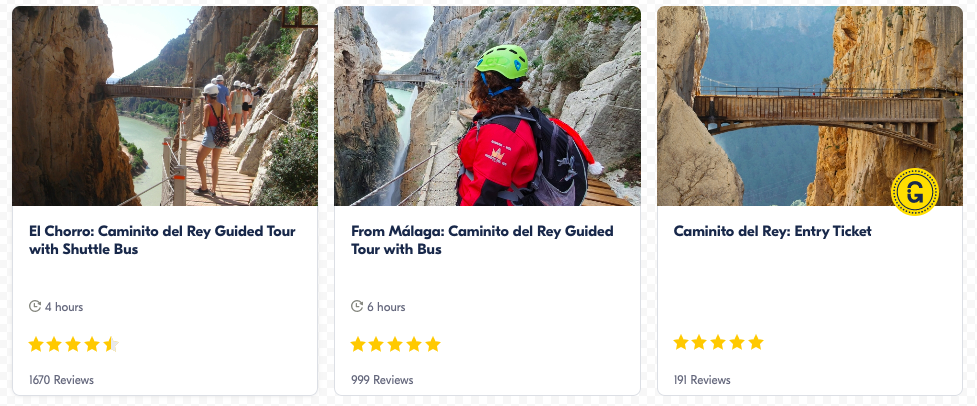 The other day, I was reading how Google is now putting more weight on webpage promoting as a product. If you don't give your customers one or two options for prices or different places to buy a product, Google is putting less weight on your website. As a result, your site will rank lower in the search engines, which means you're going to make less sales.
Widgets offer what Google wants, since they give people the opportunity to buy the same product at different prices and places."
Presentation
You can download the presentation at this link.
We highly recommend watching the video from the webinar. We are certain that our experts will encourage you to try earning with the Tours & Activities category.