How to Choose the Best Niche for Affiliate Marketing to Target
Before you begin your affiliate marketing journey, selecting a niche to adhere to primarily is of the utmost importance. Selecting a niche, or "niching down," as many people call it, helps you to establish your authority on a particular topic and build brand trust.
When you choose a niche, you can also develop a dedicated audience interested in your expertise. People will begin to associate you with your niche, so they'll come to you to buy the products and services related to it, helping you to build a loyal customer base. You can learn more about choosing a niche as a content creator in this course, "How to Make Money as a Content Creator," in the Travelpayouts Academy. It's free in exchange for your email address!
However, as most affiliate marketers and content creators will tell you, the most challenging part of niching down is actually choosing the right niche. To help you, we've listed some tips below that can steer you toward the right niche.
Figure Out What Interests You
As an affiliate marketer, you will need to spend a considerable amount of time researching products and services and promoting them to your audience — so, needless to say, choosing a topic that interests you is of the utmost importance!
Do you love booking flights, hotels, and tours when your family goes on vacation? Travel may be the perfect niche. Are you always gushing about your adorable golden retrievers on social media? Promote products for pets! Do you love making macaroons and sharing your recipes on Pinterest? If so, you should become an affiliate for food products and kitchenware. Regardless of your interests, we can assure you that there is an affiliate marketing niche for you.
Determine Your Capabilities
Sometimes, people choose their best niche for affiliate marketing based less on their interests and more on their capabilities.
For example, if you are a nerd about budgeting and are good with numbers, you may enjoy being an affiliate for financial services and products. Or, maybe you're a website developer or marketing professional and want to be an affiliate for web hosting and other digital marketing products. If you're great at a niche someone else may need guidance with, then you're a great candidate to be an affiliate for that niche.
Research the Competition
As an affiliate marketer, you'll quickly notice that many niches, like fashion and lifestyle, are more saturated than others.
While choosing a niche with a high search volume and low competition is ideal, if you're passionate about a competitive niche, don't let the competition deter you from it. Instead, view it as an opportunity to set yourself apart from the competition by researching competitors in your niche to find a creative new angle to promote the same products and services as other influencers, content creators, and affiliate marketers.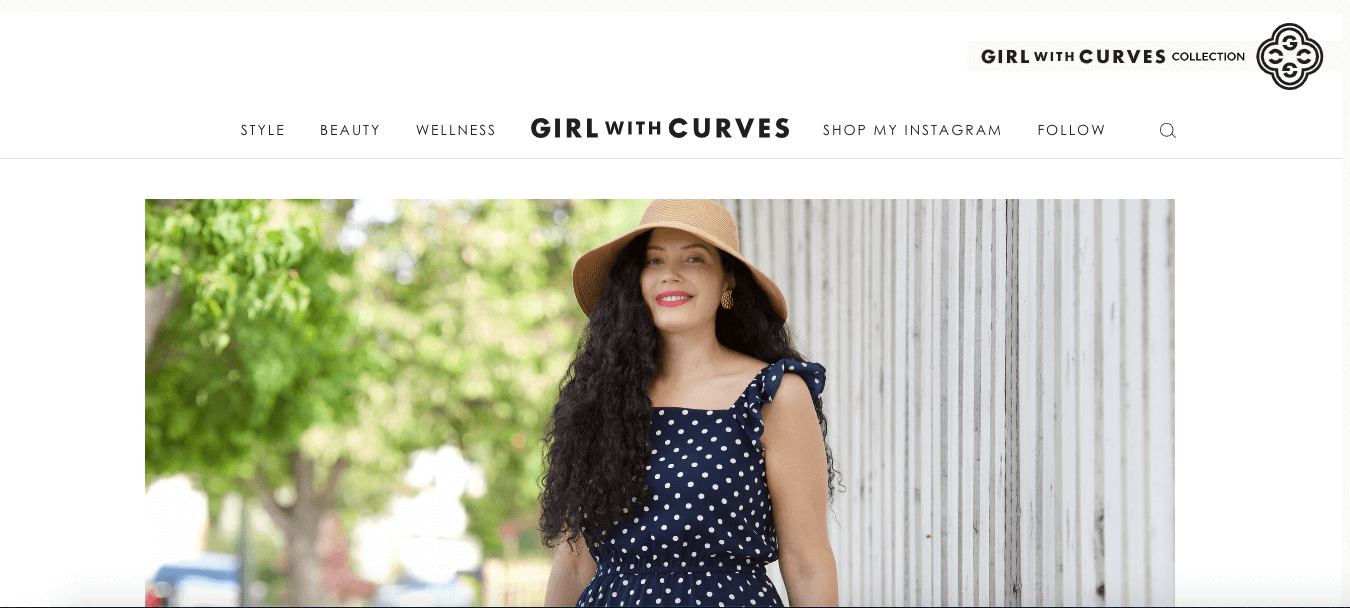 Look at Profitability
While the beauty of affiliate marketing is that you can make money promoting anything you're passionate about — the key to a successful affiliate marketing strategy is selecting programs that offer high commission percentages. Ideally, choose an industry with products or services that frequently cost between $100+ and join programs that offer a high percentage of sales — between 10% – 50% (or sometimes more!).
Define Your Unique Selling Point
People aren't motivated to buy products just because they like you — they also need to know the product or service you're selling will solve a need they have or a problem they're facing. However, they are motivated to buy that product or service from the most qualified, unique person who stands out from the competition.
If you can determine your strengths and what makes you unique and find a creative, straightforward way to share that with your audience — you'll start racking up the affiliate income in no time.
List of 30 Niches for Affiliate Marketing
Like we mentioned earlier, regardless of your interests — you can find a profitable niche to monetize using affiliate marketing. These are just a few of the many niches you can choose from. Find a niche below that interests you, and then scroll down to read more helpful information about it.
Travel
Education
Gardening
Pets
Technology
Finance
Home Security
Gaming
Outdoor
Parenting
Lifestyle
Hobby
Health
Fitness
Fashion
Beauty
Dating
Personal Care
Sports
Food & Drink
Self-Improvement
Cosmetics
Art
Luxury
Music
Movies
Medicine
Insurance
Web Hosting
Psychology
1. Travel
Travel is the best niche for affiliate marketing if you are (or are interested in becoming) a travel blogger, content creator, or agent. You can earn commissions by promoting flights, hotels, rental cars, tours, activities, vacation rentals, travel insurance, and other travel products to your audience.
There are hundreds of companies in the travel industry that offer affiliate programs, such as Booking.com, GetYourGuide, and Viator. When you join the Travelpayouts partnership platform, you'll have access to 100+ travel affiliate programs, so you can start earning today.
Join the Travelpayouts Partnership Platform
Access exclusive tools and the best travel affiliate programs, including flights, hotels, car rental, insurance, tours and activities, all in one place.
Join Today
395,000 partners already trust us
120 travel brands
$53M+ total paid since 2011
Pros
People worldwide are constantly traveling, making the travel industry a profitable industry with a broad audience (seven trillion dollars are spent on travel per year).
The average family of four in the United States spends $6,000+ on a week-long vacation — if you made just 10% off affiliate purchases for one family, you'd pocket $600!
There is a wide range of products to promote — from transportation and accommodations to tours and activities.
Profitability
Many travel bloggers and content creators make thousands of dollars per month in affiliate income. Matt from Nomadic Matt makes $50,000+ per month as a travel blogger and affiliate marketer, and Nick & Dariece from Goats On The Road make $10,000+ per month.
2. Education
Education is becoming an increasingly popular affiliate niche as the demand for online learning has only grown since 2020. In fact, the online education market is projected to reach over $53 billion by 2027 — that's just a few years away! Popular affiliate programs in the education industry include Udemy, LinkedIn Learning, Coursera, and Teachable.
Pros
Online education is a rapidly growing niche, so your business has the potential to grow.
There are tons of products to promote — from textbooks to online education programs.
Education appeals to a range of ages — from parents searching for online tutoring for their kids to seasoned professionals wanting to upskill or seek a new career path.
Profitability
Many education affiliate programs offer high commission rates. For example, Coursera offers a commission of up to 45% per referral, and Teachable offers a 30% commission, so you have plenty of opportunities to earn.
3. Gardening
You may be surprised that gardening is a viable option for affiliate marketing. However, gardening is a $70 billion industry in North America, and gardening accounts for just under 10% of all marketing programs, so if you love gardening — put your gloves on and start promoting gardening products from companies like AeroGarden, Succulents Box, and Hoss Tools.
Pros
Whether your audience is interested in growing their food or decorating their home with hundreds of succulents — you can find an affiliate program for them.
Gardening is one of the most popular hobbies in the United States (even more popular than socializing), so plenty of people will want to buy your products.
Profitability
According to Authority Hacker, some gardening affiliates are making seven figures per year. While it's unlikely that you'll see this amount of success immediately — it's safe to say there is money to be made as an affiliate in the gardening niche!
4. Pets
If you're a proud pet parent, you already know how much you spend on your furry friends — food, treats, toys, grooming, supplements, and other expenses can add up quickly. It's estimated Americans spent $109.6 billion on their pets in 2021 — so why not monopolize on that by joining affiliate programs for companies like Chewy, Ruffwear, and Rover?
Pros
Pet owners are willing to go "above and beyond" to care for their pets, and if you're a pet owner, they are likely to trust your recommendations.
This niche has several sub-categories, like obedience training, safety products, or pet insurance, allowing you to niche down even further.
Profitability
Some affiliate programs, like Brain Training for Dogs, offer a 75% commission, proving that the pet niche is profitable. Some pet influencers, such as Doug the Pug and Tucker Budzyn, make sizable incomes from partnerships and affiliate marketing each year.

5. Technology
Technology is one of the broadest, most profitable, and best niches for affiliate marketing. The global technology market is projected to reach over $5.5 billion in 2023, and consumers from the United States account for nearly one-third of the global tech market. Popular technology affiliate programs include SEMRush, Mircosoft, and GoPro.
Pros
Technology is one of the most profitable niches — you can make $500+ for one sale.
Regardless of your interests and experiences, there are hundreds of different types of technology to promote, from search engine optimization tools to photography equipment.
Technology is an industry that is constantly growing and changing, providing current and future opportunities for success.
Profitability
The technology niche offers some of the best high-ticket affiliate programs. For example, you can make $200 for every new subscription to SEMRush, between $200 – $8,000 per sale for WP Engine, and a 15% monthly commission for up to one year for HubSpot.
6. Finance
Finance, as you can imagine, is one of the most profitable niches for affiliate marketers. Whether your audience is interested in budgeting, investing, paying off debt, or cryptocurrency trading, you can join hundreds of financial affiliate programs, including HoneyMoney, LifeLock, and Acorns, with big payouts.
Pros
People are becoming more interested in managing their money with online platforms, giving you ample opportunity as an affiliate.
Whether you're knowledgeable on mortgage loans, investing, or debt consolidation — you can find an affiliate program in the finance niche that matches your expertise.
You can earn money by helping people save, make, or budget their money well. It's a win-win situation!
Profitability
Experts in the financial industry who partner their knowledge with affiliate marketing can bring home a significant paycheck. You can make between $900 and $1,000 per commission for high-paying programs like Fintel Connect and Betterment.
7. Home Security
People want their homes and family to be safe and secure, which is why home security is a popular niche for affiliate marketers. Guardline, SmartHome, and LaView Security are just a few affiliate programs in this niche.
Pros
60% – 70% of burglars will avoid homes with a security system, so it's easy to convince homeowners to buy cameras, alarm systems, motion-sensor lights, and security apps.
Homeowners will feel a sense of urgency to purchase home security products, which can result in a higher frequency of sales.
You can think outside the box — in addition to alarms and cameras, you can sell martial arts classes, locked safes, and freeze-dried food.
Profitability
1.64 million homes are broken into in the United States each year, so you have a broad audience to sell your products to. Depending on the company and products you promote, commission rates range up to 25% per sale.
8. Gaming
If you're a gaming influencer (or if you love gaming in your free time), gaming may be a great affiliate marketing niche for you. There are more than three billion gamers worldwide, and people who love gaming are willing to drop big bucks on their hobby — making affiliate programs like Razer, Zygor Guides, and Twitch worthwhile to join.
Pros
As an affiliate marketer in the gaming niche, you can sell several products, from gaming chairs and headphones to game tutorials and related merchandise.
12% of gamers are "ultimate gamers," and targeting this demographic will likely result in significant affiliate sales.
Gamers can successfully promote affiliate products on multiple platforms — YouTube, Twitch, Twitter, and Instagram are just a few of the most popular.
Profitability
According to ZipRecruiter, gamers on YouTube make between $2,875 to $6,458 per month from advertising revenue, affiliate income, and partnerships. Gaming affiliate programs also have high commission rates, ranging from 20% to 50% per referral.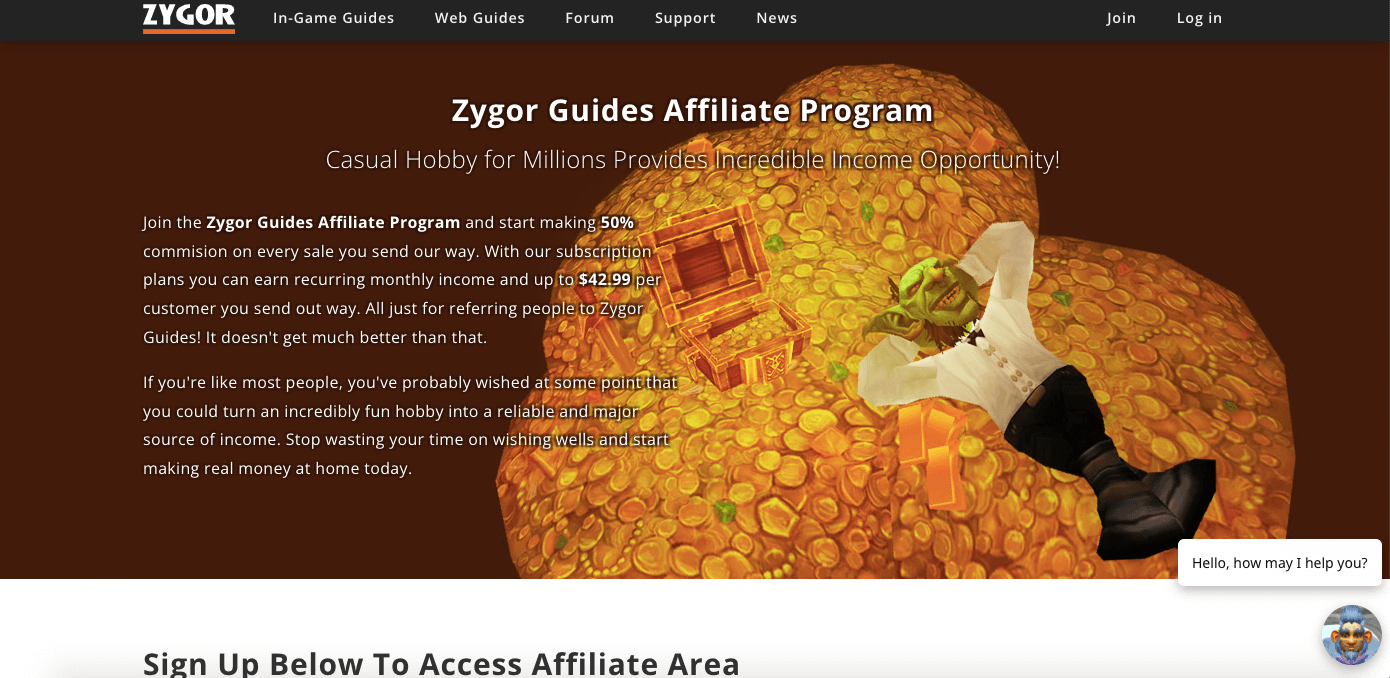 9. Outdoor
Do you love to spend your weekends camping, fishing, hiking, or hunting — or wish you could spend your days doing these things while traveling around the country in a van or RV? If you become a successful affiliate marketer with outdoor companies like REI, Patagonia, YETI, or Bass Pro Shop — this dream can become a reality!
Pros
People spend up to $2,500 for high-end camping equipment and $2,200 for backpacking gear, proving there is an opportunity to earn referral income in this niche.
There are thousands of products you can sell from hundreds of different companies.
There are several niches you can specialize in within the outdoor industry — you can sell camping gear, like tents and coolers, or hiking equipment, like trekking poles and hiking boots.
Profitability
If you become an affiliate for several outdoor companies and become a one-stop shop for hiking, camping, and hunting gear — you can make good money. Modern Hiker is an example of a hiking blogger who makes an income from advertising revenue and promoting affiliate products.
10. Parenting
Do you have a lifestyle blog or social media account that focuses on family or kids? If so, you may find the parenting niche a profitable choice for affiliate marketing with platforms like Parenting Simply, Tinyhood, and MomAgenda, selling everything from parenting classes and books to sleep tutorials and day planners.
Pros
Parents spend $300,000+ raising a child from birth to adulthood, which may be bad news for parents — but it's excellent news for affiliate marketers.
Many parenting education platforms offer a commission of 40% per sale, so affiliates can expect to earn money quickly.
Parents who build a following on social media sharing parenting tips and solutions are sure to find success as an affiliate in the parenting niche.
Profitability
Popular "mom" blogs, like The Realistic Mama and What Moms Love, make between $20,000 – $30,000 per month from affiliate marketing, advertising revenue, and sponsored posts, proving that affiliate marketing for the parenting niche is very profitable.
11. Lifestyle
The lifestyle niche is massive and can encompass various topics — from marriage and productivity to digital nomadism and sustainable living. It's one of the best affiliate marketing niches for bloggers and content creators who don't want to pigeonhole themselves into one industry but want to be able to promote several unique types of products and services.
Pros
Lifestyle is a broad niche encompassing thousands of unique affiliate programs.
You can be a lifestyle affiliate and promote travel products, home decor, clothing, makeup, education courses, self-help books — just about anything you can think of that will improve someone's lifestyle.
Profitability
According to ZipRecruiter, lifestyle bloggers can make up to $140,000 per year from affiliate marketing, sponsored content, and advertising revenue. Out And Beyond makes $10,000+ per month, and Anna in the House makes $10,000+ per month as well.
12. Hobby
Hobbies are another broad niche, like lifestyle, that encompasses various topics — from golfing and photography to woodworking or books. Regardless of your hobbies and interests, you can find an affiliate program that correlates and start promoting it. For example, photographers can join affiliate programs like Adobe, and book bloggers can join programs like Barnes & Noble.
Pros
This niche is ideal if you have a hobby you're passionate about, like reading, that doesn't correlate with another niche.
Or, you can pair the hobby niche with another niche to maximize your income. For example, photographers can sell photo editing software but dip into the technology niche by selling cameras and tripod equipment.
Since you already spend time on your hobby in your free time, it's easy to monetize it by joining affiliate marketing platforms and sharing about your hobby online.
Profitability
It's easy to earn six figures from your hobby with affiliate marketing and advertising revenue. For example, The Bettered Blondie makes $9,000+ per month by sharing her hobby of cooking healthy recipes on her blog, and Fit Mommy In Heels turned her fitness hobby into a blog that makes $11,000+ per month.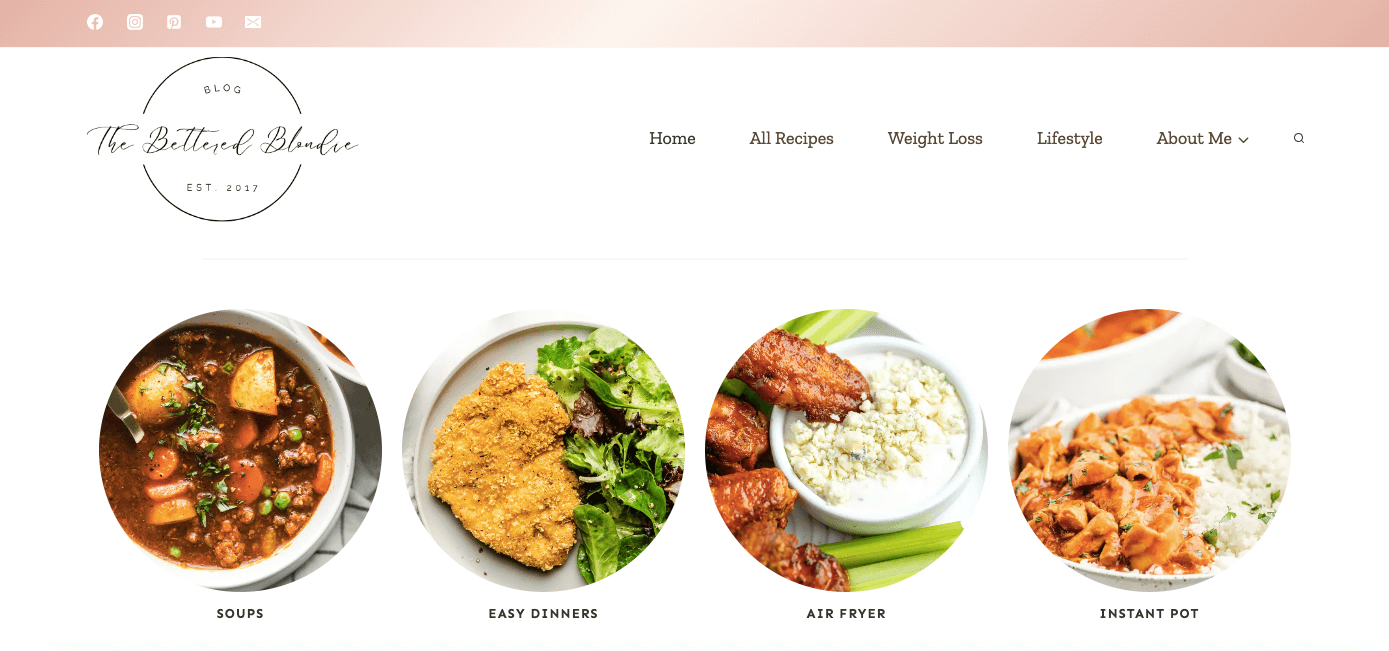 13. Health
People want to learn how to live longer, healthier lives, so naturally, health is one of the best affiliate marketing niches. As an affiliate for health companies, you can focus on nutrition, weight loss, yoga, mental health, personal care, or alternative medicine — whatever interests you most!
Pros
The global health and wellness economy will reach seven trillion in 2025, so there is plenty of spending to profit from as an affiliate.
Health is a versatile niche — you can share weight loss products, alternative medicine, healthy recipes, and other helpful information with relevant affiliate products.
Health appeals to people of all stages of life — young people may be interested in meal delivery services, and middle-aged people may be interested in anti-aging products.
Profitability
Nutrition, health, and wellness bloggers have salaries ranging from $32,210 to $116,290, so depending on the products and services you promote, you can make six figures as a nutrition and health blogger.
14. Fitness
Fitness is one of the best affiliate marketing niches to correlate with the health niche. Fitness buffs can join affiliate programs for at-home gym equipment, sporting goods and apparel, workout programs, and supplements, like Under Armor, Fitbit, and NordicTrack.
Pros
You can earn on high-ticket items, like gym and sports equipment.
Fitness affiliates have plenty of options for niching down even further — you can share specifically about yoga, HITT, or running marathons.
You can easily pair the fitness niche with the health niche to have even more products and services to share with your audience.
Profitability
You can earn a sizable income as an affiliate marketer in the fitness industry. For example, NordicTrack offers a 7% commission per sale, and with some treadmills costing $4,400+, you can make $300+ by selling one treadmill. Imagine how quickly that would add up if you sold four or five treadmills per month!
15. Fashion
Fashion is a popular yet competitive industry. There are hundreds of affiliate platforms you can join, including RewardStyle (LTK) and ShopStyle Collective, connected to thousands of retailers whom you earn a commission from when you sell their products.
Pros
The commission rates for clothing brands are usually high — up to 50% per sale.
Many affiliate platforms in the fashion niche include thousands of retailers, so you'll have plenty of options when promoting products to your audience.
Fashion is one of the best affiliate marketing niches for travel or lifestyle bloggers who want to share affiliate links to their outfits with their followers.
Profitability
Fashion bloggers can make a decent income from affiliate marketing, especially when paired with another niche, like travel, fitness, or health. Fashion bloggers can make an estimated $3,000 – $6,000 per month when getting started.
16. Beauty
While beauty and fashion affiliate programs often go hand-and-hand, there is a slight difference in these niches — while the fashion niche focuses primarily on clothes, shoes, and accessories, the beauty niche focuses on makeup, self-care products, and haircare. Sephora, Yves Rocher, and Dermstore are just a few of the companies in the beauty industry with affiliate programs.
Pros
Beauty, fashion, health, and lifestyle are all niches that can be paired together.
Many beauty products need to be replaced, so if you can retain your customers, you will earn repeat commissions month after month.
Beauty products are easy to sell if you're on a photo or video-based platform, like Instagram, TikTok, or YouTube, where you can share your beauty transformation.
Profitability
In 2023, the global beauty industry is predicted to be worth more than $570 billion, so there is plenty of money to be made as an affiliate in the beauty niche.
17. Dating
Did you know that popular dating websites, like eHarmony and CatholicMatch, have affiliate programs? You may be interested in the dating niche for affiliate marketing if you met your partner on an online dating website or run a blog or business for singles.
Pros
You can choose to join an affiliate program for a dating site that matches the interests of your audience based on religion, ethnicity, hobbies, or civil status.
62% of people who pursue online dating enter into a committed relationship, which you can use as a selling point as an affiliate for these services.
Profitability
24% of people use (or have used) online dating websites, and the industry is supposed to grow more than 5% each year. People interested in online dating websites will continue to increase year after year — meaning a larger audience for you to market to!
18. Personal Care
Personal care is a popular niche for people interested in where beauty and health collide. You may join affiliate programs for skincare brands, like Elizabeth Arden, products to help you sleep better, like Tempur-Pedic, or mental health programs, like Online Therapy.
Pros
As an affiliate for the personal care niche, you can recommend hundreds of unique products depending on your audience's interests.
People of many areas of expertise can become personal care affiliates — mental health professionals, dermatologists, and lifestyle influencers are just a few examples.
Profitability
By combining some beauty, skincare, health, wellness, and lifestyle products under the umbrella of "personal care," you can make a sizable income as an affiliate for this niche.
19. Sports
The sporting niche is a huge niche to capitalize on, whether you're a former sports player or a sports enthusiast. By joining programs like Nike and Under Armor, you can make money from selling sports gear and equipment, or you can become an affiliate for companies like StubHub or FuboTV for fans who want to watch sports live or on TV.
Pros
Depending on the sports you and your audience enjoy, you can niche down even further by sharing exclusively about football, baseball, soccer, basketball, volleyball, etc.
Aside from selling tickets, equipment, and gear, you can also sell sports memorabilia.
The global sports market is expected to be worth over $700 billion in 2026, so there is plenty of money to be made in this industry.
Profitability
Sports bloggers can make a full-time salary from affiliate income, advertising revenue, selling merchandise, and more. Bill Simmons, for example, started as a sports blogger, got noticed by ESPN, and is now worth $100 million.
20. Food & Drink
If you are a self-proclaimed foodie or a chef running a recipe blog, becoming an affiliate for food and drinks may be a wise choice. You can become an affiliate for meal subscription boxes like HelloFresh or Butcher Box or popular food brands like Kettle & Fire.
Pros
If you have a cooking blog or share recipes on social media, you can share affiliate links to the ingredients you use in your recipes.
Food reviews and recipes have a high engagement rate on social media, helping you get lots of clicks on your affiliate links.
Everyone eats — you have plenty of people to share your referral links with.
Profitability
Many food bloggers and influencers make six figures per year from sponsored content, advertising revenue, and affiliate income. Some food bloggers make between $150,000 – $200,000 per year.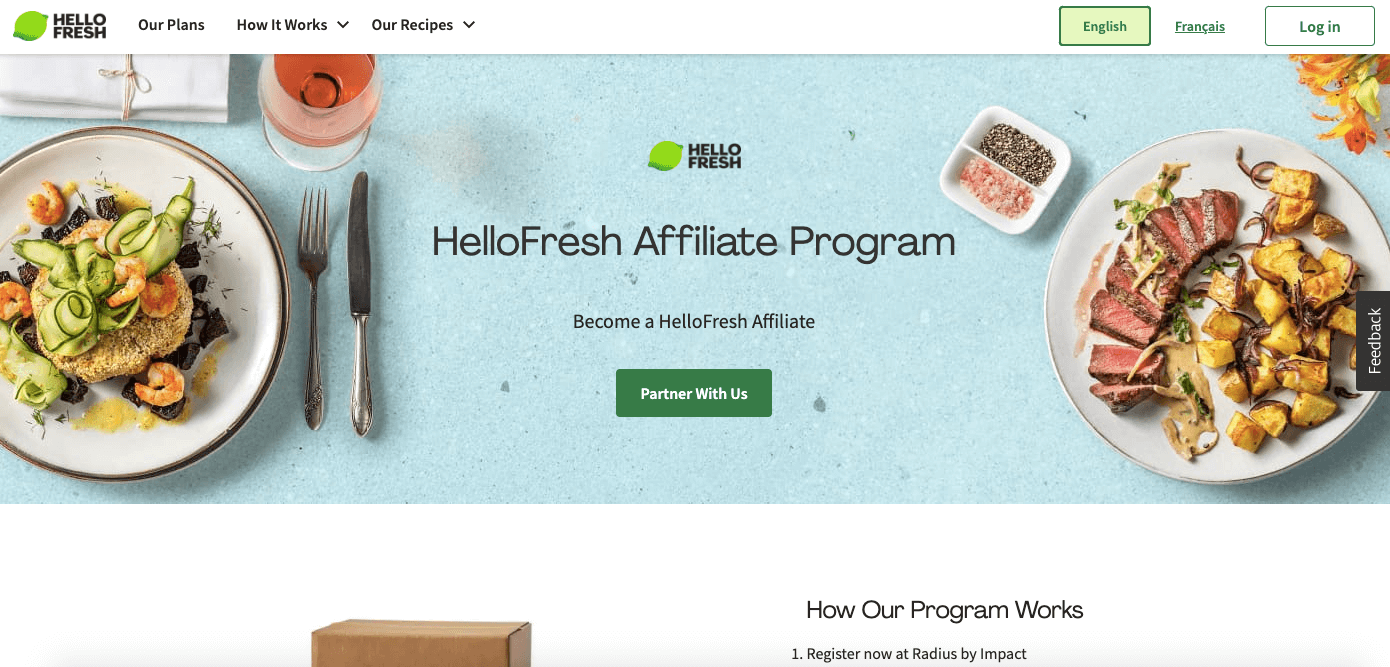 21. Self-Improvement
Self-improvement is one of the best affiliate marketing niches for individuals who love helping others grow in their careers or relationships, reach goals, and overcome obstacles. Programs in this niche may include education courses, books, and coaching programs.
Pros
Many self-improvement affiliate programs offer recurring payments for classes, programs, and memberships, making it easy to generate passive income.
This niche spans a wide range of interests — from people who want to learn a new career skill to people who want to learn more about emotional intelligence.
Profitability
Since the self-improvement niche often intersects with two of the most profitable niches — education and technology — it's easy to earn money quickly.
22. Cosmetics
Cosmetics is a sub-niche under beauty — while many beauty influencers promote cosmetics, some bloggers may exclusively promote makeup products to their audience. Popular cosmetic affiliate programs you can join include Sephora, Ulta Beauty, and MAC Cosmetics.
Pros
Most cosmetics need to be purchased every few months, resulting in recurring income.
Cosmetics are easy to sell — when someone sees how well they perform in a video or photo, they will be compelled to buy them through your affiliate link.
Cosmetics are one of the best niches for affiliate marketing if you're already a beauty, lifestyle, or fashion blogger.
Profitability
As we mentioned, the global beauty industry is predicted to be worth over $570 billion in 2023, so you'll have no trouble selling cosmetics.
23. Art
If you love painting, drawing, scrapbooking, or making pottery in your free time, you could begin making a sizable income by sharing your creations on social media — and your affiliate links. Crafters can join affiliate programs through Hobby Lobby, Marker Universe, and Tiny Prints to begin earning money when they inspire others to create art.
Pros
Whether you enjoy knitting or making candles, you're sure to find an affiliate program to match your interest in the art niche.
In 2020, the North American "arts and crafts" market was worth $270 billion.
It's easy to showcase your artwork on social media — then tell people the tools and software they need to buy to recreate the same style of artwork on their own.
Profitability
Some artists make $30,000 per year selling their art on Instagram — imagine how much more you could make if you partnered selling your artwork with affiliate links!
24. Luxury
For some people, luxury is an expensive vacation. For others, it's a name-brand purse. Regardless of what luxury means to you, this affiliate marketing niche boasts a smaller target audience with a higher budget and includes brands like Nordstorm, Jimmy Choo, and OceanScape Yachts.
Pros
For most people, purchasing luxury goods is an experience, so they are willing to pay more at once — resulting in a higher commission for you.
While you can promote luxury products in general, you can also niche down and exclusively offer luxury travel, luxury clothing, luxury jewelry, etc.
Luxury products tend to be more expensive, resulting in a higher payout.
Profitability
You can make thousands of dollars per month as an affiliate for luxury products. For example, Jimmy Choo offers an 8% commission per purchase. For a bag that costs $4,695, that's a $376 payout — if you sell three in one month, that's over $1,000!
25. Music
Music is a massive part of culture — whether you love playing a musical instrument or streaming music on your smartphone, you can join an affiliate program to turn your passion for music into a paycheck. Guitar Center, Master Class, and Prime Loops are affiliate programs you can join in the music niche.
Pros
Music is a versatile niche — if you're a music teacher, you can share affiliate links for instruments with your students, and if you're a musician, you can promote the software and products you use to produce your tunes.
Lessons and instruments aren't all you can sell — consider becoming an affiliate for StubHub to earn commissions from ticket sales for your favorite artists.
Musical instruments and recording technology aren't cheap, so you can earn a sizable commission by selling them to your audience.
Profitability
In 2021, the music industry was worth $25.9 billion and grew over 18% from 2020. The music industry is growing — which means your affiliate business can too!
26. Movies
If you've ever wished you could turn watching movies and television shows into a job — well, you can! With affiliate programs like Amazon Prime Video, Apple TV+, Hulu, and Fandango, you can earn commissions by recommending your favorite movies, television series, and home theatre appliances to your audience.
Pros
Commissions from subscription-based streaming platforms, like Hulu or Apple TV+, can help you generate recurring income each month.
In addition to selling subscriptions, movie tickets, and movies, you can sell merchandise from iconic movies, like Star Wars or Harry Potter, for additional income.
Profitability
Movies are a more profitable niche than ever with the combination of streaming, cinema, and merchandise. But it's best to get started now — streaming services are projected to rise to 1.3 billion by 2024.
27. Medicine
Whether you prefer a conventional or natural approach to medicine, there is no question that medicine is an inelastic industry and, therefore, one of the best affiliate marketing niches. Choose from programs like Medical Supply Depot or Bay Alarm Medical to begin earning commissions for over-the-counter medicine, medical alert systems, mobility aids, and more.
Pros
By 2030, all Baby Boomers in the United States will be 65+, increasing the need for medical care and alert systems.
Becoming an affiliate for the medical niche is an excellent form of income for medical students who want to make money off commissions for lab coats, scrubs, masks, etc.
Medical equipment, devices, and medications can be expensive, so your commissions can add up quickly.
Profitability
In 2021, the healthcare industry was worth $808 billion. Though 65% of the industry's revenue comes from patient care, this proves that there is a lot of money in medicine that can be made through affiliate sales.
28. Insurance
Insurance is one of the best affiliate marketing niches because you can sell insurance for just about anything. If you're a travel influencer, promote travel insurance. If you're a dog blogger, promote pet insurance. If you're a home remodeling company, promote home insurance. Hopefully, you get the idea!
Pros
Insurance and personal finance are great niches to pair, but you can pair insurance with practically any other niche — from travel and luxury to pets and gardening!
Most insurance companies pay you $20–$30 per sale (or lead), so you don't have to wait for subscription renewals or other hiccups before receiving your payment.
Everyone needs insurance for something; the sense of urgency created by what happens when you don't have insurance is enough to drive sales.
Profitability
Most insurance companies offer a flat commission fee, so it's not the most profitable niche. Still, when paired with other niches, like personal finance, the extra $100–$200 for referring five people per month is hard to turn away from.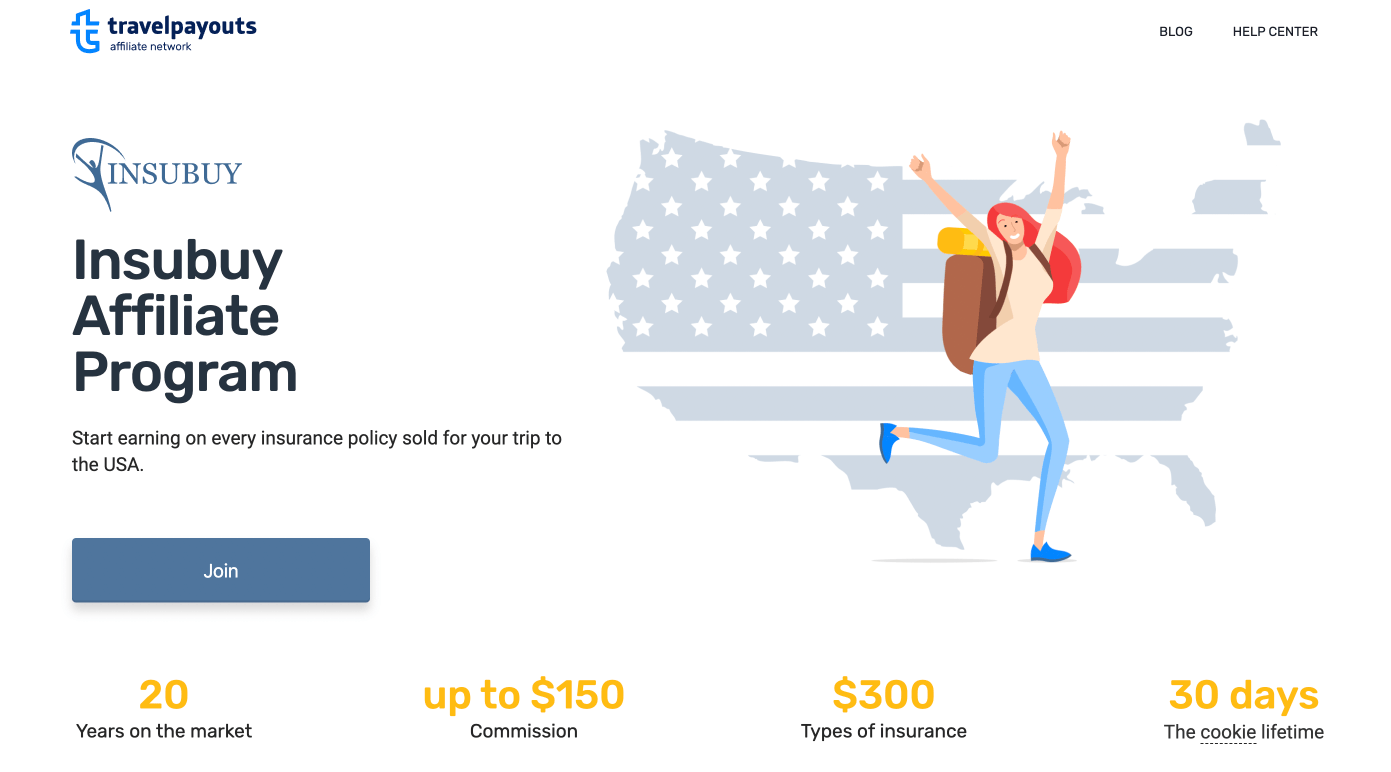 29. Web Hosting
Web hosting is another one of the best niches for affiliate marketing and is also widely considered one of the highest-paying affiliate industries. If you're a website builder or digital marketing professional, you can make hundreds to thousands of dollars monthly as an affiliate for web hosting programs. Rakuten, Kinsta, and BlueHost are some great options.
Pros
You can make money quickly by referring web hosting — up to $500 per sale!
As a web professional, it's easy to sell web hosting, so being an affiliate for your hosting platform just gives you a bonus payout.
Most popular web hosting affiliate programs, like WP Engine and Kinsta, offer long cookie durations for maximum sales.
Profitability
Web hosting is a profitable affiliate marketing niche. Many programs offer between $150–$500 per referral, so you can easily make a few thousand each month when you start as a web hosting affiliate.
30. Psychology
People are paying more attention to mental health than ever before. If your audience cares about their mental health, joining an affiliate program counseling platform, like Online Therapy, Greater Minds, and Calmerry, is a great option!
Pros
You can earn generous commissions, like 50% per sale or $150 per conversion, for programs in the psychology niche.
Several psychology programs accept insurance, which you can use as a selling point to attract interested buyers.
Profitability
Some affiliate programs in the psychology niche are incredibly generous. For example, Panic Away, a mental health platform, offers a 70% commission on every sale, and products start just below $68 — a total of $43 per sale.