If this is not your first rodeo and you are looking for more opportunities to multiply your profits, affiliate marketing might be the right solution. We have created an up-to-date list of the highest paying affiliate offers, with all the information you will need to make the choice that will benefit you in the long run.
List of 25 Affiliate Programs
Does your website fit into one of the categories described above? Great! Now you can take a look at our reviews of the top-converting programs that deserve your attention today. We gathered 25 affiliate programs and divided them into categories to make the search easy for you.
Travel
We'll start at one of the widest niches — travel. The market is huge and very attractive as more people become mobile and use a variety of travel services. You can earn money from a travel blog with affiliate marketing! If your website specializes in tourism, various advertisers will be happy to work with you.
Travelpayouts
The Travelpayouts partnership platform covers the whole spectrum of what a traveller may need when preparing for a trip: hotels, insurance, flight tickets, transfers, rent-a-car services, etc. Signing up only takes a couple of minutes and you'll receive access to over 100 well-known travel partner programs, such as Booking.com, TripAdvisor, Kiwi.com, and various affiliate tools from basic to advanced.
Even if you have just created your travel blog, you can join Travelpayouts and begin monetizing your content immediately. Monetize your project with Travelpayouts, embark on a new journey, and create inspiring content for your audience.
Join the Travelpayouts Partnership Platform
Access exclusive tools and the best travel affiliate programs, including flights, hotels, car rental, insurance, tours and activities, all in one place.
Join Today
395,000 partners already trust us
120 travel brands
$53M+ total paid since 2011
You can earn up to 50% of the revenue; the average commission is 1.6% for flight tickets and 6% for hotel bookings. Check out more details about the commission you can earn with Travelpayouts and the payment system for available programs in our help center. Available payout methods are:
Bank transfer;
PayPal;
ePayments.
Paypal is one of the most popular payment systems. With Travelpayouts, it is also one of the most convenient, as the minimum payout amount via this system is just 50 dollars.
You can employ a variety of ready-to-use affiliate marketing tools to boost your business:
Search forms;
Map widget;
Hotel map;
Text links;
Banners;
WordPress plugin;
White Label;
Best offers feed.
Developers can use API and travel app available for iOS and Android. Make sure to learn more about this wide range of promotional tools in our help center.
For most of the programs presented on Travelpayouts, cookie duration is 30 days. This means that any purchases made by users within the 30-day period after they click on your affiliate link will be attributed to you (even for cases in which they open the advertiser's website directly from a search engine or bookmark).
Travelpayouts is a digital partnership platform that focuses not only on flights and hotels. You can join the transfer program, or focus on holiday rentals, car rentals, bus tickets and more.
It's very easy to start working with Travelpayouts and only takes a couple of minutes. All you need to do is log in with your email and create a password. Right after registering, you can join programs and start using the Travelpayouts dashboard.
Add information about your project and join programs that might be interesting to your target audience. Place partner tools on your page to draw visitors' attention and drive more conversions. In the Travelpayouts dashboard, you can track commissions for all purchases made through your affiliate links.
So, who can become a Travelpayouts partner? Becoming a partner with Travelpayouts will be particularly useful for owners of travel content projects, bloggers, SEO experts, agencies, and anyone who wants to earn money online by promoting services to their audience with affiliate marketing.
To make sure that you can earn in affiliate marketing easier and faster, Travelpayouts shares how to make your project cool and earn money from it. For example, on the Travelpayouts Academy website, you will find free webinars and courses for beginners and advanced content creators. In addition, you can always chat with like-minded people in the Travelpayouts social networks or contact the 24/7 support team with any questions.
With Travelpayouts, you can generate additional earnings as well as passive income. For this purpose, the platform has a referral program.
All you have to do is invite new partners to Travelpayouts. For instance, you can simply write a short review of Travelpayouts that has your referral link. Other than that, you can write about specific brand or category, such as flights, tours & activities, etc. Make sure that your referral link is included as well, everyone who registers via your link will become your referral. When they receive income from Travelpayouts' programs, you'll be rewarded. Find out more tips and tricks in our article.
So, to briefly summarize the terms of the Travelpayouts referral program:
The member receives 7% on earnings of the referred partner from all affiliate programs.
The member receives revenue for the first two years after the referral's initial registration.
TourRadar
TourRadar specializes in tours to any corner of the world. By promoting the TourRadar service, you can earn a 5% commission of the TourRadar revenue. You can employ ready-to-use banners and widgets, placing them directly on your website. This will allow you to earn $15-$20 per trip.
Sailing Europe
Sailing Europe is a website dedicated to yacht charter services. This program's terms are quite simple: Sailing Europe provides you with banners and links and pays you €50 for every sale you bring in. As soon as you reach €100, you'll be able to withdraw your earnings.
The program is free to join and easy to use. You also don't need any technical skills to start earning. Upon registration, you'll receive a few links and banners to place on your website and can start driving traffic with affiliate marketing.
Sandals and Beaches
Sandals and Beaches specializes in luxury Caribbean vacations at distant resorts. It provides a wide range of services, from romantic dinners to luxury suites. If your promotion of these services is successful, you can earn from 4% for product sales. You can use ready-to-use banners for promotion. The 3-month EPC is $137.99.
Booking.com
Booking.com is a service that most travelers have used at least once for booking a hotel or a hostel in another city. It provides a wide range of promotional products, from links to search boxes. Affiliates can earn a 4% commission on completed hotel stays purchased by users via their links.
Booking.com offers a direct affiliate marketing program, but you can also join the Booking.com affiliate program in your Travelpayouts dashboard, which may be the best option if you intend to monetize your website with several different programs.
Flights
From June to August 2022, the average cost of a round-trip flight was $383, which is almost one and a half times more than the prices during the same period in 2021. Rising flight ticket costs are a challenge for travelers, but a great opportunity to earn for travel content creators. Help your users find the best offers for flight tickets and make a profit by joining flight ticket partner programs.
Find more about adjusting to the changes in the flight niche in the "How to Earn on Flights? Expert Tips & WayAway Program Review" webinar. Keep reading this post to choose the best flight ticket affiliate program.
WayAway
WayAway is a flight aggregator that helps travelers buy tickets for flights of major US and international airlines at the best rates. WayAway features one-of-a-kind travel cashback that allows users to save big on all sorts of travel deals, including flight tickets, hotels, car rentals, tours and activities, and more. The WayAway Plus Membership Plan gives users up to 10% cashback from bookings made on Booking.com, Rentalcars, GetYourGuide, Tiqets, and many other platforms. This is real money that goes straight to the user's PayPal account!
WayAway offers its affiliates a 50% revenue share of every ticket sold via an affiliate link, which amounts to 1.1% to 1.3% of the order amount. You can use premade text links, the deep link generator, banners that are also suitable for social networks, widgets, and the WayAway Plus promo code for promotion purposes. The brand also rewards partners for each sale of the WayAway Plus Membership Plan with a fixed reward of $10.
The WayAway partner program is present exclusively on the Travelpayouts partnership platform, so you can join right now without pre-approval.
$10
per sale of WayAway Plus
The WayAway Partner Program
Join Now
Skyscanner
Skyscanner is a search engine for the cheapest flight tickets, hotel stays and rent-a-car services. Skyscanner affiliates can count on widgets and text links created for promotion purposes. Skyscanner pays affiliates per click: You can earn from $0.15 to $0.25 per exit click on average.
Momondo
Momondo is a website dedicated to searching for the best routes. It also provides flight booking services to its users. Momondo's affiliates earn $0.65 (desktop and tablet) and $0.45 (mobile) CPA for each user click out from a flight search results page. You can use banners, text links, deep links, and HTML links.
If you want to learn how to monetize your travel content more efficiently with flight affiliate programs, check out our free guide. It can be useful for all kinds of travel content creators, such as bloggers, vloggers, social media influencers, and more. In this guide, you'll learn real examples on how to choose the best flight affiliate program, create content that will be useful for promotion, integrate flight offers in the correct way, and much more.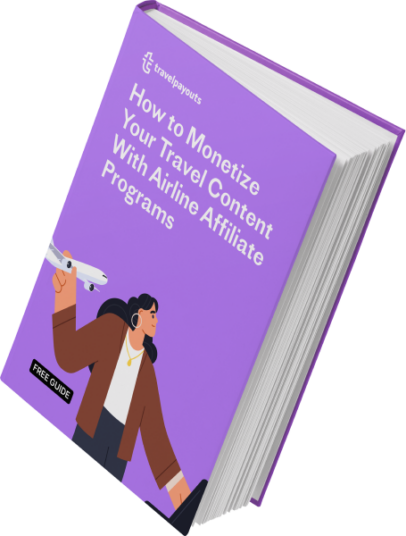 Start earning on flights
Use our free guide to add flights to your affiliate marketing strategy.
Start earning on flights
Ecommerce
Countless affiliate programs for websites specialize in tips and tricks on eCommerce. The following are among the best affiliate marketing offers in the nice.
Shopify
Shopify is a platform for creating, managing and promoting online stores. In addition, it is one of the top paying advertisers. Shopify offers a 200% commission for every user who acquires the standard subscription (which can equal up to $598) or a 100% commission for every purchased enterprise plan ($2,000). You can promote Shopify via pre-made banners and links.
BigCommerce
BigCommerce offers services for those who want to open or enhance their own online stores: hosting, design, etc. In addition, it provides tools that can help anyone promote and optimize online stores. If you join the BigCommerce affiliate program, you can earn a 200% commission of the customer's first monthly payment or $1,500 per enterprise customer by promoting via links, banners and emails. This means you can earn $60-$500 per purchased plan.
Amazon associates
As you know, Amazon is an eCommerce platform that sells countless products, from books to gardening tools. Amazon offers one of the best affiliate earning opportunities in the niche.
If the user follows the link on your website and buys the product during the same session, you will get a percent of the price the user paid. You will earn a commission depending on the category of the product you are promoting. The highest fee is 10%.
We also compiled a list of over 30 alternatives to the Amazon Associates affiliate program.
eBay partner network
eBay Partner Network works pretty much the same way that Amazon Associates does. You can encourage your users to follow the links to products placed on eBay and earn a commission if the user purchases the product within 24 hours. You get recurring commission every month, and they can reach 50-70% of the eBay commission, depending on the category. The Parts & Accessories and Fashion categories are the highest paying ones in the affiliate marketing niche.
Dating
More people are meeting online to start a relationship. Take advantage of this trend and make a profit while helping your users find their soulmates. We've gathered some of the best programs to make money with affiliate marketing.
Love Revenue
This affiliate network was created to help affiliates who specialize in dating find online merchants seeking promotion for their products or services. Love Revenue promotes such brands as NextLove and Victoria Milan, to name a few. You will get paid depending on the number of sales you make within 30 days; you can earn up to €25 per lead and up to €200 per sale. Take into consideration the fact that Love Revenue is also among the affiliate programs that use PayPal.
Cupid Media
Cupid Media is a network of niche dating platforms accommodating different target audiences based on users' religion, ethnicity, appearance, etc. The network's affiliate marketing partners can benefit from high conversions and up to 75% commission for each initial sale they've referred. The program also offers a 30-day cookie lifetime. Only affiliates from approved countries can join the network.
Software
Is your audience looking for a certain solution for their business or personal purposes? You can refer them to your partners and get a commission if they decide to use their services.
WP Engine
WP Engine provides hosting services for thousands of WordPress sites. This WordPress affiliate marketing program is one of the highest paying ones; you can get $200 per referral or 100% of the first payment made by the customer you referred. In addition, you have an opportunity to find subaffiliates and earn from their leads, as well as receive bonuses for multiple sales.
Leadpages
Leadpages allows anyone to build an eye-catching one-page website. It offers up to 50% recurring commissions for every new customer who found his or her way to Leadpages via a banner or link on your website.
GetResponse
GetResponse specializes in software solutions for email marketing on a subscription basis. You can refer your website visitors to GetResponse via a banner or a link placed in your posts or articles. This can bring you one-third (33%) of the amount the user pays every month for the subscription. Your take can be from $4.95 to $54.45 per month depending on the plan the user chooses.
HubSpot
HubSpot provides marketing & sales software for marketers, salespeople & entrepreneurs. The HubSpot affiliate program earns you 15% monthly commission or 100% of the first month's revenue depending on the program. On top of that, you can tap on HubSpot's vast library of creatives to help ramp up your content.
Bonus: Liquid Web is not just another web hosting. This company offers a wide range of hosting-related services. For instance, its users can take advantage of full management of their WordPress websites. You can get from $150 per lead generated by a banner ad or a link on your website. Take into account that you must join either the CJ Affiliate or Impact Radius affiliate networks to start working with Liquid Web.
Photos
Is your average visitor interested in editing photos or videos? Or perhaps your visitor constantly needs digital stock materials for their website. You can earn by promoting photo services with affiliate marketing.
Shutterstock
Shutterstock is the first name users remember if you ask them about stock photo platforms. However, even such a powerful brand needs promotion. Become a Shutterstock affiliate to earn up to 20% on commissions from your leads. This can equal up to $300 per each new customer you generate. As for stock material purchases, you can earn $0.04 per item on average. You can also use promo codes and coupons provided by Shutterstock for promotion.
Adobe
Adobe owns various tools for photo and video editing, vector design, etc. You can become an affiliate for Creative Cloud & Document Cloud, as well as for Adobe Stock. If you lead a new customer to Creative Cloud & Document Cloud, you will get either 85% of the customer's first month or 8.33% of the one-time payment for the first year of the subscription. As for Adobe Stock, you can get $72 from every monthly payment or 8.33% of the price of a single purchase. On top of this, Adobe provides you with ready-to-use banners and text links.
Deposit Photos
Deposit Photos is another photo stock service. Its affiliate program allows you to earn 40% of a purchase made by a new customer who came from your website. In addition, you will receive up to 15% for the purchases that the customer you generated made within a one-year period. You will have access to banners, text links and widgets that you can use for promotions.
iStock by Getty Images
Getty Images is known worldwide for its photos. iStock is one of its services that provides digital stock. If you decide to join its affiliate, you can count on a reward of up to 10% for every existing customer sale and 20% for purchases made by a new customer. You can use banners and text links created and provided to you by iStock.
Health
Are your frequent visitors keen on keeping themselves healthy and fit? You can recommend the following brands.
iHerb
The iHerb affiliate program is one of the leading programs in the field of health products. This global retailer gives its affiliates competitive rewards: a 5% basic commission on all sales. You can use ready-to-use text links, images and other creative assets, as well as coupons. Moreover, you will be among the first to receive notifications about upcoming sales.
The Detox Market
The Detox Market is a place where users can find anything from natural lipsticks to hair care products. The commission rates depend solely on the product category and can reach 10%. You can take advantage of the ads that the merchant provides, and be among the first ones to find out about new sales.
Vitamin Packs
Vitamin Packs claims to provide a next-generation home delivery service of supplements. Clients can take advantage of the platform's knowledge center and find vitamins for their exact needs and lifestyles. The program is available via FlexOffers and Rakuten Marketing networks. Promotional tools include content, banner ads, text links, and more. Vitamin Packs offers a 25% commission on a last-click basis.
Highest Paying Affiliate Programs
Certainly, this list is not final. Many other programs in various lines of business are out there. However, software-related companies traditionally offer the highest payouts.
This is easy to understand – the more revenue your lead brings to the partner, the more profit you will get. However, this is not the only thing to focus on when looking for travel affiliate programs.
As an alternative, you can dedicate your time and efforts to generating as many unique leads as possible, and earn a good sum through quantity. This means you should not let high rates fool you. A commission of 30%-40% for the affiliate could be attractive relative to rates of 1%-5%. However, what matters is how much you can sell. Imagine that you have two products, both of which cost $100. From the first you can earn 40%, while from the second "just" 10%. Seems logical to work with the most profitable?
Yes, but profitability is not measured only by the rate. You must also look at the conversion. For example, you can make several sales using the program with the lower rates, and just one sale from the program with the higher rates.
While choosing the highest paying affiliate program, also pay attention to the payout methods and minimum amount. If Paypal is available and the minimum payout amount is reasonable and reachable, that's great; otherwise, think twice before you get started to work with the program. Spending a year collecting the amount for your first payout is probably not your dream.
Types of Affiliate Websites
Now, it's time to take a look at different types of sites that present ample opportunities for affiliate earnings.
Coupon Websites
If customers are looking for a good deal, they will likely visit a coupon platform. Such projects offer their users special discount codes (provided by eCommerce websites, of course). In exchange for users' purchases, coupon projects get a reward. They can be dedicated to a certain topic — e.g., coupons for travelling (hotel bookings, flight tickets, etc.).
Content-Focused Websites
These projects can either be dedicated to one topic (e.g., world news) or look more like an online magazine with dozens of topics. They provide regular content (articles, columns), and can profit from placing affiliate banners and ads on their pages.
In addition, they may provide so-called sponsored content that revolves around an affiliate product/service or includes links to the texts themselves. For instance, links can be added to articles that contain certain lists — e.g., "5 Best Coffee Shops in Toronto" or similar.
Blogs
Blogs are content-focused websites. However, they deserve special attention because they usually occupy one particular niche, be it a zero-waste lifestyle or DIY tutorials. Bloggers can put banners on their blogs or (what has proven to be more efficient) place links throughout their posts. They can also write about the sales they learn about beforehand, create posts about certain products/services they are using, or provide readers with special coupons and discounts. For instance, if you have a blog, you can give your readers information about saving on accommodation and provide them with an affiliate link or coupon for hotel bookings.
Cashback Websites
These platforms return a certain amount of money to users who followed the affiliate links on the website to purchase something. Thus, they profit solely by finding partners who are willing to put their links on the website. Such platforms usually occupy one particular niche. Many programs accept traffic from cashback websites, so these sites can be a good start.
Datafeed Websites
A good example of a datafeed website is a comparison shopping website. Such platforms provide users with an opportunity to compare various products according to certain characteristics. Having made their choices, users will likely follow the affiliate link on the website. Basically, affiliate programs provide datafeed projects with links and other ready-made promotional tools (e.g., product images) in exchange for paying a certain reward for every purchase made via the affiliate link.
White Label Projects
You can create a website which will generate the sale itself. For this, you must use a special affiliate tool — White Label. This is a technology for building, on your domain, a service which allows you to create your own service or copy another service on your own domain. Your work is to attract traffic there to make a sale.
For example, you can use flight tickets White Label to create a flight search engine on your domain. It's quite easy and you do not need extensive IT knowledge to do it.
Review Websites
As an overwhelming majority of customers read reviews before purchasing a product, creating a review website can be a great way to earn money. Review platforms may contain reviews of different products and services (usually within one niche to establish expertise and grow a target audience). So, when you create a review website, you can review products yourself or upload reviews from other customers. Then, you can join relevant programs in the niche, add affiliate links to the advertisers' pages and earn a commission on each purchase made through your link.
Mobile Apps
Earning opportunities in affiliate marketing are not limited to websites. Webmasters can also develop a mobile app and monetize it with affiliate links. Many popular apps, such as Shazam, send clients to advertisers' pages via affiliate links. For example, you can create a travel app dedicated to a particular destination with links to platforms where users can book flight tickets, hotels, activities, and so on for that specific location. To create a successful mobile application, make sure to check which programs you can join that accept traffic from mobile apps.
Email Lists
Email marketing is an old-fashioned, but sure-fire way to drive traffic to your blog. Many affiliates even use this approach to earn money. Email marketing allows publishers to depend less on constantly changing search algorithms and more on their constantly growing email list.
Basically, marketers put subscription forms on their websites, collect emails, and send out a newsletter featuring the latest news and blog posts to stay in touch with the audience. Thus, readers can receive all updates directly in their mailbox and remain updated on their favorite blogger.
Affiliates can insert links to advertisers directly in their newsletter or send subscribers to the blog post or landing page with affiliate links. However, allowed traffic types differ for each advertiser, so you should clarify the terms before joining any programs.
Social Media Platforms
With the rise of Facebook, Instagram, TikTok, and other networks, social media platforms became a great way to earn money online. Affiliate marketers can grow their presence on one or several networks by posting valuable and relevant content, and then monetize their pages with affiliate links. This approach is especially useful for beginners in affiliate marketing without much experience or time to build a website.
In addition, marketers can network with social media influencers to spread the word about your product or promote affiliate links. However, some programs may forbid social traffic, so it's best to check the terms. Also, make sure to choose the best social media platform for your specific business promotion.
How to Choose the Best Affiliate Programs for Your Blog
We strongly recommend that you take into account various factors when choosing companies to partner with. Here are a few suggestions.
Target Audience
First, the audience. You must assess how many visitors you have, and who those visitors are. What is your average visitor interested in? What are their needs and wants? You must know this to understand which brands will interest them. For instance, if you have a niche blog about traveling on a low budget, promoting Liquid Web or Sandals and Beaches will not bring you a profit; your visitors likely won't be able to make a purchase there. Instead, becoming an partner for Travelpayouts would be a perfect fit.
Level of Traffic
Knowing the number of your visitors is important as well. If you have just 25 readers per day, your application for an affiliate program may not even be accepted. Moreover, even if it does get accepted, you shouldn't count on a huge income.
Desired Income
In addition, you must know how much you want to earn with affiliate marketing. Will it be your main source of income or just an additional one? For the first scenario, you should consider promoting products that are expensive and, consequently, that can bring you a good profit. If you plan on the second scenario, you can opt for affiliate programs for bloggers that pay for sign ups or the ones that pay daily.
To get more tips on how to pick high-converting partner programs, watch this video.
Affiliate Networks: The Bottom Line
There are a great number of affiliate programs you should consider joining. However, choose carefully. Pay attention to your audience, their interests and their needs. If you want to learn more about the conditions of the affiliate program you'd like to join, do not hesitate to contact the website that offers the program or, at the very least, read reviews of the program and its terms.