What You Need to Know About TikTok
Tik Tok is gathering momentum and more and more digital entrepreneurs are looking for ways to use it to their advantage, and affiliate marketers are no exception.
So, what is TikTok, and what makes it a good fit for business?
TikTok is a video-based platform that originated in China in 2016. The platform allows users to create short videos ranging from fun videos and memes to knowledge-sharing content. The app is on the rise and has over one billion monthly active users as of September 2021, which makes it the third largest social network in the world.
Here are some other facts about TikTok marketers need to know:
The total number of TikTok downloads is over 3 billion as of July 2021.
The app has won the hearts and minds of teens all over the world with over 40% of its users aged between 16 and 24.
The number of adult Tiktok users is also rapidly increasing. From October 2017 to March 2019, the number of adults users soared from 2.6M to 14.3M. In 2021, this number increased by 46% compared to the previous year.
On average, TikTok users spend over 52 minutes per day on the app and over 50% of its users visit the app more than twice per day.
The specific audience makeup of TikTok greatly determines which niches are popular on the platform. According to Statista, the following niches are currently on a roll on the platform:
Entertainment
Dancing
Pranks
Fitness/Sports
Home reno/DIY
Beauty/Skincare
Fashion
Cooking/Baking
Life hacks/ Advice
Pets
Outdoors
However, almost any brand in any niche can use TikTok for business. The key is to use the platform to build relationships with your audience, not hard-sell. For this, you need to create content that will resonate with your followers and provide some extra value.
Here are some types of content that are likely to strike a chord with TikTok users and garner a lot of attention:
Type of content
Example from TikTok
Memes
Educational content.
TikTok is now investing a lot of effort
into promoting the #LearnOnTikTok program
to overcome the effects of the Covid19-pandemic and facilitate learning.
Videos dedicated to a special occasion
Recipes
Life hacks or quick tips
Behind the scenes content
Decor ideas
Beauty and fashion tutorials
Social media challenges, etc.
Affiliate Marketing on TikTok
TikTok can be a goldmine almost for any business, including your affiliate venture. If travel is your passion, be sure to take advantage of TikTok to promote and monetize your content. This approach will be more efficient if you start off in travel affiliate marketing by joining an affiliate network with many popular brands. One such option is the Travelpayouts digital partnership platform, which provides access to over 100 well-known travel brands, such as Booking.com, TripAdvisor, Kiwi.com, and more.
It's very simple. Sign up for Travelpayouts, join the programs, copy affiliate links, and post them on your page. For example, in the video description, in bio, or in Taplink. For each sale made via your link, you'll receive a reward.
Join the Travelpayouts Partnership Platform
Access exclusive tools and the best travel affiliate programs, including flights, hotels, car rental, insurance, tours and activities, all in one place.
Join today
350,000 partners already trust us
100+ travel brands
$40M+ total paid since 2011
For travel creators, it is a great idea to promote flight programs, because getting to a destination is an essential part of any trip. By promoting these programs, you'll be rewarded with commissions for each sale of flight tickets through your link. All affiliate programs from travel brands you can find in Travelpayouts' brands directory.
To monetize your travel content most efficiently, take advantage of our special free guide. In our guide, you'll learn how to find your place under the sun in the competitive flight ticket market by learning:
The best flights affiliate programs and how to choose the best among brands such as WayAway, Kiwi.com, CheapOair, and others.
The type of content that is best for selling flight tickets
How to integrate flight offers into your content
How to maximise your revenue
And more!
Start earning on flights
Use our free guide to add flights to your affiliate marketing strategy.
Start earning on flights
Affiliate Marketing on TikTok: Pros and Cons
However, like any social media, the app has its pros and cons for affiliate marketing.
| | |
| --- | --- |
| Pros | Cons |
| The platform can boast a huge and increasingly growing international audience, so there's a lot of money-making potential in it. | TikTok is dominated by young people aged 16-24. So, you may waste time and money if you're targeting older audiences. |
| TikTok is focused on video content that proves to be the most viral and most effective type of content for any type of marketing. | The platform doesn't allow adding clickable links to TikTok videos. |
| The platform makes it easy to reach your audience and boost engagement thanks to the hashtags features. | Not all TikTok accounts have the option of placing a link in their bio. |
| TikTok is great for accumulating user-generated content. | TikTok ads can be quite pricey. |
| The platform is still gaining momentum, and the competition is relatively low. Make sure you jump in before it gets too crowded. | |
| TikTok content is easy to create. | |
So, you've weighed all the pros and cons and decided to give affiliate marketing on TikTok a try. Now, it's time to learn how to boost your affiliate business with the app.
Here are two main ways to use the platform to grow your affiliate business. You can use organic content or paid advertising to propel the success of your affiliate campaigns. Let's take a closer look at both.
Organic Content
How can you use organic content to do travel affiliate marketing on TikTok? TikTok can be a powerful tool for driving traffic to affiliate content on your website or social media.
We've already mentioned that not all TikTok accounts have the option of placing affiliate links in TikTok bio and you can't embed clickable affiliate links in TikTok videos.
Fortunately, there are several ways to get around this problem:
Add YouTube and Instagram links to your profile and nudge your followers to follow you on other social media that allow placing affiliate links.
Another way is to use promo codes in your videos.
Switch to the Business account to add an URL to your bio.
You can also add a non-clickable URL to your content description.
Another way is to use promo codes in your videos. For example, in Travelpayouts, the partner program of the flight aggregator WayAway has a WayAway Plus Promo Code partner tool. By using this tool, you can create a custom promo code at a 10% discount on purchasing the WayAway Plus Membership Plan. With this plan, travelers save money by getting cash back up to 10% for booking hotels, excursions, car rentals, and other travel services. For every sale of the WayAway Plus membership plan, you'll earn $10.
Need more actionable tips on how to use affiliate links on Tik Tok and other social media platforms? Watch this video.
It's also important to keep in mind that organic reach is one of the most vital factors determining the success of your affiliate campaigns on TikTok. This is because it allows you to build long-lasting relationships with your audience and boost brand awareness and engagement.
Here are some hands-on tips to increase your organic reach on TikTok.
Post consistently and frequently as the app's algorithm favors it. Fortunately, you can do it hassle-free thanks to the platform's advanced editing features.
Create top-notch compelling content that may be useful or entertaining for your audience.
Interact with content relevant to your niche. Linking and commenting on videos related to your niche can help you reach out to more people and attract more attention to your content.
Invite your audience from other social media to follow you on TikTok.
Create useful lead magnets to capture email addresses and boost your subscriber list.
Find out what's trending on TikTok and tap into the trends.
Use relevant hashtags to help people discover your content.
Start your own trend or challenge and invite people to join in.
Team up with other creators.
TikTok Advertising
To yield even better affiliate results and reach out to more people, you can leverage TikTok advertising. TikTok provides lots of advertising options to help brands hit their marketing goals.
TopView Ads
This ad format is best-suited to garner the undivided attention of users. The ads are full-screen videos up to 60 seconds long, with auto-play and sound. eBay used this ad type to reach out to young people in the UK and promote their #StrongerAsOne campaign. According to TikTok, the campaign resulted in over 17 million impressions.
Brand Takeover Ads
These are full-screen video ads presented to your audience as soon as they open the app. There are multiple creative options in this ad type which supports both 3-second JPG and 3-5 second videos. Too Faced launched their TikTok ad campaign to grab the attention of the Generation Z women in the UK. The campaign resulted in 7.8 million impressions and 1.3 million clicks to the product page.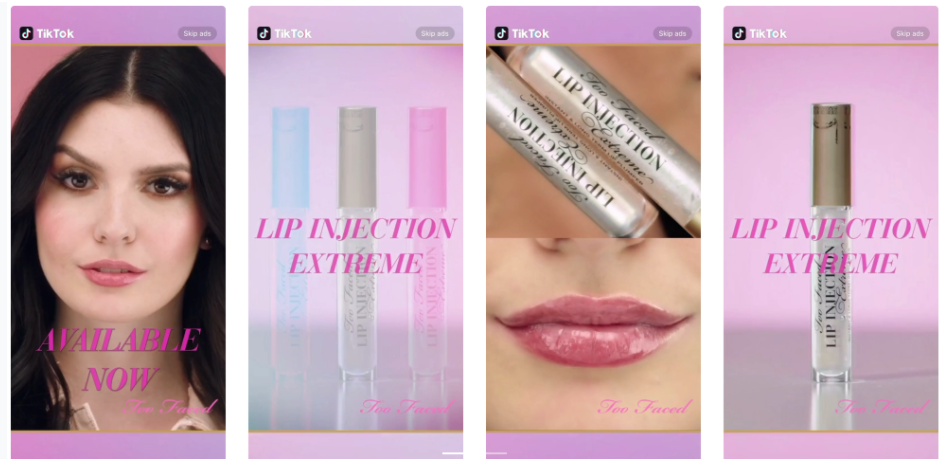 In-Feed Ads
This ad type provides a seamless advertising experience allowing marketers to embed their video content into users' For You feed. The video can be up to 60 seconds long, and it allows users to comment, share, and like it. So, this ad type is a perfect tool to boost engagement. For example, MadBox used this ad type to promote the Idle Ants game and witnessed a 36% increase in the conversion rate and over 10K app downloads within the first week.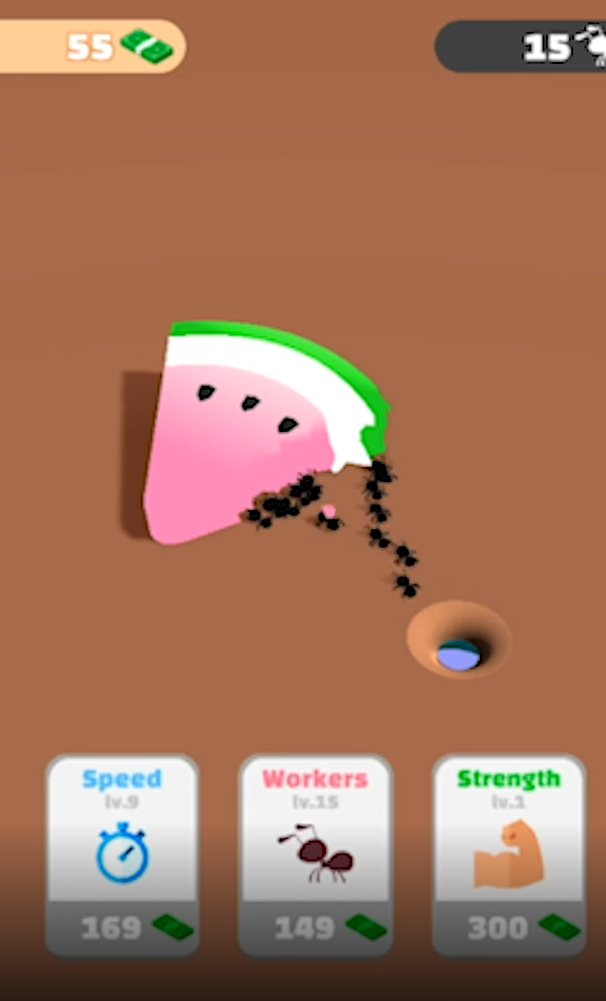 Branded Hashtag Challenge
These ads help marketers get more exposure, increase brand awareness, and aggregate tons of user-generated content. Branded Hashtag Challenges are highly effective as they encourage people to unleash their creativity and skyrocket engagement levels.
To launch a Branded hashtag Challenge campaign, you need to invite your audience to create content under your branded hashtag. Converse used this ad format inspiring users to turn their Converse sneakers into "creative canvas" and managed to drive over 24 million views and 1.8 million clicks to the challenge page.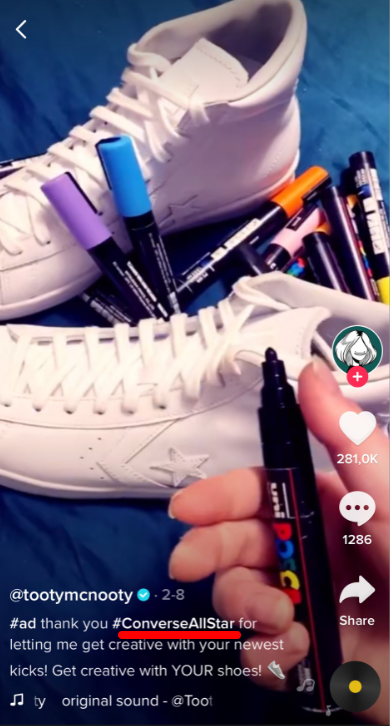 Branded Effects
Branded Effects is the go-to ad type for entertaining your audience and boosting brand awareness and engagement. It allows creating and sharing custom-made stickers, filters, and special effects. Here's an example of how Mucinex, a cold and flu medicine, managed to generate over 5.8 billion video views and accumulate over 500+ user-generated videos with their #BeatTheZombieFunk campaign featuring the brand's mascot.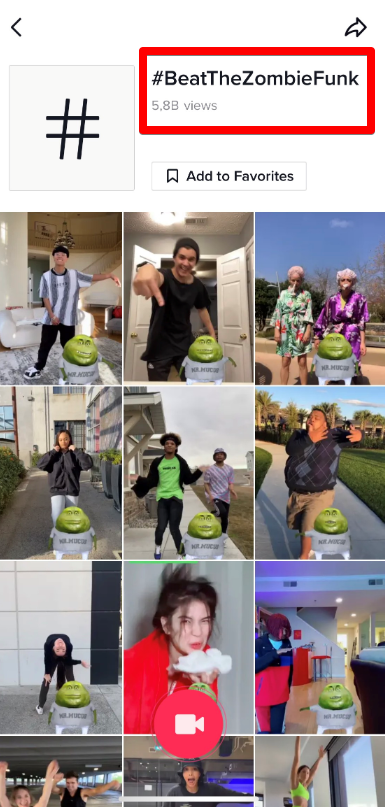 How to Promote Affiliate Programs on TikTok
TikTok provides a wealth of money-making opportunities for affiliate marketers. So, to win big on the platform and uncover its monetization potential, make sure you start early and tap into the latest trends. You also need to leverage both organic content and paid advertising for TikTok affiliate programs promotion. However, the key thing is to develop a fun and engaging approach to affiliate marketing that will strike a chord with the TikTok audience and bring you long-term business rewards.