Facebook as a Monetization Channel
Here are some facts you need to consider if you want to earn money with Facebook.
Facebook Demographics
There are over 2.96 billion active monthly users on Facebook.
Most adult users log on to the platform daily.
There are different age groups on Facebook.
The largest age group on the platform is 25-34 year-olds, as well as 18-24 and 35-44 year-olds.
Facebook is popular worldwide with India (329 million users), the USA (179 million users) and Indonesia (129 million users) having the largest user bases.
There are 43.4% female users and 56.6% male users on the platform.
74% of Facebook users have an annual income over $75k.
300 million Facebook users are active on Facebook stories daily.
Videos account for 11% of Facebook posts.
According to Buffer.com, videos made up 81% of the most popular Facebook posts in 2018, while images accounted only for 18%.
Over 45 million people follow business news on Facebook daily.
People spend 1 out of every 5 mobile minutes on the platform.
Types of Facebook posts
To understand how to earn money online with Facebook, you also need to know what content formats you can post on the platform. There is a wide range of content types you can leverage on Facebook to achieve your marketing objectives.
Text-only posts.
Photo/image posts.
Video posts.
Live video posts.
Posts containing links to your blog/website or some other resources.
Polls.
Posts with infographics.
Pinned posts used to attract users\ attention to the most important information.
Quizzes.
Fill-in-the blank posts which encourage people to generate ideas and share them.
Posts with UGC (user-generated content).
What Makes Facebook a Good Monetization Channel?
Many newbies to online marketing often ask, "Can you make money on Facebook even if you're new to it?" The answer is a definite yes. Facebook is a great monetization channel to make money even without experience and investments.
Here are some factors that make Facebook perfect for monetization.
Facebook is the world's largest social platform.
On average, Facebook users spend about 35 minutes a day on the platform.
People use the platform as a research tool to find new products and services. Thus, 57% of consumers report that social media affects their purchase decisions.
Most brands have a Facebook presence, so users perceive the platform as the go-to solution when they want to contact a brand.
There are many advertising options on the platform.
Facebook provides a wide range of tools for analytics and detailed targeting options.
Starting a Facebook business page is free.
Facebook is perfect for driving traffic to your blog or website, you simply need to add a link to your webpage to your Facebook profile.
You can post a variety of content types on Facebook, including images, gifs, videos, live videos, articles, etc. This variety gives marketers many tools for keeping their audience engaged.
You can leverage the Facebook messenger bot to provide customer support to your customers, process orders, etc.
Liking and sharing options allow brands to reach out to wider audiences and boost brand awareness.
You can build a community around your brand and increase engagement levels.
The learning curve of Facebook marketing isn't steep and there is a lot of educational support provided for businesses, for example, video tutorials, creative tools, guides, success stories etc.
How to Make Money on Facebook – An Easy Step-by-Step Guide
With an incredibly high number of active monthly users and new monetization and advertising features constantly rolling out, Facebook offers various ways to earn money online.
Below, you will find step-by-step instructions on how to monetize your Facebook page from creating a profile and growing a following to launching a marketing campaign and tracking your results over time.
Before Getting Started: Check Your Facebook Monetization Eligibility
Whether you want to make some cash or increase outreach for your brand, there are many brilliant marketing features that you can leverage on Facebook. Before getting started with Facebook monetization, ensure that you are eligible to do so and check that your profile and content meet all the requirements of the platform. These policies aim to facilitate communication between users and be sure that everyone feels valued and heard. They are based on feedback from users and experts in human rights, safety, and technology.
You can check your page eligibility for monetization in Creator Studio. Click the Monetization tab and choose the pages you want to check. Click "Apply". Now, you will see the status of your page and content:
● Green status means that your page is ready for monetization.
● Yellow status indicates potential issues for monetizing your content.
● Red status indicates serious problems that do not allow for the monetization of your page.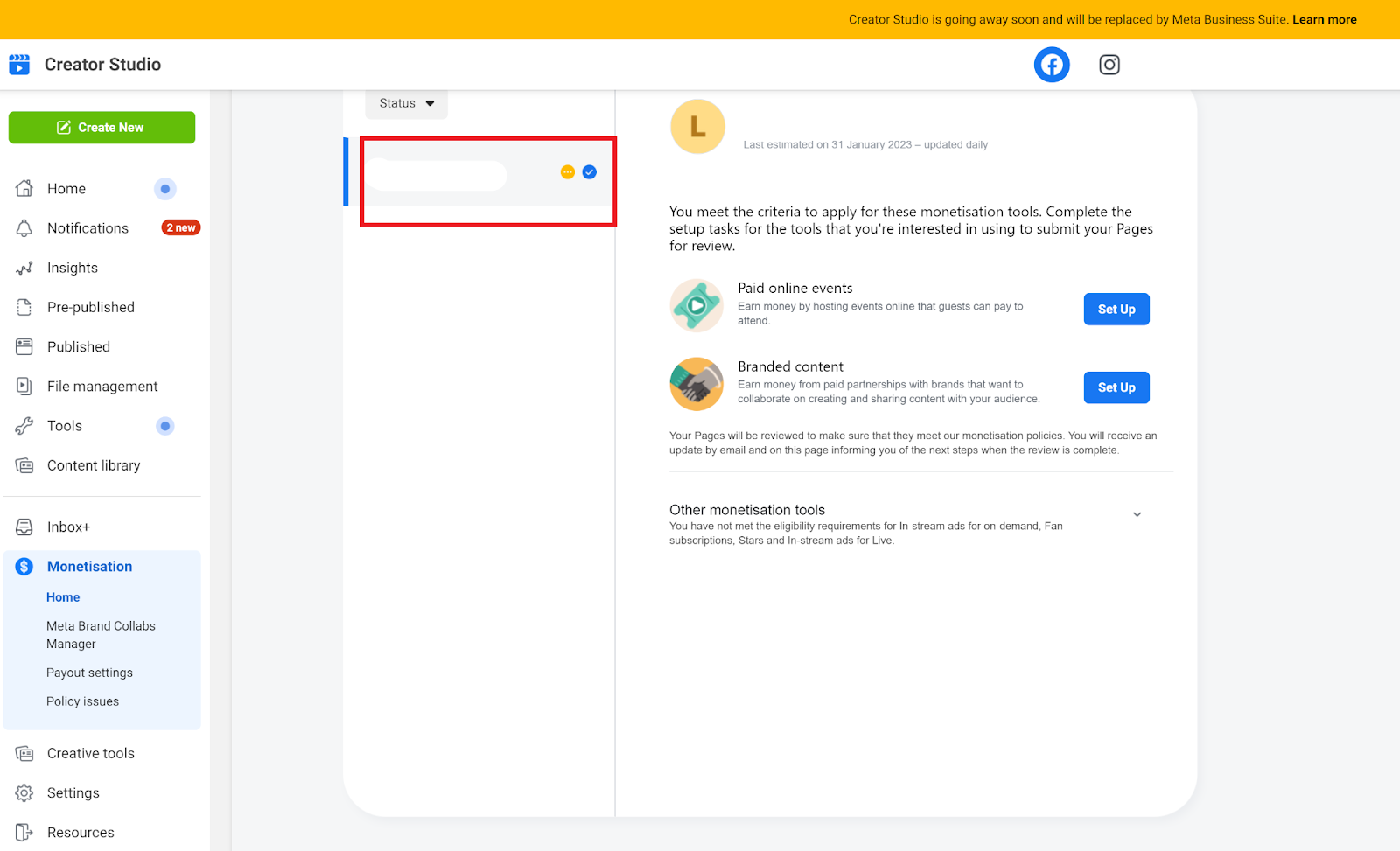 Once you pass the eligibility requirements, remember to regularly check if your page complies with Facebook's policies as you continue growing your presence. To help users make the best of the available monetization opportunities, Facebook shared the best practices to stay eligible and earn money.
Basically, there are three sets of rules to follow if you want to make your content eligible for monetization: Community Standards, Partner Monetization Policies, and Content Monetization Policies. We will look at each set of policies in detail below.
Facebook Community Standards
Facebook Community Standards ensure that all content is safe and does not feature any violence, hate, nudity, and other forbidden elements. These policies apply not only to monetized posts, but to all the content on Facebook. The Community Standards aim to help users express and share their voice about things that matter to them. Sometimes, newsworthy content is allowed to break these standards if it is in the public interest. Essentially, Community Standards are based on the following values:
● Authenticity in contrast to misrepresentation
● Safety in contrast to content that intimidates, excludes, or silences others
● Privacy to protect personal information
● Dignity in contrast to harassment
Partner Monetization Policies
Partner Monetization Standards apply at the page level and check its behavior in general. This includes content creation, promotion, and monetization. Be sure to check these standards to properly use the monetization tools available on Facebook. Here are a few policies to follow:
● Only try to monetize eligible pages. Facebook profiles outside of professional mode are not eligible for monetization.
● Follow the Community Standards.
● Share authentic and original content.
● Follow the Facebook Payment Terms, and so on.
Content Monetization Policies
Content Monetization Policies address each individual post and video that you have shared. It is important to understand that not all content that is appropriate for Facebook is also eligible for monetization. Namely, you cannot monetize static videos and image polls, slideshows of images, embedded ads, and more. Make sure that your content is not prohibited by policies before you start monetizing it.
Getting Started
Now that you understand the basic rules of content monetization on Facebook, it is time to start building your online presence on the platform. First, you need to set up a Business Page on Facebook, grow your following, start using monetization tools, as well as optimize and track your campaigns to make them efficient in the long run. Now, let's discuss each step in detail.
Step 1. Set Up a Facebook Business Page
Before you start running any business on Facebook, you should set up a Facebook business page. Having a Facebook page can give you a competitive edge as it provides you with a wide range of advertising tools, allows users to discover your brand and gives you a lot of insights about your page views, likes, reach, etc.
To set up a Business page, go to the Create tab in your profile and select Page.
Then, give your page a name, choose its category, give your address and a telephone number (optional).
The next step is to upload a profile picture and a cover photo. You can skip these steps and add the pictures later.
Create and pin your welcome post. For this, you can leverage a welcome post template.
Fill in the About section in the left-hand menu. Provide users with complete information about your business, including an email address, a website, a phone number. Here, you can tell a story about your brand and add yourself as a team member.
Add a CTA Button (Book now, Sign Up, See offers, etc.) which will appear below your cover photo and will encourage your audience to take action.

Besides, you can choose where to send you customers when they click the button, for example, to your website, another tool or directly to Facebook.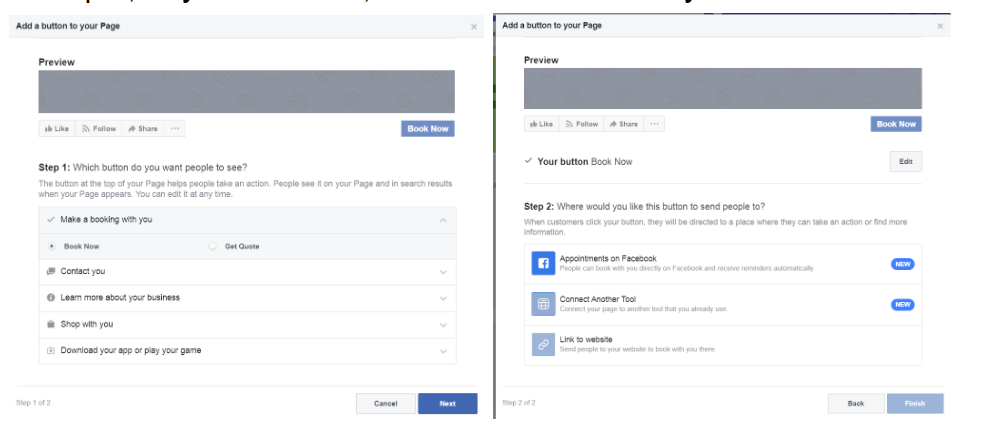 Once your Business page is ready, you can invite your friends to start building your community.
Step 2. Grow Your Following
Research shows that 78% of consumers want to make a purchase from a brand after having a positive interaction with it on social media. This may include customer service, content, or even a personalized approach to marketing. Such experiences help build trust and can encourage a customer to not only make a single purchase, but also to keep coming back in the future.
More and more brands are growing their social media presence to build loyal audiences. As a result, 91% of executives intend to invest more into social media marketing in the coming years. Specifically, over half of respondents want to spend 50% more by 2024. Increasing investments are proof of the importance that social media may play to build and grow a loyal community for a brand.
So, how can you build a following and increase your brand community? Here are a few ideas:
Keep Your Community Engaged. Inactive pages tend to lose users' attention very fast, while profiles actively sharing content and interacting with the community keep growing their following. Page Insights can tell you the times that your followers are most active as well as the most popular types of content and more.
Promote Content Beyond Facebook. Let more people know about your Facebook page by sharing it on other social networks, your website, and third-party platforms.
Invest Into Ads. Advertising can greatly increase your outreach and draw in much more followers in a shorter amount of time.
Join and Create Relevant Groups. Share your page in relevant groups to increase your outreach. You can also create your own groups and build a community.
To learn more about the ways to grow your following, watch this video from Travelpayouts Academy.
Step 3. Choose a Monetization Strategy
There are plenty of monetization opportunities that content creators can leverage on Facebook. You can start with one or a couple of strategies and extend your monetization along the way. The choice will depend on the types of content that you publish, your audience, the features of you niche, and so on. We are going to cover the most lucrative Facebook monetization strategies and teach you how to get paid on Facebook leveraging them.
Selling your physical or digital products on Facebook
There are several ways to sell products on Facebook:
Build a Facebook store and sell products and process payments directly from your Facebook page.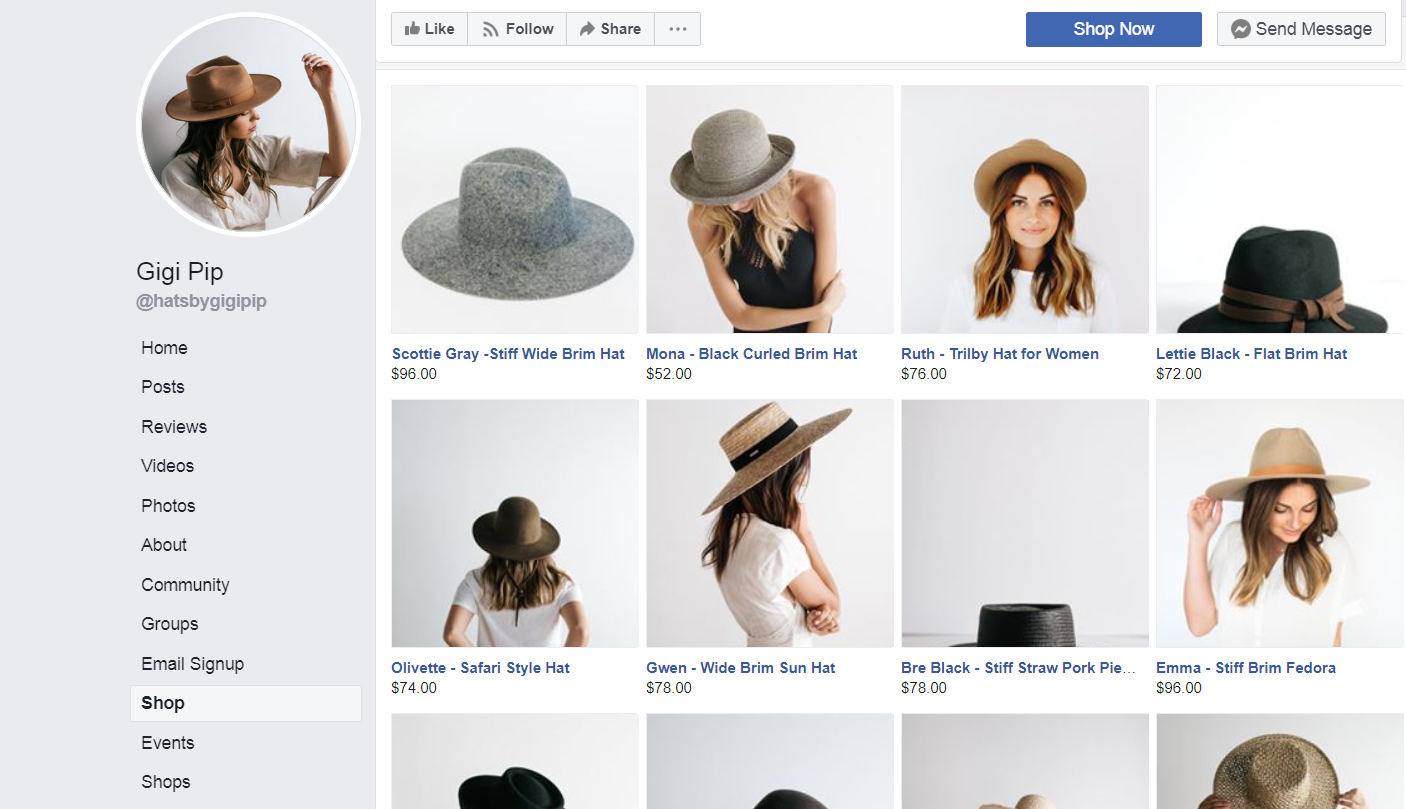 Create an online store with the help of an e-commerce website builder and drive traffic to it from a Facebook page as MyPro Planner does.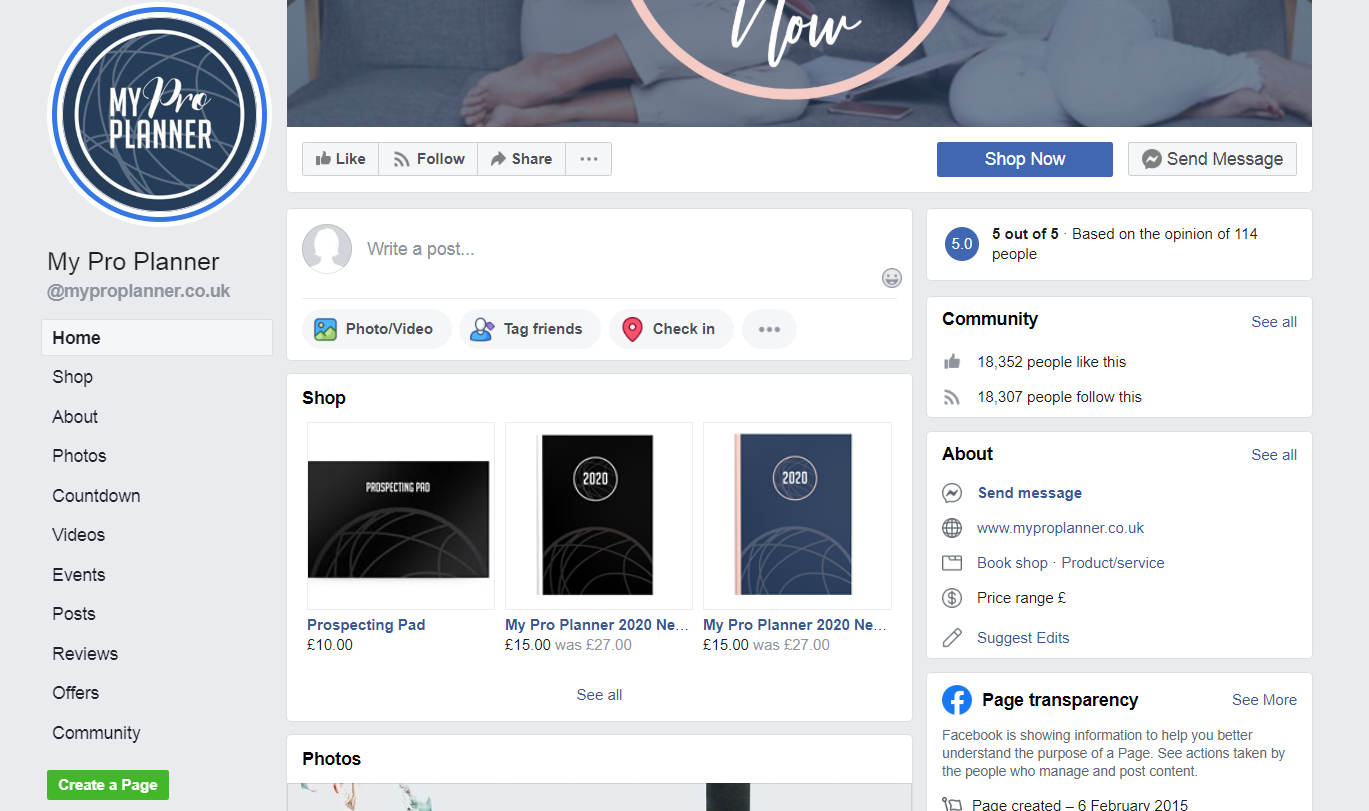 Leverage Facebook Marketplace or sell in Facebook Buy and Sell groups.
The Best Practices of Selling on Facebook
Create a compelling CTA.
Focus on the features which set you apart from your competitors and emphasise them.
Make sure you don't focus on promotion solely. Provide value to your customers and deliver relevant content to them.
When promoting on Facebook groups, make sure you follow their rules pinned at the top of each group.
Upload top-quality photos and add a description highlighting the benefits and features of your product.
Create engaging video content that tells your brand's story and helps your clients envision what they are going to buy.
Leverage discount codes and coupons to attract more customers.
Make the most of numerous Facebook advertising options.
Influencer marketing
Influencer marketing is another way to make money from Facebook accounts. This is a cutting-edge strategy which allows you to leverage your name and reputation to promote products.
To earn money with Facebook influencer marketing, you have to establish yourself as a thought leader on the platform, build trust and grow a loyal following. As a rule, influencers charge a fee for showcasing a product. The more established your name is, the higher is the fee.
Usually, influencers promote a product by reviewing or unboxing it or by posting a video or photo of themselves using the product. Users trust such advertising more than traditional advertising forms and perceive this form of marketing as a personal recommendation.
Affiliate marketing
Affiliate marketing is a marketing arrangement in which an affiliate gets a commission for promoting a product or a service to other people. Whenever a person clicks through the affiliate link and visits a website or performs a desired action there, the affiliate gets a financial reward.
Affiliate marketing is one of the most profitable money-making strategies on Facebook. To leverage the strategy on the platform you can:
Share information about a product or service on your personal page.
Create a Facebook account for affiliate marketing.
Make the most of Facebook ads.
So, what do you need to run affiliate campaigns on Facebook?
Pick a niche you're passionate about.
Choose an affiliate program or network in the niche. When choosing a niche, take into consideration how high the commissions are, how reputable a program is, and how long the payout period is.
Create relevant and compelling content your followers may benefit from.
Join Facebook groups in your niche and share valuable information in them.
Create your own Facebook group and encourage users to communicate and share knowledge in it.
Leverage paid advertising to boost your affiliate campaigns.
Make sure you disclose your affiliate links.
Use such URL shortener tools as Bitly to make your affiliate links more authentic.
If you're working with affiliate programs through Travelpayouts, you don't need to shorten links manually or use third-party services. An automatic «Link Generator» tool is available via almost all of the platform's programs. You can find out more about the built-in URL shortener in the tool update review.
Don't prioritize monetization over value and don't spam your audience with offers you're promoting.
Don't breach Facebook guidelines.
Post consistently.
Don't forget about SEO and embed relevant keywords in your SEO updates, post, descriptions, etc.
Create a landing page to drive traffic to.
Becoming a social media manager
If social media is your speed, you can help businesses build and develop their online communities and become a Facebook manager. This usually involves:
Creating content
Scheduling posts
Creating and running ads
Studying the target audience
Communicating with the community members and helping them solve their problems
Initiating discussions and keeping them going
Running contests and giveaways, etc.
To become a good Facebook manager, you need top-notch communication and time-management skills, you also need to be creative, good at problem-solving, conflict management and analytics.
There are many online courses to help people become effective social managers, for example, Social Media Manager School, the Social Media Marketing course on Coursera, The Social Media Manager & Marketing Course for Business etc.
Making Money on Refer-A-Friend Bonuses
Referral programs are another way to make money from Facebook pages. Though they are less lucrative than traditional affiliate programs, the rules are also less strict. This marketing strategy is a powerful one as it's based on word-of-mouth recommendations customers are likely to trust.
To make your Facebook referral venture profitable, you should refer your followers only to the products you've used yourself or can vouch for. To demonstrate the benefits of the product, learn the product you're promoting inside and out. Create posts devoted to the product or showcasing how you use it, create video tutorials, reviews and go live on Facebook to answer questions about the product you're referring your followers to.
You can earn a referral bonus with such programs as Rakuten, Airbnb, Payoneer, Raiz, BeFrugal, etc.
Becoming a Facebook Ad Manager
If you're good at creating attention-grabbing content and are in the know about how to run ad campaigns, you can become a Facebook ad manager and create and run powerful ad campaigns for businesses.
What do Facebook ad managers do? They do their best to understand a client's business objectives, develop the marketing strategy and the campaign itself, create the ad copy, investigate the target audience and test how effective different ad copies are. One of the most important tasks of a Facebook ad manager is to make the campaigns cost-effective.
Making money from paid posts
If you have a large following and a name in your niche, you can start making money by publishing sponsored content in your account.
To maximize your efforts and help you get to grips with the strategy, Facebook offers a course on making money with branded content and the Brand Collabs Manager tool which facilitates paid partnerships.
The amount of money you can earn on sponsored posts depends on how popular you are and how large your following is.
Offering Consulting Services
If you have expertise in a niche, you can offer consulting services on Facebook and drive revenue from it.
However, you are not likely to get a deluge of clients if you focus only on paid services. You should also create valuable content providing solutions to the problems of your audience.
To promote your consulting services, you should also create a Facebook group, take an active part in discussions in other groups in your sector, promote your profile with Facebook ads and leverage the Facebook messenger.
Crowdfunding
Facebook is a great tool for running and boosting crowdfunding campaigns. Crowdfunding is a powerful way to raise money for projects, health issues, charity, etc.
Promoting a crowdfunding campaign is similar to promoting any other campaign, though there are some specifics.
When creating a promotional post, you should also write compelling copy and include an attention-grabbing image or video. Make sure you don't just encourage people to donate, also, ask them to share your posts. This will help you reach out to more people.
It's vital to keep people on track with your campaigns and post regular updates. Besides, don't forget to acknowledge the contributions your followers are making.
Driving Traffic to Your Blog or Website
Facebook is a crowded place, so if harnessed properly, it can become a perfect tool for driving traffic to your blog or website. For example, a travel blogger Anna Everywhere directs traffic from Facebook to her blog posts containing affiliate links.

So, how do you boost the traffic influx from Facebook to your website?
Make sure you add a link to your website to your Facebook profile in the About, Biography or Personal sections.
Create content that will strike a chord with your audience.
Make your content SEO-optimized by embedding relevant keywords in your status, posts and photo descriptions, using hashtags, etc.
Leverage paid advertising to get more exposure.
Step 4. Optimize Your Facebook Campaigns for Success
Setting up a Facebook campaign is only half the battle. Since its first day, you need to keep an eye on your content and optimize it along the way. Thus, you can spot areas for improvements and tweak your campaigns for success. Below are a few hands-on tips to drive more traffic and make the most of your Facebook campaigns.
Tips to Boost Your Facebook Campaigns
Once you've decided how to make money using Facebook, it's time to learn how to tweak your future campaigns for success. Here are some actionable tips to take your Facebook campaigns to the next level.
Make sure you add your social media URL or button in your email signature.
Make the most of Facebook insights to determine the best posting times for your audience.
Use emoticons and questions in your status updates.
Organize contests.
Engage with your Facebook community and other Facebook pages.
Provide complete information about yourself on your page, including a description, contact information, working hours, prices, etc.
Include a compelling CTA.
Post consistently.
Boost engagement by asking people to share their ideas, for example, by asking them to think of a caption to a funny image.
Add more than one image to your post or use the carousel post type to garner more attention from your audience.
Leverage story-telling.
Study your audience thoroughly.
Don't be shy and ask visitors to like your page.
Combine strategies for organic and paid reach.
Step 5. Track Facebook Campaigns
To understand the strongest elements of your marketing strategy and determine which areas need improvement, you can track your campaigns. There are various metrics to keep an eye on to see if your audience likes your content and is eager to return to your page. You can identify one or a few of the most important metrics depending on your goals and check them regularly.
Paid advertising on Facebook
Today, it's becoming increasingly difficult to get organic reach on social media, and on Facebook in particular. So, marketers need to make the most of Facebook advertising to widen their reach.
There are several advertising options on Facebook. Depending on your objectives, you can either boost a post from your Page's timeline or create a Facebook ad in Ads Manager.
To boost a post, you need to pick a post that performs well, set the target audience, the budget, and the period for which you want to boost your post, then click Boost. Boosted posts look like traditional posts, but there is a Sponsored note. Though boosted posts are different from traditional ads, they are still considered ads as they require a budget.
As for ads, Facebook offers a wide range of ad types.
Image/photo ads
Video ads allow you to demonstrate your product or service in action.
Video polls are an engaging ad format available only on a mobile.
Carousel ads allow marketers to show up to 10 images/videos and add a link to each of them.
Slideshow ads contain three to ten images and one video. This ad type allows marketers to reach people with a slow internet connection as they use less traffic in comparison with video ads.
Collection ads feature several products.
Instant experience ads (former canvas ads) are ads offering users an immersive experience and combine videos, images, gifs, etc.
Lead ads allow marketers to collect information about their customers, including names, emails, addresses, phone numbers, etc.
Dynamic ads help marketers to automatically show users the products they've demonstrated interest in.
Story ads are a powerful ad format which helps make a brand easy to discover and boost customer engagement.
Augmented reality ads allow customers to interact with your products on the mobile News Feed.
Playable ads. This is an interactive ad format suitable for mobile which allows users to test-drive an app before installing it.
How to Set up a Facebook Ad Campaign
Before you dive deep into creating an ad campaign, you need to determine what you want to achieve with it and what your business goals are to tailor your campaign accordingly.
To create an ad campaign, click on the Create tab on your Facebook account.
Then, after being redirected to the Facebook ad manager, the first step is to choose a campaign objective that aligns with your campaign goals. There are several campaign objectives to choose from, including brand awareness and reach, traffic, engagement, lead generation, conversions, etc.
Once you've chosen the campaign's objective, you need to name the campaign. You can also choose to create a split test for your campaign and optimize its budget (you can choose from daily or lifetime).
The next step is to enter your account info and set the account country, currency and time zone.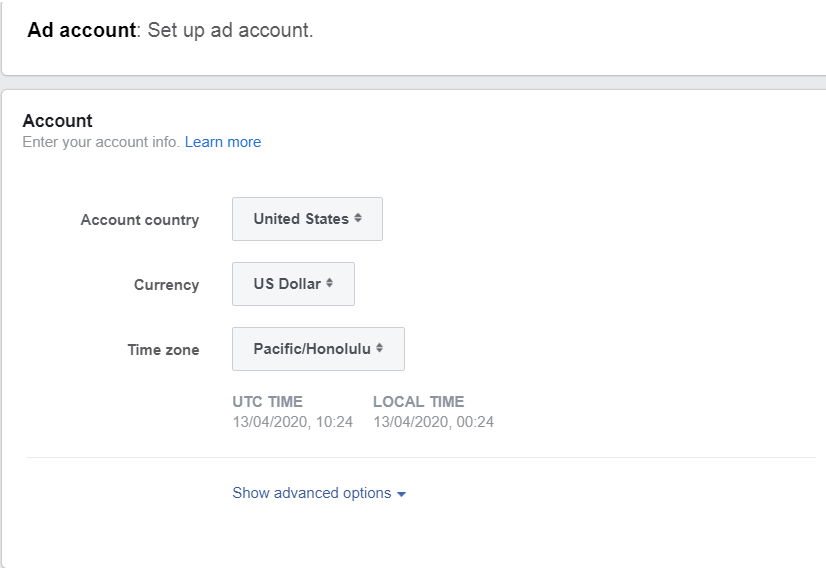 After this, you'll have to create a name for your ad set and define the target audience for your ads. You should set the location of your audience, their age range and gender. You can even set the language and decide whether you want to target people who have a specific connection to your webpage, app or event.
Further, you need to choose from automatic or manual ad placements. By default, the platform offers automated placements that allow marketers to maximize their marketing efforts. If you decide to select places for your ads manually, you can display them on Facebook, Instagram, Audience Network and Messenger.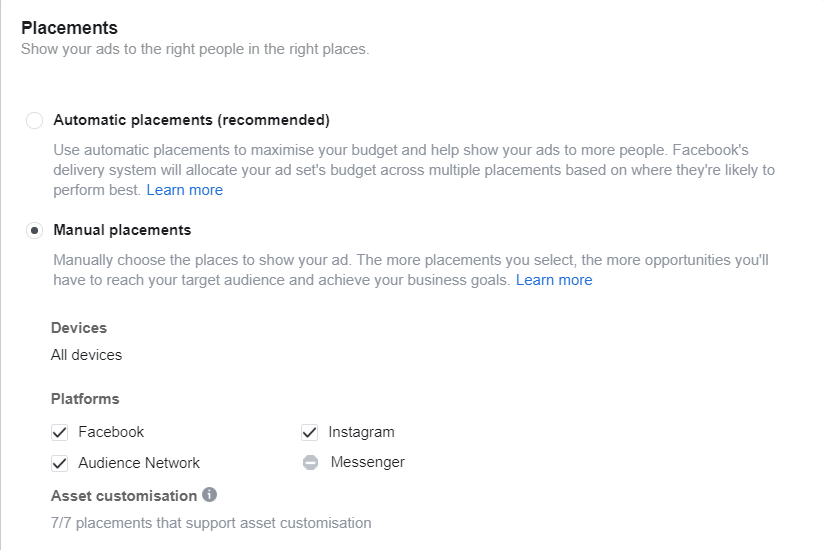 The next step is to define the amount of money you'd like to spend and schedule your ads. You can either choose to run your ads continuously or set the start and end date. You can also set the spend limits for your ad and when you pay for the ad.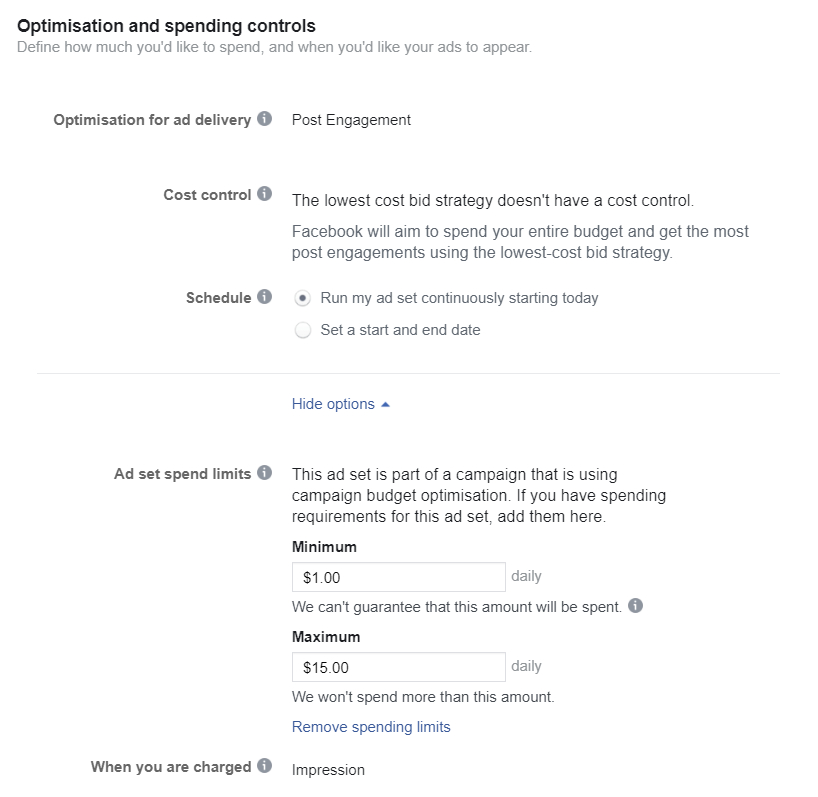 The next step is creating an ad. You can choose to create an ad, use an existing post or use a mockup.
If you choose the Create Ad option, you need to create a name for your ad, select an ad format and media, add a text and a CTA button.

If you want to use an existing post, you need to select a post you want to use as an advert.
Next, you need to set up your tracking options, review your campaign and click the Confirm button.
Top Tips for Creating a Powerful Ad Campaign on Facebook
Create a compelling CTA focusing on one action only.
Study your target audience thoroughly, create buyer personas and build targeted ads that speak to these personas.
Make sure your copy uses language that is conversational and easy to understand.
Experiment with ad placements and run A/B tests to see which ads perform better.
Use attention-grabbing visuals.
Include keywords in your ads.
Focus on the value proposition. Do your best to highlight the benefits of your product.
Make the most of retargeting.
Facebook retargeting
Facebook retargeting is a marketing strategy that allows marketers to re-engage with customers who visited their website but didn't perform the desired action on it.
It requires installing the Facebook pixel on your website. This is a snippet of code that sets a cookie in visitors' browsers and tracks your visitors and how they interact with your brand, for example, what pages they visit or what items they add to the cart. The Facebook pixel on your website allows you to track your visitors on the web and show relevant ads to them.
Benefits of Facebook Retargeting
The strategy helps to re-engage with visitors who already know your brand. Visitors who have already visited your website are warm leads as they are more likely to remember the product, return to your website and make a purchase.
Retargeting can help you display only the relevant products to the visitors interested in them.
You can boost brand loyalty by showing the new products to your existing customers.
It allows marketers to remind customers of the items abandoned in their carts and finish the purchase.
It's a cost-effective strategy as you target specific audiences who are likely to convert.
What Do You Need for Facebook Retargeting?
There are some things you need to run a Facebook retargeting ad campaign.
A functioning website or a mobile app.
You need to install The Facebook pixel on your website or the Facebook SDK for mobile apps.
Build custom audiences from a list, your website visitors or people who use your app.
A catalog to create dynamic ads.
Here's is an easy-to-follow, step-by-step guide on creating a Facebook retargeting campaign.
Best Practices for Facebook Retargeting
Exclude people from your audience once they convert.
Don't show your ads to people too often. Set a frequency cap and limit the number of times a user sees your ad.
Offer discounts to incentivize people to return to the cart they've abandoned and complete the purchase. To provide a more personalized experience to users, offer them unique discount codes.
Segment and layer your audience according to their behavior, demographics, visits to your website, etc. and tailor your ads to create a custom experience for every group.
Make the most of Dynamic product ads. This Facebook feature allows you to automatically show visitors the products they have previously looked up on your website.
Retarget your free trial users to turn them into paying customers by offering them a discount or valuable materials, for example, guides, Ebooks, tutorials, etc.
Remarket to your blog readers to turn them into your loyal readers. For this, offer them a freebie.
Leverage the power of cross-selling and upselling when retargeting existing customers.
Create three to five versions of the same ad and rotate them to combat banner blindness.
Use A/B testing to find out what performs best with your audience.
Tracking Facebook Campaigns
What Are the Most Important Facebook Metrics to Track?
Engagement
It's a vital metric to track as it reveals if the content resonates with your audience. Another reason why engagement is so crucial is that, according to the Facebook algorithm, it's one of the factors determining what your followers see on their News Feed.
How can you track Engagement?
There are several ways to track engagement. You can use data from Facebook insights or use tools such as Sprout Social, SocialStatus, etc.
Reach
Reach is the number of users who have seen your content.
How Can You Track Reach?
You can get insights about this metric and what factors affect it in the Reach tab of the Facebook insights. Here, you can learn about the numbers of people your post has reached, Reactions, Comments and Shares, Unlikes, Report as Spam, Hide posts, etc.
Impressions
This metric reveals the number of times your post has been seen even by a single user. The metric helps you to evaluate how viral your post is and how many times a user has seen it. The more times users are exposed to the post, the more likely they are to perform a desired action.
How Can You Track Impressions?
To track impressions, go to the Posts tab in Facebook insights. Here, click Reach and then switch to Impressions.
Facebook Referral Traffic
This metric denotes the number of visitors referred to your website from Facebook. Why is the metric important? As you know, Facebook is a perfect tool for driving traffic to your website. Besides, it's also an indirect sign of how engaged your audience is with the content you're offering. The more they like your content, the more likely they are to click through and explore your website.
How can you track Facebook referral traffic?
To track referral traffic, you can use Google Analytics, UTM Parameters and the Facebook pixel.
Page Likes and Follows
The metric shows how many people follow your page. Though the metric is often considered a vanity one and it doesn't reveal how effective your marketing efforts are, it's still vital. Ideally, if you're doing everything the right way, the number of followers should be increasing over time.
How Can You Measure Page Likes and Follows?
You can see the information on your Facebook page. And, you can get more insights in the Likes tab in reporting. Here, you can see the number of unlikes and the correlation between organic and paid likes.
Facebook video metrics
Video is one of the most popular content types on the platform, this is why it's important to understand how successful your video content is. You should keep track of metrics such as Video Retention (the amount of time users spend watching your videos) and Video Engagement (the number of likes, shares, comments, clicks to play a video post gets).
How can you measure Facebook video metrics?
You can find information about these metrics in the Post Details section in Facebook insights.
Facebook ad metrics
There are over 100 ad metrics you can track on Facebook. The metrics you choose to track should depend on your ad goals and objectives. The most important metrics are click-through rate (CTR), Return on Ad Spend (ROAS), the cost per thousand impressions (CPM), the cost per click (CPC) of your ads, Impressions, Cost per action (CPA), etc.
How can you measure Facebook ad metrics?
You can get insights about these metrics in the Ad Manager, in the Ads reporting section.
How Much Money Can You Earn on Facebook?
The earning potential of the platform is huge and there are many profitable strategies to choose from. No matter which strategy you opt for, Facebook is likely to become a lucrative revenue stream.
However, as in every business, it takes some time and effort to get your Facebook campaign off the ground. So, make the most of the tried-and-true strategies we've shared with you, work hard, and think outside the box. Your effort will not go to waste and your Facebook venture will soon take off and become a lucrative revenue stream for you.
How to Make Money on Facebook FAQ
Here are some of the most popular questions asked about Facebook monetization:
Can you make money on Facebook?
There are plenty of ways for content creators, influencers, and brands to make money on Facebook. You can include ads in your posts, collaborate with brands, share sponsored posts, make money with livestreams, and more.
How many followers do you need on Facebook to make money?
With so many monetization tools available on Facebook, there is no minimum amount of followers to start making money with. Creating original and relevant content and building a loyal community will help you earn even if you do not have thousands of subscribers yet.
How long does it take for Facebook to process money?
Most payments are processed within 24 hours. So, there is a short delay between receiving payments from your followers or brands and seeing them on your account.