Is It Possible to Do Affiliate Marketing Without Showing Your Face?
Absolutely! Many successful affiliate marketers have built their businesses without showing their faces or revealing their identities. The key is to focus on the value you provide through your content, products, or services rather than relying on a personal brand or physical presence. By doing so, you can still build trust and credibility with your audience while maintaining your privacy.
It's essential to remember that, in affiliate marketing, your primary goal is to promote other people's products and services effectively. Your audience seeks valuable information and solutions to their problems, not necessarily a face or identity to associate with those solutions. As long as you can deliver high-quality content and genuinely help your audience, you can succeed in affiliate marketing and make money online without showing your face.
But the question remains: how can you do that exactly?
How to Do Affiliate Marketing Without Showing Your Face
Engaging in affiliate marketing while not showing your face or identity might seem challenging, but it is possible. Several methods exist to maintain your privacy while still delivering valuable content and effectively promoting products or services. Let's explore some of these methods in detail.
1. Blogging
Many successful affiliate marketers started with blogging or developing niche websites. This method is not only profitable, but it also has a high success rate and a low risk of failure. On top of that, you can easily choose to blog anonymously or create a digital persona that represents your brand.
To create an anonymous blog, consider selecting a niche, developing a unique pen name, and using an avatar or logo as your profile picture. This way, you can still build a strong brand presence without disclosing personal information.
The main point to remember is that although blogging can be lucrative, it can also be challenging. As a result, choose a niche you enjoy and are interested in. Once you've selected a niche, produce content that provides valuable, high-quality information, tips, and solutions for your target audience. And above all else, ensure you have a strong SEO strategy.
Remember, consistency and quality are the key to successful affiliate marketing through blogging. Finally, be patient, as it can take time for your blog posts to rank on Google and for people to find your blog.
There are many successful websites and blogs where the authors have chosen to remain anonymous or use a pseudonym. Money Mow, Mom's Got It Made, and Disease Called Debt are examples of blogs with authors writing anonymously to protect their privacy.

2. Video Reviews and Tutorials
Creating video reviews and tutorials allow you to cover various topics within your niche and promote affiliate products through your videos. In fact, there are several ways that you do accomplish this, all while protecting your privacy.
First, there are animated videos, which can be engaging and informative. To make an animated video, you can hire someone from Fiverr or Upwork or use a paid tool. Tools like SketchGenius, RenderForest, and Powtoon can help you create videos like whiteboard animated videos.
For a more budget-friendly approach, consider screencasting, where you record your screen instead of using a video camera. This method works well for software tutorials and walkthroughs or any content related to computers. It can also work for anyone teaching a subject like copywriting or marketing.
Another option is to use voiceovers while filming a scene that doesn't show your face, such as product reviews or unboxing videos. You can also create mashup videos featuring lists of products, tips, or facts using a combination of your footage, stock footage, or third-party footage within the bounds of fair use.
Now, whatever method you choose, monetizing these videos is simple. All you need to do is integrate affiliate offers directly into your content. For example, use a tool or product in the video to solve a problem your viewers face, create a review of a tech product, or put together a how-to-cooking video. Add your affiliate link in the video description, or create a custom cloaked affiliate link for your product and mention it in the video.
To explore different methods of incorporating affiliate links into your YouTube content, watch this video from Travelpayouts Academy.
A couple of great examples of faceless Youtube videos include 5-Minute Decor, angrymikko (which focuses on teaching painting on Procreate), meditation videos like this one from Goodful, Chris Invests, and Relax for a While (bedtime stories).
3. Podcasts
As an audio-only medium, podcasts allow you to share valuable information, insights, and stories with your audience, all while keeping your identity hidden. This format is ideal for those who are passionate about their niche and enjoy discussing various topics in depth.
To start a podcast, choose a subject matter that resonates with your target audience and aligns with your affiliate marketing goals. Invest in a decent microphone and recording setup to ensure good audio quality, which is crucial for listener engagement. Then, create a content plan outlining the topics you'll cover, potential guests you might want to interview, and any recurring segments you'd like to include.
Incorporate your affiliate marketing efforts into your podcast by discussing relevant products or services and explaining how they can benefit your listeners. You can also create sponsored episodes in partnership with companies whose products you promote.
Don't forget to include your affiliate links in the show notes or direct listeners to a dedicated landing page where they can find more information and purchase the products you recommend.
4. Social Media
Yes, you can do affiliate marketing on social media. To begin, select the social media platforms that best align with your niche and target audience. Popular choices include Facebook, Instagram, Twitter, Pinterest, and TikTok. Once you've chosen your platform, start crafting engaging and informative content that provinces value to your followers.
A great example is Wirecutter, one of the best product-review sites, which accomplishes anonymous posting perfectly on their TikTok and Instagram social media sites. Another way of doing this is by hiring UGC creators or influencers to create content for you.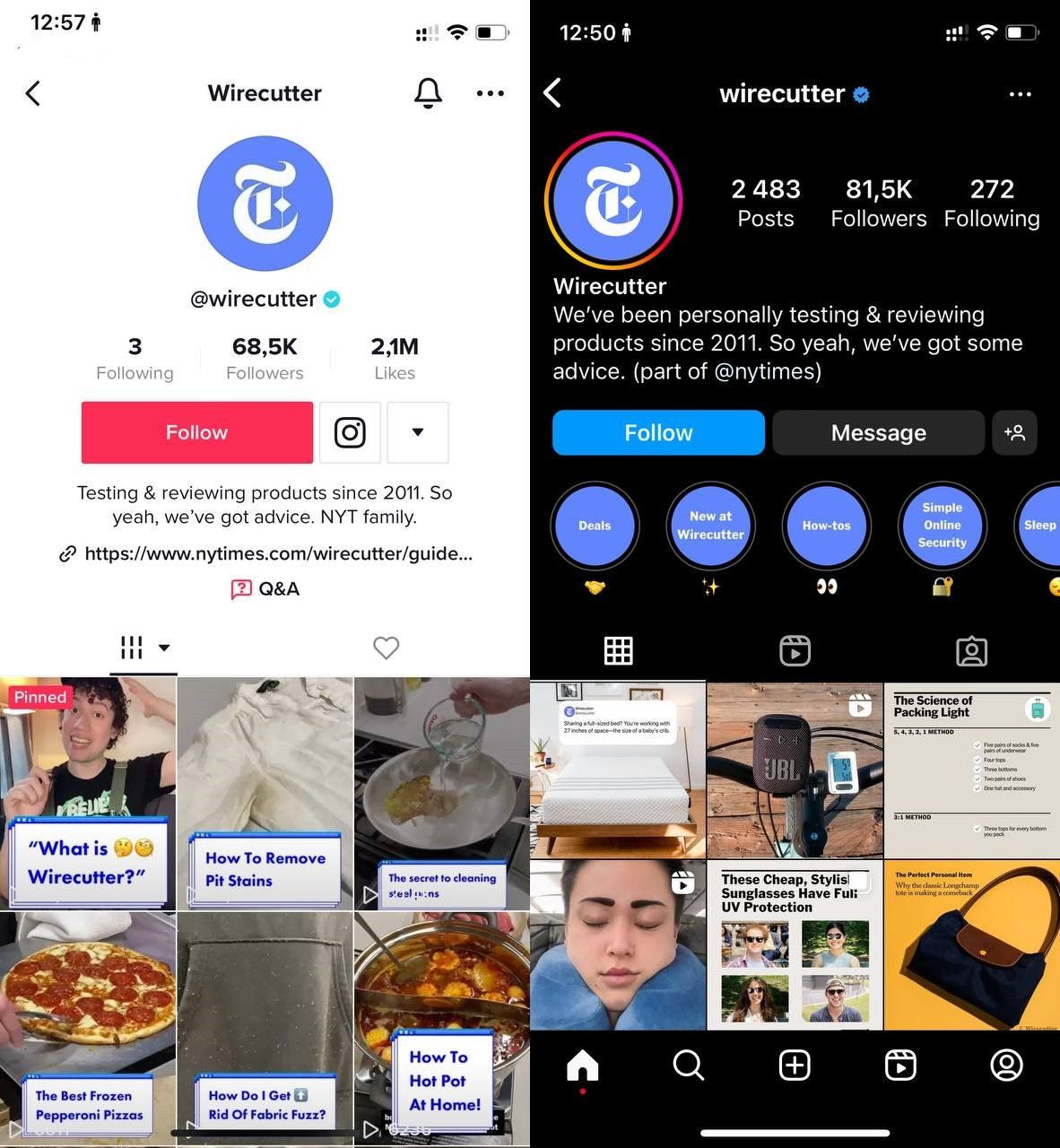 When using social media, share affiliate products or services in a natural, non-intrusive way that complements your content. A great way of creating social media content is to identify a pain point and address how the product solves that particular pain point. Make sure to include a hook in the first 3 seconds. Other content ideas include demonstrating how the products are used or sharing user success stories and testimonials.
5. Email Marketing
Email marketing allows you to communicate directly with your audience, build strong relationships, and promote affiliate products without showing your face or relying on social media platforms.
To succeed, you need an email marketing strategy focusing on four key components: traffic source, landing page, value proposition, and monetization strategy.
Traffic Source: Drive traffic to your signup page by incorporating email marketing with other sources like websites, YouTube, social media, or PPC (paid advertisement)
Landing Page: Design an effective landing page with a signup form, a headline, and a compelling value proposition.
Value Proposition: Provide subscribers with value-driven content or an enticing lead magnet like a cheat sheet, white paper, or e-book.
Monetization: Monetize your email list with relevant affiliate offers, premium subscriptions, or by selling digital products.
Remember that email marketing usually needs to be paired with something else, like a blog, website, landing page, Youtube channel, or social media channel. Some interesting tools for email marketing include Mailchimp and Convertkit.
6. Creating an Ebook
With ebooks, you can easily include affiliate offers within the content and then sell them on platforms like Amazon or distribute them for free on social media. This is another way of doing affiliate marketing without creating a website or a blog—if you don't want to take that route.
When creating an ebook, incorporate your affiliate links naturally within the content so they don't feel intrusive or forced. Once your ebook is complete, you can leverage various promotional strategies, such as social media, guest posting, or email marketing, to reach your target audience and drive downloads.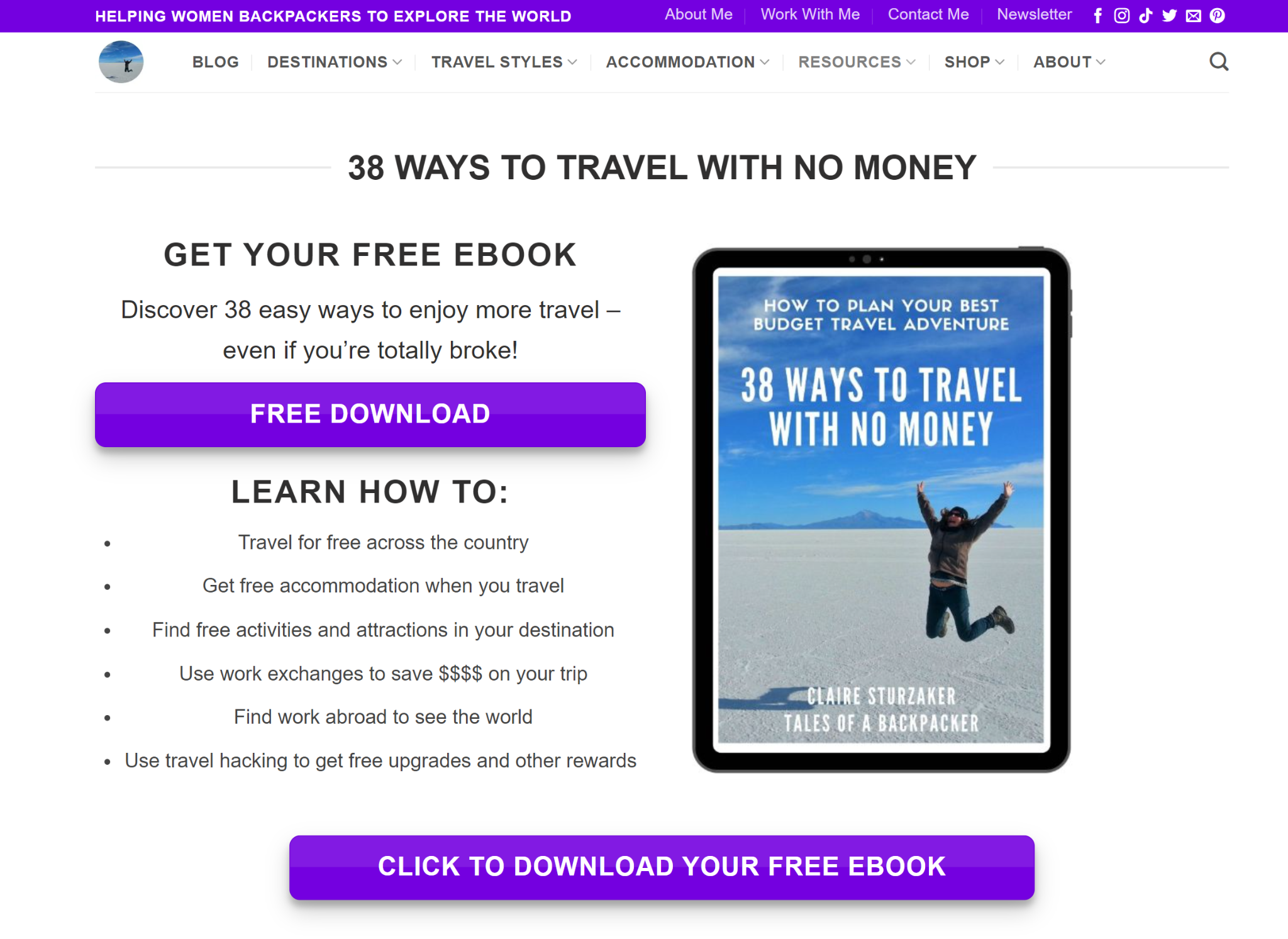 And the best part? Creating an ebook has never been easier. Visual tools like Visme and Canva can help you create beautifully designed ebooks, while tools like Designrr can create AND write your ebook for you.
7. Paid Advertisement
Last but certainly not least, paid advertisement can be a quick and powerful method for promoting affiliate products without revealing your identity. However, it's essential to approach paid ad campaigns carefully, as they can be costly if not executed properly.
By setting up paid ad campaigns on social media or search engines, you can drive traffic directly or indirectly to the offers you're promoting, with or without a landing page. However, using a landing page to build an email list from a paid ad campaign is a great way to minimize the risk of losing money. At the end of the campaign, you'll have a mailing list of potential buyers, adding long-term value.
Keep in mind that paid advertising can be tricky, especially for anyone who has never done it before. To succeed, it's crucial to tweak and test your ad copy and landing pages consistently. Some of the advantages of this method include targeted traffic ready to buy, higher conversion rates, and the ability to get instant traffic.
Final Thoughts: Faceless Affiliate Marketing
So, can you do affiliate marketing without showing your face? Absolutely! There are various ways to engage in affiliate marketing without showing your face. From blogging, creating video content, and hosting podcasts to leveraging social media, email marketing, and paid advertising, each method offers unique opportunities for promoting affiliate products while maintaining anonymity.
Remember that success in affiliate marketing depends on the quality of your content, a well-planned strategy, and consistency. Explore these approaches to find the one that suits your skills and preferences, and remember that patience and persistence are vital to achieving long-term success in affiliate marketing.
By joining a reliable affiliate platform like Travelpayouts, you can enhance your affiliate marketing game. With Travelpayouts, you can access an extensive variety of travel-related affiliate programs, from flights and hotels to car rentals and tours, and earn a commission for every sale you generate. Why not give it a try and discover how much you can earn with Travelpayouts, all without having to show your face?
Join the Travelpayouts Partnership Platform
Access exclusive tools and the best travel affiliate programs, including flights, hotels, car rental, insurance, tours and activities, all in one place.
Join Today
395,000 partners already trust us
120 travel brands
$53M+ total paid since 2011