About the Transfers Market
According to the International Air Transport Association (IATA), in August 2022, global air traffic was up 67.7% compared to August 2021 and reached 73.7% of the pre-pandemic levels.
This is an almost complete recovery of air traffic that has had an excellent economic impact on the tourism sector during the 2022 season. As HSE Drive notes, all indicators are favorable for a full recovery of air traffic in 2023.
As the ground transportation market is linked to air traffic, this recovery of flights has had strong beneficial consequences for all players in the transportation sector. Including HSE Drive, a private driver service for quality transfers.
The service specializes in trips on the French Riviera, one of the world's first tourist destinations and a strategic location. One of the major advantages of this location is that numerous conferences organized for professionals from different sectors take place here.
About HSE Drive
HSE Drive is a search and booking service for first-class taxi services on the Côte d'Azur. Through this service, travelers can book a transfer from or to the Nice Airport, along tourist routes in Cannes, Saint-Tropez, Grasse, Frejus, Ramatuelle, Antibes, and the entire French Riviera. In addition, they can book a car with a driver for business trips to meetings, conferences, festivals, or private events, such as weddings, VIP meetings, or group outwalks.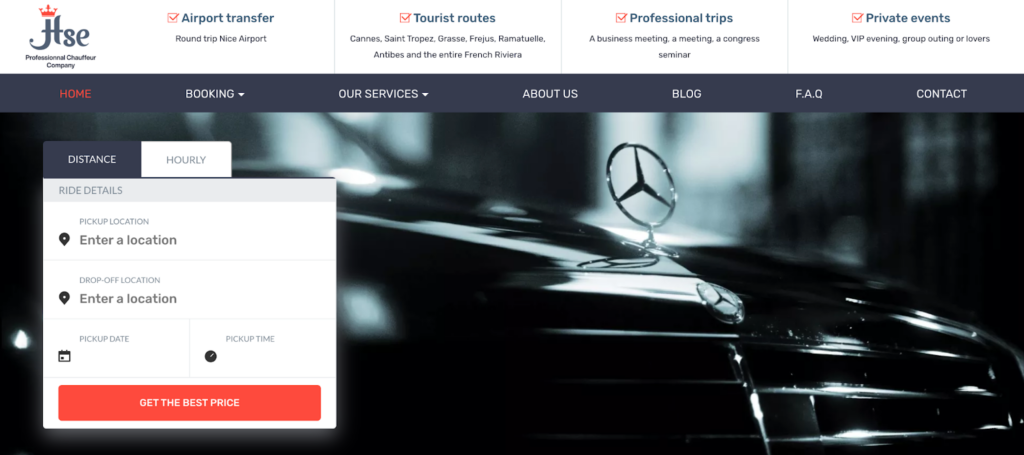 Travelers can find the right car on the HSE website in just five minutes. It's enough to specify the pick-up and drop-off locations, date, and time. With that said, there is another option that allows travelers to look for transfers not by distance, but by time, and move throughout the French Riviera during the specified time.
After users enter all the necessary data in the search form on the site, they will be able to choose the car that best matches their needs and book additional services, such as airport assistance and hostess services, a child seat in the car, or meet and greet in the arrivals lounge.
However, not all travelers enjoy surprises. That is why every car comes with a card that provides a detailed description of the services included in the transfer price.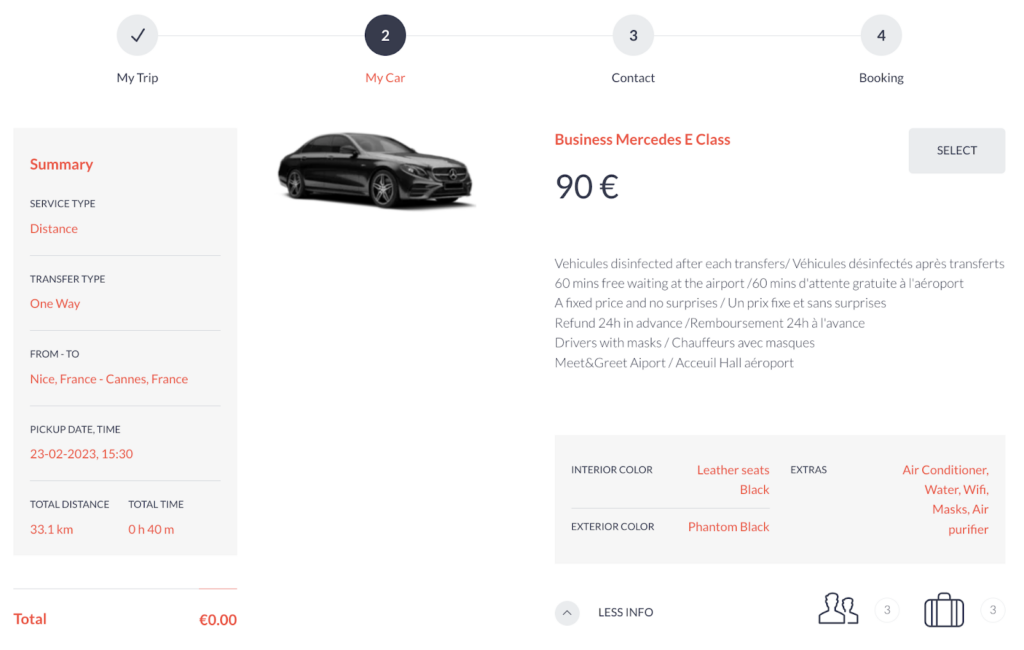 After choosing a suitable transfer, the traveler can only fill out a questionnaire with contact details and pay for the trip with a bank card, or via PayPal. It's also possible to pay for the transfer by cash, but to do so, travelers must pay a 10% deposit by bank card on the site.
The core values of HSE Drive are security, comfort, and privacy. Service customers can appreciate the first-class services of professional and punctual drivers as well as a fleet of safe and comfortable vehicles.
Advantages of HSE Drive for Travelers
HSE Drive offers personalized services for each customer, namely:
Comfortable cars. Recent vehicles from the Mercedes range, refreshments, and Wi-Fi on board.
Calm arrival and departure. One hour of waiting time is included for airport transfers. In addition, HSE Drive follows travelers flights in real-time. In case of delay, one driver will always be present to welcome them.
Meet & Greet at the airport.
Important services on request. Concierge service, bodyguards, etc.
No problems when booking. Reservation module that indicates the final price without surprises and provides 24/7 support.
Regular discounts for transfers.
The HSE Drive Partner Program
Partners earn 10% of the total price reservation made on the desktop or mobile versions of the site. The order is marked as "Paid" after the client uses the service and doesn't cancel their reservation. Partners are not rewarded for purchases made by users in the mobile app.
Owners of cashback, coupon codes, content projects (websites, social media, apps, messenger groups, video platforms), and travel agencies can earn with HSE Drive. The brand also allows media buying and the use of partner tools for personal travel savings or to earn on friends' travel.
Partners can use links, including pre-created URLs and the Deep Link Generator.
Find out the full terms and conditions and join the HSE Drive Partner Program in the Travelpayouts account.
Advantages of the HSE Drive Partner Program
10% reward for each successful sale. This commission is one of the biggest in the Transfers and Airport Services category.
Additional commissions for regular or high-volume businesses.
Different services are complementary to transfers. For example, the concierge and bodyboard services are generally requested by the large clientele of professionals who come to the French Riviera during the high season. These additional services allow you to increase your average check and earn more.
Quick sales and no loss. The HSE Drive website implemented a module that allows you to automate sales without human intervention while allowing for a greater number of reservations to be made more quickly. With this module, the sales are automatically attributed to the partner.
Target Audience and Popular Brand's Products
Target Audience
HSE Drive divides its audience into two segments:
Professionals who come to participate in various conferences in Cannes and Monaco. Generally, these bookings are made by companies. Here are some of the major events:
MIPIM (in March)
Cannes Festival Movies (in May)
Monaco Grand Prix
Cannes Lions
Red Midem
Mipcom
Castellet F1 Grand Prix
Yachting Cannes Festival
Yachting Monaco Festival
Families who go to the French Riviera for vacation and clients who would like to visit all the most beautiful spots on the Riviera.
Popular HSE Drive Products and Their Seasonality
The French Riviera market is seasonal. The season begins in March with the MIPIM international real estate festival and ends in October.
The peaks of demand are:
in May, for the Cannes Festival Movie, which is followed by the Monaco F1 Grand Prix.
in the summer (June – August), when there is a high demand from the Nice Airport to Cannes – Antibes – Monaco – Saint Tropez, and along the entire French Riviera.
Popular Products During the Summer
Nice Airport during all the seasons
Saint-Tropez –> Nice Airport during the summer
Hyères Airport –> Saint-Tropez during the summer
Hourly service is very much in demand during the conference period and during the summer in places like Saint-Tropez and Cannes.
Popular Products During The Winter
HSE Drive also offers reservations at ski resorts located in the heights. This generates requests for transfers from Nice Airport from December onwards. Here are some such options:
Isola 2000
Valberg
Les Orres
Depth of Booking Transfers
International companies that send their employees to conferences generally make their reservations in advance, because they know that it's a period of high demand. Nevertheless, during these periods, there is always a high demand for last-minute transfers for people who want to book a transfer the day before, for example.
Best Practices for Promoting HSE Drive
Give Preference to Google
Most brand searches are made on Google's search engine. The brand recommends giving preference to organic Google search traffic because most customers want to make their reservations on this search engine.
Create Content That is Relevant For Search Engines
According to brand reports in Google ADS, HSE Drive clients use the following search queries:
taxi Nice airport
taxi to Nice airport
taxi Nice airport saint tropez
taxi Nice airport Monaco
cannes chauffeur service
taxi Nice airport to cannes
taxi Nice airport Antibes
In addition, you can write content about the different conferences held on the French Riviera. It can also be a solution to capture the traffic interested in the proposed services.
Focus on Savings and Speed in Your Content
At different times, the brand offers a coupon for a discount of up to 10% to generate even more sales. Users can find the coupon on the homepage of the site.
According to the brand, in this business, customers are looking for information on rates quickly. Providing this information as quickly as possible will strongly promote sales. That's why HSE Drive has set up an automated module on its homepage that allows customers to select their points of departure and arrival as well as immediately check the cost of the transfer.
Join the HSE Drive Partner Program and earn 10% of the total price booking price of the transfer.