How to Join Threads
Anyone with an Instagram account can create a Threads profile in a couple of minutes. With a single click, you can also subscribe to all of the accounts you are following on Instagram who are already using Threads. Consequently, many of your followers will subscribe to you immediately, which means you'll quickly increase your follower count on Threads.
Your followers can see your posts in their feed and from your profile, but don't worry, you have full control over who can see your content thanks to your privacy settings. If people like what you post, they can reply to add to the discussion or show their appreciation by liking, sharing, quoting, or reposting your content.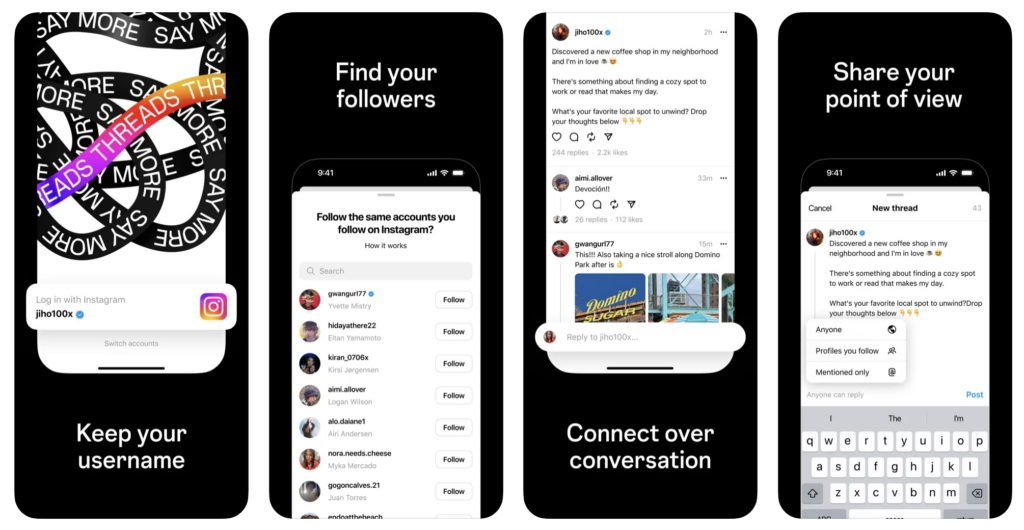 What's the Difference Between Twitter and Threads?
At a glance, it seems that Twitter and Threads are very similar, but the difference between the two platforms is significant.
User Experience: Twitter is a microblogging site where users can post short messages called "tweets". The platform emphasizes public conversation and has features like retweeting, replying to tweets, and hashtags, which you can use to join larger conversations. On the other hand, Threads is designed for more intimate and private sharing. It's an Instagram spin-off app where you can share photos, videos, and messages with your "Close Friends" on Instagram.
Privacy Settings: On Twitter, unless you lock your account, your tweets are visible to everyone. With Threads, the focus is on sharing with a select group of people, which enhances privacy.
Content Sharing: Twitter allows for text, image, video, and link sharing, whereas Threads is primarily for photo and video sharing, similar to Instagram Stories.
Audience: Twitter is often used for news, public discourse, and brand promotion. As a result, it has a broad user base. Threads seems to be targeted more towards younger users who want to maintain closer connections with a smaller circle of friends.
Speed and Automation: One of Threads' unique features is the "auto status" update, which automatically shares small bits about where you are or what you're up to without sharing your exact location. Twitter doesn't have an equivalent feature.
Benefits of Threads for Travel Bloggers
This list will help you understand how you can use Threads.
New Opportunities: As a new social network, Threads represents an exciting chance for travel bloggers to explore and experiment with fresh ways of engaging with their audiences. Even though advertising isn't currently available, the platform itself presents users with a wealth of opportunities.
Easy to Get Started: Signing up on Threads is straightforward and gaining your first followers is simple, as the platform can pull from your Instagram account.
Personal Connection: Threads offers a more personal way to connect with your audience compared to Twitter, fostering a sense of community among your followers.
Intimate Engagement: With Threads, you can create a list of close friends to share exclusive content, such as behind-the-scenes footage, sneak peeks, or special promotions, making your relationship with them more intimate and special.
Keep Your Audience Informed: Threads is an ideal avenue to keep your audience up-to-date about upcoming events or important news related to your travels.
Cross-Promotion Potential: As a platform that integrates seamlessly with Instagram and other Meta products, Threads offers a high potential for cross-promotion and diversified reach, helping you grow your follower base across multiple platforms.
Some Features of Threads That Are Worth Considering
When preparing to think about a promotion strategy in Threads, keep these features in mind:
Limited Audience: As Threads is designed for sharing with a close circle of friends, it may not be the best platform for travel bloggers looking to reach a wide audience.
Lack of Discoverability: Unlike Twitter or Instagram, Threads does not have a public feed or hashtag system that helps new followers discover your content.
No Link Sharing: Travel bloggers often try to share links to their blog posts or other resources, which is currently not supported by Threads.
Limited Content Types: Threads is primarily for sharing photos and videos. If a travel blogger wants to share text-based updates or articles, they might find the platform limiting.
Absence of Business Features: Unlike Instagram and Facebook, Threads doesn't have business profiles, insights, or advertising options that many bloggers use to grow and monitor their reach.
What Do Travel Bloggers Think About Threads?
I would say that I enjoy it more than Twitter so far because it feels like a much safer space so far for women. Twitter has lots of folks who feel like they can say whatever they want to women – violent or otherwise. I hope this little oasis lasts! HOWEVER I do have serious concerns about the amount of data Meta makes you sign away. You can't even undo or delete that information if you delete your threads.
Threads has caught my attention as an active content creator. It feels like an extension of Instagram, allowing for a more authentic expression of thoughts and ideas. The sense of community on Threads is appealing, fostering meaningful interactions with like-minded individuals. I've even noticed a dip in engagement on Instagram around the same time as its launch, so I hope the app isn't cannibalizing. However, the initial hype might be short-lived, similar to other new apps like Clubhouse. I believe its success will depend on standing out in the competitive social media landscape. As content creators, managing another platform can be overwhelming, so I hope Threads continues to evolve with unique features that justify investing time and energy. I'm excited to see how it develops.
As far as Threads go, I personally love the platform. I feel like I have tapped into a slightly different audience while still speaking to my existing audience. I feel like it is the raw piece that Instagram is missing. I think there is potential in it, but I think the interest of audience members could fade to be a place where only creators connect, which in my opinion is not bad because we all crave more real moments and connections.
I was able to download Threads a day before the launch. Where I think Threads went right was by allowing you to follow all your Instagram accounts. This helped reduce the anxiety of working on getting a following for content creators. Also, if a creator was never able to build a Twitter community, but has a following on Instagram, this put Threads a step above the game. I also love how you can add multiple landscape images while also being able to add a link.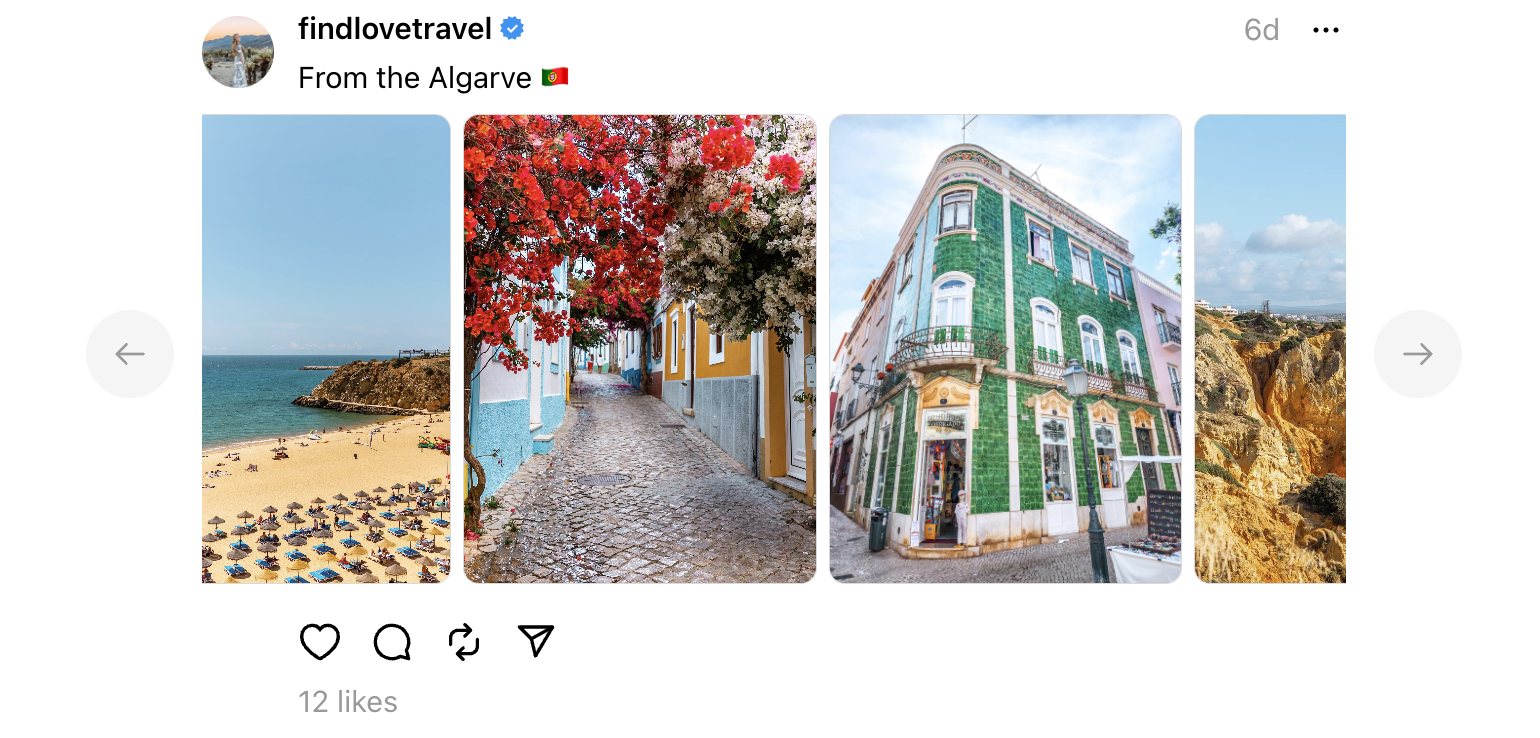 However, with increasing social media platforms, I think creators are starting to feel it is hard to juggle them all, and unless Threads can really bring value and monetization for creators, I am curious what the drop-off rate of creators will be.
I definitely think there is potential for bloggers with the ability to easily be able to add photos and links, but I wouldn't be surprised if they don't receive the user volume expected.
Meta is a master at taking what works and what doesn't from other platforms so I expect the platform will likely continue to grow. While the no-links aspect is frustrating as a blogger and YouTuber, it is refreshing from a platform user standpoint. It allows you to connect with people fully rather than running off to their links first or pushing them to your own. Any new platform offers a great time to connect to new people or people who have too large of a following on other platforms! Embrace it that, but don't abandon your other platforms just yet.
It is really exciting to have a new social network. But Threads isn't really offering bloggers a new audience since everyone is coming over from Instagram. And, it isn't a Twitter where it is easier to discover people with like interests. So, it seems to be a place to engage differently. I do think it has the potential to be a place for interesting discussions. But three weeks in and my initial excitement has waned slightly.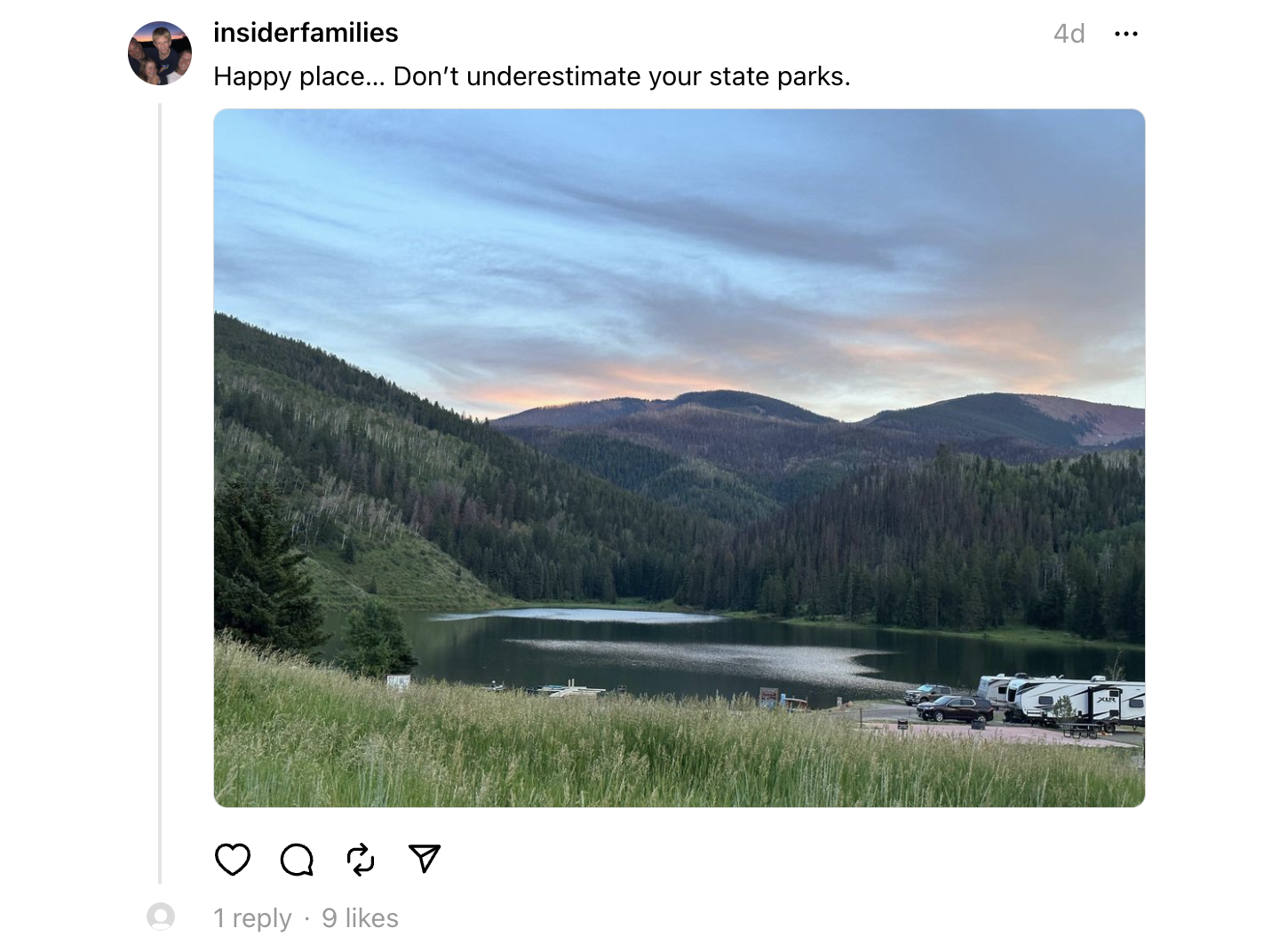 We believe it's always worth trying new things, even if you later decide to give up on them. What do you think? Tell us in the comments of this article: Have you tried Threads yet? What do you think about this new social network?