Before diving into the world of affiliate marketing, it's wise to have an idea of how much you can earn. Your average affiliate marketing income will depend on various factors, including the affiliate programs you join, your website's traffic, your niche, and more.
However, the possibilities are endless once you get the hang of affiliate marketing. Brand-new affiliates with decent website traffic can earn up to $1,000 per month, and super affiliates with a dedicated following can earn more than $100,000 per month!
What Is the Affiliate Marketer Average Salary?
This chart, with information from Authority Hacker, explains the average affiliate marketing income that successful affiliates earn per year.
| | |
| --- | --- |
| Affiliate Marketing Income per Year | Percentage of Affiliates |
| $20,000 (or less) | 19% of affiliates |
| $21,000 – $80,000 | 20% of affiliates |
| $81,000 – $120,000 | 14% of affiliates |
| $121,000 – $200,000 | 13% of affiliates |
| $201,000 – $400,000 | 7% of affiliates |
| $401,000 – $2,000,000+ | 27% of affiliates |
How Much Money Can You Make with Affiliate Marketing in the Travel Niche?
The travel affiliate marketing niche is very profitable because it has a broad appeal and can attract customers from various stages of life ​​— from digital nomads and study abroad students to family travelers and retirees.
Additionally, many travel affiliate programs offer high commission rates, and the average booking price is usually high. For example, on Travelpayouts, affiliate partners like Booking.com offer a 4% commission (an average of $5 per sale), and GetYourGuide provides an 8%–10% commission (an average of $8-10 per sale).
Below, we've gathered some information from successful travel bloggers and content creators who have shared their average affiliate marketing income and affiliate platforms.
| | | | |
| --- | --- | --- | --- |
| Content Creator | Affiliate Income | Time | Affiliate Platforms |
| Two Wandering Soles | $53,078.98 | 3 months | Amazon, Booking.com, Agoda, JR Pass, RentalCars.com, Allianz Travel Insurance, World Nomads, CityPASS & VIPKID |
| Where's Sharon | $29,452.00 | 3 months | HotelsCombined, Booking.com, Agoda, Amazon, Wild Earth & eBay |
| Helene In Between | $7,951.25 | 1 month | Siteground & Genius Blogger's Toolkit |
| Adventour Begins | $300 | 1 month | Travelpayouts (Viator & GetYourGuide) |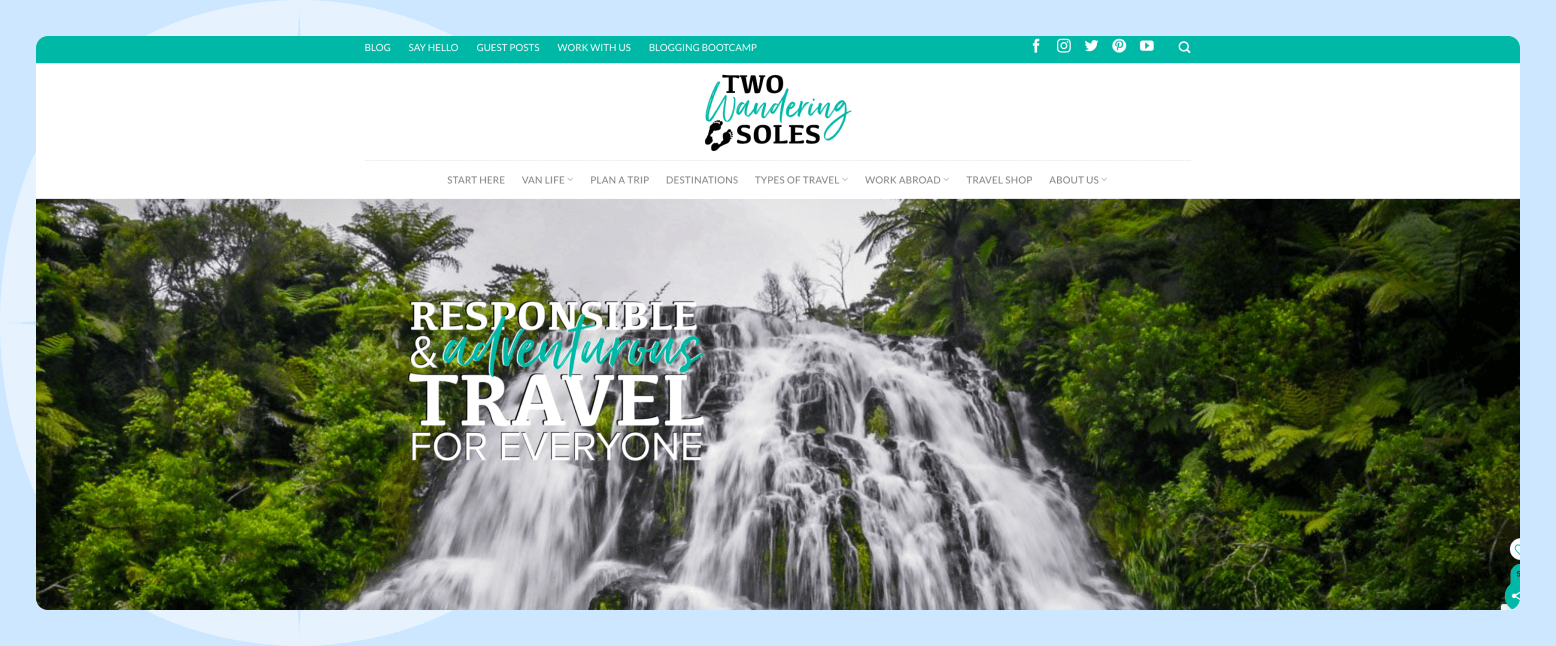 Four Practical Ways to Improve Your Affiliate Marketing Salary
As you can see from the examples listed above, it's not difficult to earn a sizable salary from joining affiliate programs for travel-related companies, like Booking.com, GetYourGuide, and Rentalcars.com, and promoting their products to your audience.
However, to be successful as an affiliate marketer in the travel industry, it's crucial to understand how to create top-quality content. We work with 300,000+ travel bloggers and creators from around the world, so we've seen what it takes to optimize your blog for success. These are some of the most effective tips to find success as a travel affiliate marketer.
1. Choose the Right Affiliate Program & Products
First, it's essential to choose the right affiliate programs, products, and services that will resonate with your audience. For example, a website that appeals to college students or budget travelers will have better luck promoting products from Hostelworld. In contrast, a blog for honeymooners or luxury travelers may be better off promoting products from Booking.com.
Similarly, when searching for the best travel insurance affiliate program to join, you may come across Insubuy — a travel insurance provider for travel in the United States. Insubuy would be a great travel insurance affiliate program to join if your audience is primarily based in the U.S. or frequently travels to the United States. However, suppose you have a blog that mainly focuses on travel around Europe or Asia. Insubuy won't appeal to your audience in that case, so you won't make as much money as you would joining a travel insurance affiliate program with worldwide coverage, like VisitorsCoverage or EKTA.
2. Use Affiliate Tools Correctly
Most affiliate programs offer several tools to promote affiliate offers across your website, such as deep links, widgets, and banners. While using multiple tools can be helpful to boost engagement with your affiliate products, it's essential to use each tool correctly if you'd like to maximize your average affiliate marketing income.
Travelpayouts offers a free guide, How to Use Affiliate Tools: The Ultimate Guide for Travel Publishers, to help travel creators learn what affiliate tools are available with each program, the common mistakes in tool placement, how to choose the best tools, and how to place tools effectively. To kickstart your average affiliate marketing income, you can download this guide today in exchange for your email address.
3. Optimize Your Content for SEO
No matter how perfectly matched your affiliate programs are to your audience or well-placed your affiliate tools are, you won't earn affiliate income if you aren't driving traffic to your website through social media or search engine optimization. According to Oxford Languages, search engine optimization (SEO) is "the process of maximizing the number of visitors to a particular website by ensuring the site appears high on the list of results returned by a search engine."
Suppose you're not familiar with SEO or would like to hone in on your SEO strategy to maximize your affiliate income. In that case, you can join our free course, Boost Travel Affiliate Revenue Using SEO, from the Travelpayouts Academy. In this course, you will learn how to use search intent to earn more affiliate commissions, how to find the keywords you can rank for, the best types of articles for travel affiliate marketing, and more!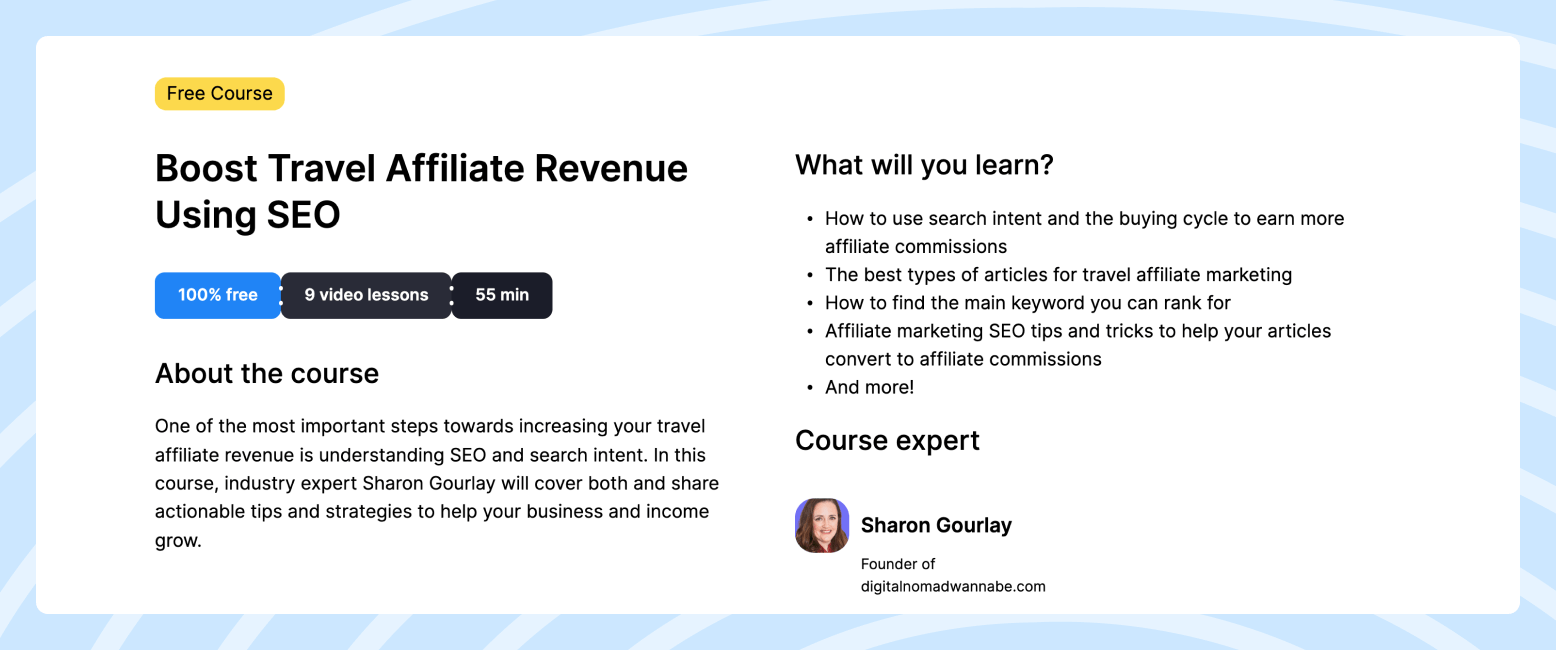 4. Analyze & Experiment
Finally, successful affiliates making an affiliate marketing income would tell you that analyzing your campaigns, experimenting with new affiliate programs and tools, and tweaking your strategies is the best way to find success with affiliate marketing.
Travelpayouts offers a dashboard for affiliate partners, allowing them to track their impressions, clicks, pending affiliate income, and other statistics. The information on your dashboard can help you determine if your affiliate marketing strategy is working and allows you to make minor modifications based on detailed data that can result in big success!
Wrapping Up
As you can see, the average affiliate marketing income varies depending on your monthly website traffic, commission rates, and niche. However, any travel blogger or content creator can be successful as an affiliate marketer with the right strategies, like choosing the correct affiliate products, using affiliate tools correctly, and implementing SEO strategies to drive website traffic to your affiliate links.
If you'd like to join a travel affiliate network with access to hundreds of top-rated programs, like Booking.com, GetYourGuide, and Rentalcars.com, we'd love for you to join us at Travelpayouts. Join our partnership platform to start earning an affiliate marketer average salary that will allow you to travel the world while generating a passive income!
Join the Travelpayouts Partnership Platform
Access exclusive tools and the best travel affiliate programs, including flights, hotels, car rental, insurance, tours and activities, all in one place.
Join Today
395,000 partners already trust us
120 travel brands
$53M+ total paid since 2011