How It All Began
I am originally from Leicester (UK), but I studied in Manchester and moved to Dublin to work for Google before moving to London, where I am now.
Since 2015, I've worked at Google and YouTube in sales/partnership roles, as well as in marketing/growth roles in ticketing, and a fintech startup in London. Whilst working at Google, I set up a couple of side projects, both related to electronic music.
In 2019, I left my last full-time role and now split my time between freelance marketing consulting and managing my event-ticketing affiliate website, Tickets Ibiza.
I've always had a passion for music and my career frequently gravitated toward the business side of music. Turning a side project into my main source of income has been one of my primary business goals over the last few years.
About Tickets Ibiza
Tickets Ibiza is a nightlife information site for clubbing in Ibiza. The typical user is searching for information about Ibiza's events and looking for tickets to buy before visiting the island.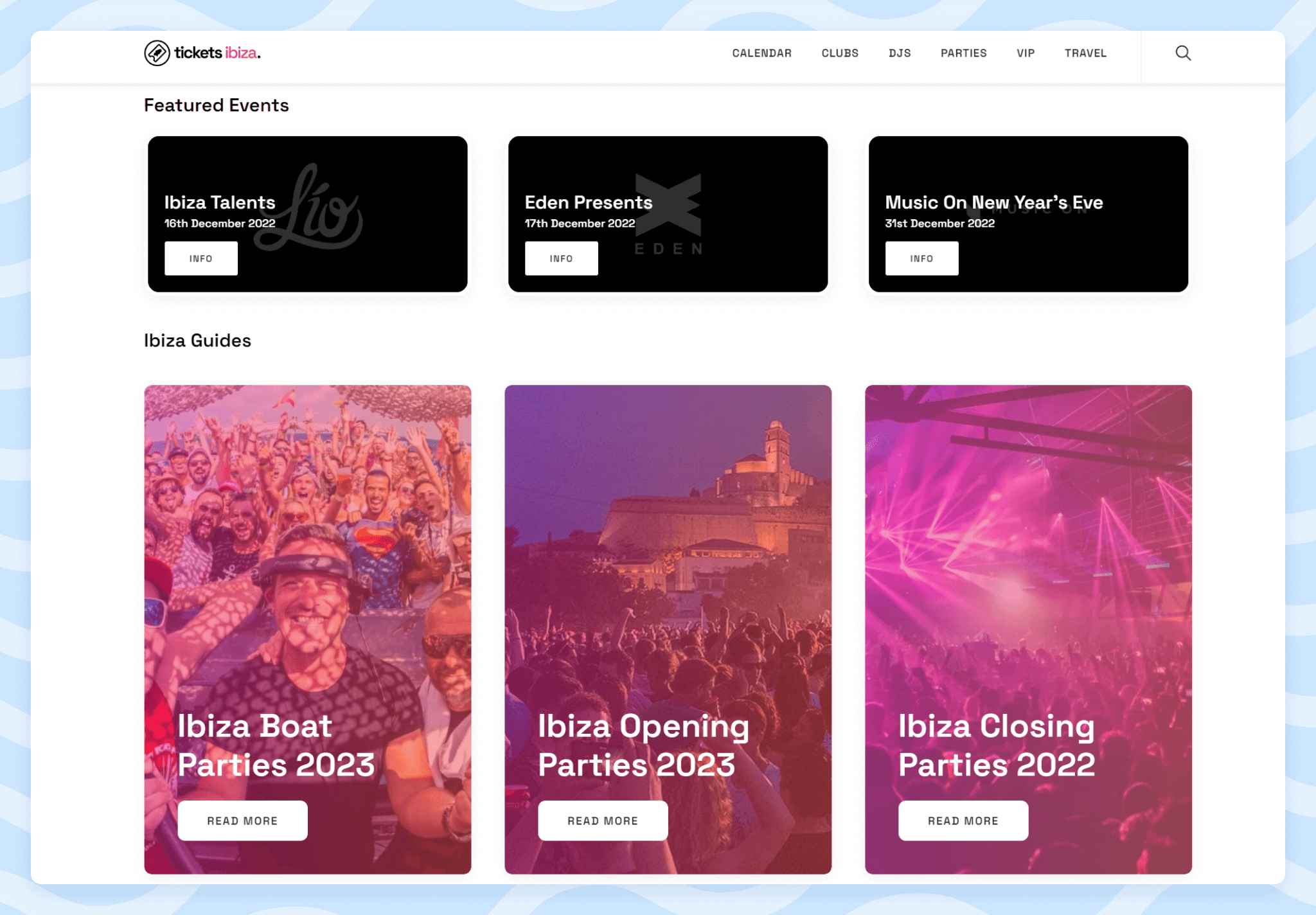 The site contains guides about the island's nightlife, calendar listings for all major clubs, and helps users find the cheapest tickets for the 700+ club events that take place on the island each summer.
The site does not sell tickets directly to events, but instead directs traffic to different ticket agents on the island of whom I am an affiliate.
Over the past two years, I have been expanding beyond articles for nightlife and into accommodations as well. During the pandemic, my blog survived hard times. Ibiza's clubs closed entirely in 2020 and 2021. But now, things have been far more normal.
Blogging Journey
I started my first electronic music blog in 2010 (called Tech Beats). At this time, I just wanted to put into practice some of the things I was learning at work. There was no plan to turn it into a business. I relied nearly entirely upon traffic coming from social media. Back in the day, it was easier to grow an audience on Facebook.
A couple of years later, I started Tickets Ibiza. I had been writing some articles about Ibiza, which is known as the home of electronic music. Millions of tourists visit Ibiza's clubs every summer season.
Due to the amount of potential content to write about, creating a spin-off website from my main blog made sense.
Traffic
95% of traffic to my site is from organic search (SEO). In fact, all of my site's content is based around SEO. However, I don't see my website as a blog. Instead, I focus on driving traffic to the website for search terms that will remain popular every year.
When I first started, I lacked technical knowledge and relied upon traffic from social networks too much. I actually knew far more from a search from ads (PPC) perspective than from an organic (SEO) perspective. As a result, my site wasn't well organized and my content strategy was very ad hoc.
It wasn't until several years later, when I had taken a coding course and "re-learned" SEO, that I realized I needed to re-build Tickets Ibiza from scratch. This time, the site would be built entirely with search traffic in mind.
To give a specific example, my URL structure was non-existent. Having a clear strategy of where each page fits into the site's overall structure is an important part of building a site that's optimized for SEO.
Through experience, I have identified some important components and approaches for optimization on Google:
Keyword research is the most important thing to fully understand in your niche. There is no point in starting an affiliate business that revolves around SEO unless you know there is relevant search traffic to go after.
Once you know the monthly search traffic within your target market, you can begin writing content to rank for those keywords. That's the second most important thing: knowing what to write about by having a lot of knowledge in the area and answering the user's search query better than your competitors.
Time on site and number of pages visited are particularly important for SEO. This is why I write long guides on specific topics (e.g., "Ibiza Opening Parties"). I want this long-form content to keep users on the site for as long as possible.
When writing an article for a new piece of content, look at the top three competitors for your market. Your job is to write a better (and probably longer) piece of content than them.
Keeping up with the latest SEO developments, competing with much larger businesses for some of my target keywords, and not being able to control people's confidence regarding the return of event tourism in 2022.
In addition to building organic traffic, I have a growing email subscriber list of just under 20,000 users. Currently, I only send one email per month, but I would like to increase the frequency and definitely see this as a source of revenue growth (e.g., sponsorships) in the future.
Content
I research and write all of the content for the website myself. I've been going to Ibiza for ~13 years and have spoken to lots of people who have never been before. They all normally have the same questions before they go!
To find potential topics for my content, I conduct a lot of keyword research to see where I might be able to write better content than what's already out there. In the travel niche, I often find there are very generic articles written about destinations, which make it obvious that the writer has not actually visited said destinations.
As such, I can tell when I'm likely to have an advantage in writing an article that provides better value to a user.
The original idea for a topic might come from either keyword research, forums, or social media sites, such as Reddit, where specific questions are already being asked about a topic I could potentially write about.
For example, the Ibiza subreddit is full of people who ask questions such as "when do Ibiza clubs open?" and "what time of year is best to go to Ibiza for parties?" These are the types of questions I focus on when it comes to writing an article that answers a specific question.
When it comes to writing, I think the most important factor is having a passion for your chosen subject. A reader can tell when they're reading something by a subject matter expert (someone who really understands the topic).
In addition, regarding SEO, perseverance is essential. SEO results don't come overnight. You have to not only write great content, but also optimize it, and sometimes, wait a long time to see your hard work turn into page views, and in turn, revenue.
Monetization
I have four streams of monetization:
Event ticket affiliate sales
Contextual ads
Travel booking affiliate sales
VIP table reservation affiliate sales
Event ticket affiliate sales account for over 85% of the site's income. This is by far the most important stream. All of the other streams contribute roughly ~3% of the site's revenue each.
I partner with Travelpayouts, as it is a great platform for expanding the number of travel affiliate programs I can work with. I've been very impressed by the admin dashboard, particularly the ability to track affiliate clicks, impressions, and sales on a granular level.
I also integrate their reporting into my own by using the reporting API for HotelLook, which is very useful to me.
Knowing that there are many programs I can join with Travelpayouts gives me confidence that I can expand the offers I make to users of my site. For example, I would like to expand into writing content for yacht charters within the next 12 months. I know there is a specific yacht charter affiliate program in the Travelpayouts program list that I can easily apply for.
Finally, I appreciate the upfront transparency that Travelpayouts offers. It's very clear what each program's affiliate terms are (e.g., the commission rate).
Join the Travelpayouts Partnership Platform
Access exclusive tools and the best travel affiliate programs, including flights, hotels, car rental, insurance, tours and activities, all in one place.
Join Today
395,000 partners already trust us
120 travel brands
$53M+ total paid since 2011
In addition to Travelpayouts, I partner with Stay22. Through this program, I also link to Booking.com from my event page maps: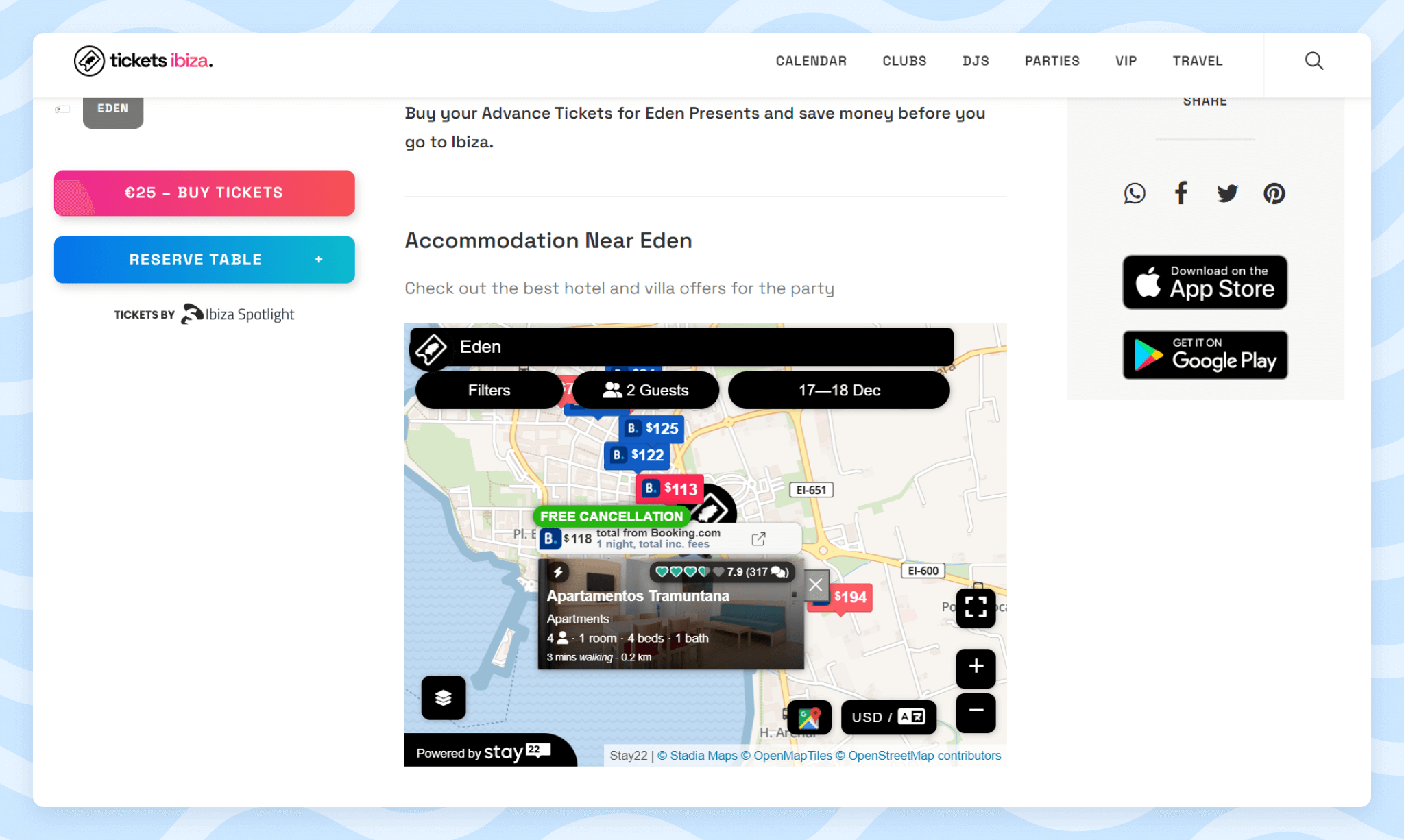 Regarding ads, I only started showing ads this year, after having signed up with the ad publisher network Mediavine. The RPM varies between $5–$10. I often see travel sites receive a much better RPM, but since my audience is mainly in the UK (60%) and only 5% in the US, I'm pretty happy with it.
I put a huge amount of work into my website during COVID and received nearly zero revenue for two years. At that time, I had to keep telling myself "this is not pointless" and that I would see results once travel resumed.
In truth, I knew that getting to the top of the search results for keywords I had been working towards would eventually pay off. I mentioned it before: perseverance is key with SEO and business in general.
Other than the ticketing affiliate programs, I use Stay22 for embedded maps on our event pages. They have a nice and simple map integration that fits in well with my site.
Seasonality
The Ibiza clubbing season runs from April to October. Outside of these months, very few tourists visit Ibiza since the clubs are (for the most part) closed.
I'm currently working on increasing my non-event-related content on the site to address this. I'd like to increase the contribution of accommodation revenue that the site receives since the winter is generally when users are researching and booking their holidays for next year.
Tours and Activities Affiliate Programs
Tours are definitely an area I would like to write more content for. I partner with Viator tours and activities affiliate program, because of the few boat tour vendors that work well in my niches, one is "Ibiza Boat Parties".
I have an Ibiza Boat Party guide that ranks many of the different boat party operators on the island. It also includes a calendar that displays all upcoming events and provides a short review of each operator.
The calendar links out to different operators depending on which platform sells tickets to the events.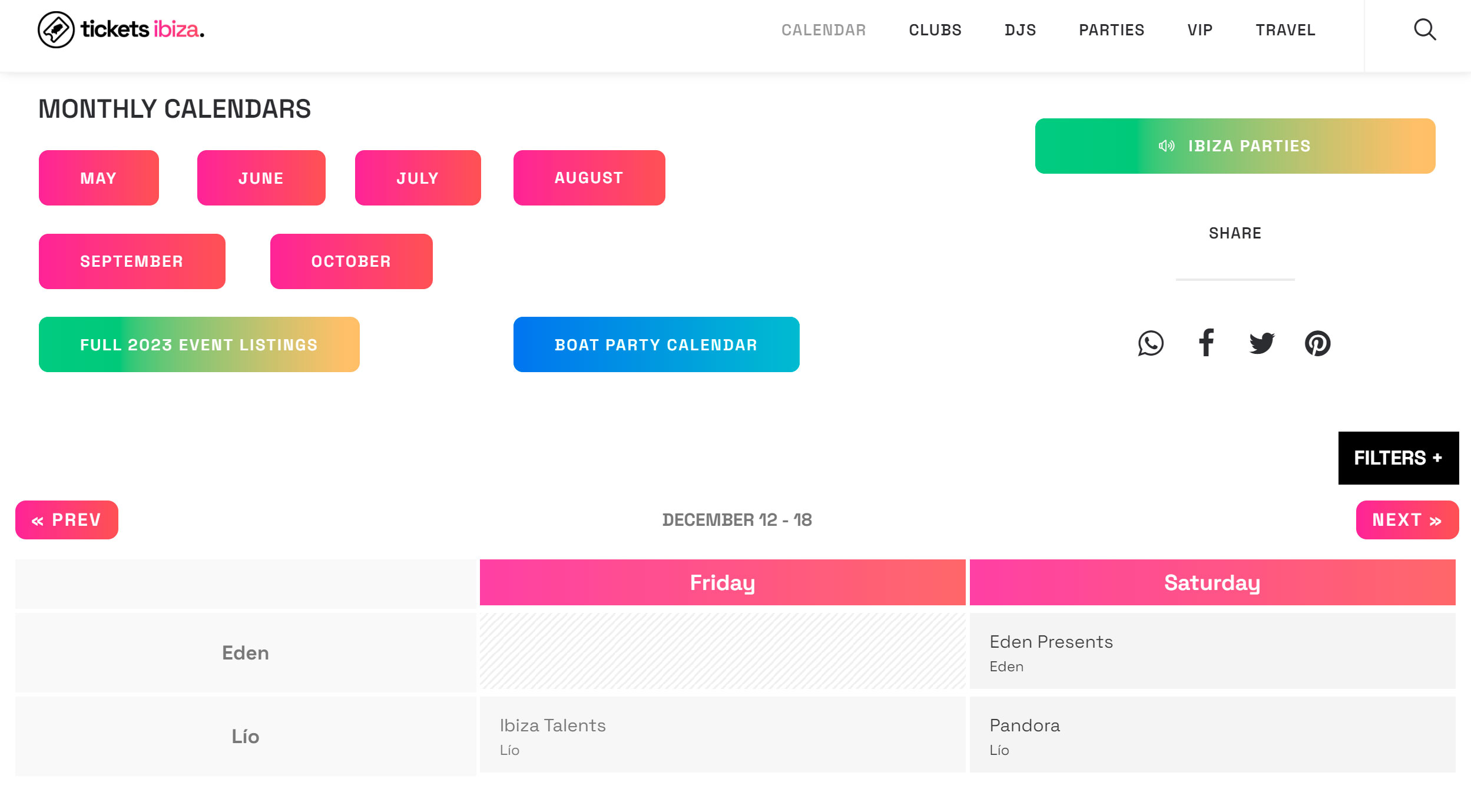 For Ibiza Boat Parties, I'm directing users to platforms where they can purchase tickets, such as Viator or Ibiza Spotlight (the main ticketing agent in Ibiza).
Each event has its own dedicated landing page (optimized with EventSchema), but can also be found by browsing the wider events calendar on the website.
I mostly use affiliate links and don't use many widgets for my events site. A simple button with the correct deeplink is all I require. I always try to deeplink users to the specific event's shopping cart that they are looking for. The fewer clicks the user needs to take to make their purchase, the better.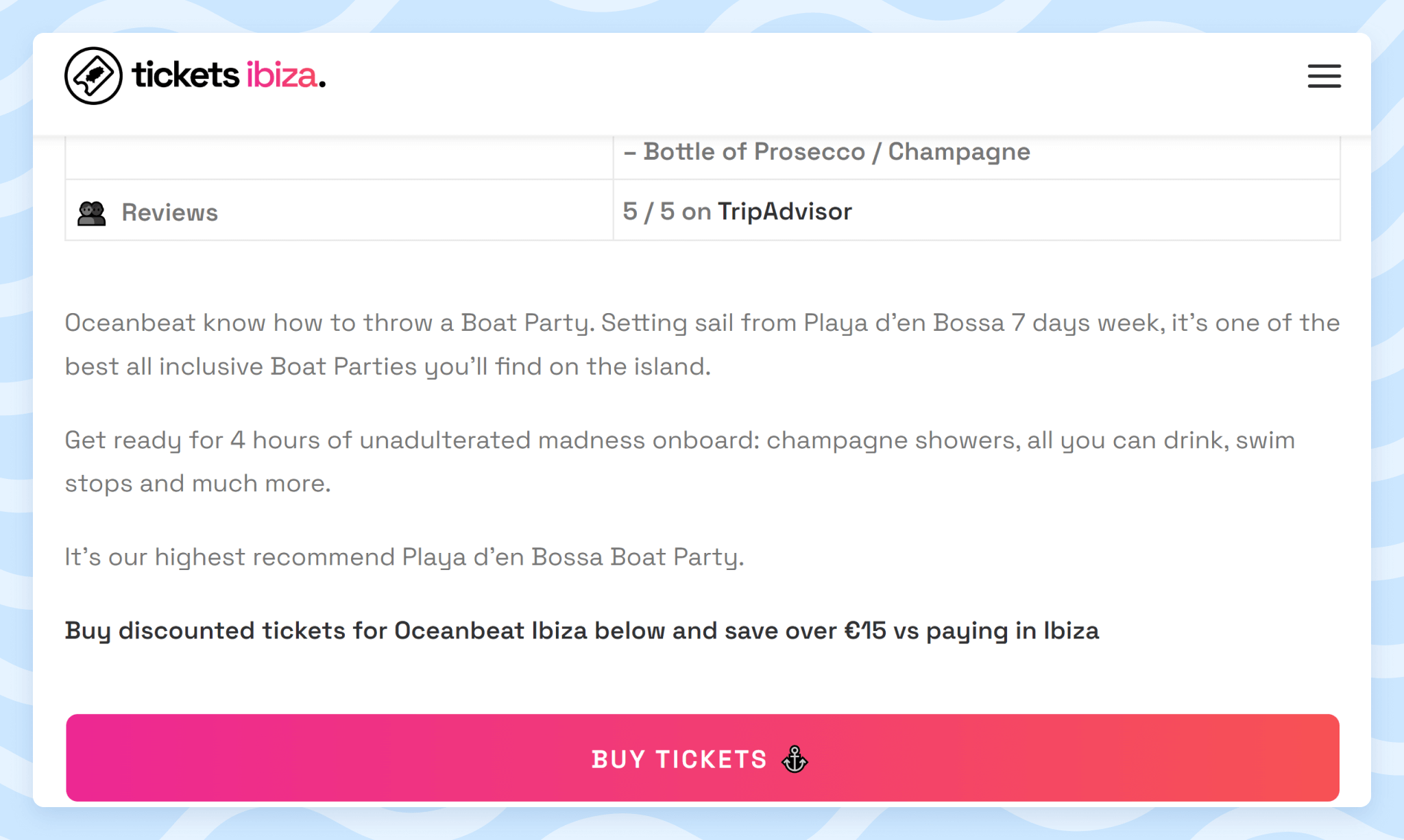 Mobile Apps
In addition to the site, I also have applications on:
I used a no-code platform called AppGyver to build my iOS/Android apps in under two months. I highly recommend the platform.
Although AppGyver is a no-code platform, it definitely helps me understand some programming basics, which allows me to customize my apps with more precision.
In addition, I took a web development bootcamp a few years ago, which has helped me a great deal in being able to manage my own site. This also laid the groundwork for my understanding of APIs and, in turn, React Native (the language used to build apps).
Even though I'm not a developer, equipping myself with some technical knowledge has given me the ability to maintain my website and app by myself.
The apps only serve one function: to search for events and direct users to where they can buy tickets. So, there's no long-form content or accommodation content on the apps. As a result, the only monetization on the app is via ticket affiliate sales.
Key Takeaways
Even if you have a full-time job, you can start your own projects to put what you learned into practice, and perhaps turn it into your new main job.
Having perseverance and a passion for your subject are your keys to succeeding as a blogger who earns money via affiliate marketing.
Be sure you can commit yourself to any business you're going to start for several years. Success does not come overnight.
Keyword research is the most important thing to fully understand in your niche. Once you know the monthly search traffic in your target market, you can begin to write content to rank for those keywords.
When creating a new piece of content, look at your top three competitors. You should always strive to create a better piece of content than them.
In addition to conducting keyword research, the original idea for a topic might come from forums or social media sites, such as Reddit, where specific questions are already being asked about.
Traffic from England may generate less revenue than traffic from the US.
Partnering with Travelpayouts is a way to expand the number of travel affiliate programs you can work with.
You can create your own mobile apps even if you are not a developer by using no-code platforms, such as AppGyver.
Mobile apps can be a source of income as well (e.g., you can add affiliate links to vendors and receive profit the same as you would from your website by selling goods or services).
–
Want to share your story? Travelpayouts welcomes all bloggers with any travel-related experience. Write to us at an@travelpayouts.com with the following subject: "Story for the Travelpayouts Blog".