What Do You Need to Become a Successful Blogger?
Blogging is one of the best and most reliable ways of making money online. But to build a successful blogging business, you need to provide value to your audience every step of the way and make it worthwhile for them to browse on your website.
The foundation of every successful blog is an efficient content marketing strategy. If the content you publish is relevant to your readers and helps them solve their problems, they will come again and again to learn more. No less important is optimizing your blog and making sure your readers can easily navigate it when looking for information. Proper SEO and keyword-rich content will make your blog more discoverable on Google and other search engines, thus driving more traffic to your page.
Most bloggers who manage to grow their following and establish expertise in the niche distinguish themselves from their competition due to their personal qualities. Most often, they are passionate about the blog topic, have great writing skills (or know how to find good writers), constantly invest into SEO, enjoy networking with other bloggers in the niche, etc.
In this post, we will take you through the most important steps that every blogger should take to grow their online presence, as well as top skills that will help you on your road to success.
Simple Steps to Become a Blogger
Starting a blo
Starting a blog is a straightforward process. The best strategy is to break it down into several steps and take each step one at a time. Below, we will explore three crucial things you need to do to become a blogger.
Choose a Blog Name and Hosting Domain
If you want to create a blog for your existing offline business, then you should choose a blog name and, subsequently, domain name, based on your niche. Take advantage of the opportunity to choose a name with one of your most important keywords to rank higher on search engines. If domains corresponding to your business name are already taken, you can change up your original idea a bit or change the top-level domain. For instance, instead of ".com", use a country-specific domain. Alternatively, if you are creating a brand new online venture, but already know what to blog about, be sure to research the market and choose a catchy name for your blog based on that. Ideally, your blog name should appeal to your target audience and contain one of top keywords in your niche. One great example is The Blonde Abroad travel blog. As the name suggests, the blog targets mostly female travelers.
If you don't know what to blog about yet, seek out areas that you are passionate about. You will spend hours working on your blog content, so having interest in the topic will be much easier. Try to niche down, as broad topics are hard to compete for. Narrow niches usually require more expertise, yet allow you to target specific customers and grow your authority pretty fast. To learn more about how to pick a niche, watch this video
Pick a Platform and Theme
The next step is to choose a blogging platform and start building your blog. This step will determine the functionality of your website and can limit or support its growth. Start by setting your business priorities (what you want to achieve with your blog) and pick a blogging platform accordingly.
For example, if you lack coding skills and want to create a blog fast, WordPress.org can be your best choice. You can build a website in a few simple steps and improve it along the way using the available plugins and add-ons. You can find some of the best blogging platforms and hosting in our post.
One of the top things to consider when choosing a website builder is available blog themes. A theme will determine the look of your website as well its functionality. To make a good choice, consider your niche, type of business (for example, if you need ecommerce features in the future), design, and more. We have rounded up some of the best WordPress themes for travel blogs, as well as the top WordPress themes for affiliate marketing.
Conduct Keyword Research and Create Captivating Content
To get discovered on search engines and drive more traffic, every blog needs keyword-rich content. Keywords are words and phrases that people type in as queries on search engines, while researching a specific topic. Keywords are beneficial for many reasons:
Keywords help Google and other search engines understand what your blog is about and align it with users' queries.
Keyword-rich content is more likely to rank highly on search engines and drive more traffic.
The right keywords will help you target your ideal audience.
Regularly update your existing articles. Learn how to determine which blog posts need to be updated and how to optimize your blog content. Watch the recording of our webinar with Laura Peters, entitled "SEO Tutorial for Travel Bloggers: Get More Traffic From Old Blog Posts", or its recap.
The next step is to provide valuable content that will help your audience solve their problems. Many bloggers conduct keyword research before writing content to understand what their potential readers are looking for and then create a blog post answering all these questions. To get some actionable tips and strategies on keyword research for travel affiliate marketing, make sure to take our free SEO course from Travelpayouts Academy. In this course, you will learn about keyword research, search intent, the best types of content for travel affiliate marketing, SEO best practices in the niche, and so much more.
Content is king when it comes to building an online presence and niche authority. Here are some of the best content creation practices:
● Write unique texts, as neither Google nor users like plagiarism.
● Add keywords sparingly and place them in headings, the introduction, the conclusion, the title, the alt text, image captions, and the text body.
● Fill out the meta fields to achieve higher rankings.
● Illustrate your post with photos, infographics, videos, etc.
● Make your posts readable by dividing the text into small paragraphs and including headings and subheadings, bullet points, and more.
● Create different types of content.
● Plan your content flow in advance and create a content marketing plan. Watch this video from Travelpayouts Academy to learn more about creating a good content plan.
What Makes a Blog Successful?
As each blog is unique, each success story is different, but there are a few things that most of them have in common. If you follow these strategies, it is only a matter of time before your website starts attracting quality traffic and earning revenue.
Regular Quality Content
Content is king, and can draw or repel your audience. Make sure you only publish relevant and high-quality materials. This is important for SEO purposes, as much as for building trust with the audience. Just imagine, would you come again to a website where the information is doubtful or hard to perceive? On the other hand, content that captures your attention and provides real value can attract traffic for years, so it is worth investing your time into creating quality blog materials.
Top-Notch Design
Blog design is the second most important matter when creating a blog. Great design will make your content look more appealing and make your business look more professional. Poor design, on the other hand, can make user experience worse and decrease blog traffic.
Pay attention to your blog layout and try to use only the most important design elements, while providing enough white space to avoid drawing the users' attention away from your content.
Clearly Defined Focus
Covering broad topics to attract a wide audience almost never works. Search engines will send users with specific search queries to your website, and if they see that you write about many different things, they will likely doubt your expertise. Besides, it is hard to grow expertise on many different topics. In addition, writing blog posts in a narrow niche and covering various little experts will help grow your authority fast and increase the chances of readers remaining on your page.
Skills for Creating a Successful Blog
There are some skills that can make your blogging process easier and more efficient. If they are new to you, don't worry, everybody can learn and master these skills over time. After all, it is the effort that matters.
1. Passion
A passionate and skilled blogger will always have top-quality and engaging posts simply because they are keen and knowledgeable on the topic. Passion will make your research and writing more accessible and enjoyable both for you and your readers.
On the other hand, creating posts about things you aren't interested in will be more time-consuming and stressful. Pushing yourself to write about such topics will also be more challenging in the long term.
2. Writing
To attract and engage new followers, you need to find new blog post ideas, write unique content, and create catchy titles and headlines. In addition, it's essential to structure your texts properly. Make sure to:
Put titles and subtitles to make a hierarchy for text materials;
Divide the text into paragraphs to make it readable;
Add pictures, tables, schemes, or videos to diversify your content;
Use formatting options such as checklists, numbered, or bullet lists, etc.
Add a call-to-action in your posts or articles if you plan for your audience to do something after they read.
So, how can you become a professional blogger? If you wish to improve your writing skills, you may attend specialized writing classes:
3. Editing
Proofreading and a careful eye for details are just as important as spelling and grammar. To assist you in improving your editing skill set, here are some tips:
Keep reliable style guides at hand (like the Chicago Manual of Style), or Thesaurus (for example, Power Thesaurus);
Before editing the copy, read it through;
Edit content by going through each line to check the fundamentals of spelling, grammar, and syntax;
Try to avoid writing in passive voice and opt for an active one instead;
Where possible, shorten long sentences;
Edit text, structure, and grammar separately;
Take a break after the editing procedure, and review it again.
How to be a professional blogger? You can acquire an editing skill set by attending courses. Below you'll find the platforms with editing-related training:
CIEP.
4. SEO
Understanding Google rankings and their specifics are beneficial to becoming a popular blogger and generating profits. Study and discover how to identify keywords and include them in your text. It's vital to recognize how header tags serve you and how to create efficient titles and meta tags (keywords, symbols).
By the way, there are numerous digital instruments and analytical sources that can assist in this regard. For instance, WordPress provides customized SEO plugins to boost your blog.
Where to learn SEO skills? To get a good grasp of SEO fundamentals, you can take the following courses:
SEO Foundations from LinkedIn Learning. As a great starting point, this course gives you both the primary and improved concepts of SEO. For learning, the course is free, but for obtaining a certificate, you must pay for a membership;
Search Engine Optimization Specialization from Coursera. Like the previous course, this one begins with a tutorial on SEO basics and then goes into more advanced techniques;
SEO 2021: Complete SEO Training + SEO for WordPress Websites from Udemy. Using WordPress as a content management system, this course teaches you how to reach the top rankings on Google Search and increase your traffic organically.
5. Marketing
Marketing and blogging are inseparable. Furthermore, it's an excellent instrument for bloggers as it can assist them in getting traffic, connecting with potential partners, and reaching out to the target audience.
The process of trying various marketing strategies and analyzing their results is often the key to marketing proficiency.
Furthermore, marketing requires these complementary skills and knowledge:
Knowing the principles of SEO;
Using social networks effectively. Networking, advertising, and exploring your area of interest are all possible with their assistance;
Email marketing. It's vital to pick the right email marketing instrument (like Zoho, ConvertKit, GetResponse, etc.) to reach a more significant number of subscribers;
Networking and guest blogging. That increases visibility, SEO rankings, and network development;
Diversifying your blog content;
Analyzing your competitors. Find out which methods work for them and whether you can use them as well.
How to be a famous blogger? Some people aren't born advertisers and must figure out how to promote themselves. But for some, marketing comes naturally to them, and this activity doesn't involve much effort. Fortunately, some classes may assist you in acquiring these skills:
6. Networking
The blogger who takes time to connect with other experts in the niche is always more likely to grow an audience and monetize their blog. To boost your blog, build a community, and network with those who have come before you.
You should stick to the tips below:
Participate in webinars (preferably, in your niche);
Comment on blogs in the niche. Commenting on other blogs is another way to build a network. Leave insightful or helpful remarks, and you'll likely get noticed;
Participate in a podcast. Often, people listen to podcasts while commuting or doing housework. You may greatly expand your audience if you participate as a guest on a popular podcast;
Organize events featuring thought leaders in your field;
Provide an expert opinion as well as attend conferences. You may have valuable lessons to share with others if you're writing a blog based on your experiences. And the best way for expanding a network is by speaking at conferences and directing the public to your blog;
Get involved in niche communities online. You can find niche-focused forums (Travellerspoint or Fodor's Travel Talk Forums), social media groups (traveling subreddits on Reddit, or Facebook groups), etc., and reach out to people to network;
Get in touch with the people you've mentioned in your blog posts. It may be a powerful way to make contacts and share your content.
How can aspiring webmasters become successful bloggers? There's helpful material from Courses&PD or a podcast from SmartBlogger that give tips on how to network effectively. Also, you may find articles mentioning best networking practices on our blog.
7. Analytical Skills
Analytics is a valuable instrument to track how well your website, social media channels, and email campaigns perform. You might want to look at some tools and explore the stats. Moreover, knowing how to interpret and evaluate analytics is also a skill required for a blogger.
For instance, if you launch Google Analytics, you may be confused by the information displayed. It would help if you considered how many users visit your website, how much time they spend, where users come from, and how they find your website.
How do you become a successful blogger? Here are some courses that may help you to develop analytical skills:
8. Design and Photo/Video Editing
A visual component is essential for a blog, and your ability to judge between good and bad design is as important. A blogger should be skilled at editing images and videos using photo/video editing software and optimizing photos. A blog that uses optimized visuals can rank higher in search engines and drive more traffic. Knowing where to take images from is also key to avoiding plagiarism.
So, how can you become a more successful blogger in this case? There are many classes where you may learn or enhance both design and photo/video editing skills. You'll find them below:
Ultimate web design course from Webflow University. It will teach you how to use tags and classes in HTML and create a page design using elements such as containers, divs, flexboxes, and grids. It may help you to acquire the necessary knowledge to make your blog or even website;
Photo Editing With Free Software will teach you how to use various editing tools like Pizart, Darktable, Photoscape, Adobe Spark, or Canva to edit images for your business.
Video Editing with Adobe Premiere Pro for Beginners. This course will allow you to turn your creative ideas into beautiful videos with Adobe Premiere Pro.
9. Strong Self-Discipline and Time Management
For a blog to succeed, it's important to provide frequent and consistent content. Planning your blog posts ahead and sticking to the schedule when writing and posting it will be very convenient. For that, it's essential to cultivate self-discipline, and here are a few tips:
Set clear goals and plan your blog content for a month or so ahead
Calculate how much time you can dedicate to blogging each week/month
Make sure to isolate yourself from distractions when working on your blog
Reward yourself for completing goals
How can you become a successful blogger? You can also enroll in online courses dedicated to developing self-discipline and time management skills:
10. Consistency
How long does it take to become a successful blogger? The necessary time depends on various factors, but consistent posting is one thing that will bring you closer to success. It helps attract new audiences, makes your current readers loyal, and develops the blog itself. The same goes for marketing, SEO, and other areas of blogging.
To succeed, it's also essential to know your audience well and tailor your strategy accordingly. Otherwise, creating content without your readers in mind could be a wild guess. Make sure to spend some time analyzing your audience's demographics, hobbies, interests, and behavior on your site. Find eight smart techniques and tools to do that in our special post.
11. Creativity
One of the ways to become a successful blogger is to use creativity in your work to gain a competitive edge. You can be creative about any aspect of blogging, from inventive topic ideas and a new perspective on current events to unique writing style and eye-catching design, and so on. Also, you can get creative when thinking how to sell affiliate products, for example, through an online course, newsletter, or resources page.
12. Constant Education
Blogging is a rapidly growing and changing area. To stay afloat, you need to stay on top of the latest developments and trends and adapt to them. First, make sure to network with other bloggers in the niche to share experiences and find opportunities for cross-promotion.
Second, look for educational opportunities to expand your knowledge. For example, you can join Travelpayouts Academy to learn how to make money as a content creator, use SEO to boost your income, and more.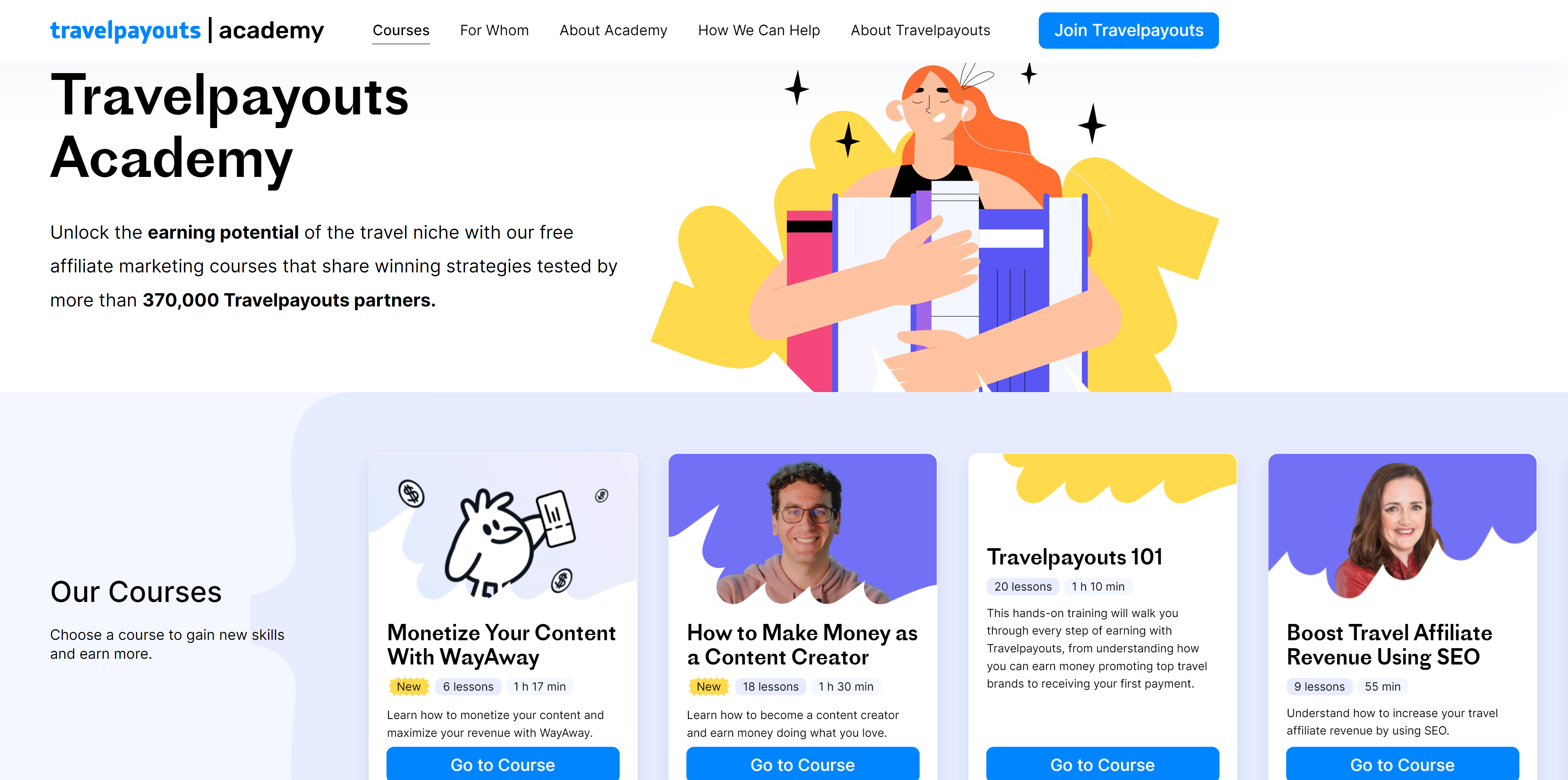 Useful Tools for a Successful Blog
Today, there are plenty of tools that can facilitate each and every step of your blogging process, from keyword research to content creation to search optimization and more. Not taking advantage of these tools can slow down your blog growth, as there is a big chance your competitors will try to automate parts of their work.
SEO Tools
Today, it is hard to imagine any successful website without proper SEO optimization. The best SEO tools allow bloggers to grow organic rankings, improve visibility, and drive more traffic. Some programs are narrowly focused, while others target various aspects of SEO. Here are some of the best programs in the niche:
● Ubersuggest is a great free tool that you can use to research keywords and topic ideas and drive more traffic.
● Google Analytics is another amazing free tool that you can use to check your traffic sources and better understand your customers.
● SEMrush provides insights into your blog traffic to achieve your marketing goals.
You can find more useful SEO tools in our blog post.
Planning Tools
The more you grow your blog, the more tasks you will need to complete on a regular basis. To keep track of all these tasks and efficiently plan your content and marketing strategies, take advantage of the best planning tools. Here are a few:
● Google Calendar is a free tool that will help you efficiently plan your time and never forget about an important call, networking event, or campaign launch.
● Trello is another free software that allows bloggers to create virtual desks and divide tasks into groups or even delegate them to other team members.
● Evernote is one of the best programs for keeping notes and to-do lists for your projects.
Blog Writing Tools
The most time-consuming process for many bloggers is writing. Yet, with modern tools, even this process can be easier and more fun. Here are a few apps to take a look at:
● Google Docs is a great free tool that allows you to collaborate with other team members or bloggers while creating content within the same document and see all the changes made to your doc over time.
● Hemingway App aims to make your writing more readable by helping improve your grammar and syntax.
● Grammarly helps authors compose mistake-free writing and improve the overall style of text using its AI technology.
Design Tools
Visuals are an important part of any blog, as they help draw the attention of the audience and illustrate your point. Here are some great design tools every blogger can use:
● Canva is a free tool to create stunning images, presentations, videos, social media content, and more.
● TinyPNG allows you to compress images and improve your blog speed.
● VistaCreate helps tailor content for different social media, such as Instagram, Facebook, YouTube, and more.
● Infogram is a free tool to create infographics, maps, charts, social media posts, and other types of content.
You can find more free and paid design tools in our post.
How to Monetize Your Blog
There are many monetization models that will help you earn money with your blog. Make sure to focus not only on earning opportunities, but also the relevance and smart use of these methods, so you can continue growing a loyal community around your blog.
One of the most popular ways to make money with your blog is advertising. If you partner with ad networks, such as Google AdSense, you can sell space on your website to other brands and earn on impressions, clicks, or sales through your ads. Usually, you need to have a sufficient amount of relevant, high-quality traffic to pass the moderation process on such networks.
Another lucrative way to monetize your blog is affiliate marketing. With affiliate marketing, you can promote products or services that are relevant for your audience and earn each time they purchase goods or services thanks to your recommendation. Travel bloggers can promote travel-related services, such as flight tickets or hotel stays, to help their readers organize a nice trip.
To gain free access to over 100 travel affiliate programs from reputable brands, you can join the Travelpayouts partnership platform. Today, it helps over 350,000 webmasters and bloggers to earn by promoting some of the best travel brands to their audiences. You can take advantage of numerous promo tools, such as banners, widgets, white labels, etc., to drive more clicks and support you if you have any questions. Start your affiliate journey with Travelpayouts today.