How It All Began
I graduated with a degree in Marketing & Professional Writing and started working as a freelance copywriter in July 2019.
Since starting my blog in May 2020, I have become not only a freelance copywriter, but also a blogger, creating content for myself.
As I love traveling, I also love writing about travel. In addition to my travel blog, I have also worked with several copywriting clients in the travel and hospitality industries.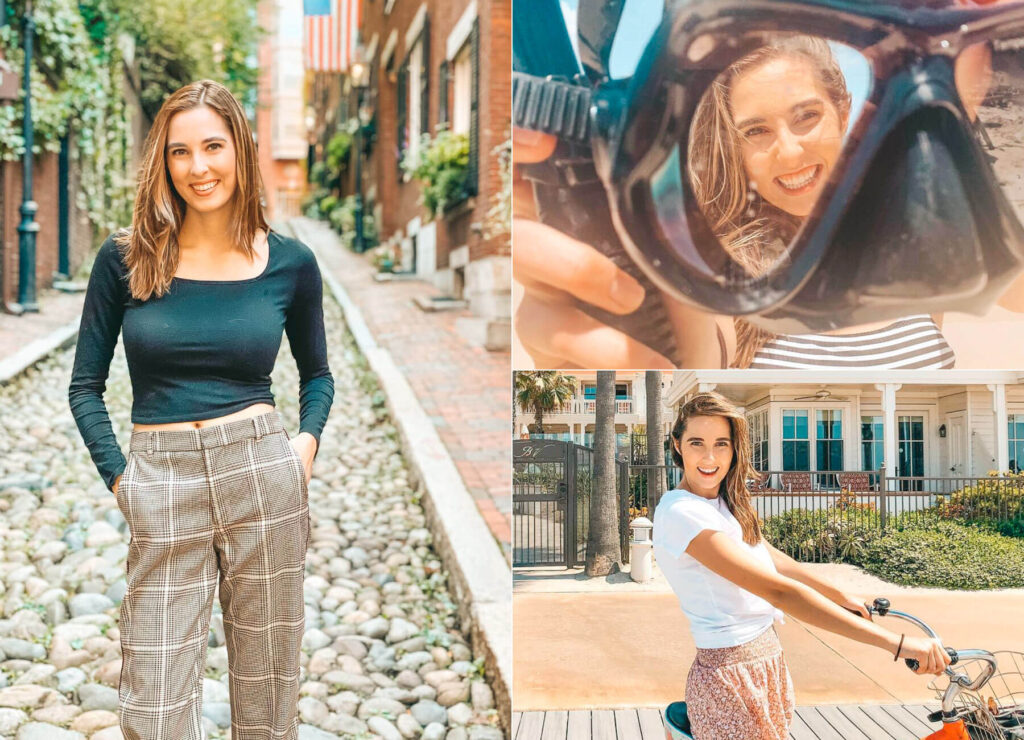 My own travel experiences inspire me to work on my travel projects. I love traveling to new places, experiencing all the unique things they have to offer, and then sharing that information with my readers. I love having the opportunity to help my readers plan their dream trips and create lifelong memories with their families, friends, and whoever they choose to travel with!
About Travel by Brit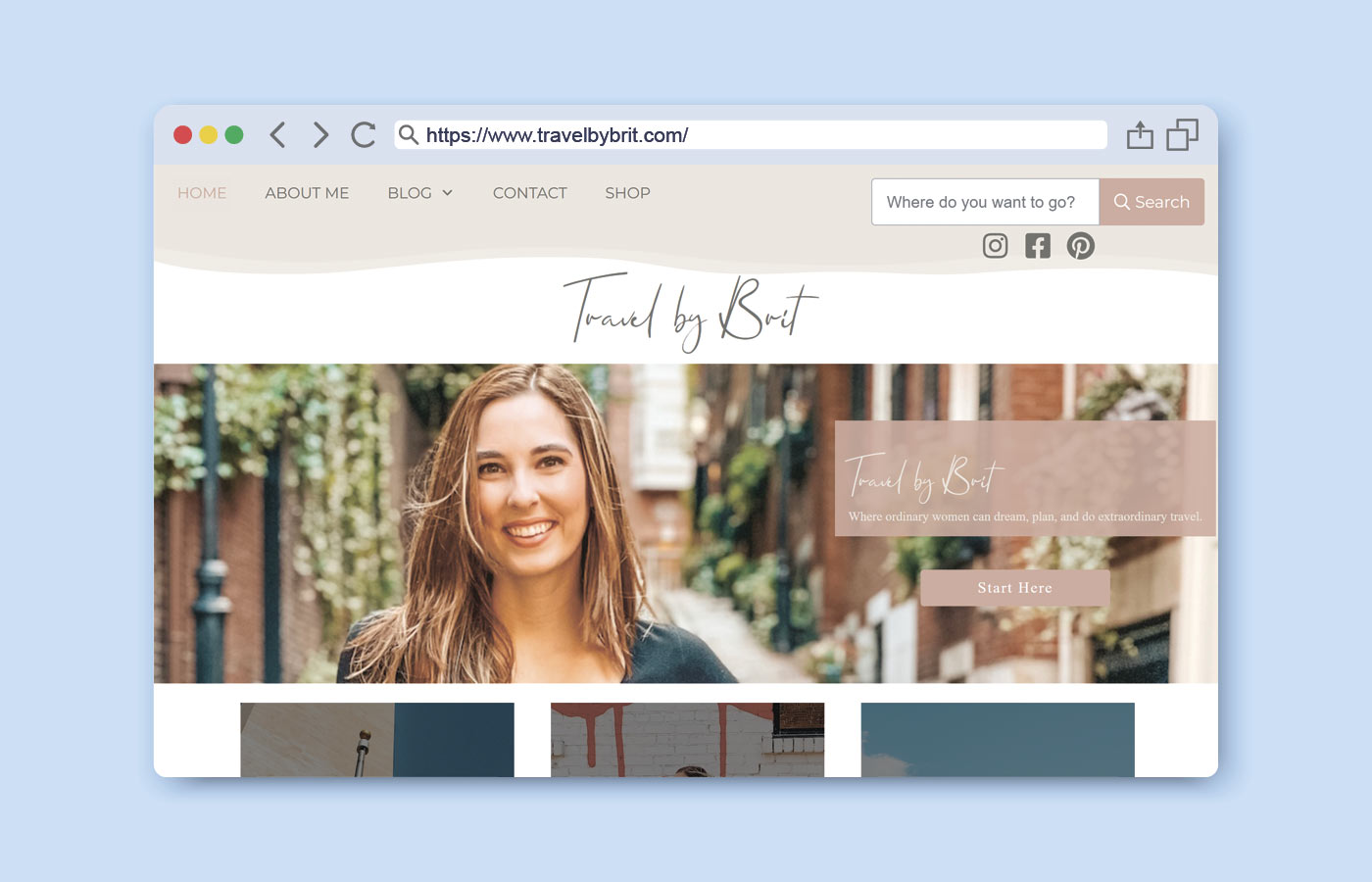 Travel by Brit was created to help ordinary women dream, plan, and do extraordinary travel.
After going on my honeymoon to Europe in 2019, I realized many women believe travel is too complicated or expensive, which keeps them from enjoying incredible travel experiences.
I created my blog to show women that travel doesn't have to be expensive. In addition, my travel guides take the headache out of the planning process!
Travel Blogging Journey
When I first started my blog, it was difficult to drive traffic to my website. It felt like no one was reading the content I had to share, and it was super frustrating! However, after implementing SEO into my blogs and staying consistent with posting new content, I started to see a drastic increase in traffic.
Now, SEO is my primary source of blog traffic and many of my blogs rank on Google's first page. As a result, hundreds of people read my blog posts each and every day!
Traffic
The majority of my traffic is organic. Since I am a copywriter as well as a content writer, staying up to date on the latest trends in SEO is important for my career and blog.
One specific way I have increased my blog traffic through SEO is by writing content in "clusters." For example, instead of writing just one large post on the "Best Things to Do in Louisville, KY", I break my content into smaller pieces. This means writing a single post on:
"The Best Museums in Louisville"
"The Best Places to Eat in Louisville"
"The Best Things to Do in Downtown Louisville"
Not only does this show Google that I am a topical expert on Louisville and help me rank for more keywords, but it allows me to take a deeper dive into each topic, providing more valuable content for my readers. It also helps me stretch my content. If I go on one 10-day trip, I can usually get four to five months' worth of content from that trip (posting one blog a week).
When tracking my traffic, I pay the most attention to sessions. I'm currently working toward applying for an advertising network that tracks sessions, which is why this metric is so important to me.
Direct traffic is another one of my primary traffic sources. However, I believe that organic traffic has the greatest potential, especially for the future. It's what I've been investing my time into, so I hope it eventually pays off!
In terms of social media platforms, Pinterest is really the only social network I use to drive traffic (the platform is my second largest source of traffic). Facebook groups in the travel niche are another way I drive traffic to my website. I'm also on Instagram, but I mostly use Instagram to connect with my readers, and not as much to drive traffic to my website.
There are a few mistakes I've made on my blogging journey. I think one that had a significant impact was putting "too many eggs in one basket" with Pinterest. For a while, Pinterest was my primary source of traffic, and then one day, out of the blue, my traffic tanked. It was difficult to rebound from losing so much traffic from Pinterest, but now, I'm grateful that Google is my primary traffic source and consistently sends readers to my website.
Organic traffic is much more reliable than traffic from social networks, so if you can, try to diversify your traffic sources as much as possible.
Content
I create all content for my website myself. Fortunately, my husband works on the "technical side" of digital marketing, so he is able to help me fix any issues with my site.
To come up with blog topics, I use Ubersuggest. It's an SEO research tool that helps me find keywords for my content. However, I always base my content on my past, current, and future travels.
When I first started creating content, I didn't have a "stockpile". So, everything had to be created from scratch.
Now, at any given time, I have a backlog of at least three to four months' worth of work, which takes the pressure off me when I'm not traveling. Plus, when I don't have new content to share, I have enough older content that I can return to and optimize. Now, there is always something to do.
To be a successful content creator, you have to be consistent and refuse to give up, even when the odds are stacked against you. As a content creator, you'll go through several ups and downs in your career. Chances are, you'll want to "throw it in the towel" at least 100 times before you ever see any success. It takes years and years of hard work for most content creators to become successful.
Monetization
I monetize my website through affiliate marketing and contextual ads. Contextual ads produce the largest portion of my income, while affiliate marketing produces the second largest segment.
Seasonality doesn't have a huge impact on my earnings. However, since I live in Arizona and have lots of Arizona-related content, my traffic does tend to take a dip in the summer. With that said, I do have posts from other places around the country that are popular in the summer, which helps to even out my website traffic and income.
Affiliate Marketing
When you start adding affiliate links to your blogs, you don't see income flowing in right away. However, as your blog grows and more people visit your website, you have a higher likelihood of them clicking on your links to make a purchase. So, in essence, "slow and steady wins the race!"
Right now, I'm connected to Travelpayouts and Amazon Affiliates.
I really enjoy using Travelpayouts! I think the platform is very user-friendly and I also love that, instead of toggling between four, five, or six separate affiliate programs while I am writing a post, I can generate my links, widgets, and more all in one place. It also makes it so much easier to manage my income. I receive one check from all my affiliate payments every month, and that's it!
I would recommend Travelpayouts to any travel blogger or travel creator in a heartbeat.
Join the Travelpayouts Partnership Platform
Access exclusive tools and the best travel affiliate programs, including flights, hotels, car rental, insurance, tours and activities, all in one place.
Join Today
395,000 partners already trust us
120 travel brands
$53M+ total paid since 2011
Tours and Activities Affiliate Programs
I joined the Viator Affiliate Program because I use Viator myself during my travels. I like to visit museums, go on tours, etc.
Since Viator has tickets to several of the things I like to recommend to my readers during their travels, it seemed like a great tours and activities affiliate program to apply for, since I was recommending these activities anyway.
I also work with GetYourGuide. This platform and Viator offer different tours and experiences, so I like to use them both, depending on what I am writing about. Generally, I use Viator for in-context links and GetYourGuide for widgets.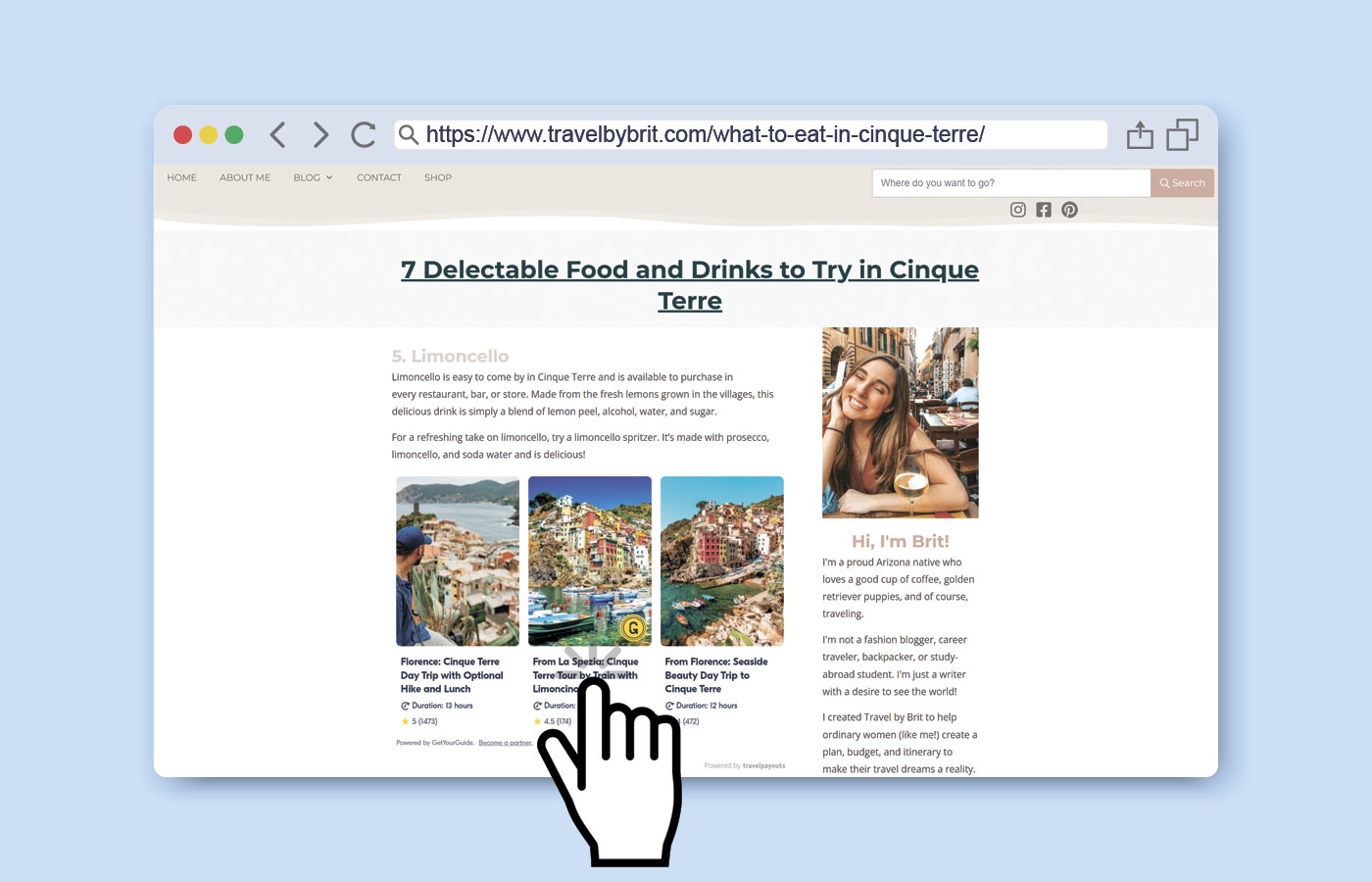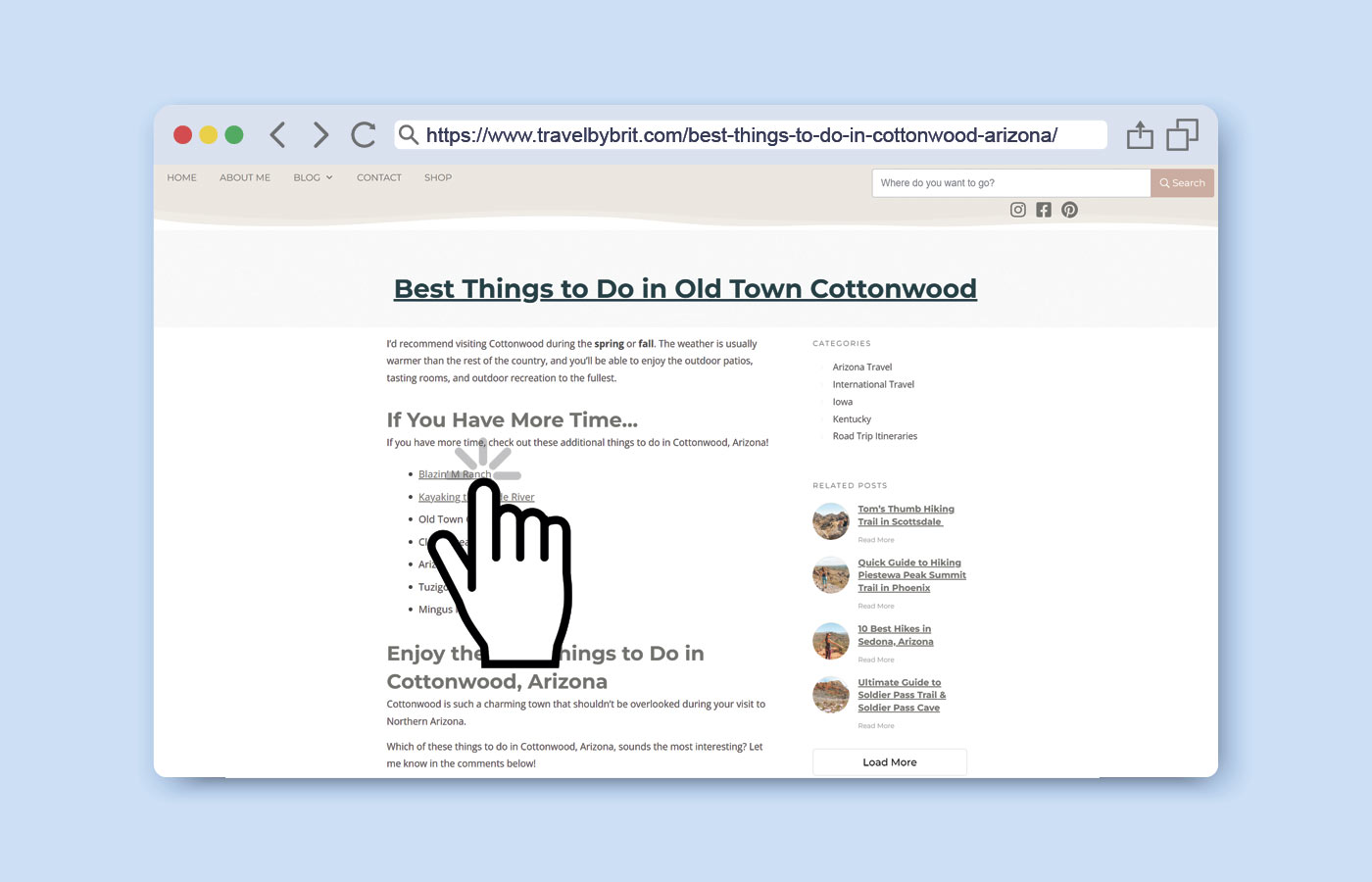 When I am selling tours or activities, I usually place them on "things to do" pages. For example, I just wrote an "Ultimate Guide to the Kentucky Bourbon Trail", created a section for "Bourbon Trail Tours", and linked a few highly rated tours from Viator and GetYourGuide.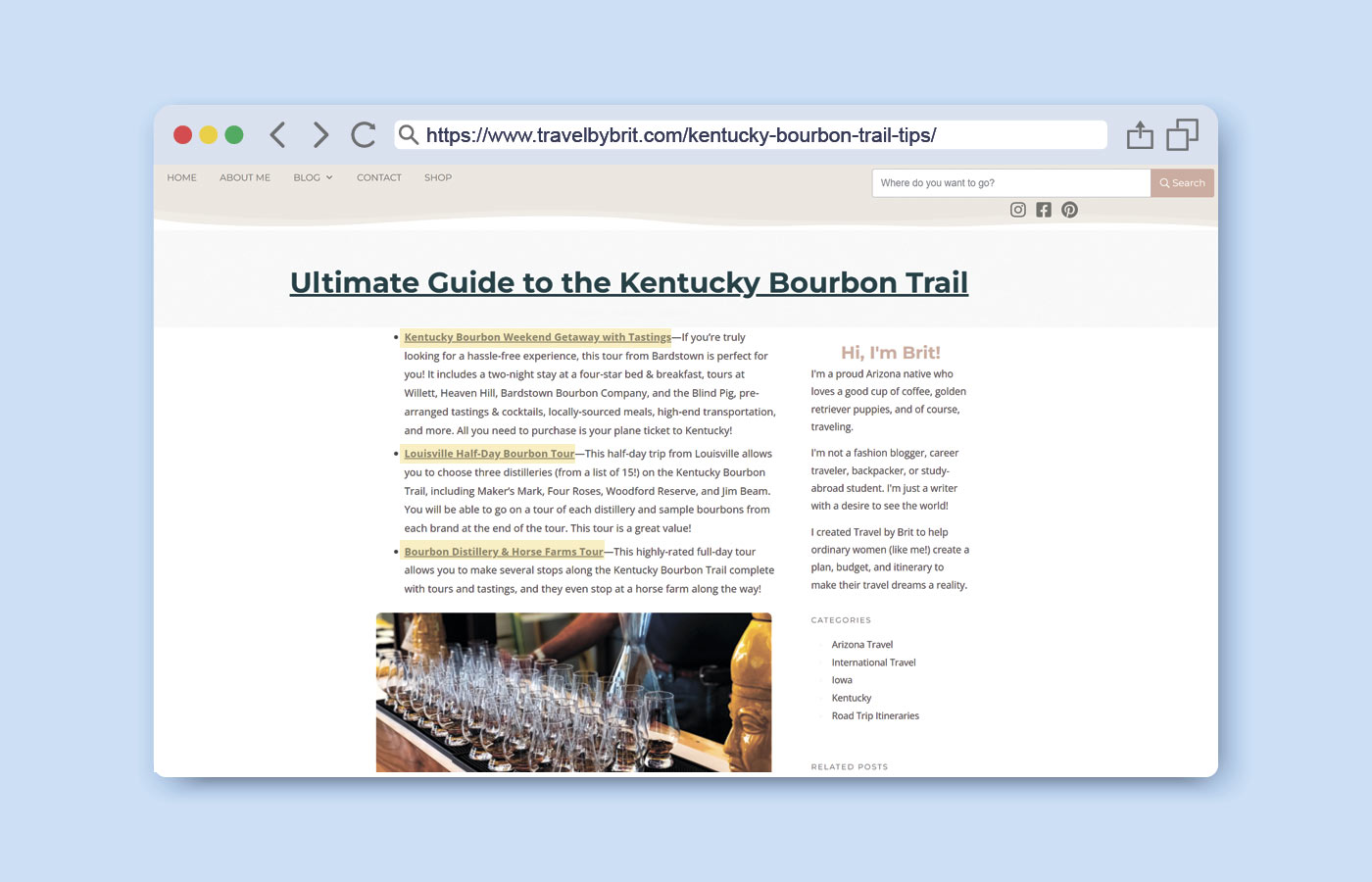 When promoting tours and activities, I think it's important to have experienced the activity yourself, or, to only recommend tours with good ratings and reviews. If you haven't done the specific tour, I think it's important to at least have experienced the activity to some capacity.
For example, with the Kentucky Bourbon Trail post, I actually went on a self-guided tour. So, I didn't do any of the tours myself. However, the tours had great ratings and I had experienced the Bourbon Trail itself, so I felt comfortable recommending the tours. I would never want to recommend something I wouldn't do and/or try myself or that I think my readers wouldn't enjoy.
GetYourGuide is one of my most effective travel affiliate programs. This is because you can incorporate a tour or experience into almost every blog post. With GetYourGuide (or any program), it's important to take advantage of all the tools being offered. I use links in my content, widgets, and banners (when it makes sense to do so).
How to Place Affiliate Tools
When I include an affiliate link in my blog posts, I try to "bold" the linked text as much as possible. I think this helps my affiliate links stand out more, and hopefully, other people think so too.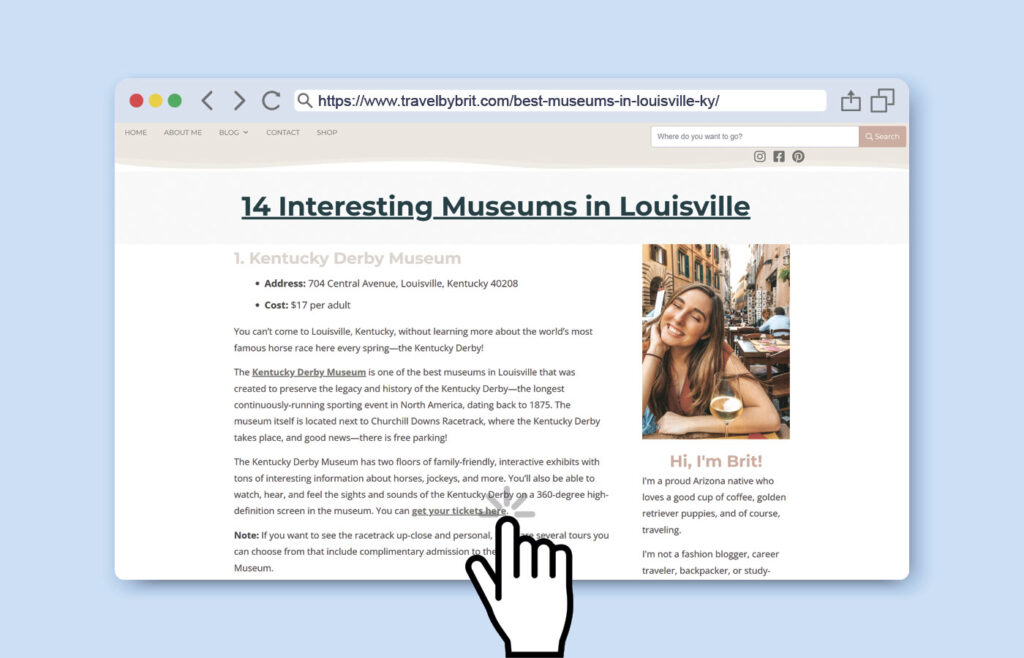 I think it's best to include affiliate links in a designated blog post, or at least, a designated section.
If I write a blog post about "Best Luxury Hotels in Newport, Rhode Island", chances are, the people searching for that post are looking to book a hotel. If I include affiliate links to each hotel within the blog post, I think people are much more likely to click on them.
When adding affiliate links to blog posts, it's important to understand the user intent. What will the reader be looking for / wanting to book or buy when reading my post? Then, finding a way to incorporate helpful links that make their travel planning experience easier.
It's important to incorporate affiliate links into all of your posts intentionally. Instead of just pasting a few links into your post for random tours, activities, hotels, etc., it's important to include links that you think will actually benefit your reader and to suggest things you know they will enjoy. Framing the tour, activity, hotel, etc. in a positive, appealing way is key to successful affiliate marketing.
Key Takeaways
Even though organic traffic is the most reliable, try to diversify your traffic sources as much as possible.
Pinterest is one of the best traffic sources for your travel blog among all social media platforms.
Write content in "clusters". For example, instead of writing just one large post on the "Best Things to Do in Louisville", you can create three different articles.
Consistency is key. You have to continue to create new content to drive traffic to your website.
Slow and steady wins the race. As your website grows and more people visit, you have a higher likelihood of them clicking on your links to make a purchase.
Incorporate affiliate links into all your posts intentionally and understand user intent.
You can use any type of affiliate tools if it makes sense in your content, including links, widgets, and banners.
Making links bold and offering your audience alternatives (such as GetYourGuide and Viator on the same page) increase the chances that the user will make a purchase.
Travelpayouts makes it easier to manage affiliate programs. Instead of toggling between four, five, or six separate affiliate programs while you are writing a post, you can generate your links or get widgets all in one place.
When promoting tours and activities it's important to have experienced the activity yourself or to only recommend tours with good ratings and reviews.
—
Want to share your story? Travelpayouts welcomes all bloggers with any travel-related experience. Write to us at an@travelpayouts.com with the following subject: "Story for the Travelpayouts Blog".