What Is the Off-Peak Season?
Before jumping into all the solutions to boost your traffic during the low season, it's essential to define the low season (or off-peak travel season).
The off-peak travel season will vary depending on the part of the world you're blogging about, but generally, in the United States and Northern Hemisphere, the peak season lasts from June to August when schools are dismissed for the summer and much of the region enjoys warm, sunny weather. The off-peak season lasts from November to February or the late fall and winter, when most destinations are chilly, snowy, and cold.
The months of March, April, May, September, and October are called the shoulder season — though traveling during these months isn't as popular as during the peak season, the weather is more favorable than during the off-season, so many travelers opt to travel during this time to enjoy lower prices on flights, hotels, and activities and fewer crowds in popular destinations.
Even during the low season, there are still some "peaks." For example, Thanksgiving and Christmas are popular times to travel in the United States, so traffic might spike in December before leveling off again in January and February. And although spring isn't necessarily considered the "high" season in the Northern Hemisphere, spring break often increases traffic and bookings during March and the beginning of April.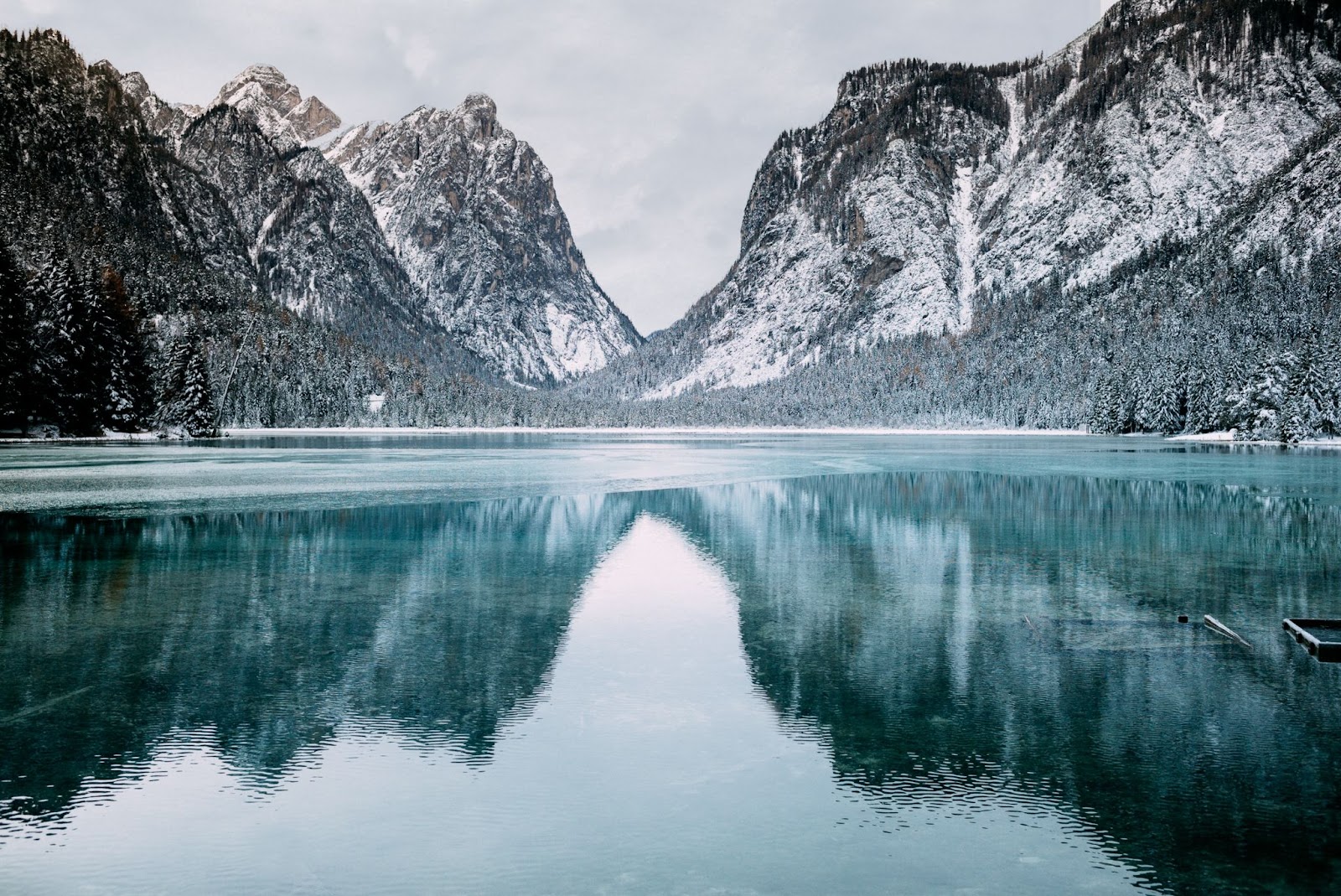 Why Do Travel Bloggers Struggle During Low Seasons?
We'll be honest — the off-peak travel season is a rough time to be a travel blogger. After experiencing a "high" in traffic over the summer, when August ends and September rolls around, many bloggers see a huge dip in traffic. While it's easy to assume there is something wrong with your content (or blame the Google algorithm — we're all guilty of that!), often, the reason for your dip in traffic has nothing to do with the quality of your content, but rather, seasonal traffic fluctuations.
During the low season, travelers are coming off a thrilling summer of road trips, family vacations, and epic international adventures. Then, as autumn rolls around, most people think about getting back into routines — like school and work after having time off — and then gearing up for the holidays. And, after spending money on travel during the summer, most people will be in "saving" mode for the rest of the year (or, at least, until booking holiday travel).
Despite the challenges of maintaining traffic and bookings during the low season — it's essential to learn how to overcome these challenges so you can create reliable income streams and a sustainable travel blog that thrives during every season. Below, we've listed some of our proven tips to increase your traffic and bookings during the low season. Start implementing them now, and watch your traffic skyrocket — even during the least-popular travel months!
Content Optimization
Optimizing old and new content to account for seasonal fluctuations is probably the most important tip for maintaining traffic and bookings during the low season. These are some ways to incorporate seasonal and evergreen content optimization into your travel blogging strategy:
Seasonal Content
Do you notice your traffic always takes a dip during the winter months? Chances are, none of your content focuses on destinations people want to visit in the winter.
For example, warm-weather destinations like Hawaii, Florida, Mexico, and the Caribbean are generally popular during winter — people are desperate to escape the snow for a beachy, tropical getaway. Additionally, destinations well-known for winter activities, like Colorado and Utah for skiing and snowboarding, and popular places for holiday travel, like New York City, generally do well during the winter months in the United States.
Need some inspiration for seasonal content to add to your content calendar during the low season? These are some examples of blog posts that would be great for driving traffic to your blog during the winter off-season:
21 Warm Places to Travel in January in the USA
13 Most Beautiful Beaches on Kauai
10 Best Ski Resorts in Colorado
25 Magical Things to Do in New York City During Christmas
15 Best Caribbean Islands to Visit in December
21 Best New England Winter Getaways
Do you get the idea? Writing about topics you know will do well in the off-peak season will help drive traffic to your blog during this time, even when other blog posts that typically perform well, like national park guides and summer destination guides, dip during the winter.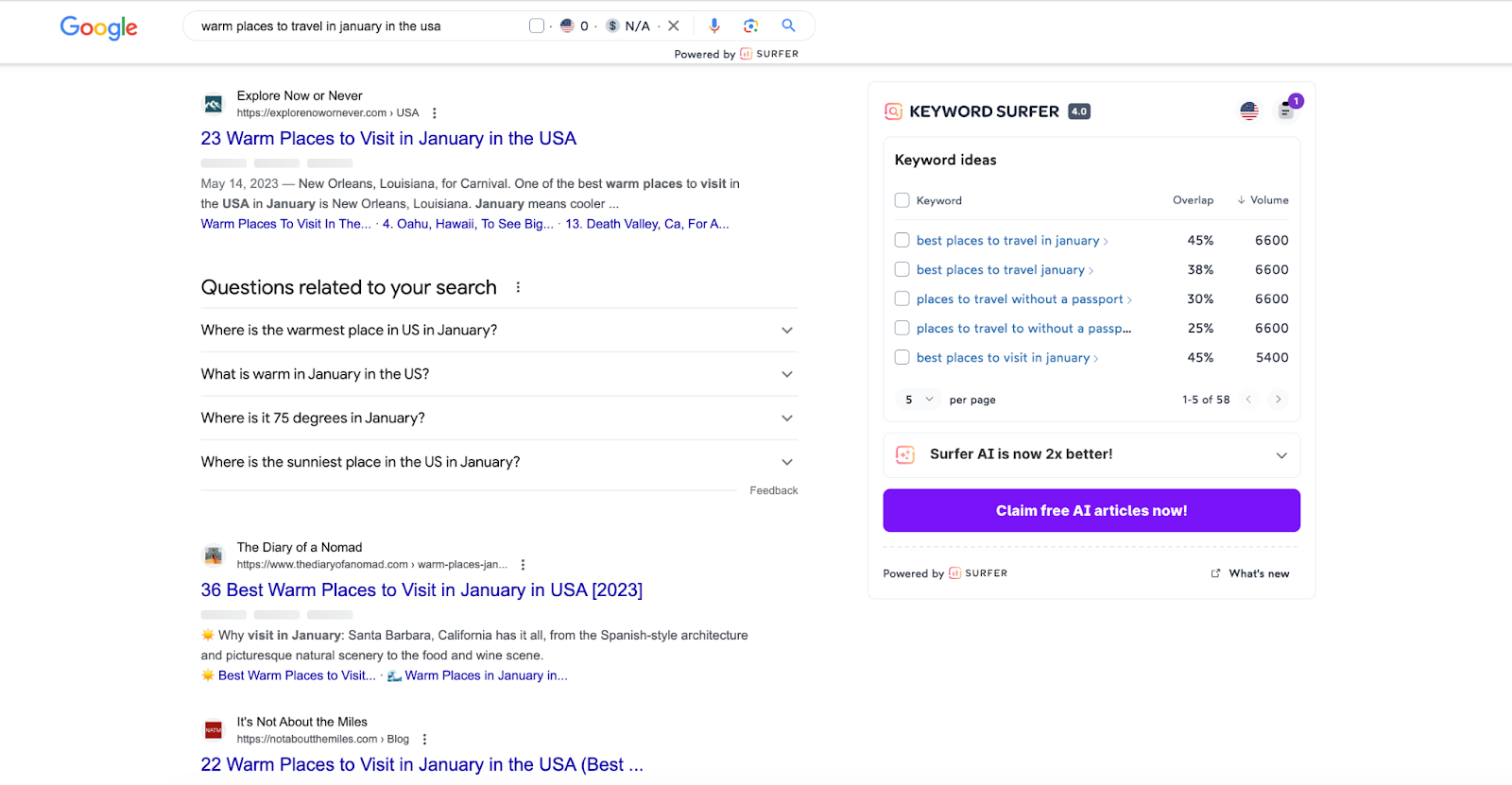 Benefits of Off-Peak Travel
Though many people don't travel during the off-peak season — those who do travel during this time know there are many benefits!
For example, prices are generally lower for hotels, flights, tours, and activities during the low season, and there are fewer crowds at popular locations. Plus, some destinations offer unique experiences that you can only experience in the off-peak season. For example, you can only see the holiday decor in New York City during November and December, and you can only go skiing in Park City during the late winter or spring.
You should highlight some of the benefits of off-peak travel in your blog posts to convince people why they should travel to a specific destination during that time. For example, you could write a blog post about "10 Compelling Reasons to Visit Alaska in the Winter" and include ideas like seeing the Northern Lights, avoiding the summer crowds, seeing snowy landscapes, and getting to know the locals. Though someone might not have considered visiting Alaska during the winter, a post like this could convince them otherwise!
Evergreen Content
In addition to writing seasonal content, it's just as important to have evergreen content on your blog — content that stays relevant regardless of the season.
For example, some destinations, like Hawaii and Southern California, are popular to visit at all times of the year since the weather is always beautiful. Other locations, like Utah, remain popular year-round for different reasons. For example, in the winter and spring, the resorts fill up with skiers and snowboarders, but in the summer and fall, road trippers flood the national parks, and hikers go leaf peeping on the trails.
Other examples of evergreen content include non-destination-specific content. Posts like "12 Tips for Packing a Carry-On Like a Pro" and "21 Travel Apps You Need to Make Booking Trips a Breeze" are excellent blog post ideas that will drive traffic during all seasons.
Promotions and Discounts
One of the best ways to increase affiliate bookings during the off-peak travel season is to promote excellent travel deals, promotions, and discounts that people can use to book upcoming travel — whether that be a winter island getaway, spring break vacation, or summer trip (remind travelers that it's never too early to book to secure the best deals!).
Many of the best deals on travel occur during the off-peak travel season on Black Friday, Cyber Monday, and after-Christmas sales. Spend some time promoting the hottest deals during the low season to increase traffic and bookings. People might not be traveling, but they are starting to think about (and shop for) future vacations.
SEO Utilization
The off-peak season is a great time to evaluate your blog's performance and optimize posts that aren't bringing in much traffic or leading to affiliate sales. According to successful travel blogger Laura Peters, look for the following posts to optimize:
Posts that are decreasing in ranking but still generate traffic or affiliate income.
Posts within the first five to ten search results on Google — if you can boost your blog into the top three spots, you will receive a significant boost in traffic!
Posts within the first 11–20 search results on Google — getting these posts onto the first page will also increase traffic.
Any post older than nine months that does not bring in any traffic.
When optimizing old posts or writing new posts, perform keyword research to find keywords that have a high search volume and low SEO difficulty score and incorporate these keywords into your SEO title, meta description, headings, body paragraphs, and image alt text (but no keyword stuffing — only incorporate keywords in a natural, conversational way).
You should include relevant internal links to other blog posts on your website, helpful external links (a combination of no-follow and do-follow links is recommended), and relevant affiliate links in each blog post. To learn more about SEO, check out these helpful resources about SEO.
Social Media Engagement
During the low season, social media is a great way to drive traffic to your blog, engage your current audience, and share relevant content. You can even repurpose existing content from the blog to share on social media.
Here are some ideas of ways that you can leverage different social media platforms to drive traffic to your blog during the low season:
Pinterest
Create "fresh" pins that link back to older blogs that are relevant during the off-peak travel season. For example, if you have a blog post about "21 Best Beaches to Visit During the Winter in the USA," you can create new pins to drive traffic to this blog post during the low season.
You can also create fresh pins for affiliate-focused posts on Pinterest to boost affiliate income during the off-season.
Instagram
Instagram is an excellent tool for resharing old content. For example, you can link to blog posts on Instagram Stories during relevant times of the year (for example, in October, link to posts about visiting Salem, MA, or the top leaf-peeping destinations in the United States).
Instagram is also a valuable tool for affiliate marketing during Black Friday and Cyber Monday. You can share affiliate links on Instagram Stories or share links to blog posts that include affiliate links to deals on flights, hotels, and more.
Facebook
Facebook is a helpful social media platform to use during the off-peak season for multiple reasons. You can reshare old blog posts, do affiliate marketing on Facebook for Black Friday and Cyber Monday, and even join specific Facebook Groups for travel bloggers, where you can share relevant blog posts on weekly sharing threads to boost engagement.
Email Marketing
You're missing out if you don't have an email list for your travel blog. Emails are an effective way to drive traffic to your blog during the off-peak season (at any time of the year) and a great way to highlight relevant blogs.
For example, you can send a weekly newsletter highlighting your most recent blog posts or a targeted email round-up to direct visitors to older blogs. In January, for instance, you might send an email highlighting blog posts that feature warm-weather destinations, like Florida, Hawaii, and the Caribbean, to inspire people to plan a trip here during this time of year (and visit your blog to do the planning, of course!).
Additionally, email marketing is one of the most effective marketing tools for driving sales, so it's a great place to promote affiliate links. During Black Friday and Cyber Monday, you'll want an email marketing strategy to promote travel deals. If you'd like to learn more about email marketing, check out these helpful email marketing courses.
Collaborations and Guest Posting
If you're struggling to get traffic to your blog during the off-peak season, collaborations and guest posting for other travel bloggers can be a helpful strategy to increase traffic.
By guest posting or participating in a collaborative post on another blogger's website, you'll usually receive a do-follow backlink to a post on your website, which can help boost this post's ranking in Google search results and improve the overall domain authority of your website. As your domain authority increases, it will be easier for your blog posts to rank higher in Google search results, boosting traffic.
However, there are a few "cons" to consider regarding guest posting. First, you'll be writing posts for someone else's blog that will drive traffic to their website — not yours. Second, you generally aren't permitted to include your affiliate links in a guest post. Hence, guest posting isn't always the best strategy for someone focused on boosting their affiliate income.
Before guest blogging, evaluate your goals for your blog (boosting advertising revenue, improving affiliate income, increasing traffic, improving search rankings, etc.). If guest posting is not aligned with your goals, spend time writing SEO-optimized seasonal and evergreen content for your own blog instead.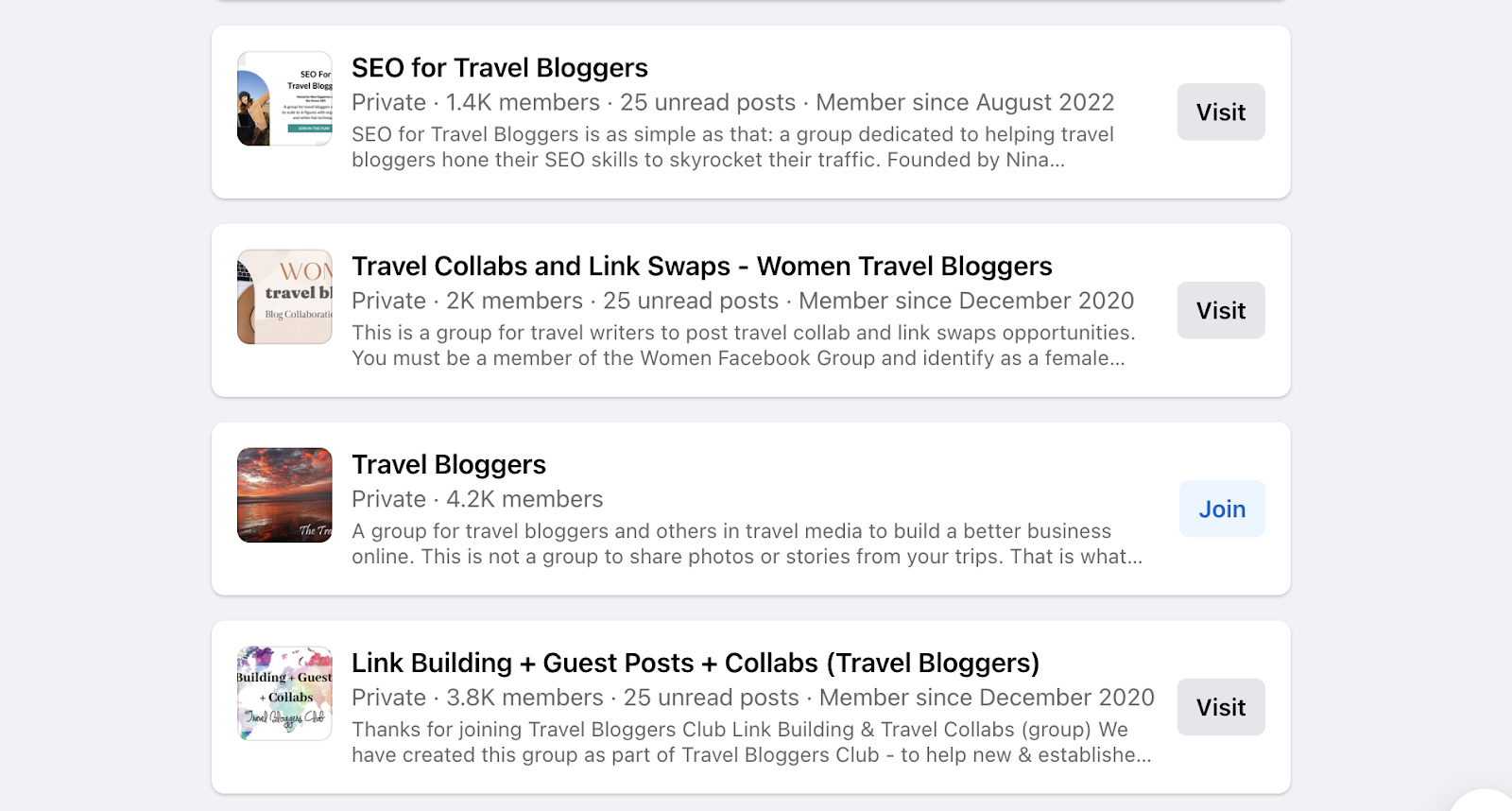 Boost Bookings During Every Season With Travelpayouts
It will initially take some hard work to optimize your content for the off-peak season, but once you do, you'll see an increase in traffic and bookings during every season — not just the peak summer months. This will help you create a sustainable business during all the "ebbs" and "flows" of travel trends as a travel blogger.
If you're looking for the perfect affiliate platform to join as a travel blogger, we'd love to invite you to Travelpayouts. We're partnered with dozens of reputable companies in the travel industry, like Booking.com, Viator, and GetYourGuide, to provide our partners with endless opportunities to monetize their travel blogs. Join the Travelpayouts partnership platform to get started!