What Is Considered "Fast' in Affiliate Marketing?
Payout terms and frequency vary for each niche and affiliate program. While many companies prefer to pay out commissions every 30 days to help partners stay afloat, some brands may have longer payout terms, of up to two or three months. This is often due to a longer booking window in the vertical, as brands want to avoid paying rewards for canceled bookings and are waiting for confirmation.
In your Travelpayouts affiliate dashboard, you can see daily reports on all sales made through your referral links. As a Travelpayouts Affiliate, you will get paid every month as long as you reach the payment threshold (50 USD).
However, some affiliates want to get paid more frequently. Not all brands allow that, but we have gathered some of the best fast-paying affiliate programs in this post.
1. Leadstead Affiliate Program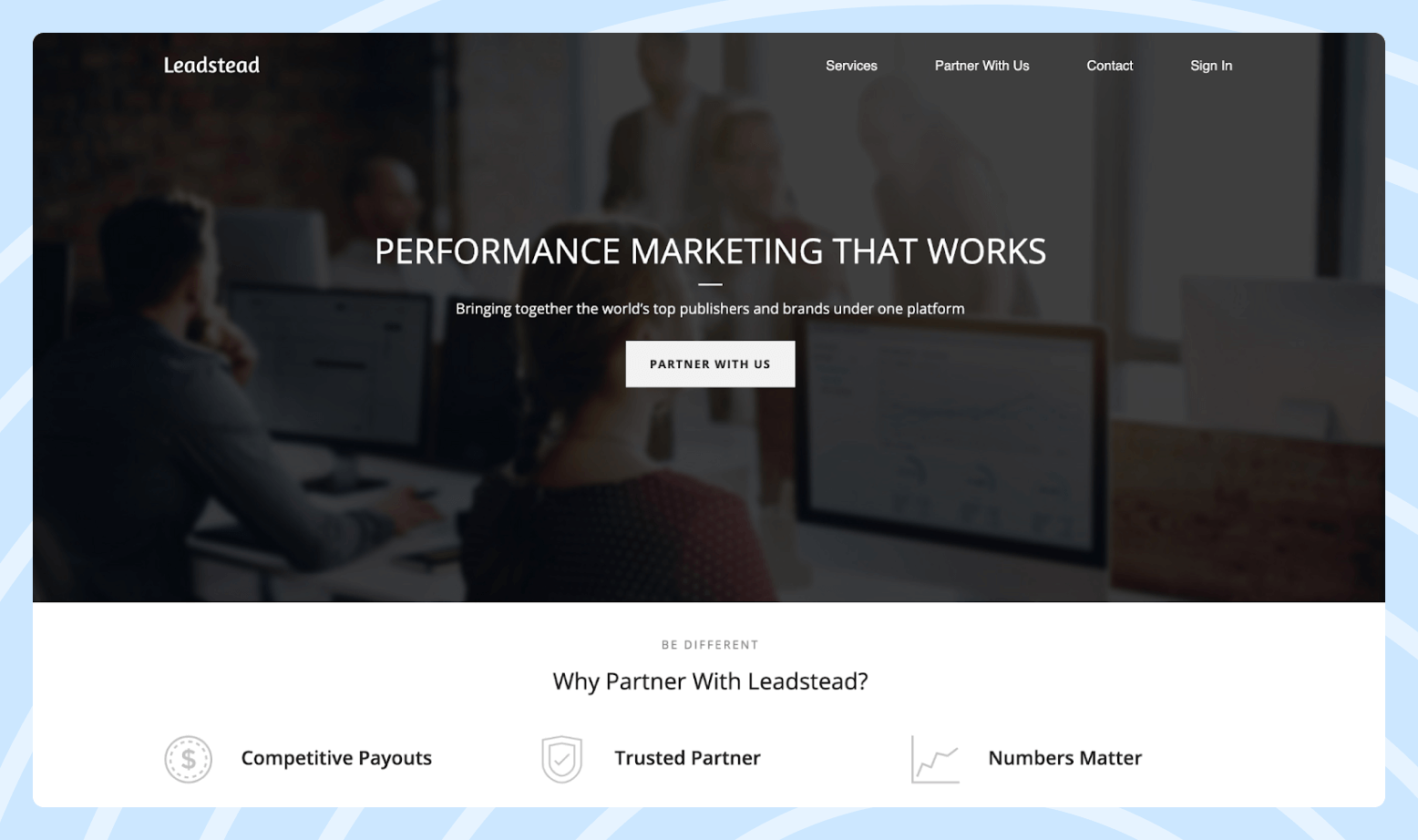 Leadstead is an affiliate marketing platform that claims to provide some of the highest payouts in the niche. With Leadstead, partners can earn in a variety of niches, and the platform offers specific tools and landing pages for each particular niche. It accounts for over 800 offers and more than 5,000 publishers.
Features of the Leadstead affiliate program:
Commissions vary for each program
CPS, CPL, CPI, CPA earning models
Payouts available via wire transfer, Payoneer, PayPal, or check
With Leadstead, beginner affiliates receive payouts every 30 days and with time, it is possible to get paid bi-weekly, weekly, and even daily. The minimum threshold is $50.
To join the platform, fill out the registration form. Note that all applications are carefully checked for illegal or questionable traffic. The program is available for publishers from all over the world. Pay attention that different offers accept different traffic types, so make sure to check the terms for each program on the platform before applying for it.
Join the Leadstead affiliate program
2. AdCrax Affiliate Program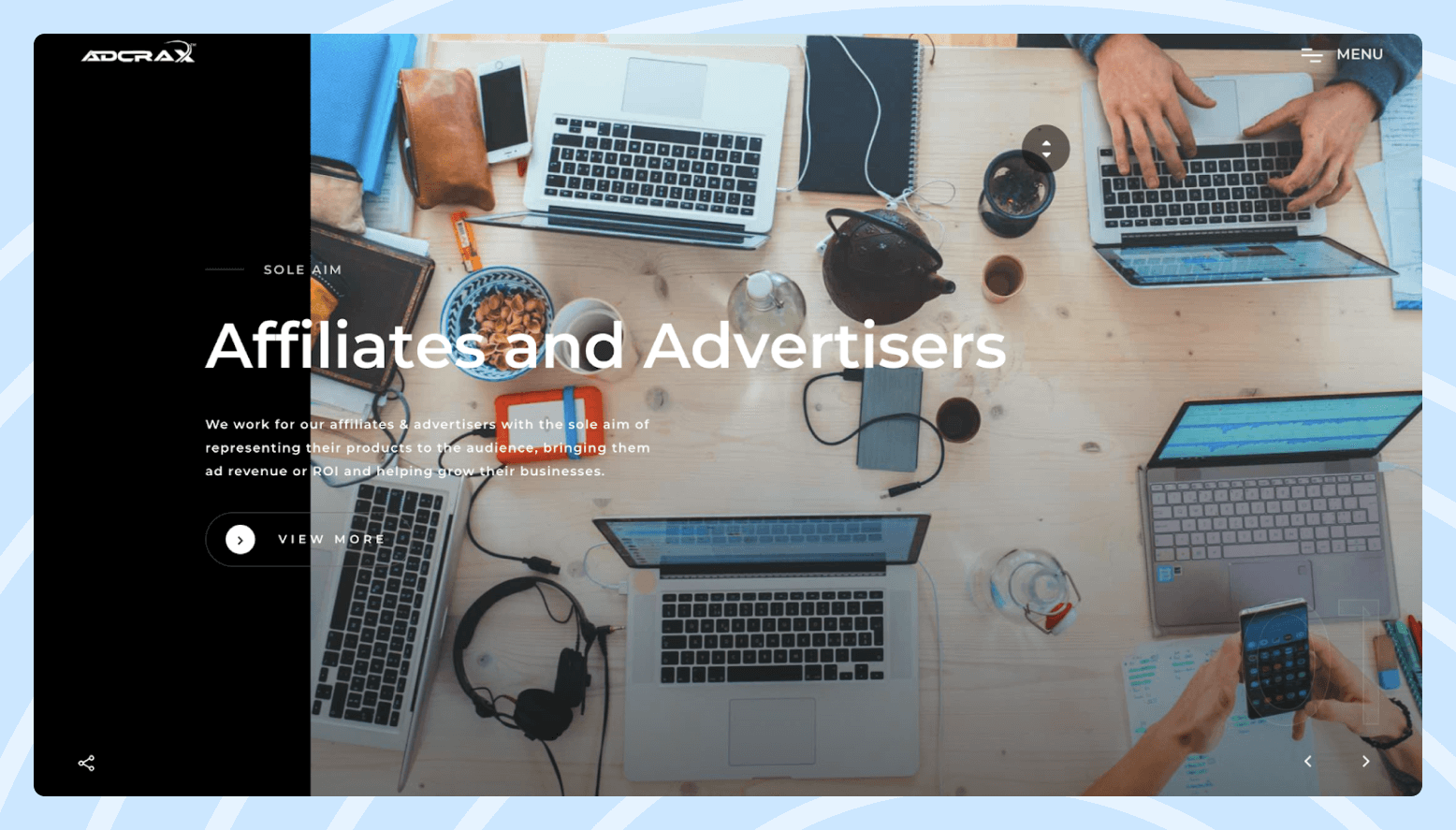 AdCrax is a fast-growing performance and affiliate network with coverage in over 250 countries worldwide. With market presence since 2014 and over 10 years of digital experience, the brand offers a great affiliate program to monetize your following with a focus on mobile traffic. All the details about the available brands and commission types are available upon subscription
Features of the AdCrax affiliate program:
Payouts via PayPal, Payoneer, or wire transfer
Various purchase models: CPM, CPV, CPC, CPA, CPE, CPL, CPI
You can join the program by filling out the registration form on the website.
Join the AdCrax affiliate program
3. JVZoo affiliate program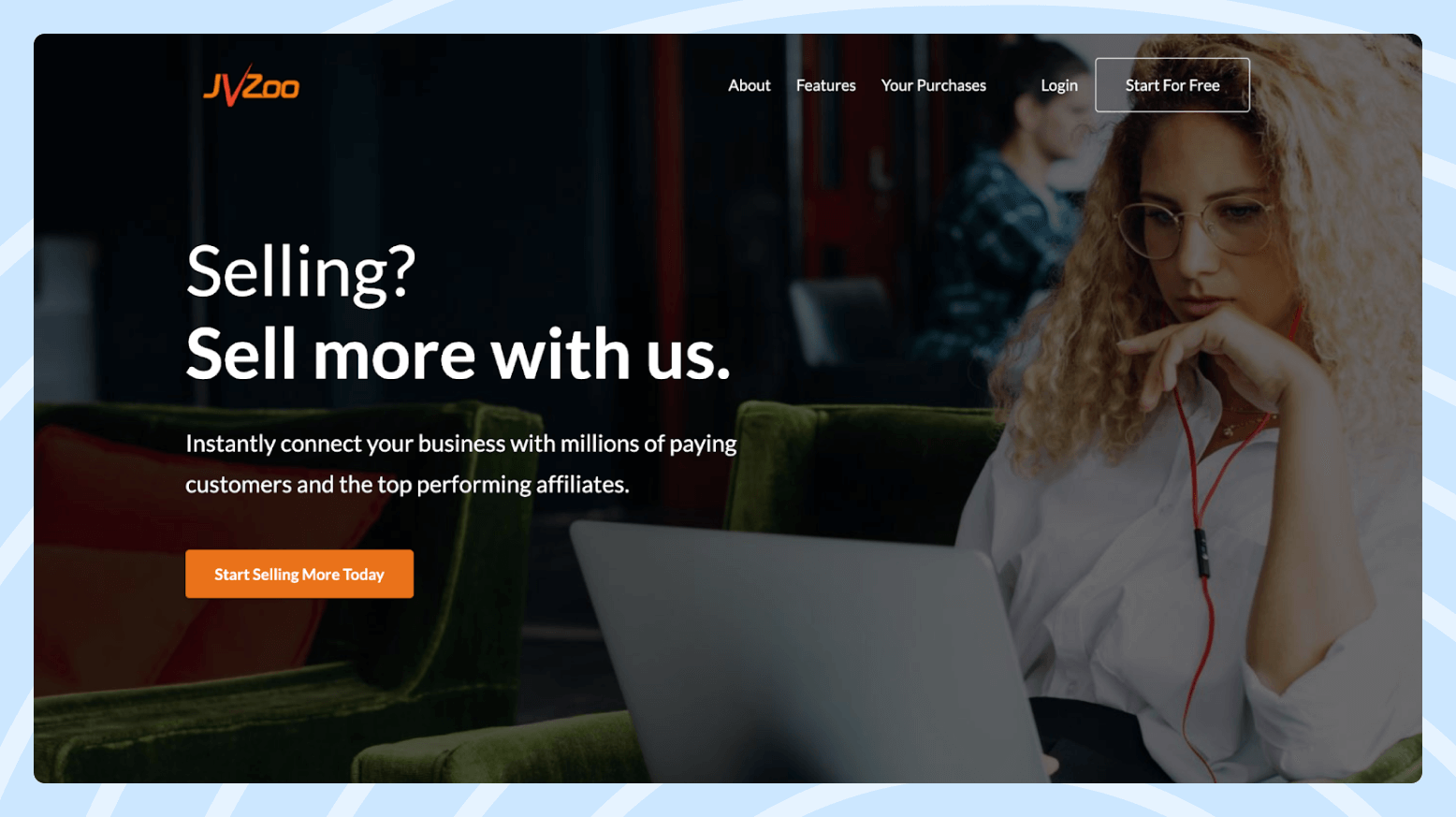 JVZoo is an affiliate platform with over 800,000 affiliate partners that accumulates offers in the internet marketing niche. It is 100% free for affiliates to join and use, and you can start promoting products immediately after signing up.
Whenever a sale is made through your affiliate link, the commission will be deposited into your JVZoo account and you will get an instant notification. Instant withdrawal is possible to the affiliate's bank or PayPal account, and monthly payouts can be sent to Payoneer. Note that some programs require you to make 25 sales before you can receive instant payments.
The platform can be a great choice for affiliate marketers, software developers, membership site owners, product creators, and more. You can promote products on your blog, email newsletter, PPC, and more.
Features of the JVZoo affiliate program:
Up to 50% revenue share
Lifetime cookie
Partner tools are available upon joining the program
To start off, sign up on JVZoo, verify your email address, fill out the GDPR agreement, and choose programs to promote. In the affiliate dashboard, you can see a list of available offers along with detailed statistics, such as conversion rates, EPC, average order value, commission, and more.
Besides, there are numerous affiliate contests with a prize pool worth thousands of dollars to encourage affiliates for a more efficient promotion.
Join the JVZoo affiliate program
4. ClickMagic affiliate program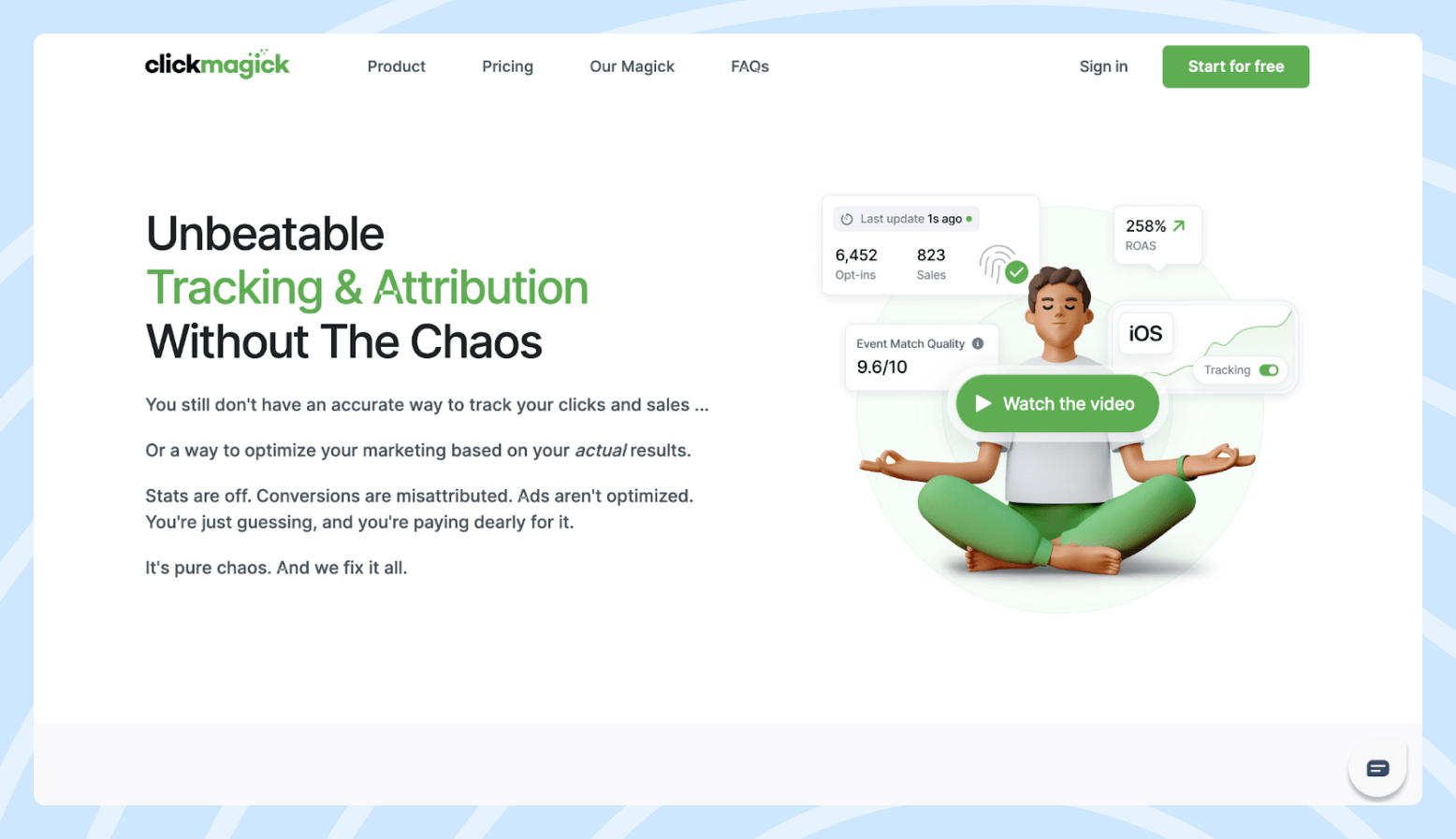 ClickMagick is an online marketing software created for link tracking and sales attribution with about eight years of market expertise. It allows customers to shorten branded URLs for partner links, use geotargeting to redirect traffic to the right offers, launch split testing, receive real-time statistics, and more.
ClickMagick claims to provide industry-leading recurring commissions and pay affiliates daily.
Features of the ClickMagick affiliate program:
35% recurring commissions
$25+ EPCs
Lifetime cookie
Daily payouts via PayPal MassPay
$50 minimum payout
Note that there is a 14-day lag time allowing the platform to account for refunds. This means that you need to grow a steady stream of leads to start receiving payouts every day.
To get started, just fill out the registration form on the website. Then, you will receive your affiliate ID to promote. You can create sub IDs to track your referrals.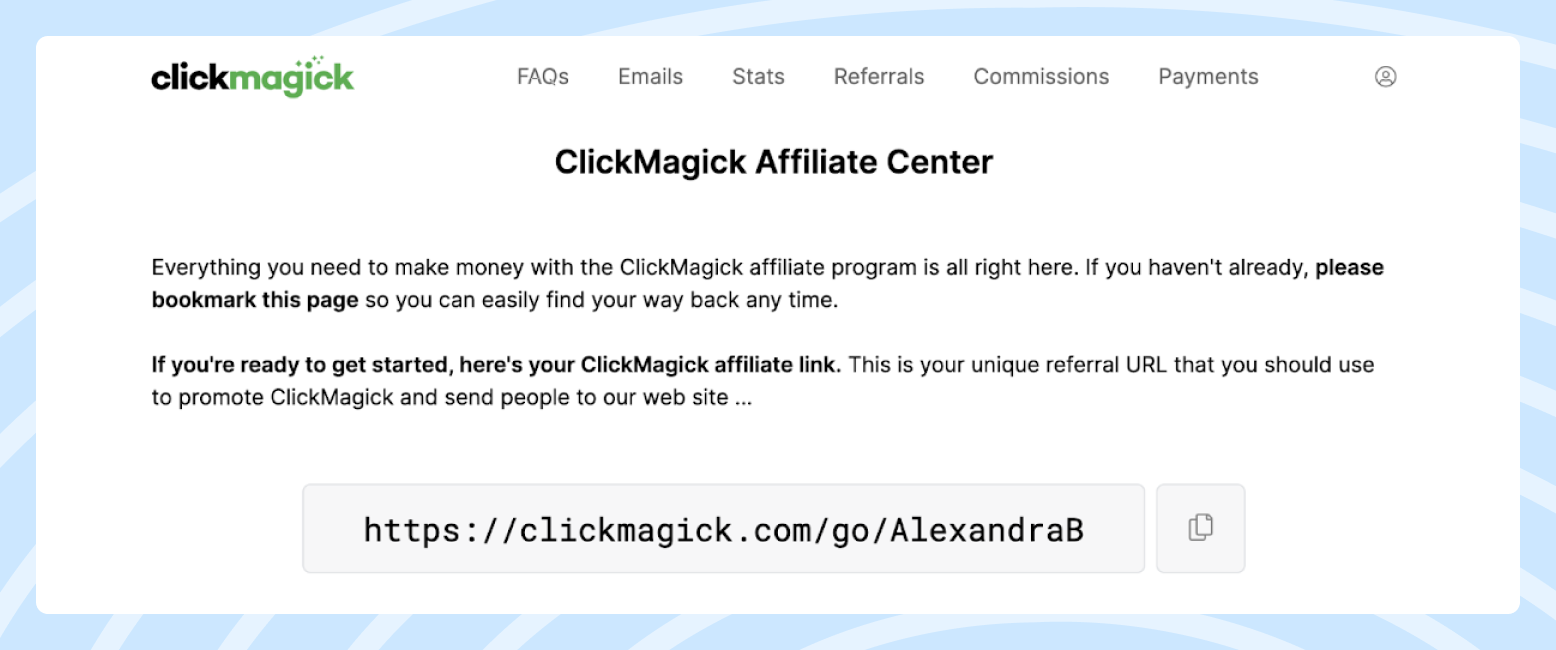 In the affiliate dashboard, you can also check the terms of the affiliate program in the FAQ section, see samples of promotional emails, track statistics for referrals, commissions, and payouts.
Join the ClickMagick affiliate program
5. Leadbit affiliate program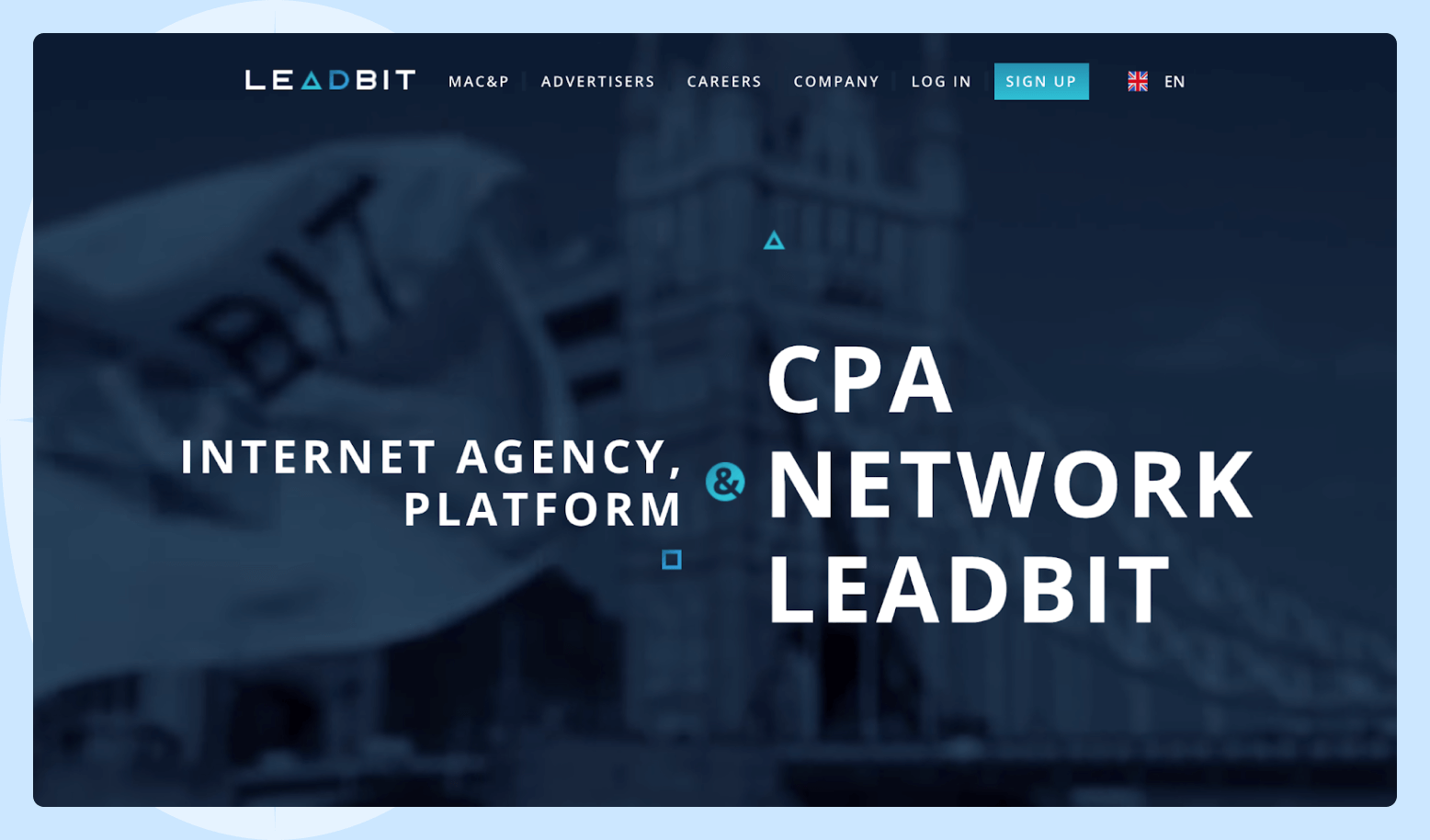 Leadbit is an internet agency and a CPA network with offices in over 50 countries around the world. The platform offers over 700 affiliate programs in different niches, such as dating, gambling, nutraceuticals, and more.
To encourage partners, Leadbit regularly runs giveaway campaigns with some decent prizes, such as smartphones, TVs, and even cars for best-earning affiliates. To become a Trusted Partner of Leadbit, you need to make good sales, eliminate bot traffic, and bring very few refunds.
Features of the Leadbit affiliate program:
Various commissions across different verticals
CPI and CPA earning models
Payouts are possible via PayPal and Paxum
Promo tools include API, banners
Translation services for creatives
Exclusive offers available on Leadbit only
Zero days hold
The company also organizes annual affiliate marketing conferences twice a year to bring together the best affiliates from different countries around the world.
Join the LeadBit affiliate program
6. PayKickstart affiliate program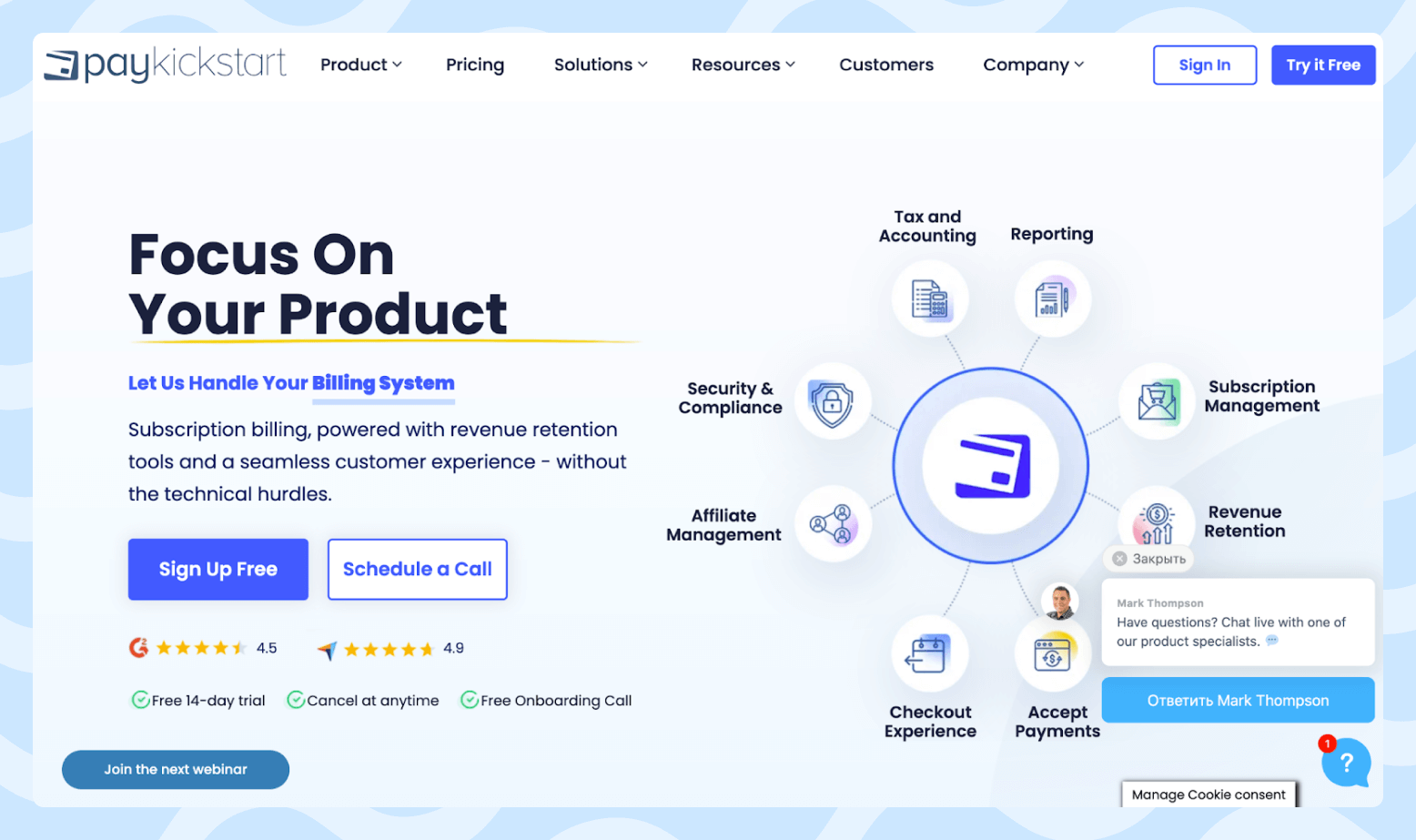 PayKickstart is a great shopping cart solution to help businesses process transactions and subscription fees and ultimately increase sales. In addition, the platform is useful to manage tax and accounting, ensure security and compliance, provide affiliate management, improve checkout experience, accept payments, and much more. Over 9,600 brands have already trusted PayKickstart to improve their customer experience and process their transactions. Potential clients are course creators, software developers, consultants, agencies, sellers of physical and digital products, and more.
Features of the PayKickstart affiliate platform:
25% commission
Lifetime customer attribution
Payouts available via PayPal
CPS earning model
Daily payouts available
Promotional tools include custom banners, email swipe copy, and more
Additional incentives, such as affiliate bonuses and contests
Over 100,000 publishers have already joined the PayKickstart affiliate program.
Join the PayKickstart affiliate program
7. Rebll affiliate program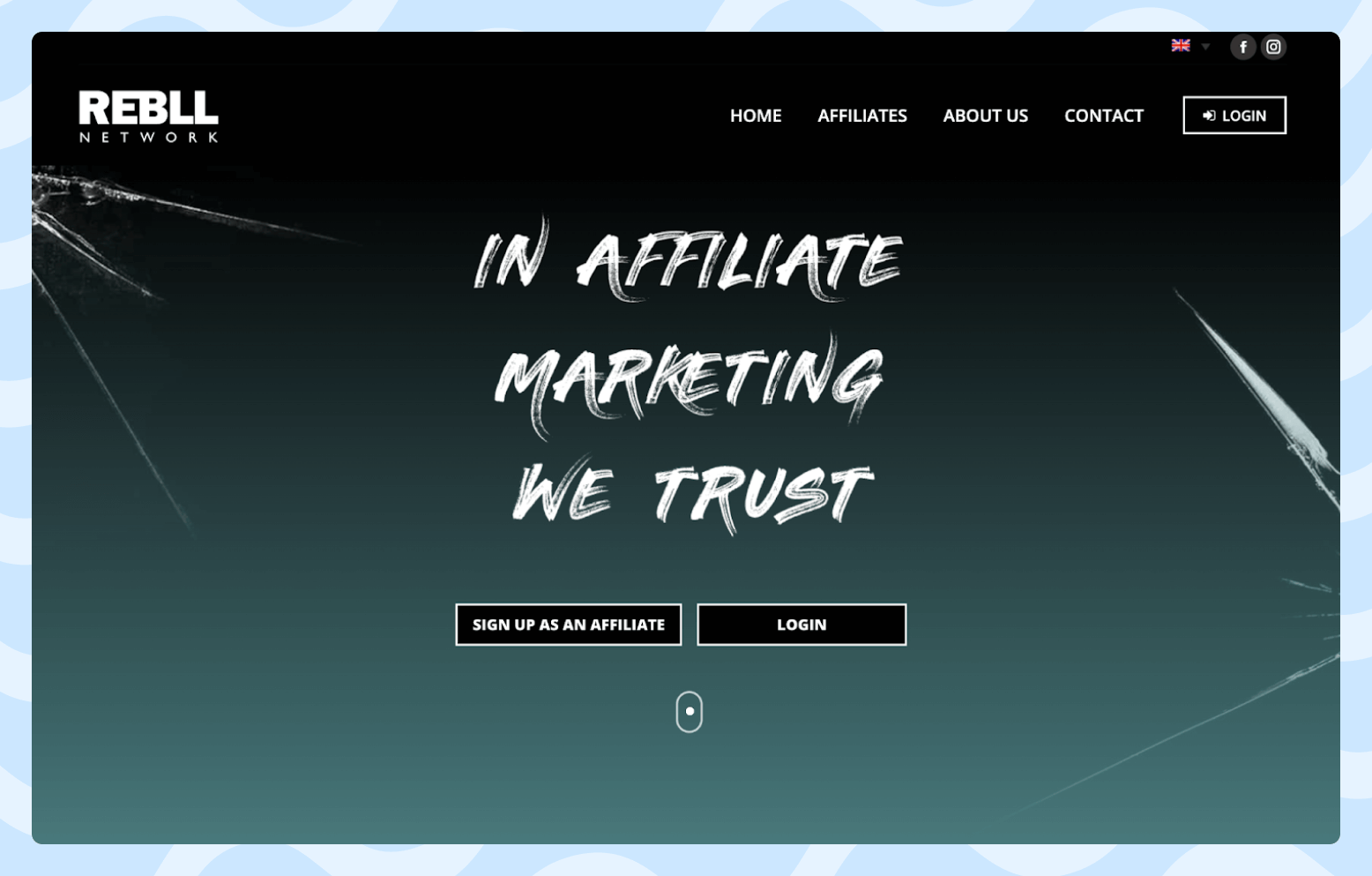 Rebll is a leading affiliate marketing network in the dating niche. It offers a worldwide product range from over 600 brands, including some of the biggest names in the market. The offers are divided into display (mobile and desktop) and email.
Rebll boasts high conversion rates, exclusive offers, and a possibility of daily payouts.
Features of the Rebll affiliate program:
Commissions depend on geo and traffic source and can be increased for good and growing traffic sources
CPA, CPL earning models
Payouts via PayPal or wire transfer
White Labeling and other custom-made solutions
Join the Rebll affiliate program
8. Terra Leads affiliate program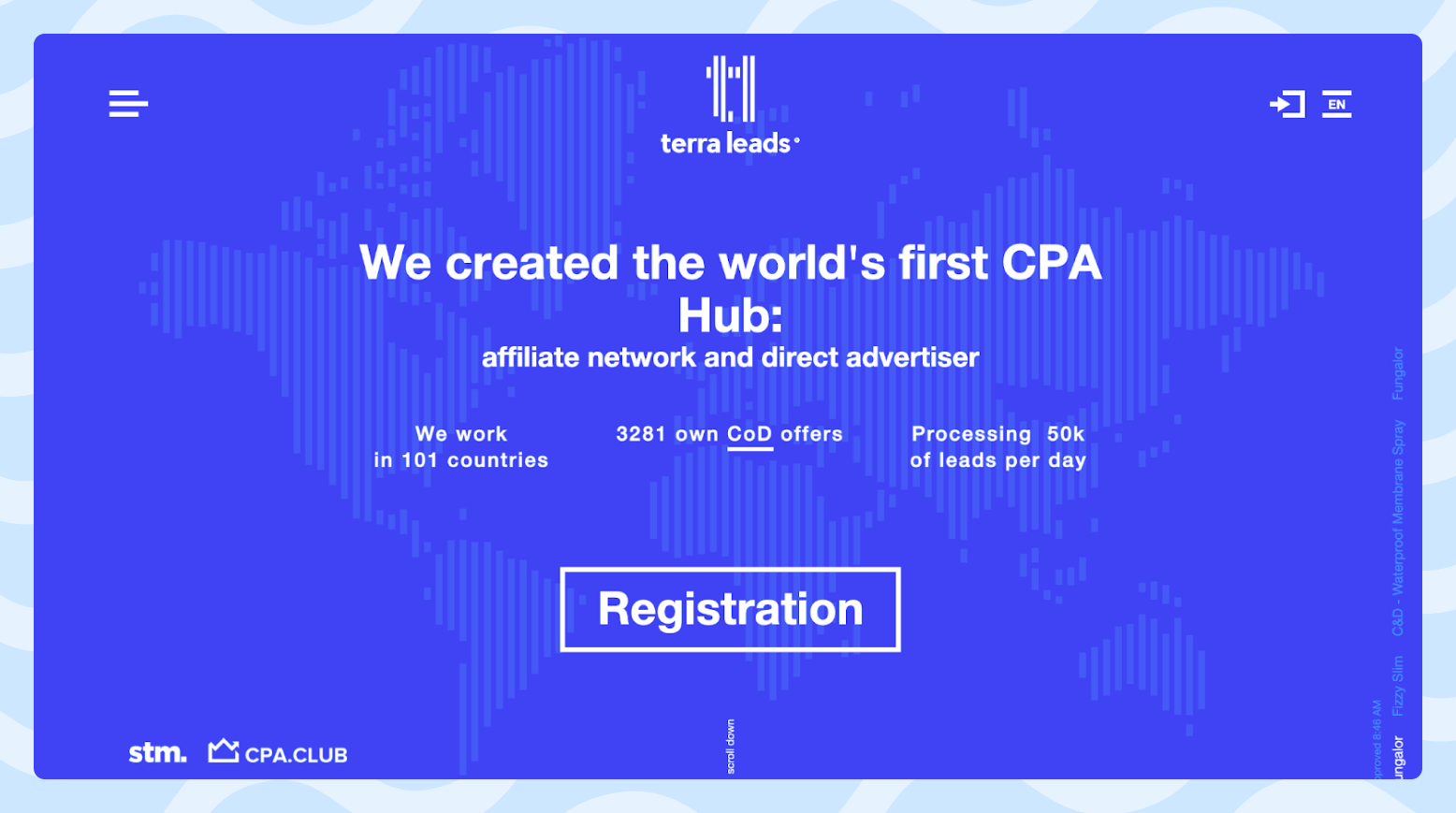 Terra Leads is an affiliate network with over 750 offers in the nutraceutical niche. With a global presence in over 100 countries, it becomes harder to process leads, so the company features numerous call centers across different regions.
Features of the Terra Leads affiliate program:
Various commissions
CPA advertising model
Payouts available via PayPal, Paxum, wire transfer
Affiliates creatives can be localized for your audience`s geolocation
Transparent tracking
API for optimized advertising
Affiliates can also get a bonus of "T-Coins" and use it to buy anything from a phone to a car.
Join the Terra Leads affiliate program
9. Dr.Cash affiliate program
Dr.Cash is a CPA affiliate network in the beauty and health niches created in 2016. Today, it has accumulated over 200 offers across 2,424 countries worldwide. This vertical features some high-paying affiliate programs.
Features of the Dr.Cash affiliate program:
Various commissions depending on the tier
Highest CR in the market
High approval rate
CPA and CPL advertising models
Numerous landing pages and prelendings
Extensive knowledge base, case studies, and manuals for affiliates
Various traffic types are allowed, such as social, Google, native, push, adult, and more
Different payment terms including PayPal, Paxum, and credit card
Payment frequency up to twice daily
Join the Dr.Cash affiliate program
10. Warrior Plus affiliate program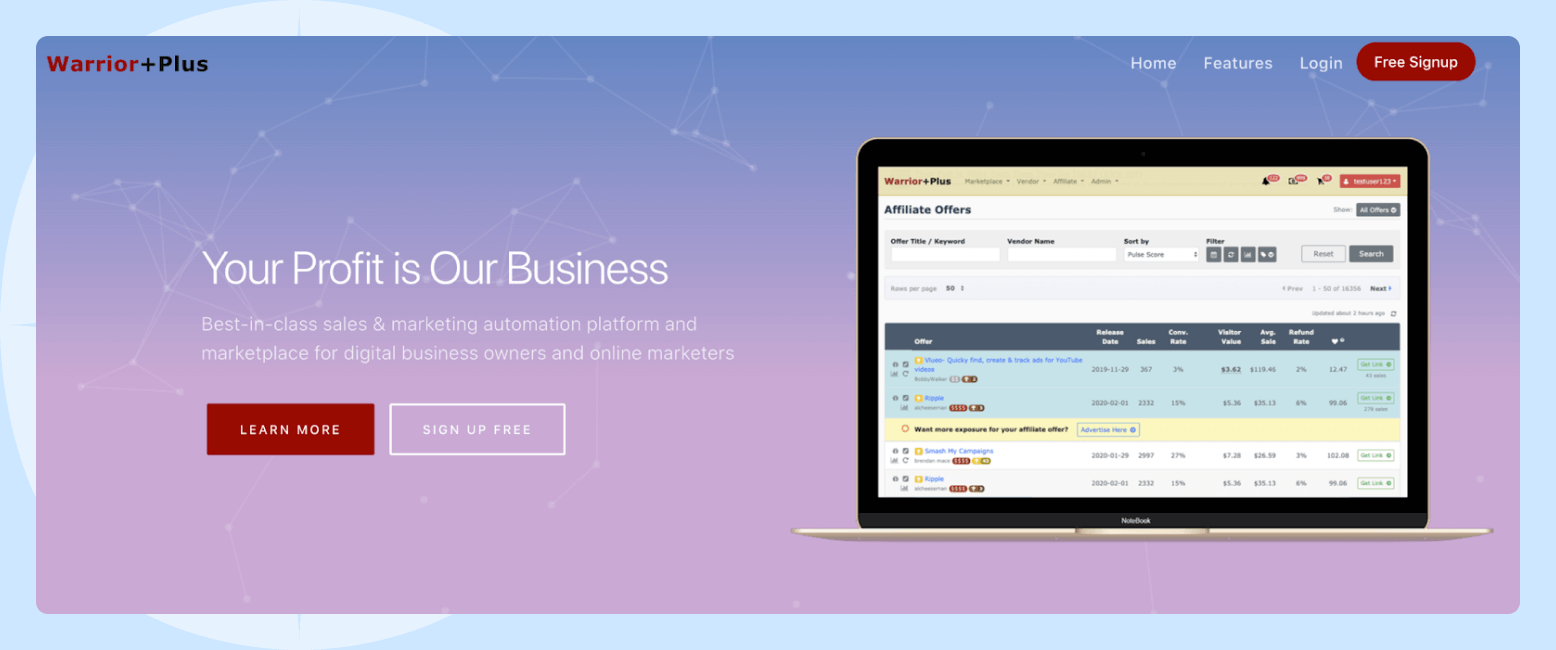 WarriorPlus is an online platform that launched in 2006 to help brands automate their marketing and sales. It features thousands of software and educational products to help grow the business across various niches, from online money making to cooking to design. It is another creation of the Warrior Forum, the most popular affiliate forum in the world.
Features of the Warrior Plus affiliate program:
Multi-tiered commissions up to 100% revenue share, with increased reward on special occasions, such as product launch
CPA advertising model
Payouts available via PayPal
With API, you can integrate popular software, as well as your own website
Plenty of various coupon codes to boost sales
Pre-launch specials and early bird deals
Split testing for sales copy, colors, forms, and more
Detailed statistics, including tracking clicks, sales, leads, and more
The program can be integrated with email services, membership websites, software solutions, and more
Join the WarriorPlus affiliate program
What Is the Best Fast-Paying Affiliate Program?
When choosing which affiliate program to work with, try to pay attention to many different factors. Normally, you can start receiving daily payouts after a certain period of work with the program. So, for beginners in affiliate marketing, it can be a good idea to focus on programs that promise instant payouts later on. Also, consider available promo tools that can help you boost conversions, as well as advertising models and sales tracking opportunities. Choosing only one program can be challenging, so why not join several relevant programs and check performance over time to find the offer that works best for you?