How Much Does a Travel Blogger Make?
Blogging is becoming so popular because it offers unlimited earning potential. Some travel bloggers are known to make six and seven figure incomes every month. Naturally, it takes a lot of time to grow such a revenue stream, but even newbies can start making money after a few months of dedicated work.
In fact, the income potential of a blog depends on several factors, such as your niche and topic, the number of blog posts, content quality, monetization strategies, and more. However, some bloggers do not think about ways to make money with a travel blog when starting out, so it takes them longer to receive their first earnings.
In this post, we will look at the income reports of renowned bloggers, discuss how long it takes to start making money with a blog, and share tips on how to earn a decent revenue faster.
Travel Blogger Income Reports
Below, we have gathered 12 income reports from travel bloggers from all walks of life. You can see their monthly income, blog age, and niche to understand the full scope of earning opportunities.
| | | | |
| --- | --- | --- | --- |
| Blog Name | Monthly Income | Blog Age | Niche |
| Living the Dream | $8,000 | 14 years old | Once-in-a-lifetime, worldwide travel experiences |
| By Leah Claire | $12,295.62 | 13 years old | Adventurous travel to unique destinations |
| Amy Fillinger | $4,223.94 | ~4 years old | Traveling to Hawaii and other tropical destinations |
| Adam Enfroy | $281,776 | 3 years old | Online money making and software reviews |
| Happily Ever Travels | $591 | ~4 years old | Living abroad, traveling on a budget, and learning foreign languages |
| The Atlas Heart | $6,598 | ~10 years old | Traveling around California |
| Ashley Abroad | $2,112.61 | ~10 years old | Culture, history, food, and travel adventures around the world |
| Two Wandering Soles | $17,811 | ~9 years old | Tips for campervan life, working abroad, and much more |
| Getaway Couple | $4,114 | ~7 years old | Living the RV life |
| Adventure in You | $19,233 | ~8 years old | Adventure holidays, travel blogging, travel gear, and much more |
| Making Sense of Cents | $159,592 | ~11 years old | Online money making |
| It's a Lovely Life | Over $200,000 | ~10 years old | Family vacations |
How Long Does It Take To Start Earning Money From Travel Blogging?
Research indicates that, on average, bloggers start earning money after 24 months of work and are able to convert their blog into a full-time income stream within four to five years. The exact time you need to spend blogging before generating your first earnings depends on many factors, including your niche, traffic sources, the offers you promote, and more.
Notably, your niche is not often the main factor that determines your success. While there is research that compiles the most and least profitable blogging topics, you can find ways to make money in each and every niche, as long as you share valuable content and monetize it correctly.
If you want to start making money quickly, you need to dedicate enough time to your blog, but also spend that time efficiently. Blogging for 10 hours per week can bring you more earnings than blogging for one hour per week; however, what you do during these hours is no less important.
There are several monetization strategies that you can use to monetize your blog. To learn about the most profitable strategies, watch this video from Travelpayouts Academy.
Earning Potential of Travel Bloggers
How much do travel bloggers make on average? The graph below presents the typical monthly income based on each blog's age. You may expect to earn about $1,000 per month after one year of blogging. However, some bloggers start earning within the first six months of work and turn blogging into a full-time career within two years.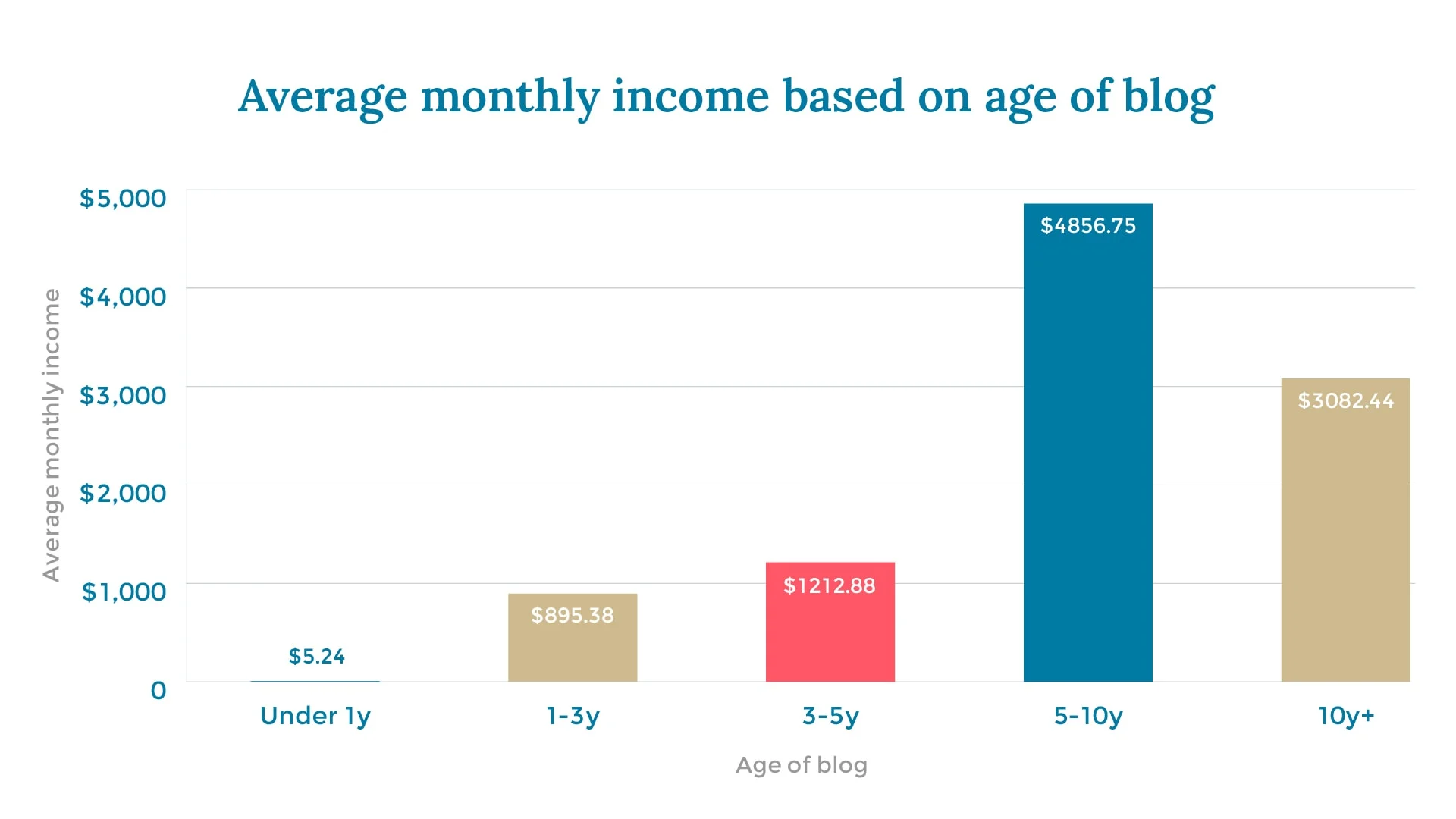 Fortunately, you don't always need to spend 10 years blogging before you start earning $3,000 per month. Amy Fillinger earns over $4,000 per month, but only started her blog four years ago. Adam Enfroy is one of the greatest examples of how to make money online, as he earns over $200,000 per month. You can find more inspiring income reports from top travel bloggers at this link.
Tips on How to Earn a Decent Travel Blogger Salary
Blogging is a great way to earn money online. You can start a blog as a side hustle or try to grow your blog into a full-time venture. In any case, you will benefit from developing a particular skillset that will help you stand out in the blogging niche and build a loyal community around your website. Below, you will find a few crucial factors that are behind the success of almost every blog.
Invest Your Time
It is only common sense that the more time you dedicate to blogging, the more results you can achieve. Time plus hard work and discipline will help you create an awesome blog.
The necessary time varies according to many factors, but consistent posting will surely draw in an audience faster. Readers will know that they always have new posts to look forward to when they visit your blog and, if the materials are trustworthy, you will grow your authority in your niche. Regular SEO and marketing efforts will also help grow your blog much faster than occasional promotions.
You should also invest time into analyzing your audience. Try to understand who your ideal reader is, what interests and pain points they have, and how you can bring value to them. This will help you develop an efficient content marketing strategy.
Be Unique
If you want to grow a large community around your blog, you need to learn how to stand out from the crowd. Make sure to reflect upon your personal qualities to develop a unique product. For example, you may be a very dedicated person for whom it will be easy to create a blog with in-depth materials on your topic. Or you may be very sociable, in which case, networking can be to your advantage in contrast to other aspiring bloggers.
To better understand the market, be sure to analyze your competitors and research your niche. This will allow you to notice content gaps and find better ways to target your audience. Then, try to develop an approach based on your unique personality, interests, and the existing market demand.
Learn New Skills
Blogging is one of those fields that is changing all the time, so to stay afloat, you will need to remain up-to-date on the blogging field and beyond. Networking will help you share experiences and learn from other bloggers, while finding opportunities for cross-promotion and growth.
SEO is of utmost importance for every blogger these days. Search is one of the most reliable and sought-after traffic sources. So, to grow a blog, you will need to master search engine optimization.
Other important skills for every blogger include writing and editing, marketing, analytical skills, as well as design and photo/video editing. Don't worry if you are inexperienced, you will you're your expertise along your blogging journey. To master some of these skills, join Travelpayouts Academy to take free courses from niche experts on SEO, marketing, and other important aspects of blogging.
Learn Financial & Business Skills
Every business needs accountability to stay afloat, so developing a financial skillset is highly beneficial and can prevent you from making unreasonable decisions and investments.
For example, to set achievable goals, you need to plan your budget and understand what opportunities are available to you. Earning money from a travel blog also requires proper accounting, as you will have to pay taxes on your earnings. To widen their reach, many bloggers leverage advertising. If you choose to take this route, you will also need to calculate how much budget you can dedicate to generating paid traffic.
Can Anybody Become a Travel Blogger?
Travel blogging is a multi-million dollar industry that you can join from anywhere in the world. It's not rocket science. Passion, discipline, and a well-developed roadmap will allow you to reap major benefits. So, yes, anybody can become a travel blogger if they are ready to dedicate time and effort. But you do need a good strategy and support along the way. To gain access to some of the best travel brands, promotional tools, and expert advice, join Travelpayouts and start earning with travel affiliate programs today!