How to Assess the Quality of an Article
An ideal article should be unique, useful, and comprehensible to attract the target audience as well as convincing and motivating to bring sales. We offer you a checklist of the main criteria that you should pay attention to when you check article quality.
1. Value
First and foremost, the text needs to bring value to your target audience and address their concerns. It should be written for real people rather than search engines. Make sure it contains statistics, research results, surveys, visuals, and not just your copywriter's personal judgments.
In addition, each article should serve a specific purpose. For instance, to sell a product or service. Every product and every audience needs a particular approach. You will be able to achieve the desired result if the web writer is able to mainstream the needs of a potential customer, emphasize the properties of the product and explain their benefits, provide the client with a choice, and bring them to purchase.
Thus, when checking the article quality, pay attention to whether the text contains useful information and is persuasive enough to generate sales.
2. Uniqueness
Search engines pay great attention to the text uniqueness. This feature is worth considering from two sides: technical and semantic. On the one hand, it is necessary to check an article for plagiarism. And on the other hand, the author should present the information in a new light or from a new angle and not just juggle the words, rewriting the text of your competitors.
Users are also wary of non-original content, as it negatively affects your company's image and reputation.
3. Spelling, Grammar, Punctuation
Check the text for grammar, spelling and punctuation mistakes. Any of them will make your article (and business) look unprofessional and unreliable.
However, do not rush to dismiss the writer if you find an extra comma, misprint, or even a clear mistake. If the overall article quality is satisfying, consider outsourcing an editor and/or proofreader who'll make sure the text is perfect.
The built-in MS Word editor will help you to see the most mistakes. But, for a more complete and correct test, use the best online grammar & punctuation checker tools.
4. Keyword Placement and Density
Content marketing is indispensable without keywords. Their correct use will help:
Increase the likelihood of getting to the first page of search results
Simplify the search on Google
Increase the number of views
Reach your goal: Inform users, turn them into hot leads, or sell
To tailor the text to your audience, learn how to research keywords for your niche and use keyword ranking checkers.
Make sure that all keywords are entered in the text in the right amount and distributed evenly, at the beginning of the text and in headings of different levels. Extra keywords should be replaced by synonyms so that the text does not look spam. A good density is from 2% to 5% per key and not more than 20% for the total content of all keywords in the text.
More practical tips about SEO, including finding and using keywords, can be found in the free SEO course from Travelpayouts and Sharon Gourlay. Watch one lesson from the "Boost Travel Affiliate Revenue Using SEO" course to find out how many keywords you should use in your articles and how to search for them easily and quickly.
All Travelpayouts Academy courses are free for everyone. So feel free to view all the lessons that will help you increase your income.
5. Readability
You can assess an article even before reading it. A good text will be well-structured, with a heading and subheadings, bulleted and numbered lists, paragraphs, etc. It's great if it has illustrations with captions, insets, and graphics. Visuals help a lot to convey the information.
Then, the text should be coherent so that all the ideas logically come one after another. Make sure that one paragraph contains only one thought and, ideally, no more than 70 words, with up to 20 words per sentence.
Another important thing is the absence of wordiness, meaning, excluding words and sentences that do not add anything to the value of the text. It is better to get rid of long intros, repetition, and well-known facts at the proofreading stage using the readability test.
To make sure the text is easy to perceive, read it out loud. Every point where you paused will make your readers also pause, so rewrite it. This criterion is evaluated more logically, by feel than by an exact numerical check.
6. Accuracy
Do not forget to check whether the information corresponds to the real state of things and is up-to-date. Using the 2010 data in the 2020 article is hardly useful. For example, the cost of admission to Vienna museums or the intercity train schedule in France has clearly changed over this period, so the references should only be from relevant sources.
If the text contains contact details (telephones, e-mail, and other contacts), check their correctness. Otherwise, potential customers might not be able to reach out to you and make a purchase.
If you are looking for ways to improve your travel blogging performance, be sure to explore different blog-monetization strategies. For example, you can earn money with your articles via affiliate marketing. Just insert affiliate links to relevant travel brands and earn commissions on all sales made through said links. With Travelpayouts, you can join travel affiliate programs and promote over 100 travel brands and receive full support as a webmaster.
Join the Travelpayouts Partnership Platform
Access exclusive tools and the best travel affiliate programs, including flights, hotels, car rental, insurance, tours and activities, all in one place.
Join Today
395,000 partners already trust us
120 travel brands
$53M+ total paid since 2011
Best Article Quality Checkers
We have collected the six best services that will help webmasters streamline their work and improve text quality.
The tool checks the text for readability, grammar, and spelling mistakes, the density of keywords and immediately suggests how to fix the situation. You can submit the whole website or a particular text. There is also a mobile application.
The service checks readability with the Flesch-Kincaid formula. A higher text index says that reading is easy, and lower grades indicate the complexity of the text. The readability indicator is related to the reader's expected level of education, meaning, their ability to understand the text. The service helps the author stylistically adapt to the target audience.
There is a free seven-day trial, and the subscription costs start from $4 per month.
This online readability checker allows you to assess text quality by adding a link to the page in the field indicated on the website. The service evaluates the readability according to the Flesch-Kincaid formula, ease of reading and grade level, and the Gunning Fog Score.
This is a great program available also as a browser extension for Google Chrome and Mozilla. The service helps determine:
Excess and missing articles
Punctuation, grammar, and spelling mistakes
Common misprints and errors like "it's instead of its"
Stylistic errors
Grammarly will not only help you find bugs, but will explain them and point out possible fixes.
Grammarly offers a free version and a paid subscription, starting from $11.66 a month. The latter extends the functionality by adding 250 rules to help you perform a deep text check, as well as the ability to choose the category and style of the test (blog post, newsletter, etc.). In addition, the premium subscription gives you access to the anti-plagiarism system, which checks 16 billion web pages.
It's another service that you can install in the browser to check spelling and grammar in more than 10 languages. Grammar mistakes are highlighted in yellow, and style mistakes are in blue.
LanguageTool is available in the form of extensions for Chrome and Firefox and there is a desktop version and plug-in for MS Office. There is also a plug-in for LibreOffice, Google Docs, and dozens of other programs, including Eclipse and Emacs. You can also check the text directly on the service website.
The service is free to use.
This tool is perfect for text optimization. The following functions are available:
Counting words in the text. In addition to words, the built-in program will count the number of sentences, syllables, and characters, with or without spaces, and it will show statistics for long and short words, and even indicate the approximate reading time.
Check for plagiarism. This service determines the uniqueness of each individual fragment. The text limit is 1,000 words.
The tool is free. You can check the text without logging-in.
This service allows you to check the following parameters:
Uniqueness
Number of words
Average number of words in a sentence
Lexical density
Total number of sentences
Gunning Fog readability index
To check, just go to the site and insert the required text into the form. A free service option allows you to check up to 10,000 words.
How to Evaluate the Quality of an Article
Content quality is very important for attracting your audience. It is necessary to make your articles unique, understandable to the user, and optimized for search engines, not forgetting literacy and accuracy.
Therefore, before publishing the text on your site, check it from all sides. For convenience, prepare a checklist and use the convenient services to determine the quality of an article for different parameters. Or use our content creation checklist and learn how to develop a website content strategy.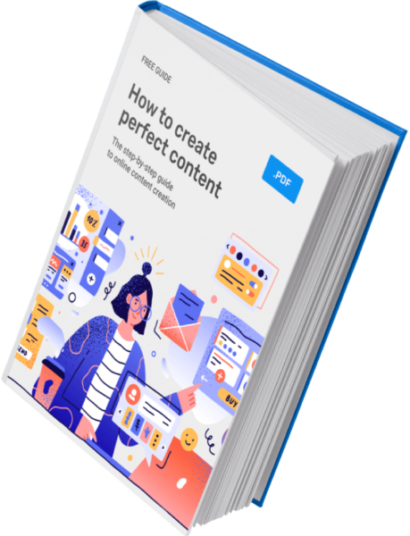 How to Create Perfect Content
Download this guide to learn how to fill your website with first-class content!
Download