What Is Affiliate Marketing?
Affiliate marketing is a type of marketing based on the revenue sharing principle. It has two main participants: a partner who promotes a product and a brand who pays them for the promotion. This is a mutually beneficial arrangement, providing partners with ample earning opportunities and brands with access to a wider audience they wouldn't reach on their own.
Basically, there are two categories of programs:
Pay-per-click (PPC) programs suppose payment per click on the merchant's site.
Cost-per-action (CPA) programs, also known as PPP, reward affiliates for each action performed by the visitor they've referred. This is the most lucrative type of program.
While some brands partner with affiliates directly, others prefer to work through affiliate networks. These are marketplaces accumulating hundreds or even thousands of affiliate marketing products to sell and promote on a single platform and facilitating the communication between partners and brands. While it may be risky to dedicate all efforts to promoting one product, affiliate networks allow marketers to access multiple programs at once.
One such example in the travel niche is Travelpayouts. It is the biggest CPA travel partnership platform that offers access to over 100+ programs and is trusted by 300,000 partners.
Travelpayouts helps brands and partners find each other and build cooperation:
Creators recommend the travel brands they love to their audience and are rewarded for their efforts.
Travelers book their perfect trips at the best prices and explore fascinating places (both near and far).
Travel brands connect with influencers and content creators to extend their reach and increase sales.
With Travelpayouts, you can promote flights, hotels, car rentals, insurance, tours and activities, and other travel products. Partners can take advantage of the platform's free and exclusive tools, such as banners, widgets, deep links, White Label, API, WordPress plugin, and more.
Join the Travelpayouts Partnership Platform
Access exclusive tools and the best travel affiliate programs, including flights, hotels, car rental, insurance, tours and activities, all in one place.
Join Today
395,000 partners already trust us
120 travel brands
$53M+ total paid since 2011
Aspiring marketers often wonder about the earning potential of affiliate marketing. It depends on many factors such as the niche you choose, the amount of time and effort you can dedicate to promotion, etc. For example, the highest-earning affiliate at Travelpayouts earned $114,611 in April 2021. To speed up progress, make sure to check affiliate marketing mistakes to avoid on start.
How to Become an Affiliate Marketer
Here are a few simple steps you can take to become an affiliate marketer:
What Are the Best Ways to Sell Affiliate Products?
Given the importance of affiliate links and tools for generating sales, marketers need to make the best use of their links. But how do some publishers manage to earn good income while other links remain almost ignored? The truth is, it has a lot to do with the promotion methods you deploy. The best practices shared below will help you optimize the use of your affiliate links, resulting in more sales for you and the brand you promote.
10 Best Ways to Sell Affiliate Products
Most frequently, marketers create content on their website or social networks to attract the audience. We've prepared ten best ways to sell affiliate products.
1. Create a Resources Page
Many bloggers create a separate resources page where they share affiliate links together with other helpful sources that may help readers, such as courses, tools, etc.
Here are a few examples of the resource pages from travel blogs that you can use for inspiration:
Glo Atanmo from The Blog Abroad shares banners for travel products she recommends:
Kiki from The Blonde Abroad provides each link with a short description of the service:
Kristin Addis from Be My Travel Muse shares links to the most popular content on her blog, filled in with affiliate links:
2. Launch an Online Course
Online courses can be the best way to sell affiliate products and generate leads at the same time. You may build a separate section on your website for a course or send it as a series of emails. Either way, make sure to write content that will provide good context for the offers you promote and insert links to brands' websites.
For example, Amanda Williams from A Dangerous Business travel blog offers two courses for travel bloggers on how to network and build an affiliate marketing strategy.
On the Blog Ambitious, the course is presented in the form of a list of blog posts. Users don't need to sign up, they can access materials just by clicking on them.
You can also create a series of online webinars to connect with your audience in real time like the bloggers behind the Blogging Fast Lane:
3. Start a Newsletter
Email marketing is one of the best channels to sell affiliate products. It allows partners to get in touch with audiences to make them feel appreciated, improve brand awareness, generate more leads, and more.
Here are a few simple steps to launch your newsletter:
What can you share in the newsletter? You may alternate types of content and include useful posts from your blog, link to interactive content such as webinars, infographics or slides, invite users to online or offline events that you organize, share special deals or discounts, run surveys or contests, and so on.
4. Do a Quiz
Interactive content, like quizzes, work wonders for improving your audience engagement and promoting affiliate products at the same time. You can create a special quiz about one of your brands' products and include a discount or free trial for it as a gift for those who correctly answer the questions. Travel bloggers may run quizzes about travel destinations and check their audience's knowledge of geography, culture, etc.
For example, SkillShare offers subscribers to discover their personality traits in the quiz and then recommends classes that will help them achieve their goals.
5. Run a Contest or Giveaway
Contests can be one of the best strategies to sell affiliate products, grow your audience and boost community engagement at the same time. Giveaways are basically the same thing, the difference is that winners are chosen based on their skill level in contests and randomly in giveaways.
Contests and giveaways should reflect your goals. For instance, if you want to gain followers, ask participants to tag their friends. If you want to increase brand awareness, ask followers to share a photo and use your brand hashtag, and so on.
Here are a few ideas of contests and giveaways you may run on your blog or social media. Ask followers to:
Like and/or comment to win
Create a photo caption
Tag a friend
Show off skills
Share user-generated content, for example, write a story like in the example below
Then, choose the winner based on merit for the contest or at random for a giveaway. Be sure to clearly explain the rules, set the deadline and publicly announce the winner so that the contest feels genuine and you can build trust with the audience.
6. Create Helpful Videos
Videos are an amazing way to increase the engagement of your audience and share your expertise. Today, more and more people search for video tutorials, product reviews, and guides. Video content perfectly complements blog posts, and the other way around. Useful video materials will allow your followers to clearly see the benefits of the product you promote and imagine how they could use it. On top, ranking on YouTube is easier than on Google due to lower competition, so you can target a larger audience.
So, how to promote affiliate links through videos? The easiest way is to embed links into video descriptions. Simple as that. For efficient promotion, it is better to mention the products you recommend in the video to make sure viewers will check the description section. You can explain their benefits to encourage clicks. Try to make links look tidy and short.
Here is an example of YouTube affiliate marketing in the travel niche: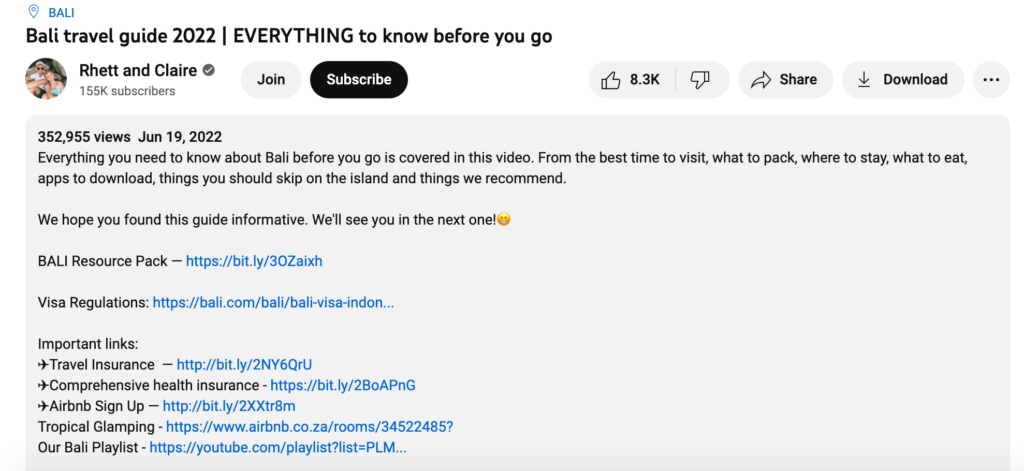 7. Add Affiliate Banners
Many affiliate programs offer a variety of tools to help publishers boost conversions. One such example is affiliate banners that can often work more efficiently than links. The biggest advantage of banners is their visual nature allowing them to capture the attention of the audience and showcase the benefits of the product.
You can easily place banners within your post, as well as on the sidebar, header, and footer of the page. The main rule is to provide your banner with enough context and make sure its layout and design is relevant to your page content so it does not annoy as an advertisement. As a rule, the higher banners are placed on the page, the more efficiently they work.
8. Promote Affiliate Products on Social Media
Many social networks, such as Facebook, Twitter, Pinterest, etc. allow marketers to share affiliate links in their posts. It is always better to provide links with enough context that will be relevant for your audience and explain how they can benefit from the product or service you promote.
Notably, instead of direct affiliate linking, many publishers prefer to send traffic to their websites. This is mostly because they use social media to build a loyal community and do not want to make their social content too promotional.
To learn more about how to promote affiliate products on social media, take the "Travelpayouts 101" course at Travelpayouts Academy. This course will explain the basics of affiliate marketing and will walk you through every step of making money with the Travelpayouts digital partnership platform: from joining affiliate programs to using promo tools to selling affiliate products on social media, and more.
9. Run Paid Ads
Growing organic traffic and building a community on social media takes time. If you want to drive conversions faster, consider running paid ads. Advertising opportunities comprise search engines, social networks, third-party websites, etc. that can help you reach a wide and relevant audience in no time. Here is an example of a paid advertisement on a travel blog: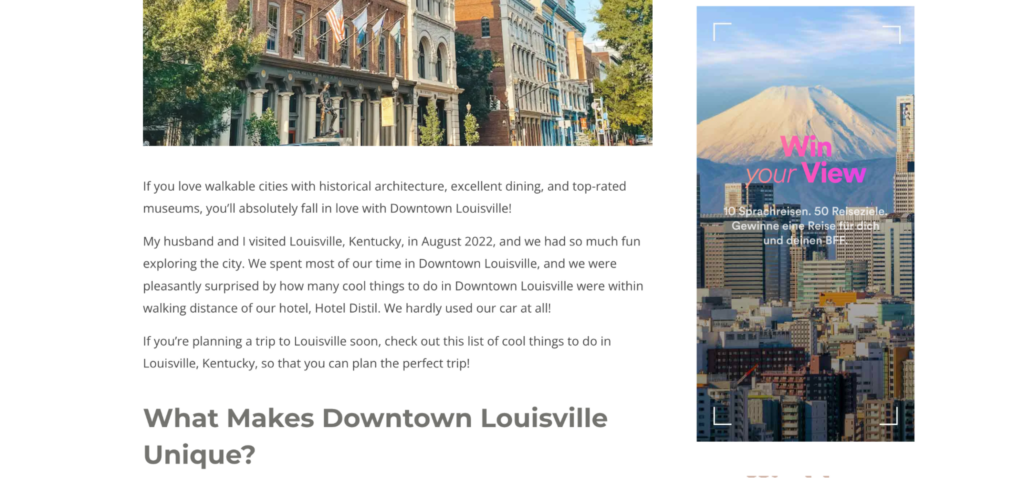 You can also leverage retargeting ads on social media to invite visitors who found you on Google back to your website.
Note that some affiliate programs forbid contextual and native advertising. In this case, you can send paid traffic to your website and then promote affiliate products on your page.
10. Join Affiliate Forums and Groups
On top of the aforementioned strategies, you can also promote affiliate links on relevant forums and in groups. These are usually niche-focused platforms that aim to help target audiences to share experiences, supposedly without advertisement.
If you decide to sell affiliate products on forums, make sure that you do not break the network`s guidelines. For example, platforms like Quora and Reddit frown upon promotional content and advertisements, which you need to consider to leverage the power of these forums.
To promote affiliate links efficiently, follow some of the best practices:
Use link shorteners. Links that are too long look suspicious, so make sure to shorten your link to be able to use it without getting banned.
Build a landing page. If direct affiliate linking is not possible or unwelcome, you can send traffic to a separate landing page with affiliate links in place. Make sure to add relevant content that will encourage users to check your affiliate offer.
Embed affiliate links in images. Make images clickable by adding your affiliate links to their caption or alt text and send visitors to your affiliate programs.
Alter your message across all promotional channels so that your content stays unique. Many platforms frown upon copy-paste answers.
How Much Can You Earn With Affiliate Marketing?
Affiliate earnings are not something that is static and depend on many factors, such as niche, affiliate program and its commission structure, conversion rates for your audience, the promotional strategy that you use, and more. If you partner directly with travel brands, they normally provide commissions from 1.5% (for airline tickets) to 10% (for tours and activities), while many travel aggregators offer 50% revenue share with the marketer. You can learn more about the programs available at Travelpayouts and their commission structure in our brand directory.