About the Travel Market During Holidays
This year's major holidays will begin on November 24 (Turkey Day). For everyone, it's an opportunity to stay at home with the family, meet with friends and relatives, or take a few extra days off to change locations, properly relax, and explore all the sights.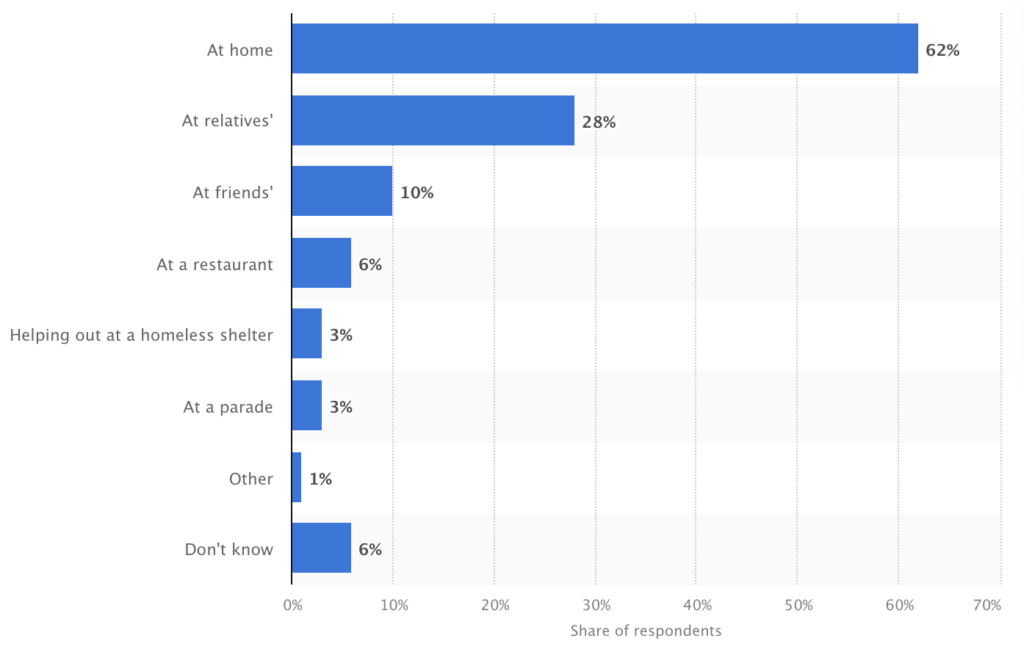 According to a Delloite survey, in 2022, 31% of American adults plan to travel between Thanksgiving and mid-January. 27% of them plan to go away on Thanksgiving weekend specifically.
Most of the people surveyed will travel for less than a week. 33% will leave for one week and 12% more than a week, but less than two.
Here's how Americans' demand for Thanksgiving travel is distributed:
49% plan to visit friends and relatives
35% will go on a road trip
26% will stay at the hotel
23% will take a domestic flight
12% will fly abroad
When preparing content, note that younger travelers (between the ages of 18 and 35) tend to travel (inside or outside the country) and spend more on transportation or activities once they have arrived at their destination.
Popular Destinations for the Thanksgiving Holiday: Which Trips Travelers Are Booking Right Now
Travelers are already planning their trips, buying flights, booking accommodations, and renting cars. So, we asked Travelpayouts brands to look into their statistics. We studied the public data of travel companies and the historical data of our brands to gather information on popular destinations and products that are relevant to US travelers on holidays for this year.
Make sure to examine this data when preparing content to meet the demand of your audience and earn more on holidays.
Note: Some brands have prepared special offers to make it easier for you to promote their travel services. Share existing promotions with your audience to help them find cheap deals and push for quick purchases (and receive your partner reward as soon as possible).
Flights
Travel demand is rising as the travel market recovers from the pandemic. In addition, the cost of aviation fuel is rising, which increases the cost of air tickets. According to the travel booking app Hopper, the price of round-trip tickets for domestic flights is on average $350, while international flights are $795.
WayAway
This is a challenge for travelers, but a chance for affiliate marketers to earn on holidays. You can help travelers not spend all their savings on tickets. To do this, join the WayAway Partner Program and recommend that your audience search and buy tickets on WayAway, the aggregator with the best rates.
Popular Destinations
To create content, look at the popular destinations shared by Allianz Partners:
Top domestic destinations included New York, Seattle, and Orlando
Top international destinations: Mexico (Cancun, San Jose Del Cabo, Puerto Vallarta), the UK (London), and Jamaica (Montego Bay).
For a complete list of popular cities and countries for Thanksgiving travel, check out our table.
Join the WayAway Partner Program and earn 50% revenue share and $10 for every sale of the WayAway Plus Membership Plan.
Tours & Activities
According to statistics from the previous year, more than half of the US travelers on Thanksgiving Day were adults without children (family or friends). The second largest group was comprised of parents with children and in the third largest was comprised of solo travelers.
Each of these types of travelers need services from Tours & Activities brands. These brands will help travelers get to know a city or a country and to have fun regardless of whether they are with family, friends, or alone.
GetYourGuide
According to GetYourGuide, popular domestic destinations for tours and activities include Phoenix, Orlando, New York, San Francisco, Chicago, Charleston, and many other cities. The full list of top cities with links to attraction tickets, city cruises, and walking tours can be found in this table.
By the way, we recently shared tips from GetYourGuide experts on how you can earn with this brand. Be sure to read those tips before you promote popular destinations on your blog.
Viator
Viator's statistics confirm the aforementioned data on popular destinations from Allianz Partners, as well as the increased demand for tours and activities in:
Riviera Maya & the Yucatan (Mexico)
Hawaii (USA)
Nevada (USA)
Louisiana (USA)
Check out the full list of popular destinations, as well as specific tickets to attractions, events and tours in our table.
Special Offer for Partners
By the way, until the end of December, partners receive an increased reward of 10% (instead of 8%) of the value of each sale. All you have to do is join the Viator Partner Program.
Tripadvisor
Tripadvisor's data also confirms global trends. However, this year, the brand noticed a strong demand for the following locations:
Dubai (United Arab Emirates)
Crete (Greece)
Rome (Italy)
Cabo San Lucas (Mexico)
Istanbul (Turkey)
Hurghada (Egypt)
US travelers booked travel during the same period of discounts dedicated to Black Friday. The full list of top destinations can be found in our table.
Join the Tripadvisor Partner Program and read our post with tips for earning with the program.
Go City
Go City has learned which destinations are popular among US travelers all year around. In addition, the brand recommends that you mention these destinations in your holiday content:
Small hint for promoting Go City Passes in London. The brand recommends directing traffic to londonpass.com instead of the Go City website. You can find a partner link to this page in the "Tools" section on the partner program page.
Accommodations
Booking.com
We studied last year's statistics for the Booking.com Partner Program and noticed a significant demand for travel to the following locations:
You can find a full list of the top countries and cities in our table. As you know, accommodations are a necessity for any trip and Booking.com is a great representative and leader in the Accommodations category. Join the Booking.com Partner Program and earn 4% of the cost of completed bookings.
Car Rentals
According to Statista, most US travelers travel by car on Thanksgiving. Road trips are a great opportunity to spend quality time with family or friends, listen to their favorite music, visit places that would be inaccessible via other types of transport, and test drive a new car (if renting).
Rentalcars.com
An excellent option to meet the needs of such travelers is to offer them the opportunity to rent a car for the holiday period, which they can do with Rentalcars.com.
According to last year's brand data, which we collected in Travelpayouts, on Thanksgiving, travelers rented cars not only in the USA, Turkey, France, and Italy, but also in Portugal and Hungary. The full list of locations can be found in our table.
In terms of domestic destinations, the brand has seen strong demand for car rentals in Miami, Orlando, Phoenix, Honolulu, and Fort Lauderdale. The full list of international and domestic locations can be found in our table.
In our post, you can find many interesting insights about the brand's target audience and practices on how to earn money with the brand. But, first, you need to join the Rentalcars Partner Program. You'll earn 6% on each booking.
QEEQ
QEEQ shared that the most popular car rental destinations don't differ on either Thanksgiving or Black Friday.
In addition to previously named locations, such as Orlando, New York, and many others, QEEQ added additional cities, such as Washington and Opa-Locka, to the list of top destinations.
You can find the full list on our table. Meanwhile, in our blog, you can check out our review of the QEEQ Partner Program.
EconomyBookings
According to EconomyBookings' observations, on the weekends nearest Thanksgiving Day (November 23 — November 26), people most often rent cars in the following US cities:
Florida
California
Texas
Hawaii
Nevada
Arizona
Join the EconomyBookings Partner Program, promote these destinations, and earn 60% of the brand's revenue from each booking.
Trains & Buses
Flixbus US
Flixbus, a bus ticket service, plans to prepare for the hugging and organize a Thanksgiving trip starting at $6.99. The brand also shared popular routes for this holiday season. Here are the top three routes:
Austin → Houston
Houston → New Orleans
Sacramento → San Francisco
You can find the full list of ticket prices for each route in our table. Partner link to bus tickets in the USA with the best rates is waiting for you in the "Tools" section on the Flixbus US Partner Program page.
Black Friday: Popular Destinations and Traveler Discounts
Black Friday is part of a long shopping period that runs from Thanksgiving Day until Cyber Monday. This period has always been, and continues to be, one of the busiest days for shopping during the entire year.
We learned which services travelers usually booked during the discount period dedicated to Black Friday (which will begin on November 25th).
Flights
WayAway
WayAway has a hot offer that no avid traveler can turn down – a major discount on the WayAway Plus membership plan.
Members get up to 10% cashback in real money on flights, hotels, tours, and other services. They also have access to premium support and exclusive guides from locals in almost 100 cities.
Travelers will have four days to get WayAway Plus for 75% off. That's just $25/year down from $100.
Gift: 75% off
Campaign dates: November 25, 2022 (00:00 New York time) – November 28, 2022 (23:59 New York time)
Please note: the price during the campaign is final. This deal cannot be combined with any other promotion discounts, including the 10% discount from the WayAway Plus promo code tool.
Tours & Activities
GetYourGuide
As for the demand for excursions in the USA from GetYourGuide, which travelers book on Black Friday, there is little difference compared to the most popular activities for Thanksgiving. Among the most popular tours and activities were city cruises, a cruise in Everglades National Park, jazz cruises, as well as entrance tickets to the USS Midway Museum, High Roller at the LINQ, and the only excursion in Europe (to the Vatican).
This year travelers can receive discounts for selected tours and activities from GetYourGuide.
Gift: 50% off
Campaing Dates: November 22, 2022 — November 28, 2022
You can find a partner link to GetYourGuide's Black Friday offer on the partner program page.
Go City
Go City has prepared a special prize drawing for Black Friday. Your readers can receive up to 10% off selected passes on site, along with being entered into some great prize drawings during this time! For example, buying a pass automatically places customers into Go City's prize draw.
The list of prizes includes an NYC Helicopter Tour, a two-night stay at the Sheraton Universal in Los Angeles, a five-course sunset dinner cruise in Oahu, and more, which you can find in our table.
Gift: 10% off and special prizes
Campaign Dates: November 22, 2022 — November 29, 2022
Ticketmaster
Ticketmaster is the world's largest marketplace for concerts, festivals, theater performances, and sports events.
Ticketmaster's Black Friday week 2022 has just begun! Fans can grab at least 30% off tickets to concerts, musicals, shows, and many other great events.
Gift: 30% off
Campaign Dates: November 22, 2022 — November 28, 2022 (by 11:59pm)
You can earn with this brand. Join the Ticketmaster Partner Program and earn up to 2% for each sale.
Klook
Klook, a one-stop platform for travelers, has prepared special promo codes for Black Friday.
Gift: up to 5% for top attractions, activities, tours, rail passes, and more. The complete list of promo codes and creatives you can find in our table.
Campaign Dates: November 25, 2022 — November 28, 2022
The partner's reward is 5% for each sale. The promo code will affect partners' rewards as commissions are calculated based on the discounted price of the booking.
Accommodations
Booking.com
On Black Friday, at Booking.com, travelers typically book accommodations in the following countries:
Canada
Poland
USA
Colombia
Costa Rica
Chezh Republic
Finland
You can find a detailed list of destinations with specific cities in our table.
Booking.com is launching its Black Friday Deals, which will provide travelers with a discount on bookings.
Gift: 30% off / 40% off (APAC)
Campaign Dates: November 17, 2022 — December 1, 2022
Travel Dates: November 17, 2022 — December 31, 2023
The link to the Black Friday Deal page is already available in the brand's tools. The information about this promo activity will appear there on November 17 once the promotion starts.
Hostelworld
Hostelworld, the global hostel-focused online booking platform, is about to unwrap Black Friday travel deals where you and your audience can save up to 50% on the world's best hostels.
Gift: up to 50% off
Campaign Date: November 18, 2022 — December 1, 2022
Travel Dates: November 19, 2022 — April 30, 2023
You can find all hostels offering Black Friday discounts in the table. It can greatly simplify the process of your content preparation for certain locations.
The link to the Black Friday deals page is already available in the brand's tools. It will launch at 10am (GMT +0) on November 18, 2022, so you have time to prepare your content.
Loveholidays
With Loveholidays your audience can make savings of up to an extra 15% on selected hotels in Spain, Turkey, Portugal, on the Canary, Greek, and Balearic, Islands.
Gift: up to 15% off
Campaign Date: November 18, 2022 — November 28, 2022
The partner link to this offers you can find in the Tools section on the partner program page.
Car Rentals
Rentalcars.com
The popular cities for car rentals during Black Friday are also slightly different. According to last year's statistics, the second place here is occupied by Spain, while the UAE replaced Hungary. Find more in our table.
Rentalcars.com prepared a Black Friday offer for travelers, who want to rent a vehicle for their next trip at a good discount. The biggest brands in the car rental niche, such as Hertz, Avis, Sixt, and many others, participate in this campaign. The full list of companies, their discounts, dates, and other campaign conditions can be found in the terms and conditions of the promotion.
Gift: Up to 25% off
Campaign Date: November 24, 2022 — December 1, 2022
You can find the partner link to this deal in the Tools section on the partner program page.
EconomyBookings
During a period of huge discounts on EconomyBookings, Black Friday, travelers book cars in the same cities in which they spend Thanksgiving. During this period, Arizona rises to the top of the list and moves Hawaii to sixth place.
Thanksgiving and Black Friday are great opportunities for affiliate marketers to strike gold. If you're not already earning with Travelpayouts, now is the time to start. The platform boasts more than 100 renowned and trusted brands to you to promote to your audience, allowing you to reap the rewards from each sale while helping travelers find the best deals on their next trips.