We recommend that you watch the video from the webinar, called "How to Monetize Your Travel Blog with WayAway This Holiday Season" or read this post. During the webinar, Katarina Komazec, founder of Adventour Begins, shared her first-hand experience on how to promote and successfully earn on flights WayAway's flights and WayAway Plus Membership Plan in her cruise-focused blog. In addition, Nick and Olga from Travelpayouts shared their observations and tips on how to work with partner tools and which content is most efficient for WayAway promotions.
About Our Experts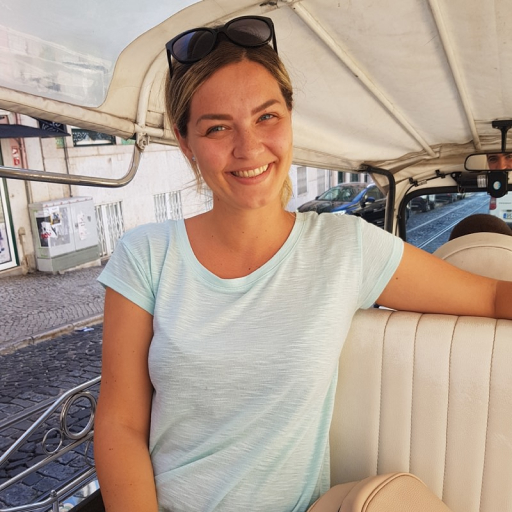 Katarina Komazec has been working on cruise ships for a long time and decided to create an Adventour Begins travel blog to share her experiences with tourists and crew members. Although the blog has not yet grown into a full-fledged job, it already generates a solid income of over $1,000 per month through blogging.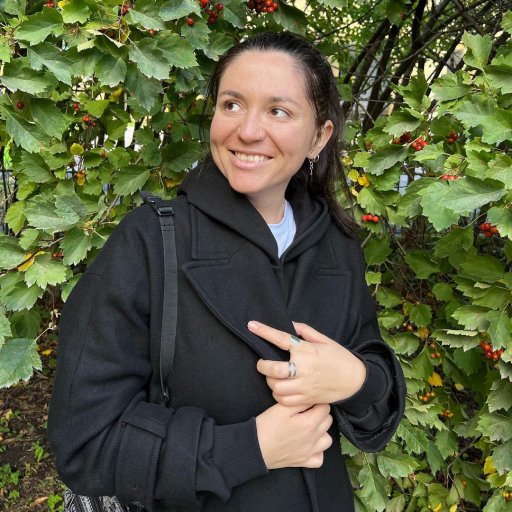 Olga Gachkova is a marketing manager at Travelpayouts. She passionately loves each partner program and cares about every partner's success. Olga follows the performance of partner programs and tools, and knows how partners should talk about specific programs to boost their income.
Nick Lazarev is the business development manager at Travelpayouts, who has helped to integrate thousands of tools into content creators' websites. Nick is ready to spend hours talking about what will best suit your blog: links or widgets. He will also indicate specific places where partners tools are missing.
When to Start Thinking About Blog Monetization
Katarina Komazec works on cruise ships and started her blog in June 2020, when the COVID-19 pandemic first began and Katarina was without a job. During this time, she started researching online businesses and made the decision to launch her own blog.
Katarina was going to eventually one day monetize her blog, so she started doing the most important part: conducting research focused on SEO traffic and content optimization. This would eventually allow her to monetize her blog.
This is a key point since it was quite strategic to think about monetization from the very beginning. From there, Katarina joined Travelpayouts and some other affiliate networks, such as Amazon and CJ, and began inserting affiliate links into her content.
Olga:
"There is no perfect time to start monetizing your content. You don't have to wait for Christmas or summer. You should start monetizing your blog as soon as you're ready. And there is also no such thing as enough traffic to start because it depends on your audience and blog content. Just try to think of content that will be Googled in a few months."
You can start monetizing your blog right now with the Travelpayouts Partnership Platform. Join it to gain access to more than 100 travel affiliate programs of well-known and trusted travel brands, such as Booking.com, Viator, and Rentalcars, which we'll discuss in this post.
Join the Travelpayouts Partnership Platform
Access exclusive tools and the best travel affiliate programs, including flights, hotels, car rental, insurance, tours and activities, all in one place.
Join Today
395,000 partners already trust us
120 travel brands
$53M+ total paid since 2011
When to Prepare Content for the Holidays?
Nick:
"Preparing content takes some time. If you don't have content about travel in winter and you want to create it now and still get monetized, it's a bit too late for this season. With that said, it's always good to start preparing content beforehand for next winter."
When Katarina started blogging in 2020, she noticed her post appearing in search engines eight months after its initial publication. Your ranking just depends on which keywords you utilize, so you should conduct keyword research. With that said, keep in mind that it takes quite a while for a post to start generating traffic.
Katarina:
"This is a recommendation for all bloggers to use research from keyword websites, where you can actually see the volume and competition of each keyword. This will allow you to can establish a strategic plan regarding which keywords to focus on.
This year, I wrote a lot of articles on Mediterranean Cruise ports. The Mediterranean season starts in April, which means there are a lot of people researching this tpoic. Currently, a lot of people are focusing on the holidays, so they are researching whatever they need for holiday travel. Your article about this period might rank in search engines, but on the other hand, you will probably have a lot of competition, because many other blogs are writing about the same topic."
Olga:
"If you work with traffic that is instant and inspirational, like social media and emails, seasonal content is perfect because it pops up in the user's feed. You don't have to help your audience plan their trip in six months, they need to do it right now. They are inspired to buy something or to go on a perfect New Year's vacation, and evergreen services work, but you need organic traffic. The most important point is that you need to start planning for spring. If you haven't written anything about the winter holidays yet, try working with social media and emails."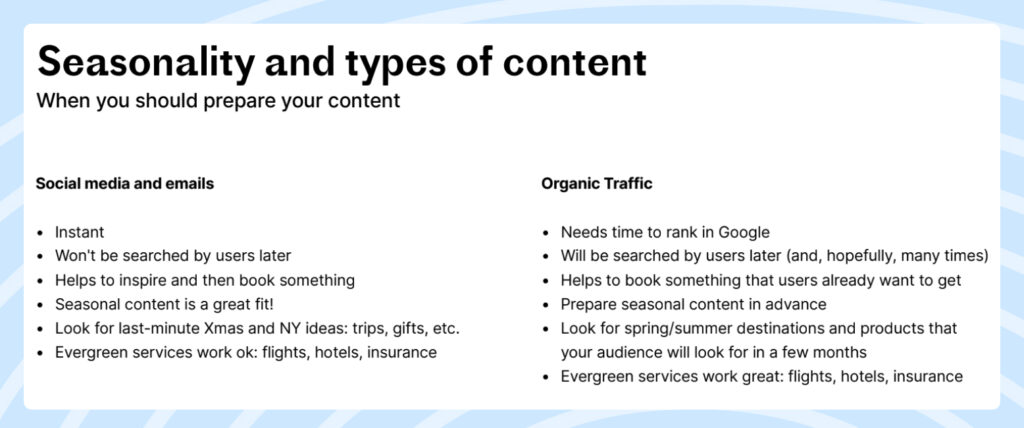 How to Prepare Seasonal Content in Advance
Katarina:
"I wrote this article two weeks ago, maybe 10 days before black Friday. Of course, it didn't rank, because I wrote it too late. I focused on instant social media and email marketing because everyone is currently searching for Black Friday deals. I'm advertising something that can be useful for cruise ship passengers and even provided some explanations as to why you really need this product on a cruise.
In the second article, you see the year? It's 2023. I'm starting it now, in November, and will hopefully monetize it because once people start searching for cruise essentials or cruise wear or whatever for 2023, my article is going to appear. I'm sure it's going to rank on one of the first pages on Google because I will be among the first people to publish something like that for the new year.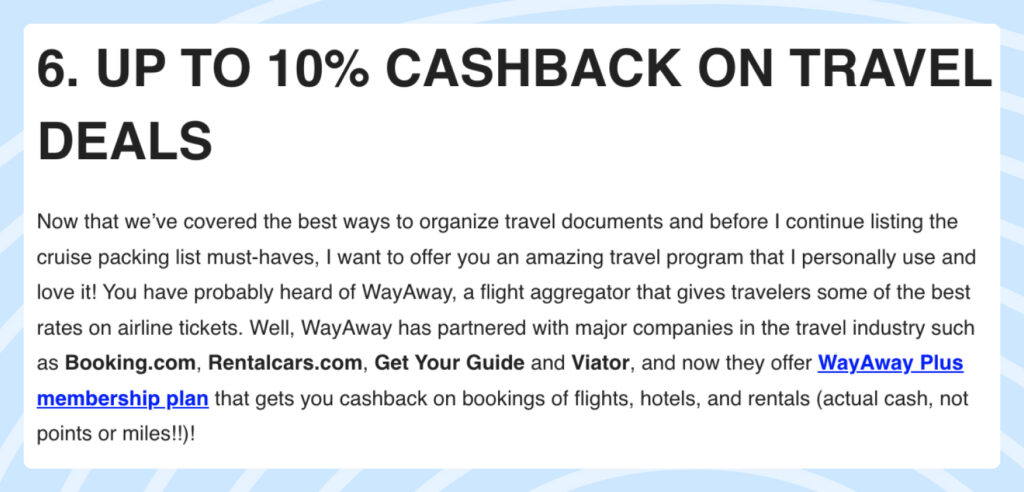 I wrote a similar article a year ago, in 2022. That one article earned me around €2,000 through affiliate networks because it was ranked on the first page of Google. So, it's very important to be strategic and to plan in advance."
Evergreen Services and How to Work With Them: The Story of the WayAway User
Evergreen services are services that a travel needs at any time of the year, such as flights. WayAway, the flight aggregator, is a perfect example of a source of evergreen services.
What is WayAway?
This year, we launched an amazing flight aggregator called WayAway that shows the best possible prices. We used 10 years of expertise working with travelers, travel brands, and travel content creators to make something that will suit them all. There are two segments of the WayAway brand:
WayAway is a flight aggregator that offers flight tickets and provides different features and optinos. This November, WayAway was voted as the #1 product of the day on Product Hunt.
WayAway Plus is a membership plan that provides users with real money cashback from travel brands, such as Booking.com, RentalCars, and many others. The plan also features premium travel support that works online. If you have a question about the perfect restaurant in Chicago, you can ask this question using your smartphone. Our travel support team will provide options nearly anywhere in the world. In addition, there are exclusive guides provided by the locals for over 100 destinations.
First-Hand Experience Using WayAway
Katarina:
"When you're traveling, you always need a flight, a hotel, and sometimes a transfer or car rental. So, it's very good to have these services on one platform. I booked a hotel in Greece for seven days and another for five days on Booking.com through WayAway Plus. When I complete the stays at both hotels, I'm going to get $39 back. Just imagine how much money you can get back if you book other services through WayAway!"
How to Earn With WayAway, the Evergreen Service
About the WayAway Partner Program
It doesn't matter whether you're a blogger, content creator, or just someone with suitable traffic, you will benefit from the WayAway Partner Program. For example, you can use tools like the Deep Link Generator, widgets, banners, promo codes, and more. All of which are customizable for websites, Instagram accounts, YouTube channels, and other platforms.
You'll receive 50% of the income that WayAway earns from flight sales, as well as $10 per sale of the WayAway Plus Membership Plan.
The cookie lifetime for both the desktop and mobile versions of the website is 30 days. If the user installs the WayAway app via your affiliate link, the app is assigned to your Partner ID for 180 days and rewards are paid for all bookings made by that user in the app.
$10
per sale of WayAway Plus
The WayAway Partner Program
Join Now
10 Tips on How to Earn With the WayAway Partner Program
Katarina's blog is about cruises and does not have an ideal audience for selling flight tickets. However, there is another option of how to use WayAway. Its partner program is an effective way for monetizing content for travelers through WayAway Plus, which encompasses a lot of other travel products. Thus, your audience can use and receive cashback from each sale.
Katarina, Nick, and Olga shared some first-hand experiences and tips on how you can do it on your project regardless of its theme.
1. Know Your Audience
Katarina:
"It's very important to know your audience. Basically, cruise passengers live on the ship and don't need any hotels. But before embarking on the ship, and very often after cruising, they prefer to stay in a destination for a few days or just move to the destination before their cruise. So, they can book hotels on Booking.com through WayAway."
2. Find the Most Visited Articles in Google Analytics
The more traffic your articles have, the better your chances of generating sales. You can check out the details on Google Analytics.
Katarina:
"It may be very challenging to add links in all your articles if you have many of them. I'm using a search console, but you can go to Google Analytics or any other tool. Even keyword research tools can show you the best ranking articles for your blog or website."
3. Figure Out the Main Keyword That This Article Ranks by on Google
Nick:
"If your article contains intrinsic motivation to buy something, it's correct and you can proceed to work with this post and find some spots for implementing partner links.
| | |
| --- | --- |
| Good Keywords | Bad Keywords |
| "Top 10 destinations to travel to [city]""Things to do in New York in winter" (because it's Christmas time)"Best hotels in [city] | Such as inspirational quotes for travel Is these [city] safeWhat is the weather in [city] |
Ranking by good keywords implies that people who visit these articles will most likely book a hotel, flight, etc. because they have an intention to do so. Bad keywords are more for gaining some new knowledge. People who will visit these articles will not book anything. So, it's better to start your articles with the selling keywords."
If you don't know what city to write about, you can focus on popular seasonal destinations. We regularly research them with Travelpayouts brands and publish them in our blog. Check out the last post about popular Christmas Destinations.
4. Find Relevant Places for Implementing Partner Links
Nick:
"You can write articles about cheap trips and flights, flight aggregators, certain cities, and add partner links. For example:
"Cheapest places in the [city]
"How to book cheap flights"
"Comparison of [WayAway] and [another travel service]"
"WayAway Flight Aggregator: Pros and Cons"
"Best things to do in [city]" (in this post, suggest to your readers, who haven't booked a flight ticket yet, to do so with WayAway and put in the partner link into the brand's website)
When giving your reviews, you don't have to lie. Stay true to yourself. People come to read your blog because they trust you. If your feedback is not always positive, you can share it any way. However, you don't always have to call one option "the best". Instead, allow your readers to choose what suits them best."
Watch the webinar recording for more examples of the themes of the post on content creators' websites [35:05].

5. Use Partner Tools Strategically in Your Article
Katarina:
"Every time I write an article, I have a pattern: divide it into two parts. The first part is info about the port. This includes practical information about local transportation, the currency, and so on. In this first part, I decided to insert partner links related to the WayAway Plus Membership Plan.
I know my readers: they use multiple travel services. When they're traveling on cruise ships and visit a new port, they want to explore that destination. This means they can book tours and activities on reputable online platforms, such as Viator, and GetYourGuide. In addition, many people also rent cars and stay in a hotel a day before or after the cruise. Of course, I highlighted the part about 10% cashback and included the WayAway Plus Promo Code.
Don't put links everywhere. Use them to provide value to your readers. Think about this from the perspective of your reader. Many of them find it annoying when they see a lof of links and ads in an article.
In my article about the port of Belize, I inserted partner links to check out car deals and prices as well as one link to WayAway's flight deals because I mentioned the airport. There will be many people who travel to Belize first and then embark on the ship. In this article, I list the best things to do in the port of Belize. For example, I listed six things and put the affiliate link in the perfect place."

6. Promote WayAway Not Only in Posts About Flights
Nick:
"WayAway Plus works with a lot of brands. You can also mention it in some articles about hotels or things to do in a particular city, as well as in some itineraries or guides. You can implement WayAway Plus many times and it will be relevant. For example, if you mention a hotel, you can tell your audience that they can save money with the WayAway Plus Membership Plan."
7. Send the User to a Specific Brand's Website
Nick:
"Send your users to the exact page with all the search results. In the search form on WayAway's website, users can select their point A and point B as well as choose the right date when they want to travel. This will help them save a lot of time. If you send them to the home page, they will most likely not understand what they should do. You can use the Deep Link Generator to create a URL to a particular destination."
8. Write a Call-to-Action
Nick:
"Write a few sentences to catch your reader's attention and implement the call-to-action (CTA). For example, if you write an article about the best things to do in a particular location, say something like this to your audience: "if you haven't booked a flight ticket yet, you can do it with WayAway. Check the prices!" Then add your partner link."

9. Use the WayAway Partner Program Sources
Olga:
"We know that the biggest challenge for most content creators is that you never have enough time to do even the most basic things. When you have to learn about new brands and their partner tools, it can be a real hassle. So, we've created:
Media Kit that contains all information about the WayAway brand for users and for partners. You can create text, banners, and other content by using this Media Kit.
Free short video courses from Travelpayouts Academy with advice and recommendations on how to place partner tools to your content.
Updated blog posts about WayAway and WayAway Plus.
The email school and checklist about how to start earning with the WayAway Partner Program, which you'll receive after joining the program."
10. Refer to the Partner Program Statistics Section
Olga:
"Follow your success of working with the WayAway Partner Program on the brand's statistics page. It's probably something you're going to find at the very beginning of your journey with WayAway. You don't have to go back to Google Analytics or anywhere else. All the performance data is collected in the same place, so it's really easy to see your own conversions, track a single sale, and find some details about it."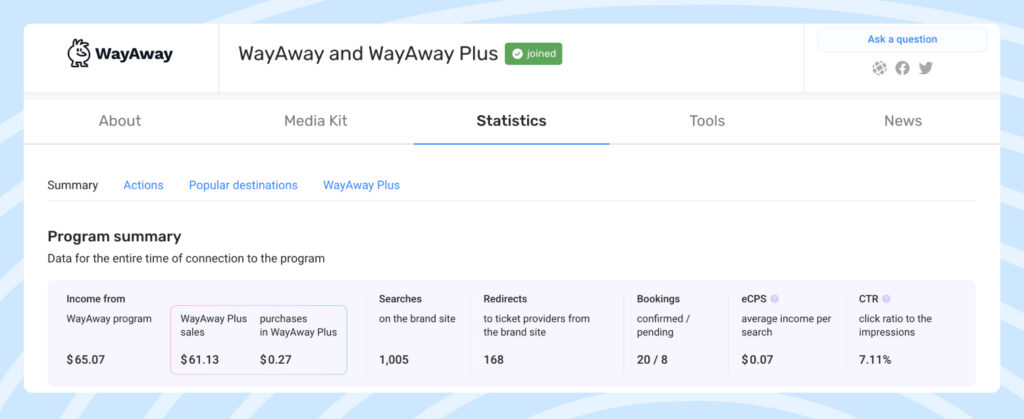 It's important to remain relevant, add links where they are valuable, and provide your audience with whatever they were looking for while ensuring they are ready to buy. If you describe a specific option, provide the supporting partner link or widget. If your readers need something, they will click on it. Then watch the magic happen. These clicks will convert to sales and you'll receive your affiliate income. We hope our tips have inspired you and will help you monetize your content from scratch.
Presentation
You can download the presentation at this link.