Before we share step-by-step instructions on how to start a travel blog, here are five things you will need to start:
Domain name, or your blog's permanent address
Web hosting, which will be powering your blog and allow users from around the world to access it
Website builder, the software used to design your website
Theme and plugins, which add functionality to your blog and don't require technical expertise
Content that will help you drive traffic and build community
Are you ready to start your travel blog? Then, it's time to do some research.
Choose a Specific Niche
Travel is a fairly broad niche, so you will need to choose a more specific area on which to focus. For example, you can choose backpacking, restaurant locations, selling flight tickets for a specific destination, travel insurance, etc. We've gathered some of the best ideas on how to start a travel blog on our blog.
You will need to narrow down your niche so that it will stand out to others. You should also select a niche about which you feel passionate. For example, if you love traveling and helping people with their travels, you can write informative blog posts about your own travels.
Creating a niche website brings a lot of benefits. Thus, you can really help the audience solve issues by sharing niche expertise, build a loyal community around the blog and drive traffic for years. On our blog, we've gathered ten examples of successful niche websites with traffic stats and content strategies, which may help you find inspiration.
However, do not forget about monetization. This does not mean you must monetize your project from the very beginning. It means if you want to make real money from blogging, you should work on it deliberately and consciously. If you intend to monetize your website with affiliate marketing, we have gathered the best affiliate niche website ideas.
Consider Your Audience
When you become a travel blogger, one of the most significant points to consider is your audience, as you must cater to its needs. Those who write blogs and who consider the needs of their visitors will reach success more easily. The people who read your website will be the ones supporting it, after all.
There are plenty of ways to discover who your audience is and create a powerful marketing strategy. Here are a few of them:
Use analytics tools to research the travel niche. If you don't have an online presence yet, you can analyze the audience of your competitors and see if they can become your readers, too. Google Analytics and other similar tools can come in handy to understand potential customers and build your travel content accordingly. You can check demographics, such as users' age, geography, gender, etc., as well as web behavior, including session duration, popular devices, and so on.
Run surveys. The best way to get an answer is to directly ask a question. You can do it by running surveys and getting to know what travel information users are looking for online.
Check social media. It is a great place where users share their visions and ideas, so you can get a lot of valuable insights into interests, preferences, and understand what's trendy so you can get traffic.
Analyze Competitors
It's always useful to take a look at other travel businesses in the niche and understand their strengths and weaknesses to develop a winning strategy. It can help you understand the niche competitiveness, find content gaps and opportunities, better identify the target audience, predict users' responses to certain events, reveal trends, and learn from mistakes.
To conduct successful research, you'll need to check various attributes to get the whole picture. It can be competitors' income, target audience, traffic, marketing strategy, website design, link building approach, monetization tactics, and more.
Researching competitors manually can take quite a bit of time, so you may want to explore tools that will help you automate the process. On our blog, you can learn all the ins and outs of competitor research and the best programs to do that.
Create a Site
The next step to make money in the online travel niche is to create your website. You can do it yourself or hire a specialist. In the first case, you need technical knowledge but this can be cheaper than hiring a specialist. However, do not forget the time you will spend studying to manage it. Moreover, doing everything by yourself also costs money, so sometimes hiring a specialist is better and even cheaper.
Ready-made materials can make your work easier. Also, it's a good idea to read shared experiences about how to create a travel site. Check out our partner's experiences and ideas about creating and monetizing a travel website!
You can get a step-by-step guide on how to create a website on our blog.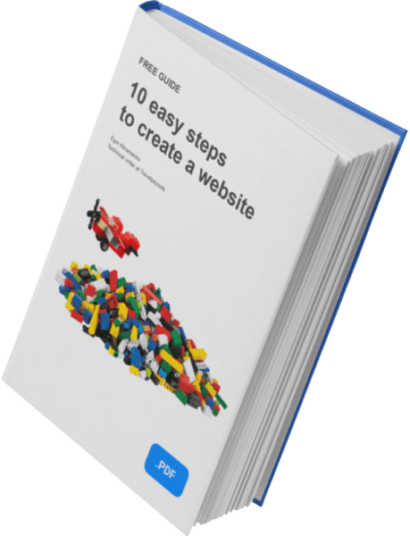 10 Easy Steps to Create a Website
Take this crash course on how to build a website from scratch to generate profit online.
Download
Come Up With a Good Blog Name and Register the Domain
When you start a travel blog, it's crucial to come up with a great name so you can attract potential readers. The name of your blog will play a significant role in determining your blog's success. With that in mind, try to choose a long-term and appropriate name for your travel blog. Moreover, find out whether another blogger is using the same name as the one you want. Read more to find the best name for your blog.
Next, you will need to find out if the URL which you want for your blog is available, in case you want to buy your own domain name. A catchy and appropriate title for your blog can affect its overall success. Go to domain registrars, such as Google Domains, GoDaddy, HostGator, Domain.com, etc. and check if your preferred domain name is available. If not, try to play around with words and mix it up a bit to get a unique name.
Select Your Platform
Another very important step is to select the platform to create and manage your project, because it can increase or decrease your chances of success. There are many free and paid website builders, such as WordPress, Wix, Shopify, Weebly, etc.
Among website builder platforms, WordPress.com is the most popular in the world. Many people like this solution because it's extremely easy to use while still offering a number of useful tools and resources for blogging.
What is more important, you can download the WordPress CMS and install it on your own hosting provider. This means you will have a totally independent project, giving you the freedom to build your project as you wish.
WordPress is an ideal choice to start a travel blog, as it offers a wide range of excellent themes. You should definitely look into this option before making a final decision. There are also a wide range of extensions and plugins which can make your website better.
Travelpayouts provides a WordPress plugin. This allows you to embed the affiliate tools inside pages in one click from the admin panel.
Buy a Hosting Plan
First, let's clarify what hosting is. In simple terms, it's a computer where your project is saved. People from around the world who type your domain (website name) or visit your project from Google, Facebook and other sources are "downloading" pages from this computer, which is called a server. To get it, you must find and buy hosting.
If you want people to access your website as quickly as possible without a lot of downtime, you must select the right host. Make sure you get a reliable host that will keep your website up and running 99.9 percent of the time.
For beginners, a simple plan will be enough. Usually it does not cost more than $5 per month. Of course, if you choose WordPress as a platform for your future website, you must buy hosting that supports PHP.
The easiest way to find the best option is to conduct some research. Just type the appropriate query into Google and you will find a good option.
Get a Professional Blog Theme
When your visitors come to your blog, they see its design. It's very important to make your blog look professional. This is the visitor's first impression of your project and it represents your way to travel blog success.
Therefore, try to get a professional blog theme. Try different themes, either paid or free, on WordPress to understand which theme is best for your visitors. The paid ones cost between $20 and $80.
When choosing a theme, think about your website in the long term. Some website themes are built with a particular goal in mind, so they already have all the necessary tools. For example, what monetization strategies do you want to deploy? On our blog, we've gathered the best WordPress themes for affiliate marketing that have powerful integrations and can boost your business from the very start.
We have already collected 9 themes for travel blogs, but you can find more on Themeforest.net or any other marketplace. If you want to get a completely unique appearance for your website, order a theme from a designer. It's not cheap, as one hour of time from a good designer costs around $25 to $30.
Plugins
This part applies to those people who build websites on the WordPress CMS or any other CMS. With simple HTML, it is not possible to use plugins.
You can get any extension for your blog; we highly recommend that you install:
A plugin to increase the speed of your website;
A plugin to protect your project from spam;
A plugin for comments, such as Disqus or its alternatives;
The Travelpayouts plugin for WordPress.
With our official extension for WordPress, you can embed in one click 11 different tables and widgets which allow you to earn on flights and hotels.
To help you navigate through thousands of available plugins, we've reviewed the best SEO plugins for WordPress, as well as the best WordPress plugins for affiliate marketers.
Analytics
To see how your project is doing, you must install some analytics or counters. In 2021 the most popular tool for counting is Google Analytics. On our blog, we've gathered tips on how to use Google Analytics to improve your travel project.
As an alternative, you can use LiveInternet or Yandex.Metrica. You should track not only the number of visitors you have per day, but also:
How much time people spend on your website;
Whether they read content or close the page immediately after opening it;
Whether you have a returning audience or a new audience;
Which sources give you more traffic;
And other metrics.
This data will show you if you are doing well. For example, if people spend only 10 to 15 seconds on the page, this could mean there is a problem.
We've compiled a detailed guide on how to analyze your travel blog traffic, covering metrics to check, useful programs, and more.
Google Search Console
To track your relationship with Google, you should add your domain to the Google Search Console. Sometimes people call this Google Webmaster. It's an official tool from Google which shows data about the health of your site and its interactions.
Google Search Console shares a lot of free useful metrics and insights into website performance. You can explore the number of clicks, impressions, average click-through-rate, average position in the search results, as well as indexing, page experience, mobile usability, and more.
In this guide, we've gathered tips on how to take advantage of Google Search Console to improve your website or blog performance.
Building Content
Up to this point, you have created the structure of your blog. Now it's time to fill it up with 'content'. Content is what your visitor comes for by searching in Google. Therefore, building travel content is the most important part to achieving success in blogging.
First, create a landing page which briefly explains your goals, theme, etc. One of the most highly-visited pages is the landing page, so consider its impression on your audience. On our blog, we've shared beautiful hotel and flight travel landing pages, which you can download for free and drive traffic to for making conversions on hotel and flight bookings.
Next, write articles. They should be attractive, descriptive, informative, trustworthy, complete and helpful for your visitors. Depending on its relevance, content can be evergreen or seasonal. Evergreen content brings a constant visitor flow, while seasonal posts provide traffic spikes for short time periods. Learn more about pros and cons of evergreen and seasonal content as well as how to mix them on our travel blog.
To capture the audience's attention, it is very efficient to diversify your content types. You may combine blog posts with infographics, travel videos, reviews, webinars, podcasts, ebooks, and so on. This will help you increase engagement and present information in different ways. Learn about 19 types of content to leverage on your blog in our post.
Think about what your audience expects to find in your blog and ask yourself what they need. Apart from your visitors, you must also consider Google or other search engines while creating your content. Through Google-friendly content, you can end up higher in the search results, get more visitors and earn more.
Start Searching for Trendy/Actual Travel-Related Topics With Low Competition
Before you decide on what to write about as a travel blog post, it's quite beneficial to learn which topics interest your audience. Writing about popular topics can help you attract more visitors to your blog.
However, there is one point of which you must be careful; popular topics can have high competition, which means you won't attract as many visitors. Therefore, it's much better to search for popular topics with low competition. Before writing a travel blog post, you can use Google Trends to learn what your audience is seeking.
If you are confused about topics to write about, take advantage of our guide on finding original and relevant blog post ideas. We've also gathered some creative travel ideas for blog articles to draw in quality traffic.
Creating Catchy Titles for Blog Posts
It doesn't matter how great your article is if no one opens it. So, you must create a catchy title to attract people's attention. For this, follow the rules:
Do not lie to the reader, and do not create false expectations;
The reader should feel some emotions while reading the title (not only positive!);
Do not create long titles; people do not like to spend much time reading and understanding;
Try different titles to see what works better with your audience.
You can use Facebook Ads, Google Ads or any other ads marketplace where you can publish the ad with your catchy title. Then, look at the CTR – how much people click on the ad with one title version. Later, change the title and repeat the experiment. Determine which variant of the title people click on more.
Learn more about how to create perfect content and monetize it in our free guide.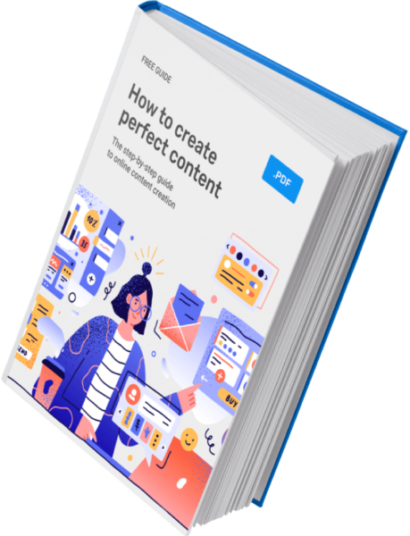 How to Create Perfect Content
Download this guide to learn how to fill your website with first-class content!
Download
Create Content for Different Stages of the Marketing Funnel
People explore travel blogs with different goals in mind, so you need to understand what your potential readers look for to bring value and make conversions. Basically, users looking for travel content online can be divided into the following categories:
Just browsing the internet. These users don't have travel plans in mind just yet, so here you can win their attention by sparking travel interest through enticing pictures of different destinations, hotels, resorts, activities, etc.
Deciding on a destination. Once the decision to travel is made, users start to explore destinations around. You can take advantage of that and provide travel guides to various locations around the world to drive traffic.
Making bookings. Such users have already decided on a destination, so they are ready to book their trip. At this stage, you can provide them with information about reliable travel services and streamline the booking experience.
Already travelling. These are people who are already exploring the destination and are looking for ways to enhance their experience. You can share the best things to see, eat, and do in your area and also help make last-minute bookings.
You can either focus on a particular content type, if you find it relevant to your audience, or try to build comprehensive content to accommodate different types of users.
On-Page SEO for Blog Posts
Your primary goal is to create good content for your readers, but do not forget about search engines, as they can give you huge traffic. For this, you should use SEO on your page. We already wrote a big guide on how to build a relationship with Google, but let's sum it up:
Do not copy text; make it unique and useful to people;
Focus on search queries; know how your audience is searching for information and use appropriate words in your article;
Do not exaggerate keyword usage;
Try to use pictures, tables, lists and videos on the page.
In the same guide above, we also mentioned how to write interesting content. Good earnings will come if people – not only search engines – love your content. You may know how to write travel content that wins a search competition and be at the top of the SERP, but if the content is not interesting to the reader, this is useless knowledge.
An important part of search engine optimization is keyword research. It allows you to find the most popular and relevant queries that can help visitors discover your content on search engines. Keyword research differs for various niches, and in this post, we've reviewed the best practices to find keywords in the travel niche.
To automate the process, you can take advantage of free and paid keyword research tools. Not all keywords can be equally efficient, so to find the best ones, make sure to check their difficulty score, search volume, etc. You can find the metrics to check as well as the best practices for using keywords in our post.
To make sure you've covered all the aspects of SEO optimization, use our on-page SEO checklist. You can also install one of the SEO plugins on your WordPress website or a third-party SEO tool to make optimization easier.
More practical tips about SEO, including finding and using keywords, can be found in the free SEO course from Travelpayouts and Sharon Gourlay. Watch one lesson from the "Boost Travel Affiliate Revenue Using SEO" course to find out how many keywords you should use in your articles and how to search for them easily and quickly.
All Travelpayouts Academy courses are free for everyone. So feel free to view all the lessons that will help you increase your income.
Keep Posting Interesting Content for a Travel Website
You must keep in mind that readers want and appreciate a constant flow of content. Therefore, keep posting to your blog as often as your schedule allows, but try not to sacrifice quality for quantity. It's also important to properly identify your content marketing strategy to make sure you're moving in the right direction.
It's better to write quality posts that your readers will enjoy and from which they will benefit than to simply post a bunch of fluff on a regular basis. The overall quality of the content on your travel blog is extremely important, so spend as much time on it as necessary. If you are outsourcing content creation, it's very important to set up a proper technical task for a copywriter.
Monetizing Your Travel Blog
Whether you want to simply share your own travel adventures or establish the strength of your authority within your niche, monetizing your travel blog is an important step to take. Below, you'll find a few of the most popular ways to make money with your blog.
Affiliate Marketing
Affiliate marketing is an amazing way to monetize a blog, even for beginners, as it doesn't require investments or any special skills to start off. Affiliate marketing is a revenue-sharing model. With travel affiliate programs, you can earn by placing links to travel brands on your website or social media page and earn for each target action that your visitors complete, such as booking a flight or hotel, purchasing a product, registering on the website, installing an app, filling out the form, etc. In return, you'll be providing your audience with an opportunity to learn about brands in the niche and enhance their experience.
You can either partner with advertisers directly or join one of the affiliate networks to gain access to a large number of brands at once. If you want to start a travel blog and monetize it, you can join Travelpayouts, the world's largest travel affiliate network, which accumulates offers from over 100 travel brands and the more than 300,000 publishers who promote them. Travelpayouts includes both local and global brands such as Booking.com, TripAdvisor, Kiwi.com, etc.
Join the Travelpayouts Partnership Platform
Access exclusive tools and the best travel affiliate programs, including flights, hotels, car rental, insurance, tours and activities, all in one place.
Join today
350,000 partners already trust us
100+ travel brands
$40M+ total paid since 2011
Advertising
Another way to monetize your website is through advertising. Basically, there are two options: contextual or direct advertising.
In the case of contextual advertising, you'll need to join advertising networks, such as Google Ads or its alternatives, and place a code on your website to start displaying ads. The network will do the rest, such as searching for advertisers and controlling payments, which is very convenient, although the platform will take part of the earnings as a commission.
On the other hand, direct advertising allows you to avoid intermediaries while partnering with brands directly. By using this approach, you can earn much more, as you won't have to pay fees to advertising networks. However, you are often required to have high blog traffic to be eligible for direct ad partnerships. The first step could be to build a page for advertisers on your blog and publish a contact form there.
Selling Products
If you have something to offer to your audience, use your website as a marketplace. Your offers can come in the form of:
Travel advice
Paid website membership
Merch
eBooks and guides
And so on
Digital products might be the easiest solution because you won't have to pay for production or delivery. They can even be automated, so you'll only need to maintain the system. Let's discuss some of these digital products in detail.
Membership Website
This monetization option is great when you have already established some expertise in the niche, so readers will be likely to pay for access to your membership content. Most often, there are monthly and annual subscriptions that users can purchase.
Creating membership content implies low startup costs, flexible payment packages, and can be beneficial in the long run. On the other hand, it increases demand for exclusive high-quality content that you should be able to regularly produce.
Ebooks
You can also monetize your content by creating and selling ebooks. They have many benefits for both publishers and customers: there are minimal production costs, ebooks don't occupy much space, you can insert backlinks to your website or affiliate links to drive additional revenue, and more. The best thing is that you can write an ebook on any topic you're knowledgeable about and let your audience have all the information in one place. Get a step-by-step instruction on how to create an ebook from scratch in our special guide.
Sponsored Posts
Bloggers who are good at writing and have some expertise in the niche can earn with sponsored posts. You'll need to write a post presenting the advantages of a specific brand and encourage your audience to learn more about it. Pricing usually depends on your blog's traffic potential, domain authority, credibility, and other factors.
To earn in this way, you'll need to find advertisers. You can start by creating a dedicated page on your website with your contact info and inform advertisers that you accept guest posts. Furthermore, you can start looking for buyers on forums and dedicated platforms or contact brands directly and offer your services.
Accepting Donations
For those who manage to build a loyal following, donations can be a great way to leverage investments for blog development. You can simply ask the audience to support your project or set some clear donation goals, such as purchasing a better camera or covering health insurance for your next trip. This can bring unlimited earnings as long as you organize the technical part and make sure it's convenient for your audience to send you money. Building a landing page can also be a great idea.
Advertising Your Travel Blog
Promoting your blog is very important when it comes to succeeding in this niche. Especially when you start blogging, advertising your blog can help you take many more steps on the path to successful blogging. Try to promote your blog as much as possible to make it ascend higher in the results and earn more money.
There are a number of ways you can advertise your blog, such as social media and social networking websites, email lists and so on. The more you promote your blog, the more visitors you will likely have.
Create an Email List
One of the most effective ways to promote your blog is by email. Basically, you can ask your visitors to subscribe and receive emails through which you send offers or news about your blog. One of our partners shares tips and experiences on creating an effective and profitable email list.
Use Social Media Accounts
The most common way to advertise is through social media accounts. Bloggers often use Facebook, Instagram, Twitter and YouTube to attract more visitors. Multi-promotions in different social media accounts can drive more traffic to your blog.
In Facebook and other social media such as Instagram, you can also buy advertisements. You can start a campaign even with $1. This way, you can attract traffic directly to your travel blog or social network page.
Start a Telegram Channel and Promote It Using Facebook Ads
Telegram is a group chat channel through which you can easily send offers and news to your reader. Telegram shows 100% of all messages while Facebook shows only some of the posts.
In Telegram, you cannot promote your posts but you can do this on Facebook. Therefore, it may be a good idea to send your offers by Telegram and promote your channel on Facebook at the same time. Check out our article to learn more on how to use Telegram for advertising and earning more from your blog.
Target Your Competitors' Audience on Social Media
If you've run competitor research, you might already know what audiences they are targeting and whether your blog can also be interesting for these readers. With the latest developments on Facebook, Instagram and other social networks, you can set up your ads to target competitors' audiences.
For example, with the 'Lookalike Audience' feature you can set up a very efficient advertising campaign. Carefully analyze readers of your competitors' websites and create a campaign by setting up desired audience profiles. You can indicate their location, demographics, interests, and more.
Guest Posting
You can contact other bloggers and offer them free content. You are not the only person who initially has difficulties with new posts; this means other website owners may accept your offer. Of course, you are not just a volunteer; you are doing this to get a backlink and gain traffic from the project.
Guest posting is also part of SEO. Google takes backlinks into account; it's a very important search signal.
Here is more detailed information about how to promote your blog.
Manage Your Expectations
At the beginning of your travel blog, you will probably not earn much. It will take time to build up your travel blog to the point where you can actually make money. This will take a lot of hard work, so you must be prepared for that.
An important point is to manage your expectations from the beginning because it's very easy to get discouraged and give up when you do not start making a lot of money from your blog immediately after starting. As long as you work hard and keep going with patience, you will benefit quite a bit from your blog.
Mistakes Newbie Bloggers Make
There are many common mistakes newbies make while travel blogging. Try to avoid this by reviewing our list of top mistakes.
Making a Travel Blog
Here are the most common mistakes to avoid if you want to create a successful travel blog:
Choosing a free third-level domain that you do not own;
Choosing free hosting that shows the hosting owner's ads on your project;
Ignoring the speed of your website; the speed at which your project downloads will affect users and your website's Google position;
Not caring about design; as we mentioned above, people (readers) see your website first, then read it, so design is very important;
Spending a lot of money without trying; it's better to first learn more and make mistakes (without mistakes, you can't grow), then, with knowledge, spend money to make your travel blog better.
Advertising
Promoting your project is important to get more visitors and grow your project. While promoting, try to avoid these mistakes:
More promotion does not automatically mean more income. You must know the limits and manage your expectations;
Do not buy ads on pages until you know why you need this paid traffic. Your goal is not simply to see a large number on your counter.
Content
As we mentioned before, content is what your visitor comes for. Therefore, mistakes in content will negatively affect your traffic. Here are some of the top mistakes:
Do not save money on content. Content is king, and if you have bad content, it's impossible to go further;
Care about the shape of your content – lists, pictures, tables and other forms; the reader wants to see different forms on your blog;
Do not create content just for search engines, or just for people. Find a balance between them;
Ten articles in one day is worse than 10 articles in 10 days (i.e., one article per day). Search engines love regular-publishing websites; it's also better to make your reader visit your blog more than one single day. Moreover, spaced-out articles are easier for the visitor to read.
Making mistakes is a normal way to become better over time. Do not worry about it; try to do your best. For this, you can also learn more about the cost of creating and maintaining a travel blog, as money is another important aspect of how to start a travel blog.