The Role of AI-Enhanced Automation in Travel Blogging Workflows
Artificial Intelligence equips you with powerful tools to significantly impact your travel blogging success. Content creators are quickly realizing the vital role AI-Enhanced Automation plays in their workflow efficiency, content quantity, and output quality.
Here are a few ways AI-enhanced automation is changing workflows for travel bloggers.
Optimizing content creation – AI-powered tools assist you in developing high-quality content by suggesting topics, crafting compelling headlines, and even generating entire blog posts.
Managing Social Media – By automating tasks such as scheduling posts, monitoring engagement, and analyzing performance, you can effectively manage your social media presence and maintain a consistent and impactful online travel brand.
Analyzing Data and Providing Valuable Insights – Automated tools analyze website traffic, user behavior, and audience demographics while uncovering patterns and trends that offer crucial insights into what resonates with your audience.
AI-Powered Writing Assistants and Tools
Writing assistants, above all other forms of AI, are changing the landscape of content workflows in travel blogging. You can use AI-powered writing tools for the following benefits:
Generating High-Quality Content – These tools utilize natural language processing algorithms to generate tailored suggestions for blog post introductions, headlines, and complete articles.
Grammar and Style Correction – Other AI tools use advanced algorithms to analyze text, offering real-time grammar, spelling, punctuation, and clarity suggestions.
Language Enhancement: Similar tools analyze text for readability, overused words, sentence variation, and more, providing suggestions to enhance writing style and create engaging content.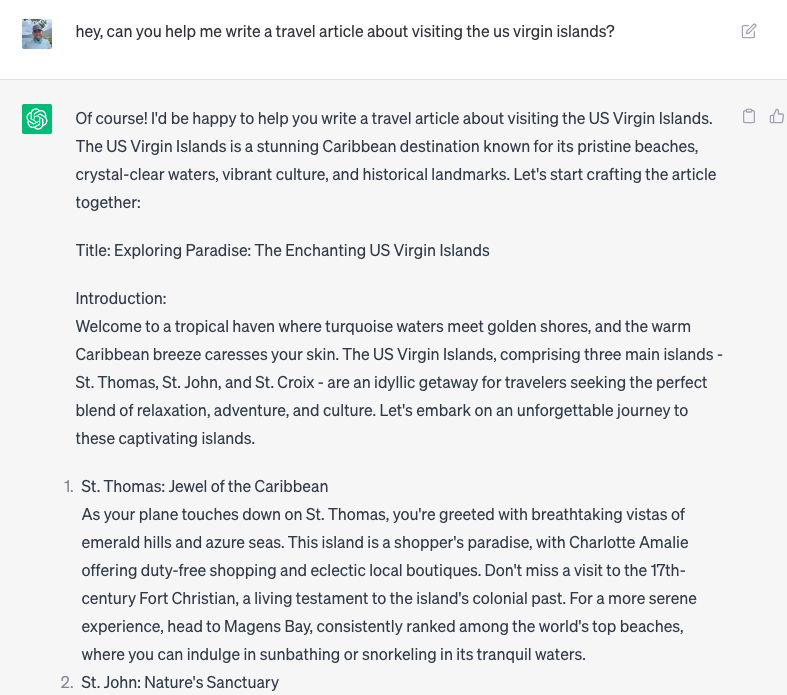 These are my picks for the best writing assistants and tools for AI-automated workflow and management (not ranked in any particular order).
Copy.ai – Copy.ai is a writing assistant that generates high-quality content using pre-fabricated templates. I've written an article reviewing the ins and outs of Copy.ai.
Jasper.ai – Jasper.ai is another powerful AI tool designed to assist travel bloggers in their writing endeavors. It offers a range of features, including integrations with other popular AI tools like Surfer SEO, Copyscape, and Grammarly. Check out my full article reviewing Jasper.ai for travel bloggers.
ChatGPT – Powered by OpenAI's GPT-4 technology, ChatGPT is the most talked about AI tool and my top pick for content generation for travel bloggers. It can generate conversational responses and helpful insights by brainstorming ideas and providing feedback, outlines, headlines, and articles.
Automating Social Media Management
For many of us, bouncing between social media platforms and conforming each post to the platform's liking is among the most tedious tasks in travel blogging. But we also all know the importance of a steady social media presence to our success.
Thankfully, with recent developments in AI workflow automation, juggling your social media profiles and platforms is a thing of the past. Here's how AI empowers content creators to automate their social media management.
Scheduling Posts – Using intuitive calendars, AI helps you plan and organize your content in advance, identify optimal times, and automate the post's scheduling to maintain a consistent online presence.
Content Recommendations – AI algorithms can analyze travel bloggers' niches, audience preferences, and trending topics to provide tailored content recommendations for your social media calendar.
Audience Engagement Analysis – Analyze metrics such as likes, comments, shares, trends, and audience preferences to determine follower growth and the effectiveness of your social media strategies.
Now, knowing which AI-powered tools achieve the above benefits is equally important. Here are two top selections for the best AI social media managers.
Hootsuite – This AI-powered social media management tool is the best in the business offering your travel blog a wide range of automation features. It enables the scheduling and publishing of posts across multiple platforms, creates an effective content calendar, provides content recommendations, and offers analytics to track engagement and performance.
Buffer – Another noteworthy AI-powered social media management tool aiming to grow your following while not draining your time. The agency provides everything you need for post automation, content recommendations, and insight tracking.
AI-Powered Travel Planning Tools
In the past, trip preparation included purchasing a destination book, consulting a travel agent, magazine, or website. While those methods of travel planning can still be valuable, the power of AI is revealing to travelers and bloggers the ease and advantage of seamless itinerary creation, attraction discovery, and logistics optimization.
Personalized Itinerary Creation – AI-powered tools like TripIt and Google Travel can analyze your preferences, interests, bookings history, and time constraints to generate a customized itinerary. These tools consider your desired attractions, available time, and geographical location to suggest an optimized travel plan.
Optimized Travel Logistics – These tools can suggest the most efficient routes, recommend optimal modes of transportation, and provide real-time updates on delays or alternative treks. Travel bloggers can use these tools alongside affiliate marketing partnership solutions like bus tickets or airport transfers.
Integration with Booking Platforms – Travelpayouts utilizes these integrations to allow you to recommend, search, compare, and book accommodations, flights, and tours directly from a planning tool interface.
Smart Editing and Proofreading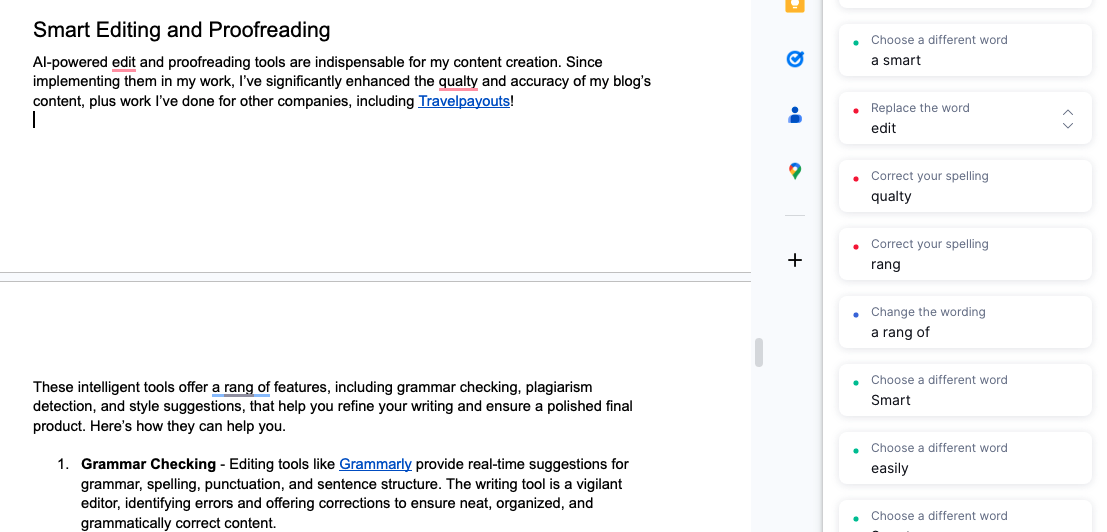 AI-powered editing and proofreading tools are indispensable for my content creation. Since implementing them in my work, I've significantly enhanced the quality and accuracy of my blog's content, plus work I've done for other companies, including Travelpayouts!
These intelligent tools offer a range of features, including grammar checking, plagiarism detection, and style suggestions, that help you refine your writing and ensure a polished final product. Here's how they can help you.
Grammar Checking – Editing tools like Grammarly provide real-time suggestions for grammar, spelling, punctuation, and sentence structure. The writing tool is a vigilant editor, identifying errors and offering corrections to ensure neat, organized, and grammatically correct content.
Plagiarism Detection – It's important to realize that AI-writing assistants like ChatGPT and Jasper.AI source their output from existing data. As such, plagiarism is possible, although unlikely. Regardless, you should run your travel content through a plagiarism checker like Copyscape to ensure you uphold ethical standards.
Style Suggestions – The same editing tools provide style suggestions to enhance your travel content's clarity, coherence, and overall readability. They analyze sentence structure, word choice, and overall flow, offering advice to improve the style and tone of your writing.
Image and Video Optimization

Captivating visuals are vital in engaging and inspiring your readers – it's what can separate you from your competition. AI-powered technologies can assist your image and video optimization, enhancing the visual appeal of your content.
Image Enhancement – AI algorithms can automatically adjust brightness, contrast, colors, and sharpness, ensuring your images are visually appealing and aligned with your desired aesthetic.
Object Recognition and Tagging – Optimization tools can identify objects, landmarks, and elements within images, automatically generating relevant tags and metadata.
Video Editing and Stabilization – InVideo is a fantastic tool that can analyze footage, remove unwanted elements, enhance colors, and stabilize shaky footage.
Smart Thumbnail Generation – Analyze video content with programs like Azure AI Vision to generate engaging and eye-catching thumbnails. These algorithms select frames representing the video's essence, ensuring the thumbnail entices viewers and encourages them to click and watch.
Canva – This is my favorite graphic design and image optimization tool. The online program utilizes AI technology to create visually appealing graphics, social media posts, and other image editing tools.
Data Analytics and Reporting
Valuable insights via AI-driven data analytics and reporting tools are pivotal in your travel blogging success and workflow. These insights can drive your decision-making, optimize your marketing strategies, maximize audience engagement, and measure your return on investment (ROI).
Audience Engagement Analysis – Semrush uses an AI tool called One2Target to help you gain deep insights into your audience's behavior, preferences, and interactions. Analyze your website traffic, social media engagement, and email campaign performance to understand how your audience engages with your content to tailor your content strategies and campaigns.
Content Performance Evaluation – Analyze parameters like page views, bounce rates, time on the page, and social media shares to gauge the effectiveness of each piece of your content. The most popular version of these tools is Google Analytics and its integrations.
ROI Measurement – Using AI, you quickly assess the effectiveness of different monetization strategies like affiliate marketing, advertising campaigns, and sponsored content, optimize your partnerships, and make informed decisions to maximize your earning potential.
Workflow Automation Tools
As we've been discussing, AI is changing the workflow landscape for content creators. Tedious tasks are now seamlessly automated, allowing you more liberty to focus on more integral aspects of your business. Here's a summary of how AI automates travel blog content workflows.
Task Management – Task creation, assignment, and tracking ensure you stay organized and meet your content creation schedules. With automated reminders and notifications, you can prioritize your tasks, eliminate manual follow-ups, and focus on creating compelling travel content, especially when using AI tools like Levity.
Content Organization – AI enables centralized platforms where you can store, categorize, and access your articles, images, videos, and other assets.
Collaboration and Approval Workflows – AI assists teams in assigning tasks, setting permissions, and facilitating communication, ensuring everyone is on the same page throughout content creation.
Editorial Calendar Management – Plan and schedule your content with programs like Reclaim AI. View the content status and identify gaps or overlaps in your publishing schedule to maximize audience engagement.
AI-Enabled Project Management and Communication
Some larger teams of travel bloggers have found AI-enabled optimization in project management and creator communication. Collaboration is easier than ever as teams streamline tasks and improve project efficiency.
Task and Project Management – These tools offer task assignments, progress tracking, and deadline reminders, ensuring your team remains on top of their content creation schedules.
Collaboration and Communication – Creative teams implement real-time messaging, file sharing, and collaboration spaces to foster effective communication among team members regardless of location.
Content Workflow Streamlining – Try using centralized platforms to manage content creation, editing, and approval processes. AI algorithms within programs like Grammarly can automate content review, suggest improvements, and ensure writing style and tone consistency across your blog.
Resource Allocation and Optimization – These tools analyze project data, team capabilities, and historical performance to suggest the most efficient allocation of resources.
Data-Driven Insights and Predictive Analytics – Insights discovered by programs like ClickUp can help you identify patterns, optimize your procedures, and make informed decisions for future projects.
Time and Productivity Management
Time and productivity management are critical aspects of a travel blogger's success, and AI has emerged as a powerful ally in optimizing these areas. AI-driven tools and techniques enable you to make the most of your time, enhance productivity, and achieve your goals efficiently.
Smart Scheduling – Intelligently optimize your time using AI tools like Reclaim to consider availability, task priorities, and deadlines to suggest the most efficient and balanced schedules.
Task Prioritization and Automation – Prioritize and automate repetitive tasks by analyzing task dependencies, deadlines, and project goals with tools like ClickUp.
Intelligent Content Creation Assistance – AI-powered content creation tools, such as language models and writing assistants, help you by generating high-quality content more efficiently.
Distraction Management – If you're prone to distraction, you can use AI tools to limit access to distracting websites or apps, track and manage screen time, and provide reminders to maintain productivity.
Overcoming Language Barriers
Catering to local languages and customs has always been an inherent barrier within travel blogging. Producing accurate translations, transcriptions, and captioning took time for any content creator.
Thankfully, the implementation of AI is tearing down previous language barriers in travel blogging – allowing you to focus on a global audience and providing content to the local communities you write about!
Real-Time Translation – AI-powered translation tools, like Deepl, allow you to instantly translate your content into multiple languages, including blog posts, captions, and comments.
Language Learning Programs – AI is helping travel bloggers learn foreign languages proficiently with resources like interactive language courses, vocabulary exercises, and pronunciation assistance. Duolingo is my favorite language-learning app utilizing AI.
Transcription and Captioning – You can convert spoken content, such as interviews or videos, into written text and captions in various languages using AI-powered tools.
Language-Adaptive Content Creation – For even more complexity, AI tools analyze linguistic nuances, idiomatic expressions, and cultural sensitivities to optimize your travel content for specific target languages.
Maximizing SEO
We all know how crucial it is to maximize your blog's search engine optimization (SEO). It can make or break your website's success, so staying up-to-date on the latest SEO trends and tools is essential.
Unsurprisingly, AI has entered the realm of SEO, offering your travel blog various game-changing techniques to aid in keyword research, content optimization, and to improve your search rankings.
Conclusion: Streamlining Workflows Using AI-Enhanced Automation
Your travel blogging workflow no longer has to be tedious. With AI workflow automation, you can easily enhance your productivity using AI-driven writing assistants, social media managers, visual optimization tools, data analysis, and project managers. Editing and proofreading tools crisp your content while others help maximize its SEO.
While these tools present clear benefits, it's important to note the presence of your personal touch and human perspective in coexistence with AI-generated content. AI-powered automation is great for productivity but negative if you don't add your unique flair – which is what makes travel blogging so engaging and personable. Unlocking the full potential of these AI-driven capabilities coincides with preserving your authenticity.
With your human perspective and AI workflow automation, I recommend joining Travelpayouts. The digital partnership platform can bolster your affiliate marketing efforts so you can connect with top travel brands and earn money by recommending their products!
Join the Travelpayouts Partnership Platform
Access exclusive tools and the best travel affiliate programs, including flights, hotels, car rental, insurance, tours and activities, all in one place.
Join Today
395,000 partners already trust us
120 travel brands
$53M+ total paid since 2011